Trending Reels Audio to use this month – here they are! As you (most probably) already know: using trending sounds can be a smart way to grow on Instagram, as most trends are based on sounds. Popular audios help you boost your chances of going viral, as well as increase your Reel's average watch time.
It's essential to engage with users on a level that speaks to your brand's identity – but hey, it's just as important to have a little fun, too. If you feel it's not your cup of tea, you don't have to dance, do lip-sync, or act goofy – absolutely no. Instead, take trends as a creative inspiration and interpret them your way to add your very own spark. I share my observations and ideas to help kick-start you into something that works best for your niche and your business identity so it lands with your target audience!
💡 Every month, I'll round up a couple of supercool, trending sounds that I think you should pay attention to, and explain in detail how you can use them in your posts.
Voila, this time I've put together a special beginning-of-the-year trend list for you. The amount of impact trending audios can have on an Instagram profile is insane, and I truly believe everyone deserves this kind of organic boost, so I'd love to share with you five ideas you can use this month. Below are some of my favorite opportunities to tap into trending Reels audios. Let's go!

Trending Reels Audio: "Kill Bill (Party Version) Remix, by Bella DJ
What this sound is: DJ Bella, a music genius, has put a fresh spin on this tune to make it feel brand new again. 
Ideas & how your brand can use it: It's mostly used for sharing the 2022 memories and lessons, and it also brings an opportunity to share what you're leaving behind in 2022, so you can grow and go forward in 2023. Are you late to a party if you post your 2022 recap just now? Absolutely no. It may be an unpopular opinion, but I'm sure you can share your 2022 recap anytime you want, and there's no such time as "too late." That's my theory, at least, and I'm going to post my personal 2022 recap next month – there are just too many videos and memories to choose from!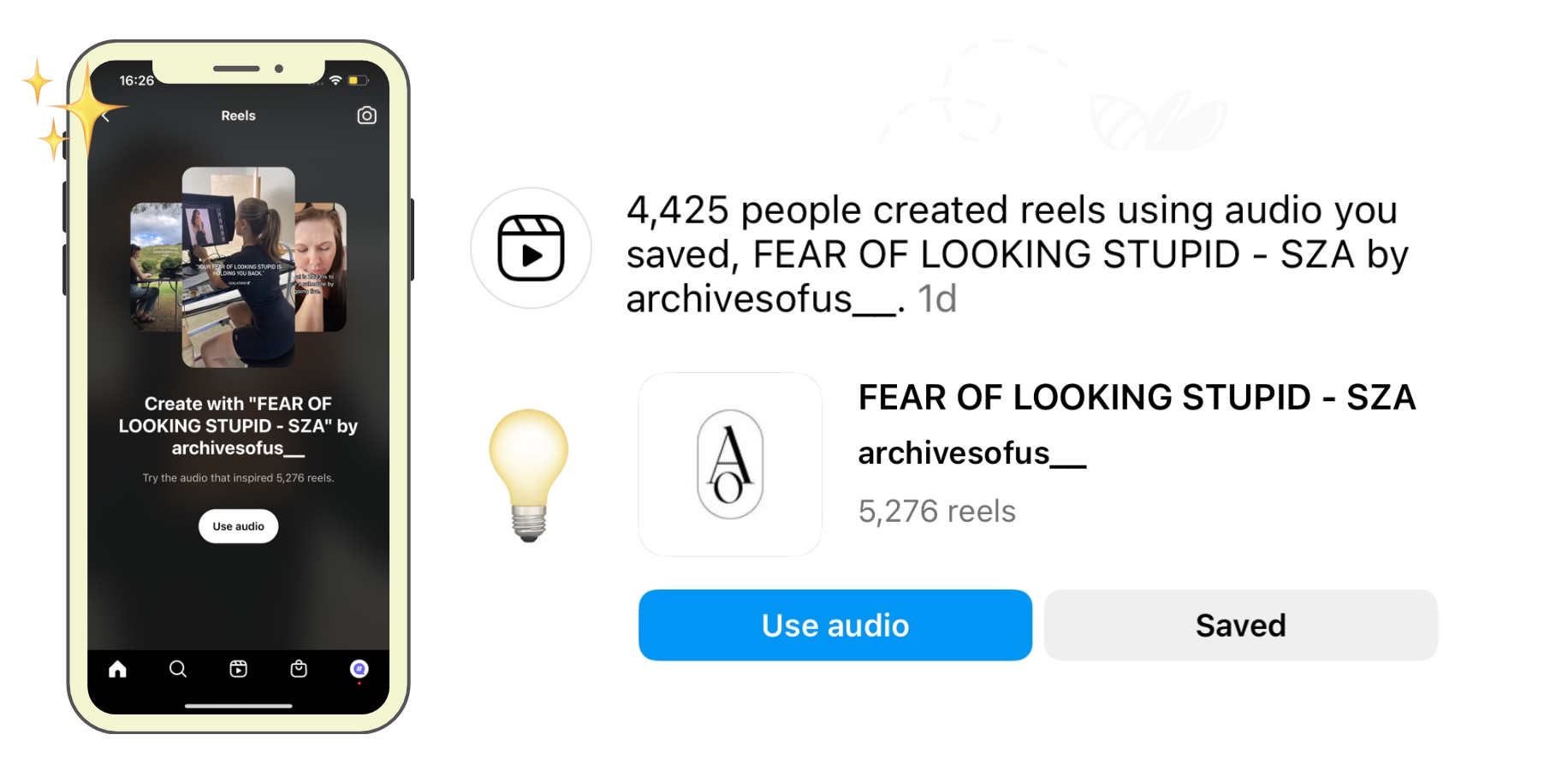 Trending Sound: FEAR OF LOOKING STUPID – SZA, by archivesofus__
What this sound is: "Your fear of looking stupid is holding you back."
Ideas & how your brand can use it: Lip sync to this audio and use text to offer context about why you're happy that you've overcome "the fear of looking stupid". Show the success you wouldn't have achieved otherwise and why you believe caring too much about what other people think can waste time. Of course, it's a normal human response to care about what others think of us, but we shouldn't give it the power to limit our opportunities.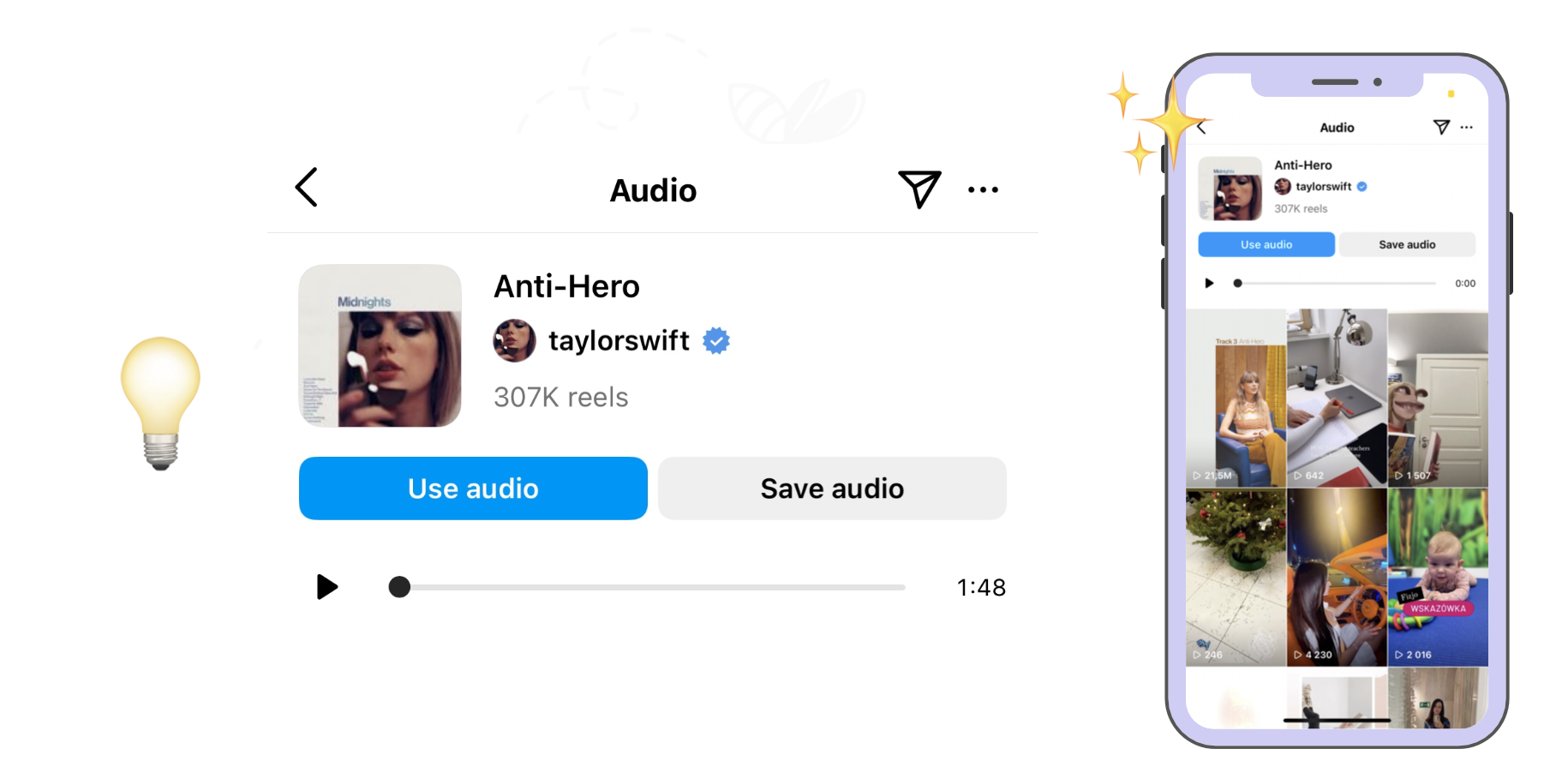 Trending Sound: It's me, hi, I'm the problem, it's me. 
What this sound is: The most catchy lines from Taylor Swift's "Anti-hero" – who isn't humming it right now?
Ideas & how your brand can use it: Take your chance to show your goofy mood, pair this audio with clips of you being funny, or having fun at work. Show your charm, personality, and a bit less formal side of you, which I'm sure your potential future clients also want to see when they're researching you online via Instagram. Show them you're friendly, easygoing, and up for fun or a casual conversation.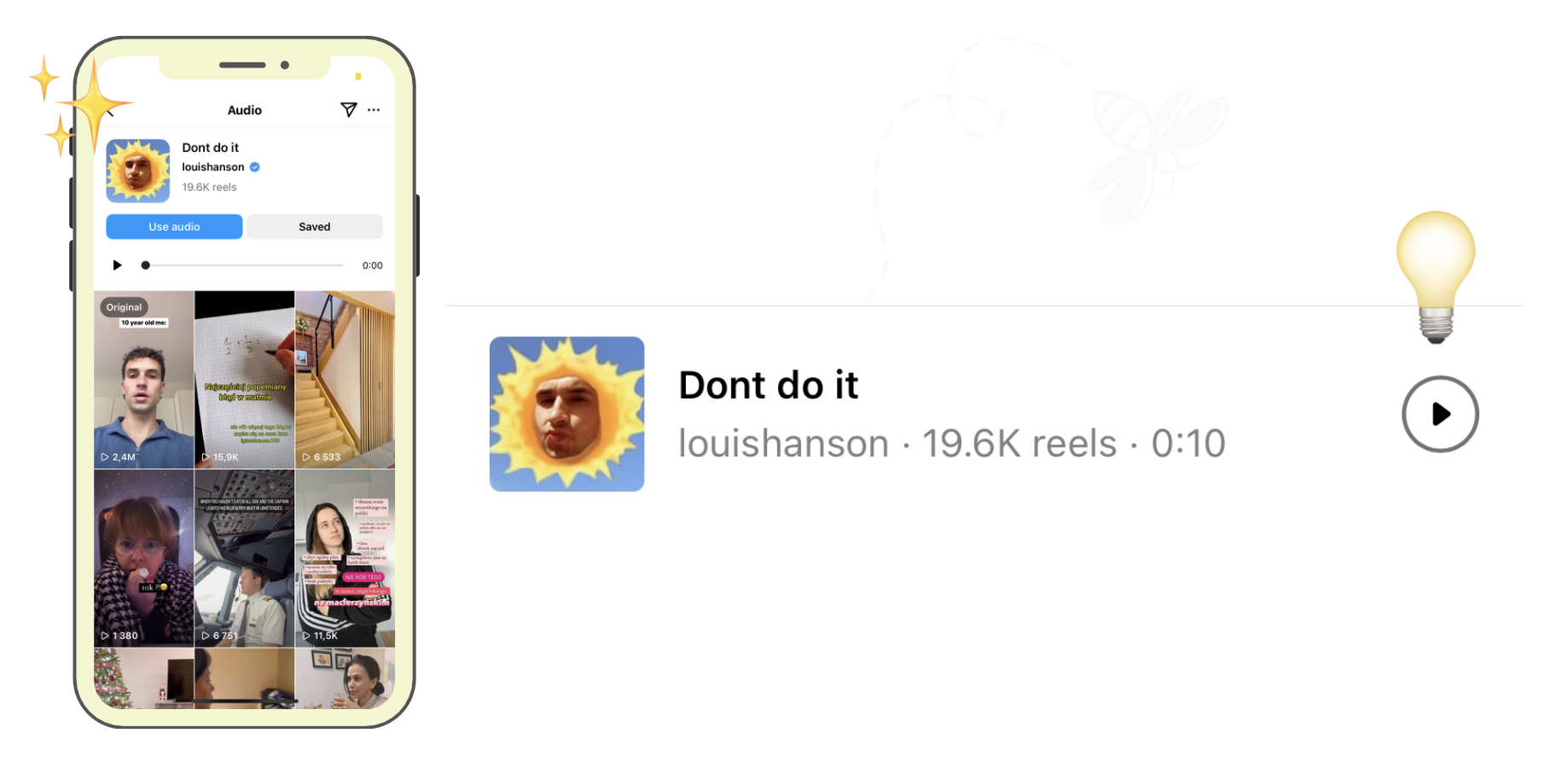 Trending Sound: Don't do it! (dont do it, by louishanson)
What this sound is: "Don't do it, don't do it, don't do it" repeated many times in a row – but apparently not enough, haha!
Ideas & how your brand can use it: Bust common or recent myths or misconceptions about your niche.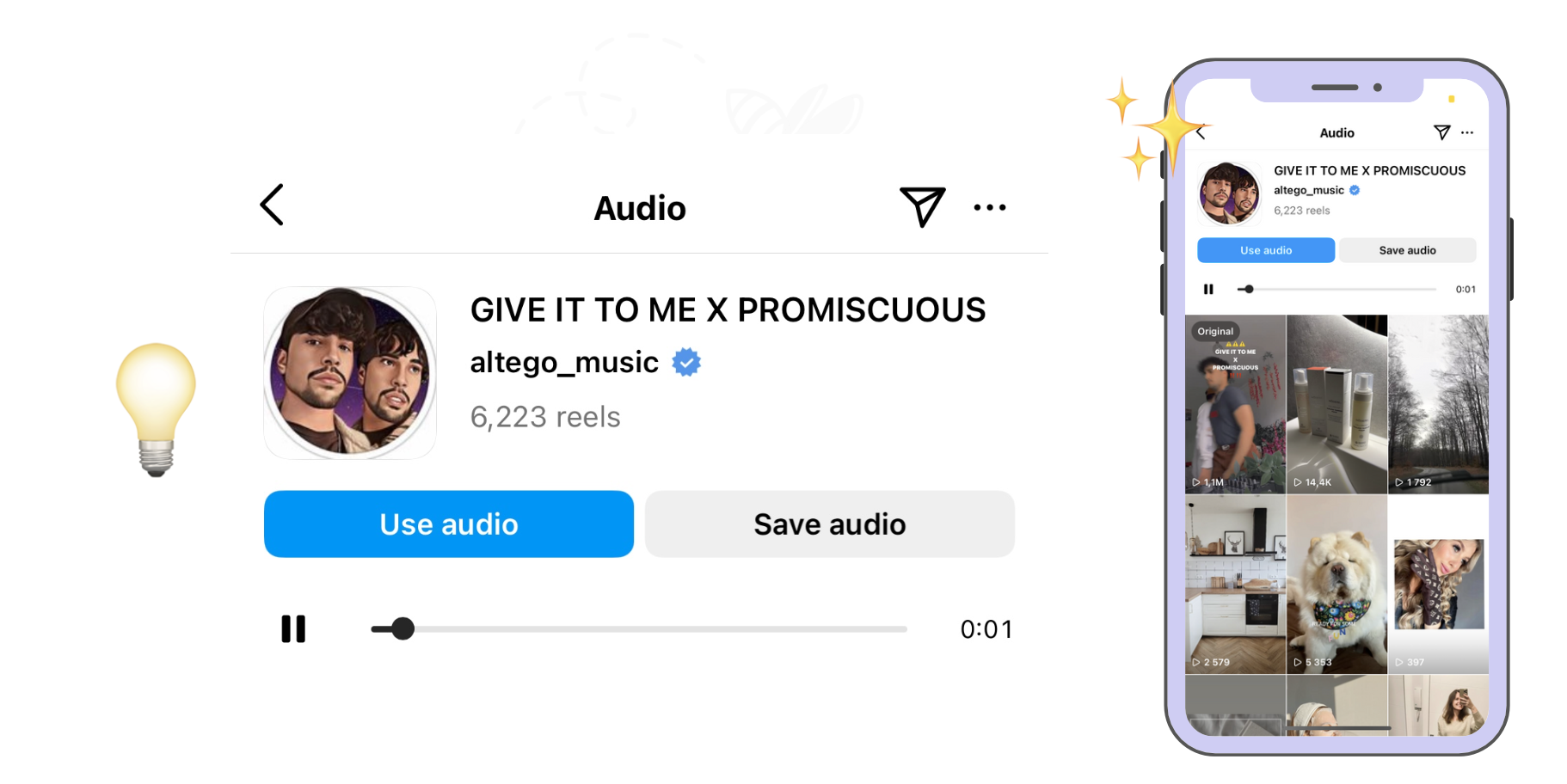 Trending Sound: GIVE IT TO ME X PROMISCUOUS by altego_music
What this sound is: Why does this sound have the potential to go viral? Because it's so addictive! This audio is pop but a little edgy and off the beaten track! Give it a try.
Ideas & how your brand can use it: Many users are timing their process videos with this song. That's a brilliant idea!
I hope you feel inspired and ready to create your Reels! Now that you know some current trending audios, create and post your Reels while they're still relevant! Feel free to tag @iqhashtags in the comments of any Reels you make thanks to this post so that we can hype you up.
P.S. Did you know we have a tool that will take your Instagram growth to the next level? We do! IQ Hashtags is the most advanced Instagram analytics and hashtag research tool on the market – arming you with Profile Analysis, Reels Metrics, Advanced Hashtag Research, Hashtag Performance, and other innovative features to skyrocket your Instagram. You can track your growth in time and analyze all the key factors to spot trends and patterns that make your profile grow much faster and stress-free!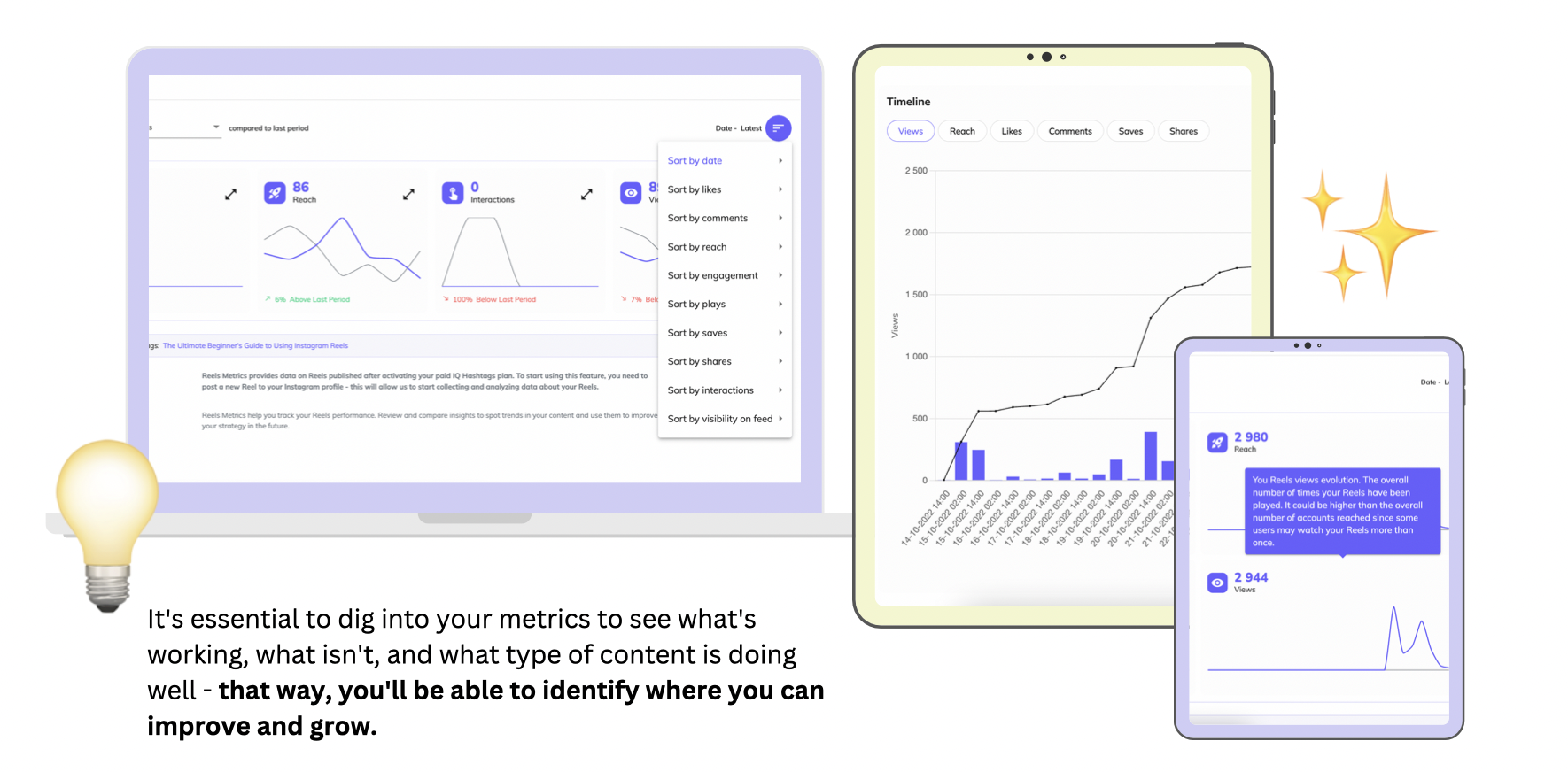 If you care about your Instagram strategy – this is a MUST-HAVE. If you want to build an engaged Instagram community with optimized hashtags and smart insights – this is the tool for you.
In case you haven't heard about it before (which I doubt!), here's what fellow users have said: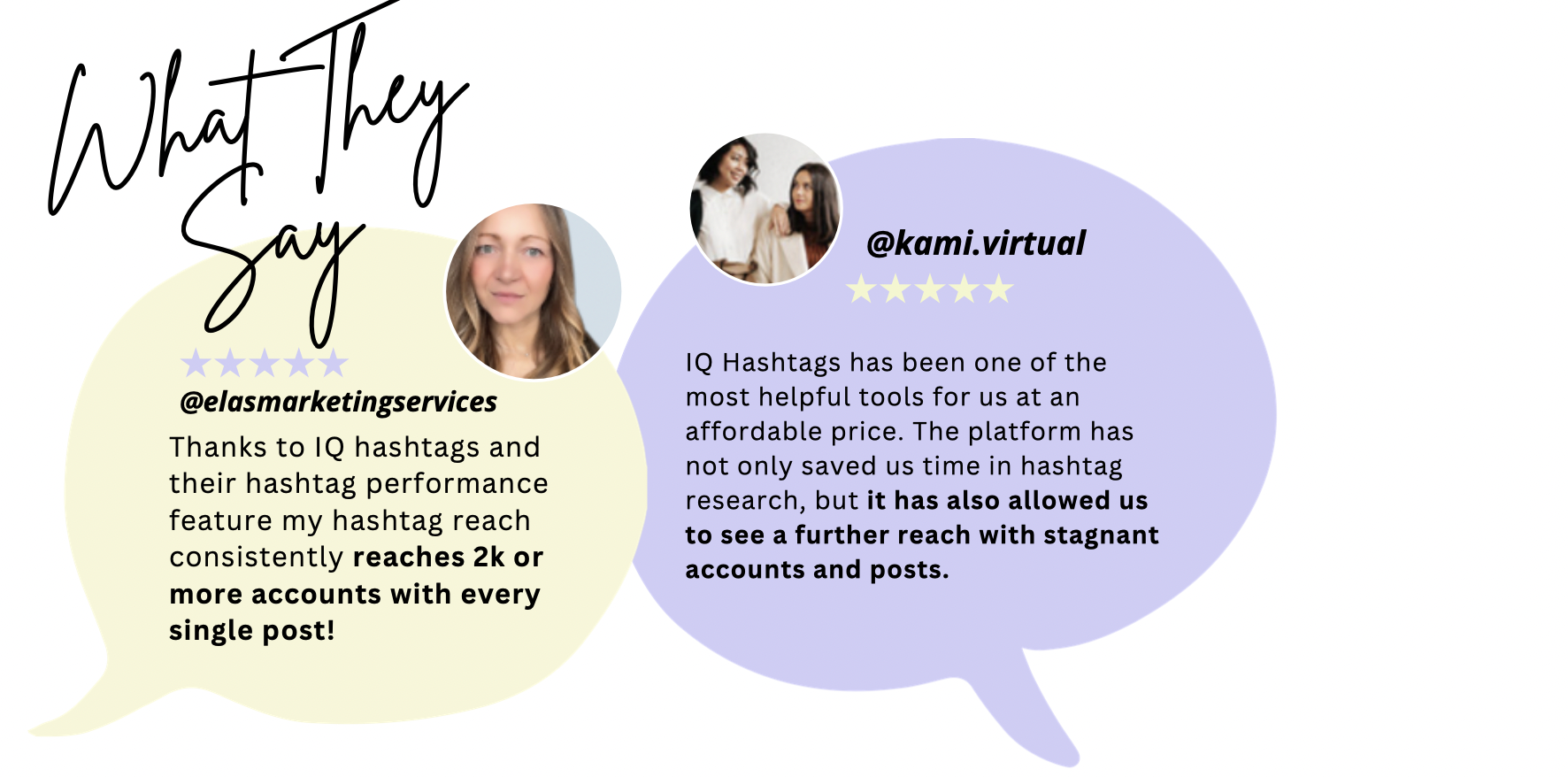 Want to learn more about the IQ Hashtags tool? Just head over here!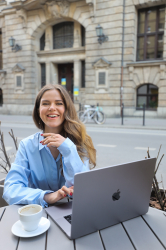 Latest posts by Kasia Pilch
(see all)