Reel Ideas – who needs some? Instagram Reels are one of the most exciting new tools for marketers, whether you're promoting a seasonal discount at your e-commerce store or a B2B solution (like the best toll-free number provider we've discovered recently). However, there's so much you can do with Reels that it can be hard to choose what you should do! Unless you have been at it for a while and know what your Instagram audience likes, you might worry about whether you are doing the right thing.
With that in mind, here we come with eight ideas to get you started with Instagram Reels for your business.
🌟 Our today's topics of discussion:
What are Instagram Reels?
The newest addition to Instagram's tools for brands, Instagram Reels are vertical full-screen videos with a maximum length of 90 seconds. If you're familiar with TikTok, you probably already know how it works!
They have an extensive library of audio files, from popular tunes to other users' viral content samples, and a suite of specialized editing tools. Reels can also have video clips, filters, captions, interactive backdrops, stickers, and more.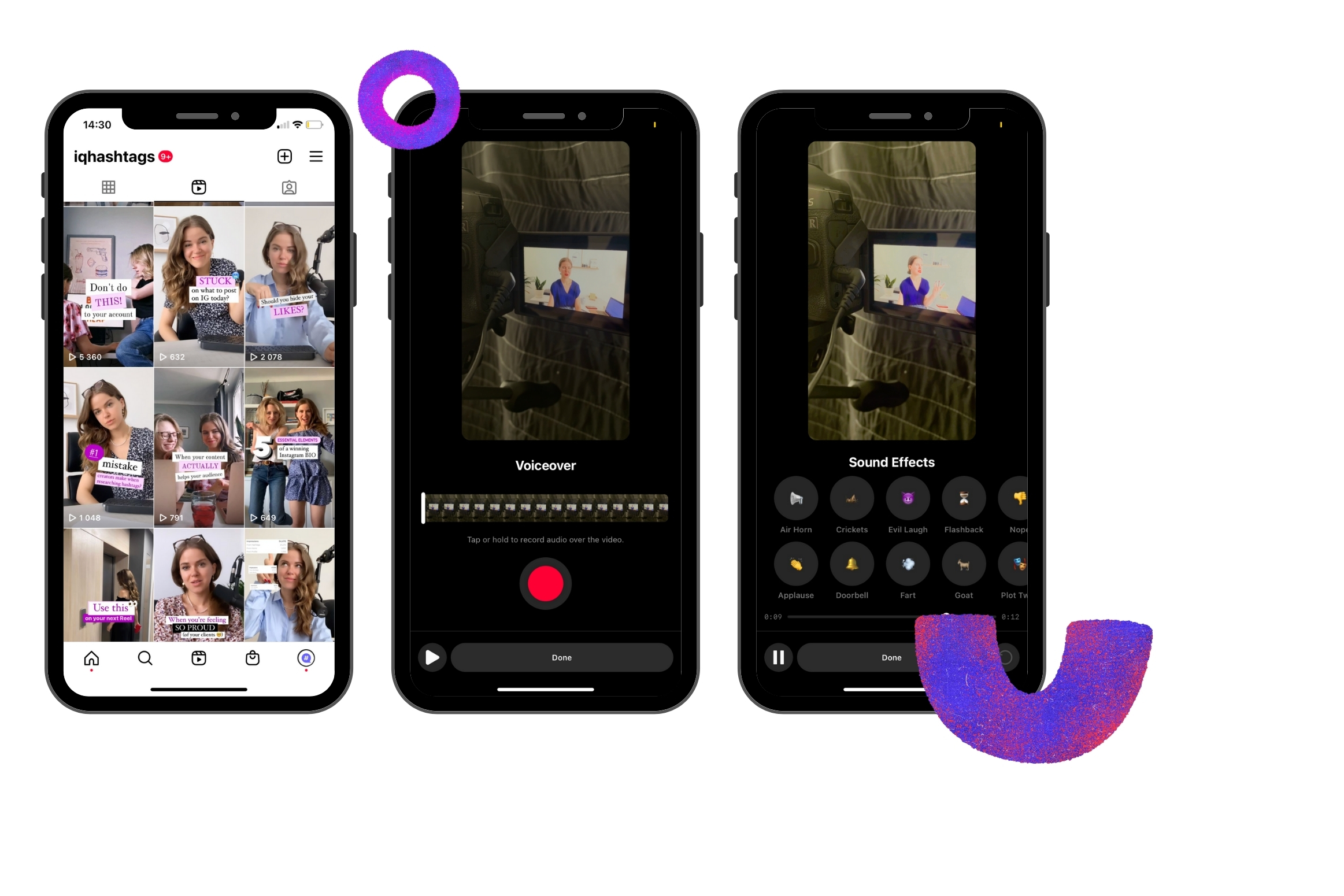 Because they're such a flexible tool, they're suitable for major B2C retailers, tiny indie brands, and even a brand promoting their B2B retail solution. Reels look a lot like Stories but differ in several ways – the main one being that they stay on your page in perpetuity, whereas Stories vanish in 24 hours. 
The best part? Reels are currently more likely to be recommended to people who do not follow you on Instagram than your image posts are. This is because Instagram's Explore page and its algorithmic feed prioritize Reels more than any other type of content. For social media marketers, that's a big deal and can lead to Instagram growth. 
Ways to Use Instagram Reels
A thumb-stopping start is crucial for your Reels for two reasons. First, you want Reels users who are scrolling to pause and focus on your material. You also want your followers to stop scrolling through their feed, be motivated enough to click through to the Reels page and watch the rest of the video.
So yasss – it is crucial to get off to a good start. Participating in popular trends can undoubtedly assist with that. But it's not the only one. Here are our top eight tactics to get you started!

Tell stories
So much of marketing is about storytelling. You can pique people's interests and establish authority by sharing your stories, your knowledge, your experiences. It could be about your brand, customers, or employees. However, you should also consider stories that relate to you more generally – for instance, how health businesses discuss tales of health scares that lead to a healthier lifestyle.
The best stories are those in which people seem authentic. For example, user will not stop for a Reel about business VoIP providers if they're not actively looking for one. But if you are a call center manager and you see a Reel about how stressed a customer service team was and what they did to solve it, you're much more likely to stick around to find out the details!
Users love "insider" content that makes them feel like they are learning something new. Videos showing "how it's made" or "behind the scenes" both make you more genuine and personable, as well as engage people who like feeling like they're discovering something new.
It's a no-brainer Instagram format for brands selling handmade goods like wedding accessories for example. Still, even a business like an app developer could do a "how it's made" Reel showing the early versions of a new feature and how it came to be the final product.
Stay on trend
This is one of the essential tips to follow. You'll notice recurring themes/patterns in the content if you spend even ten minutes on the platform. For instance, a few particular audio recordings will keep coming up with creators doing their spin on the subject.
When you notice these trends, seize the opportunity!
Show that you understand your customers and share their values, aesthetics, or sense of humor by incorporating your brand into an existing trend. Plus, you may receive additional views if you include trends as they grow in popularity. Users frequently search by sound, and the all-powerful algorithm appears to enjoy it. 
Notice any sounds with an arrow next to their title as you navigate Reels. That means they're trending! Just be careful: after you find a Reel with trending sound, it can be difficult to track it down again to find the sound, so be careful to save them for later!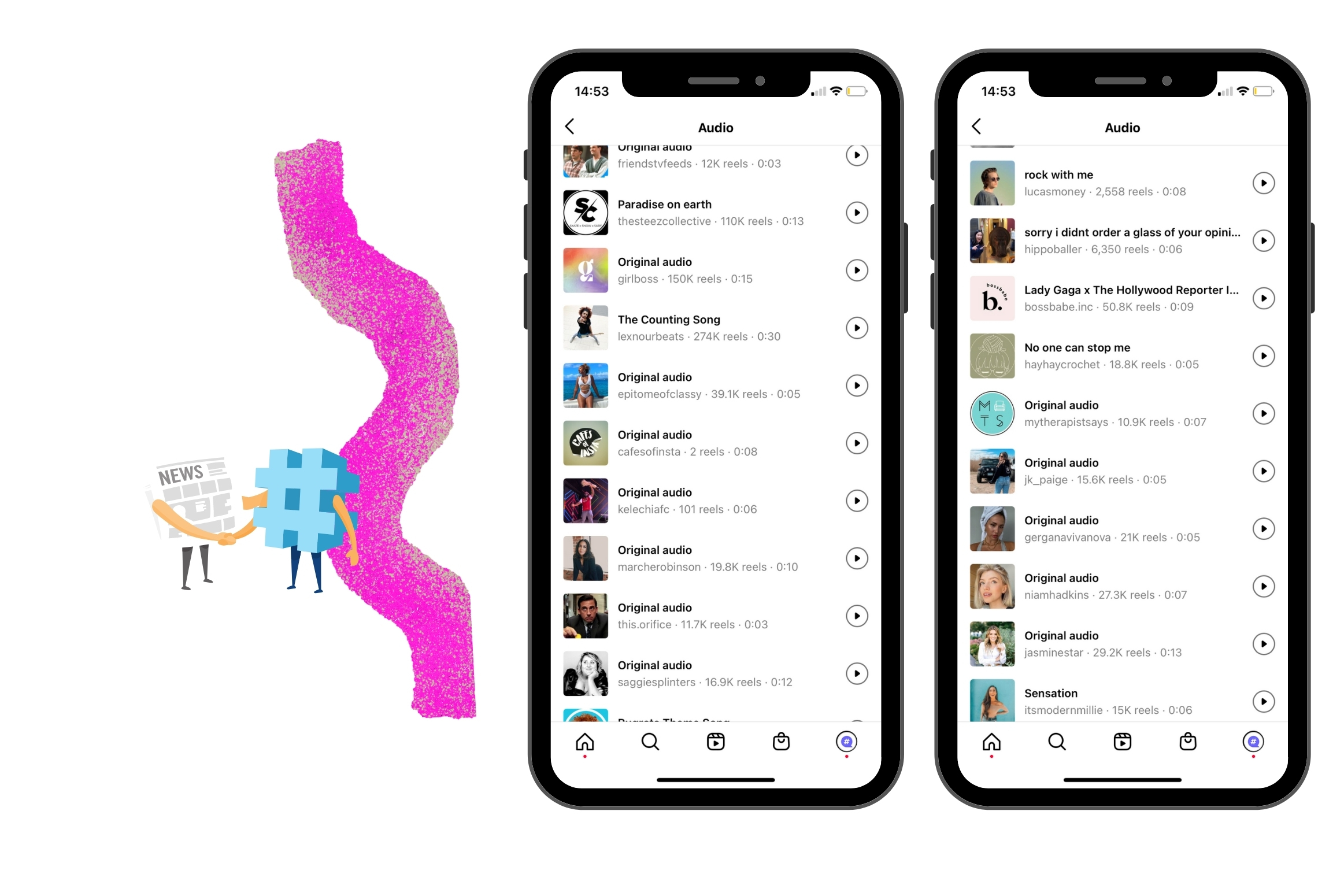 Do creative collaborations
Instagram introduced a new function called Collabs last year. With this tool, you can give another creator credit and let them share the Reel from their page as if it were their own.
The Collab tool is a game-changer if you collaborate with influencers and brand partners. It enables you to reach out to their whole audience, resulting in many more likes, shares, reach, and engagement. For example, if you're promoting your new crowdtesting app for mobile developers, you can collaborate with Instagram creators whose accounts are all about tools and tips for software developers, turning their audience into yours!
Meet the team
This works particularly well for small enterprises. Small businesses can introduce each of their staff, from the CEO to the people packing customer's orders by hand. Talk to them about what makes them unique, the fascinating aspects of their job, and what they like about it.
It gives audiences something to relate to, and it can demonstrate to the audience that your company is full of people who care about customers' success. People will also see that your company values each employee, which can significantly increase your brand's likeability!
After all, if you and your competitor are selling, let's day, business phone solutions with similar features and pricing, your brand is all you have to stand out! If pricing and features aren't a factor, customers will go with the company that seems better to do business with – and let us tell you: presenting a warm, open image can help.
Educate your audience
Not every Reel needs to be great comedy or a new offer; simply informative Reels can deliver outstanding results too.
Of course, an informative Reel doesn't need to be a lecture! You can still make it entertaining – for instance; the above engages the audience by asking them to spot the difference before following up with a second post explaining the difference.
And, while product-related educational reels are a great option, think about how you can go beyond that. If you admire a business' founder enough to follow them on Instagram, you'd likely stop to watch a short Reel with their advice on everything from burnout to business phone solutions..
Release the blooper Reel
One of our favorite quick and easy tips is to use failed attempts at other Reels. What do we mean? Bloopers! These can serve as entertaining material on their own and sometimes work better than the regularly-scheduled programming you had in mind. Plus, they let you use all that footage you messed up rather than having to film anything new.
Engage and experiment
Reels offer tremendous opportunities for interaction, but the majority of social media marketers simply aren't capitalizing on them. So don't make this mistake, and work on engaging your potential followers! Business-consumer interaction is one of the main reasons to use Instagram to market a business!
This can be done in a variety of ways using Reels. For example, share a debatable issue in the reels (think 'which color is best' rather than in-depth politics) and invite viewers to vote for their position or send in their thoughts in the comments or the Q&A sticker. It will effectively engage the audience by giving them a chance to make themselves heard on your platform. Responding to their comments will inspire them to interact even more, as people will get into the habit of interacting with you more and more.
🔑 Using Instagram Reels for business
Instagram Reels are an excellent tool for promoting anything, whether you're showing people how you make your handmade dog coats or talking about a PandaDoc video editing contract. Grab new audiences' attention in the first second or two and keep your followers fed with these content ideas, and you're sure to see results. Keep our words. 

Jenna Bunnell – Senior Manager, Content Marketing, Dialpad
Jenna Bunnell is the Senior Manager for Content Marketing at Dialpad, an AI-incorporated cloud-hosted unified communications system that provides valuable call details for business owners and sales representatives with helpful guides like this Dialpad guide to porting phone numbers. She is driven and passionate about communicating a brand's design sensibility and visualizing how content can be presented in creative and comprehensive ways. Check out her LinkedIn profile!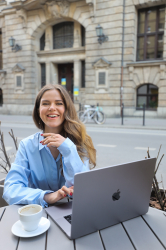 Latest posts by Kasia Pilch
(see all)