It's time to overcome the blank-page syndrome! We're thrilled to announce our newest feature, AI Instagram Caption Generator, unlocking the magic of AI for everybody using our IQ Hashtags Tool. It's an AI-powered writing tool that makes it easy for you to write creative captions for your Instagram posts – static posts, carousels, or Reels. You choose! Using our cutting-edge AI models, it generates Instagram captions in creative-writing quality within seconds.
We're sure it will help you say goodbye to every creative block and take your content to the next level. As you already know, our mission at IQ Hashtags is to help social media managers, business owners, content creators, marketers, and entrepreneurs of all kinds save time, energy, and money – and here we are, proving it again!
Blank-page syndrome. We know it happens to every content creator. It's inevitable. Your captions have turned to mush, you don't have any creative bone left in your body, and you'd like to throw in the towel. A creative block is a common phenomenon most accurately described as a frustrating feeling of being stuck in the creative writing process without the ability to move forward and create anything new. You find yourself staring at your mobile screen or the blank page, struggling to find the right words to finish the sentence.
The fact is that almost every Instagram creator faces a creative block at some point. Sometimes many, many times a week! The pressure of comparing yourself to other creators, deadlines, and perfectionism can cause this sudden intellectual affliction. Unfortunately, creative block is real and can significantly affect your posting schedule.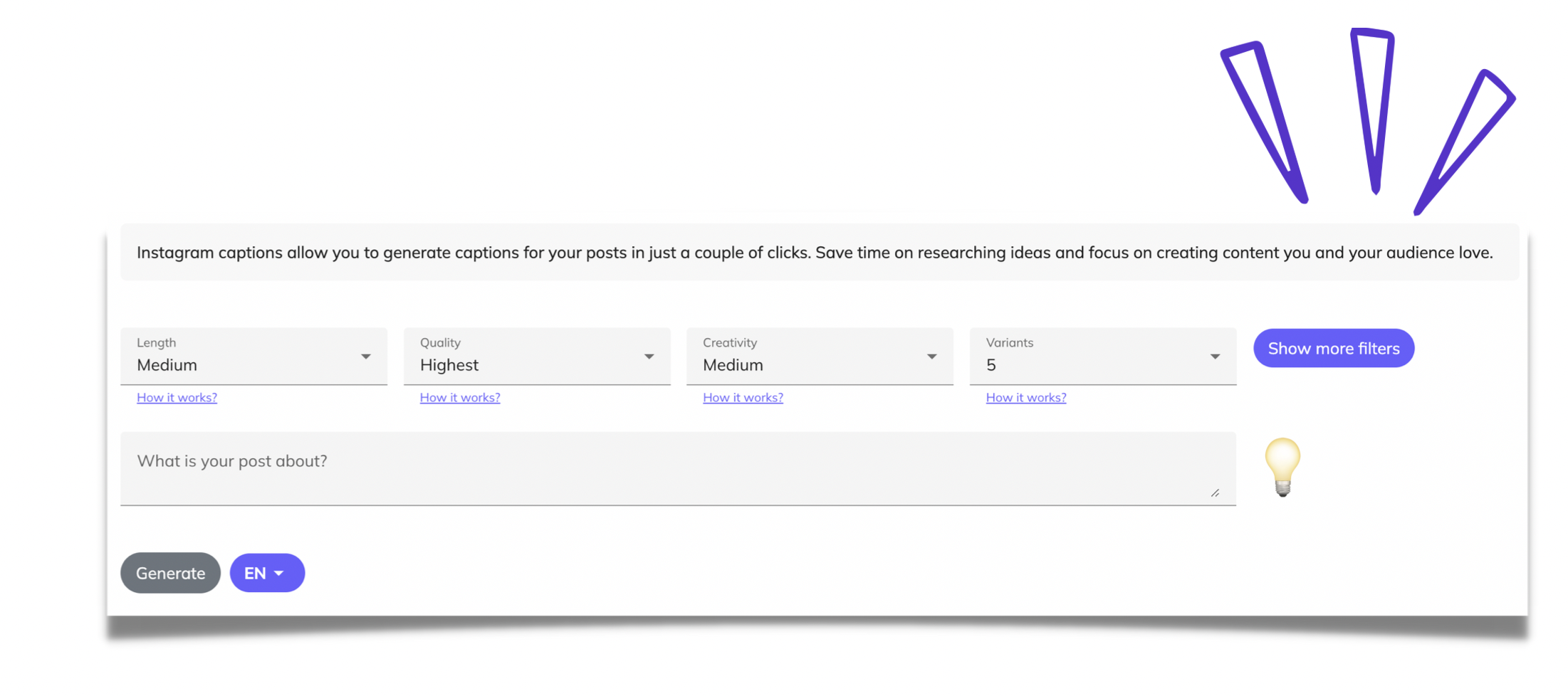 AI-powered captions with a few clicks – speed up content creation!
Find the right words for any post by generating unique captions with a couple of clicks. Our innovative tool allows you to create unique captions almost without writing a single word yourself – it's all done by our AI writing assistant. It really is an AI-powered feature that works like magic.
AI (Artificial Intelligence) has been creating quite a big buzz. There are plenty of advantages to AI applications, and it has the potential to revolutionize any sector. Our new feature uses the most advanced artificial intelligence to assist with writing use cases and is built on large language models. It took a while, but we know it was worth it, because THIS IS IT! Our AI-Powered Instagram Caption Generator will help you, creators and entrepreneurs, produce quality writing much quicker and more efficiently than before. In addition, it will increase your overall content output without spending long hours researching and crafting captions – ultimately saving you so much time and effort.
Turn topics into creative captions. Now, instead of focusing on finding the right words, you can turn your simple ideas into meaningful captions in a matter of seconds.
Your captions will be plagiarism free. We've created IQ Hashtags Instagram Caption Generator to produce the most original, plagiarism-free captions that are just as human-readable as every caption you write on your own. It creates unique content, so you don't even have to worry about plagiarism!
How exactly does the feature work? We've prepared an intuitive guide to show you how simple and user-friendly the feature is!

How does our AI-powered Instagram Caption Generator work?
From your IQ Hashtags Dashboard, click on the Instagram Captions.

Give the instructions. Write a topic to instruct our AI writing assistant on what you want to say in your post – what would you like it to be about?

Deliver your caption message the way you intended. Adjust the creativity level, the tone of voice, or the point of view to generate the perfect copy for your posts.

Click the "Generate" button. Hover over your new favorite button – click the "generate" button to start generating your brand-new, creative captions.
Watch the AI magic happen! Witness our AI-powered writing assistant create unique captions based on your instructions.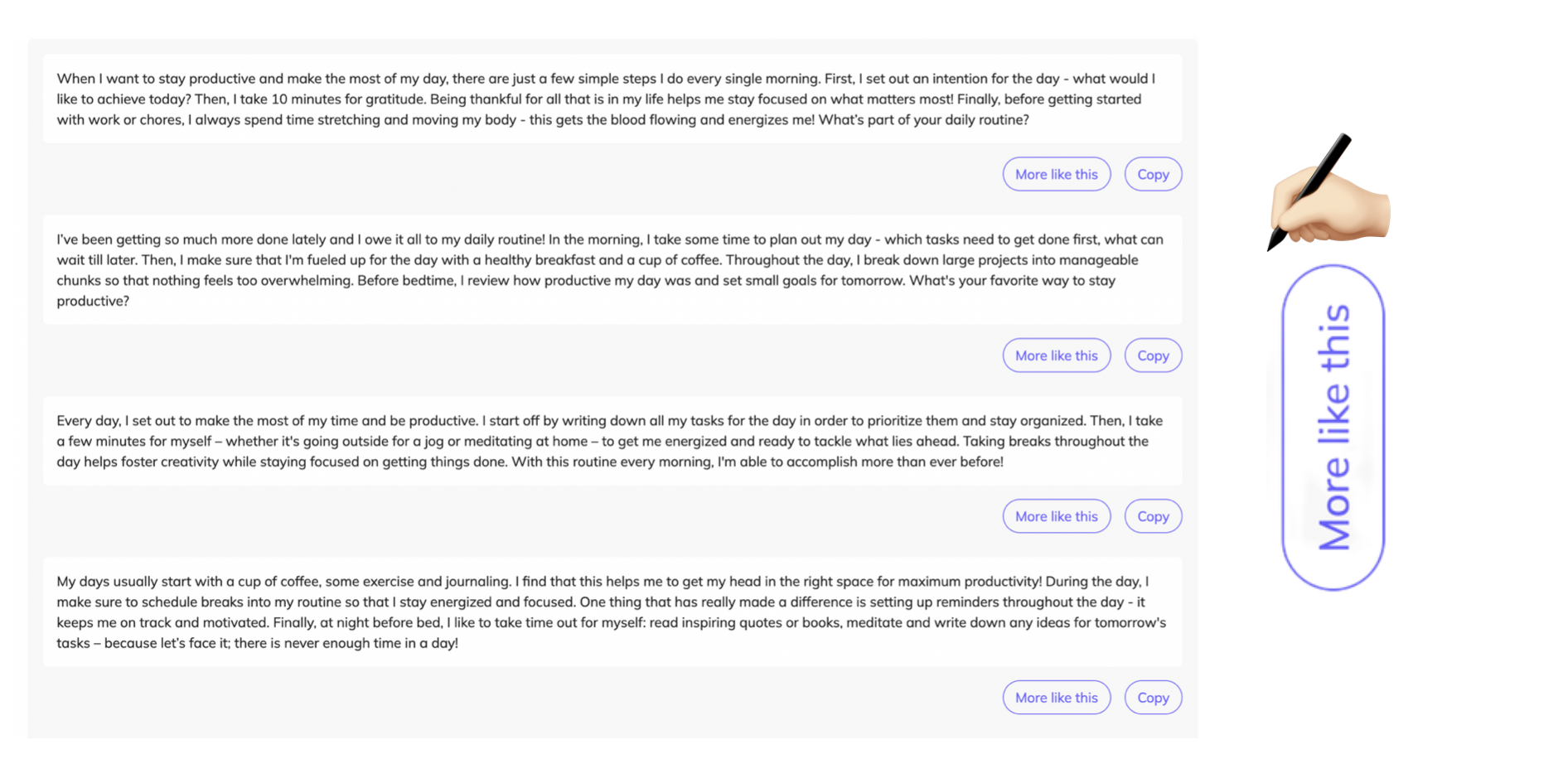 How can our Instagram Caption Generator improve your content strategy?
Now you can finally save time and energy and get inspired.
We've already mentioned some ways our Caption Generator creates an advantage for every Instagram creator, but we can't stress them all enough – this feature is a game-changer.
You won't feel stuck anymore.
Not sure how to write an engaging caption? Our Caption Generator is trained with the most engaging writing formulas to generate winning Instagram caption ideas. We've trained our most advanced AI with the knowledge of the best content creators and content writers, so you can be sure it knows how to do its job well when generating captions for your Instagram posts. Our idea was to create a Caption Generator that could write Instagram captions as creatively as humans would write.
What do the IQ Hashtags users with the privilege to test out the new feature first say?
"I was a bit skeptical at first, but Holy Moly, it's crazy how much time it saves me every single day!"
"This feature is such a huge productivity boost for my Instagram creation, and I'm noticing an increased engagement because I can finally find time to create more posts, as I don't have to worry about writing captions."
This is what they say, but we insist – try it for yourself and see how much time you can save!