Let'd discuss Instagram account analysis! When you're trying to grow and scale your Instagram account, whether it's about building your personal brand or promoting and establishing on-line presence for a non-personal business, social media management often gets overwhelming: that is what our clients and our community admit very often, particularly at the beginning. This feeling intensifies, especially when you find yourself looking at all those vast profiles with enormous reaches. Then the voice of self-skepticism comes to your head: how difficult and time-consuming must it be to accomplish a goal like this?
We know this struggle: that is definitely why we developed IQ Hashtags. We created the solutions to make Instagram growth more effortless. We wanted to provide it to business owners and individual users because we realized it would definitely be a game-changer for growing your account on a limited budget. Using this tool will give you hundreds of hours of time back in return. 

Let's talk about one of the most essential IQ Hashtags features: profile analysis. It will help you understand the numbers behind your profile and take a closer look at detailed insights. 
Here are a few things you need to know in order to fully understand the stats and track the growth of your account:
how many active followers you currently have

how many users have liked or commented on your posts so far
how many unique hashtags have you used so far
how many banned hashtags have you used in the past in general
how your popularity increases or decreases on different days (so you can analyze the data and draw conclusions)
when exactly your activity is the highest
what hashtags you use most frequently
how is your engagement rate shaping up in time
As you plan your Instagram strategy, it's indispensable to know those metrics. To make sure you're aware of your profile's current situation, it's essential to analyze the right information – the information that will be provided to you by the IQ Hashtags feature we're talking about: Profile Analysis. Let's dive deeper into the benefits of such knowledge.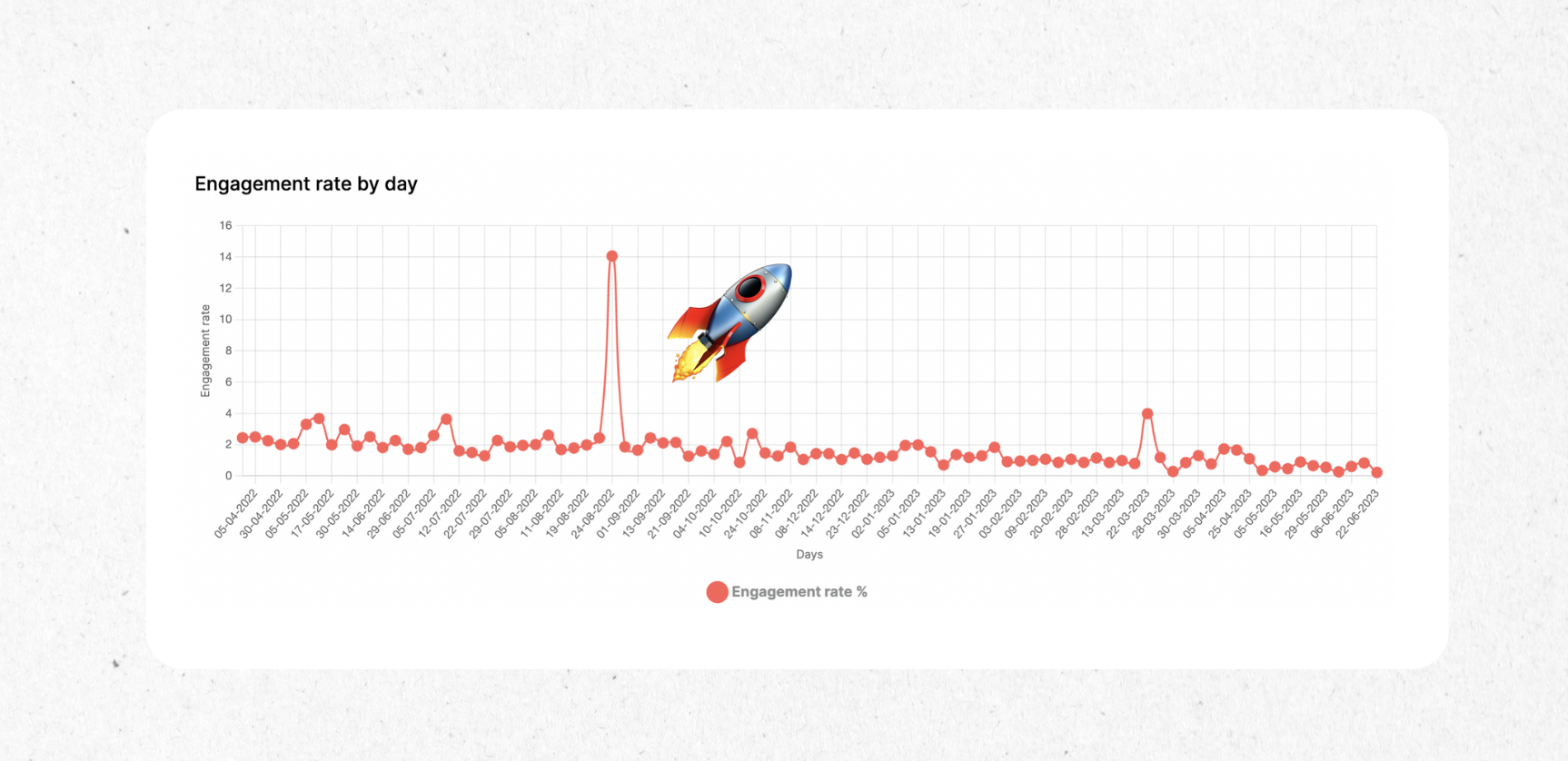 Instagram Account Analysis: Check your

engagement rate

– and track it in time!
If you have 10 000 followers but are only getting 50 likes/comments on your photos, something is wrong, and it demands your attention. The key to running a successful, converting Instagram profile is having an engaged, allegiant audience that is willing to answer your questions, be inspired by your content, and engage with you on a daily basis. 
The truth is: engagement rate beats the number of your followers; it's a hundred times more important. You can have a small, engaged community and get results much higher and more satisfying than accounts with a large base of followers.
With the IQ Hashtags Profile Analysis feature, you can track your engagement rate increasing or decreasing and examine time dependence – when exactly it happens, so you can analyze the reasons behind it. Check how your engagement rate increases the days you post new content and look into data to determine which type of posts generates the highest engagement from your audience.  
The next essential metric you should be aware of is: how many users have liked or added a comment on your profile so far? It gives you an outlook on how many users you have attracted to engage with your content so far. Those interactions are valuable, so it's beneficial to track them.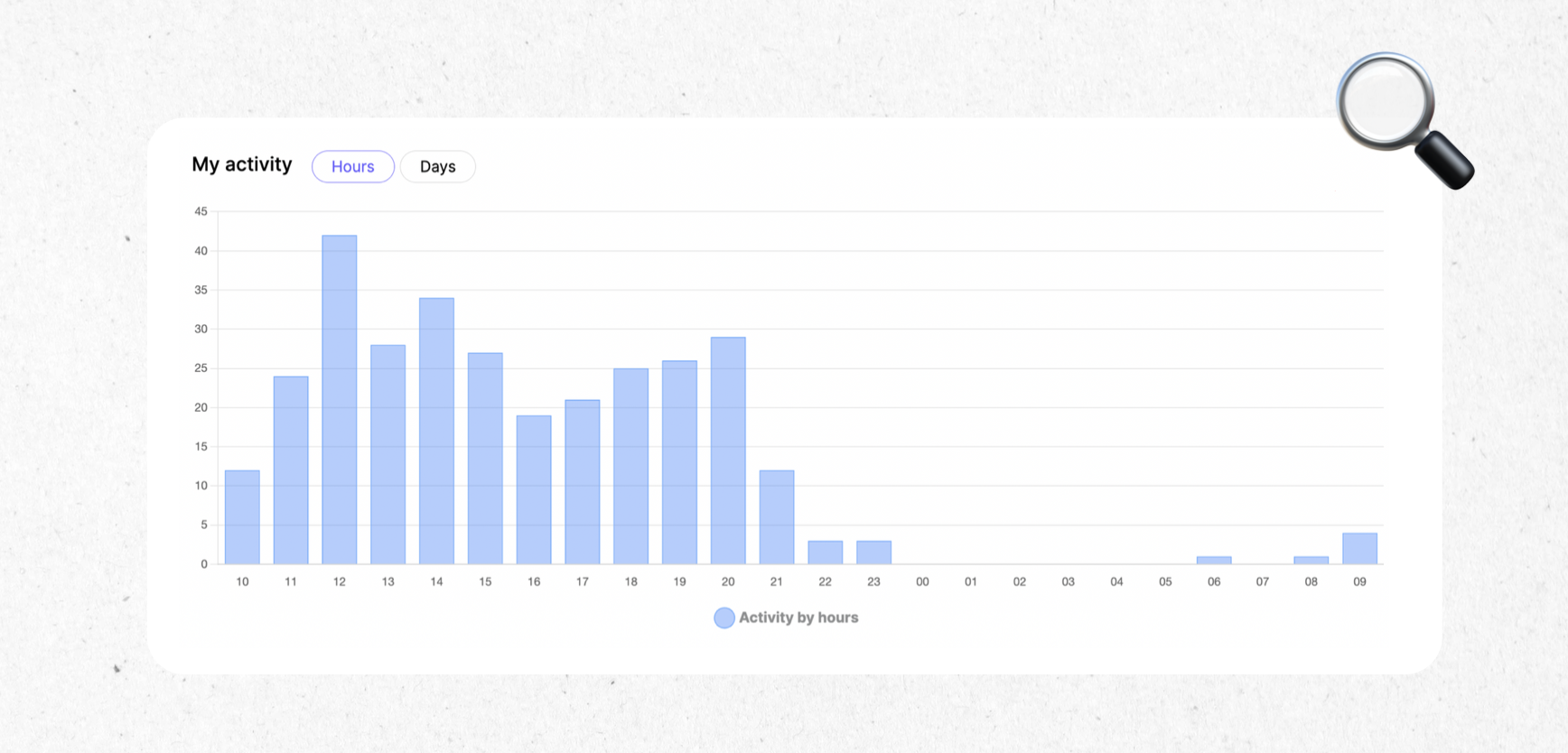 Check hours of

profile activity
Since Instagram feed is not chronological (and probably won't be ever again), your content publishing time really matters. To increase your posts' visibility and engagement rate, and, of course, to keep consistent frequency in posting, it's good to have comprehensive information about the hours and days you used to be the most active on your profile. Thanks to this option, you have access to information about how many posts you have published at a specific hour (for example, our favorite influencer has published 31 posts at 21 so far). The same applies to days: let's find out which day of the week was the most productive in content publishing one for you.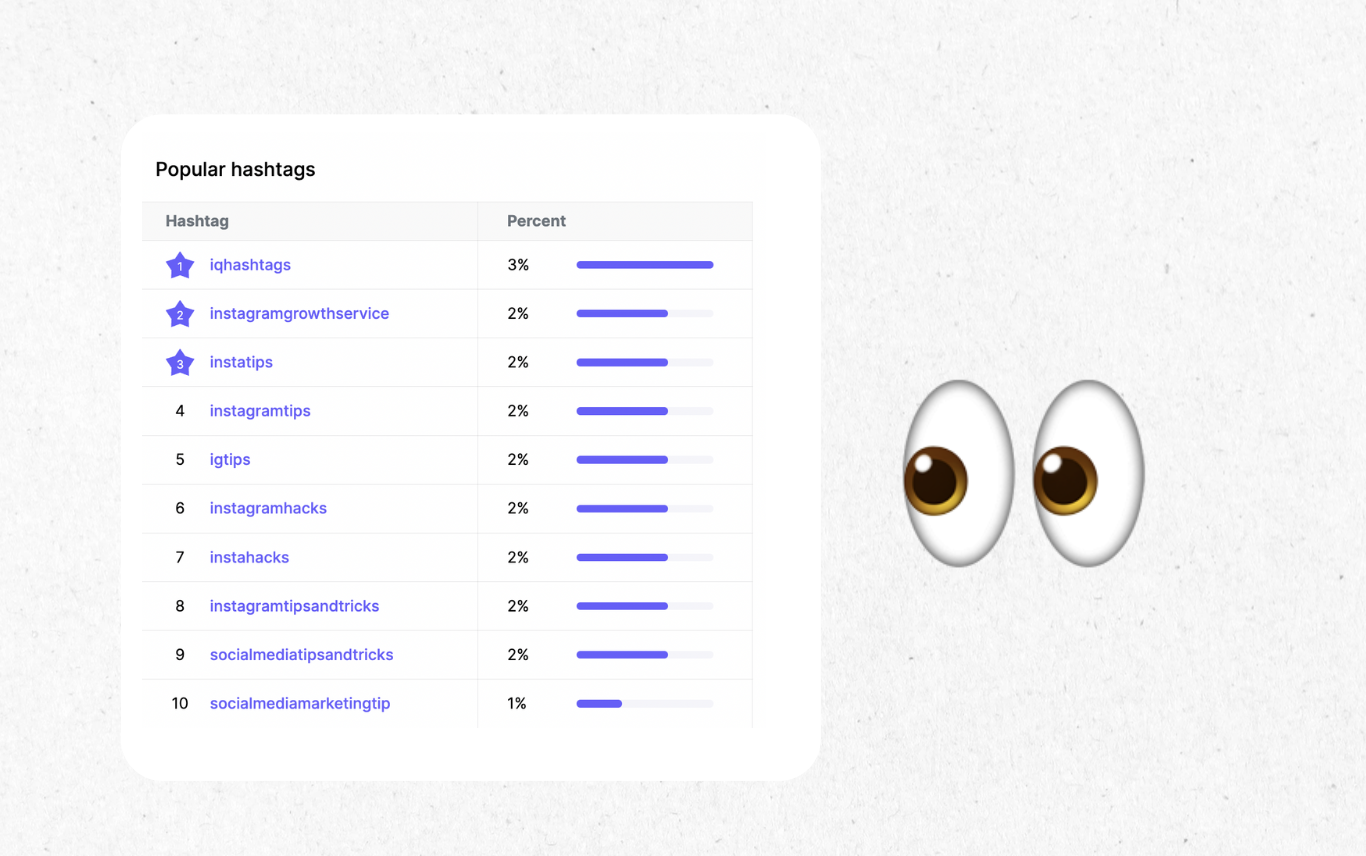 How many

hashtags

have you used?
Hashtags are one of the most crucial factors of your Instagram marketing strategy. Get to know how many hashtags have you used in general – and how many unique hashtags as well.
What will these insights tell you? The number of unique hashtags will tell you how diverse your hashtag strategy is: when you have a deficient number of unique hashtags, it means you haven't tested many options, and you're using the same ones over and over again. Our other features: hashtag research, hashtag performance, and hashtag lists will be a game-changer for you, and they will take a fresh turn with attracting new audiences. 
Did you use

banned

hashtags?
Hashtags play a crucial role in attracting people to your account. But it would be best if you kept in mind that not all of them will be beneficial for you – some of them can be seriously harmful. There are a large number of Instagram hashtags that have been banned, and using them can lead to decreasing the visibility of your posts as a form of automatic punishment from the Instagram Algorithm. Some hashtags have been banned permanently, and some of them only temporary, so it's a great practice to check if you haven't unknowingly used them. And here we've got your back: with our Profile Analysis Feature you'll have access not only to the exact number of banned hashtags that are currently in your content captions, but you'll see the detailed list of them with links to those particular posts – so deleting banned hashtags will be easier and quicker than ever. 
Identify the

most popular

hashtags used on your account
Which hashtags are your favorites to such an extent that you use them repeatedly? We'll provide you an outlook on the hashtags you have used the most – along with the percentage of their general usage. Are there several hashtags you have used in more than 40% of your posts? It's a valuable piece of information to implement more conscious hashtag-selection.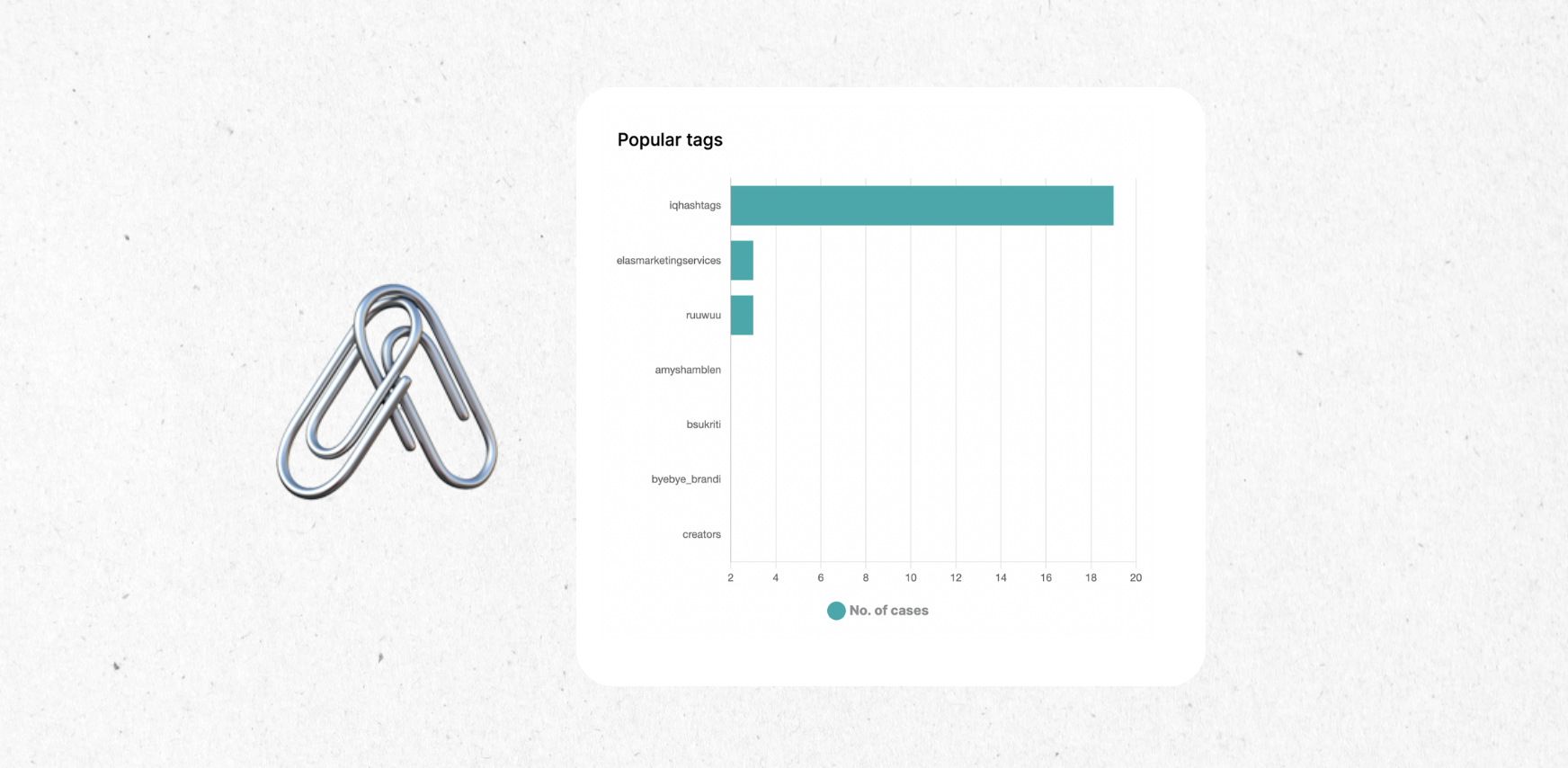 Who or what brands have

you tagged

in your content most often?
Whenever you tag an account: whether it's a personal profile or a business one, they get a notification. What does it mean for your engagement? They will be much more willing to interact: like or comment on your content.
Why is the information about the accounts you have tagged most frequently is precious? You'll have an insight into the creators or brands you have developed the most intense tagging-relationships in the past, and you'll see in how many posts have you actually tagged them. 
Profile Analysis Feature provides you the most important statistics: not only the broad, overall data but also many details, arming you with the professional knowledge about your account "behind the scenes." It will unquestionably help you grow faster than ever and broaden your Instagram presence more consciously and – what is essential – more strategic. It will help you understand empirically what statistics are revealing about your account and its condition, and it will provide you sterling insights to reach your goals much faster.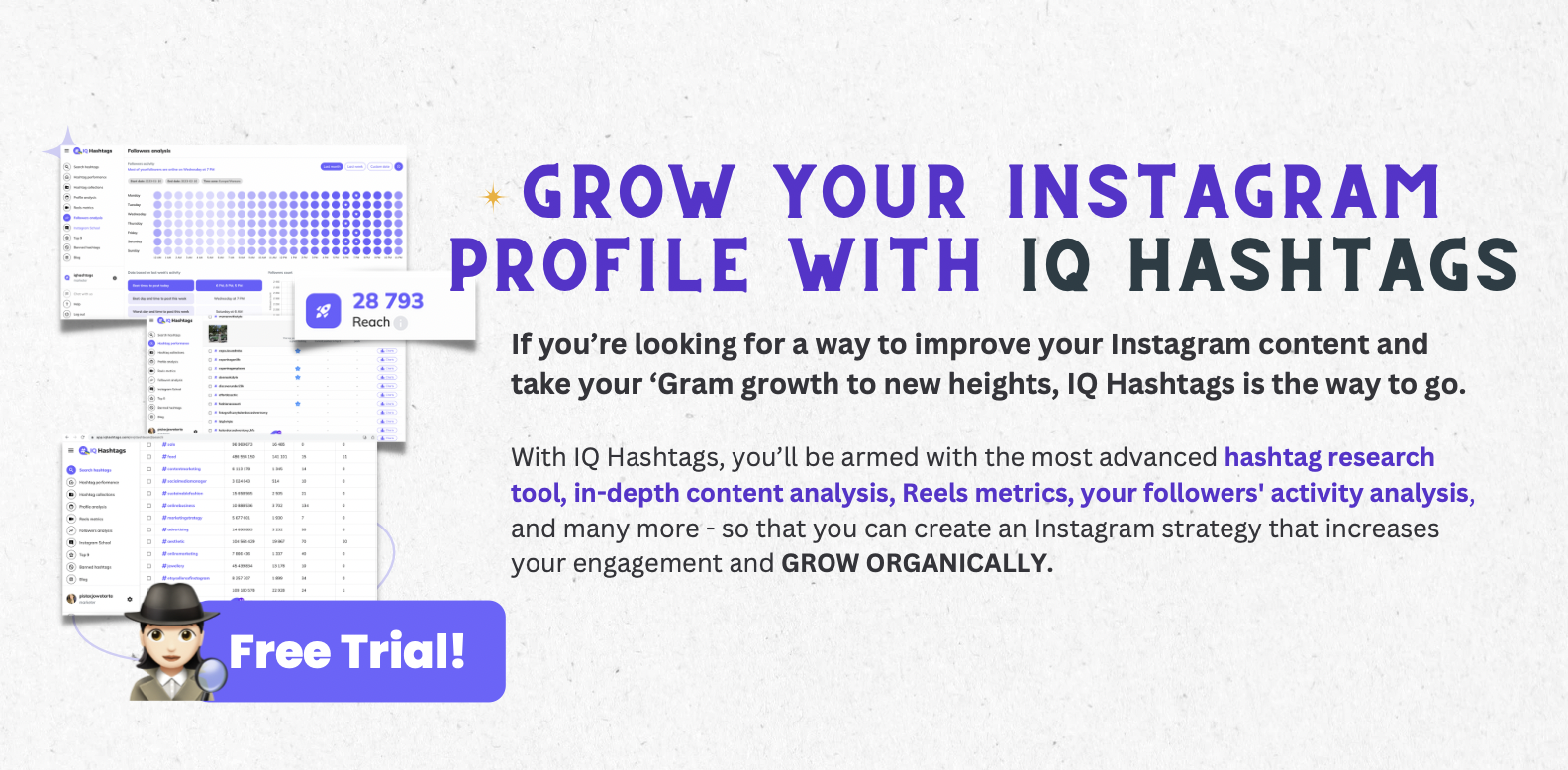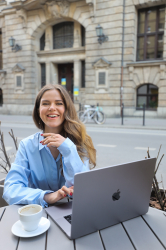 Latest posts by Kasia Pilch
(see all)