If you want to get your content seen by your target audience and your potential followers, you need to use the right hashtags. However, I know selecting those hashtags can be the most challenging part of the posting process!
After taking the photo and writing the witty caption, I frequently find that my mind goes blank, and I can't think of a single trending hashtag, even though I've seen so many. So, if you're like me and need a cheat sheet, today I will share with you some of the best trending popular photography hashtags that will help you connect with your target audience.
What exactly will we discuss today? 🕵🏻
I can't stress this enough: they are.
The main goal of using hashtags is to ensure that you post content that creative people are looking for. At the same time, it is critical to use the ones that aren't already saturated and used thousands of times per day, as this will inevitably bury your post in moments below new posts every – EVERY, I MEAN IT – few seconds. 
Consider the following scenario: you took a beautiful beach photo. The temptation to use the hashtag #beach is HUGE, I know. This appears to be logical because people enjoy sandy beaches, and the keyword will receive a lot of searches. 
The problem is that it won't be long before your post is totally buried. There are so many photos with this hashtag that your post will be pushed to the bottom of the searches in minutes!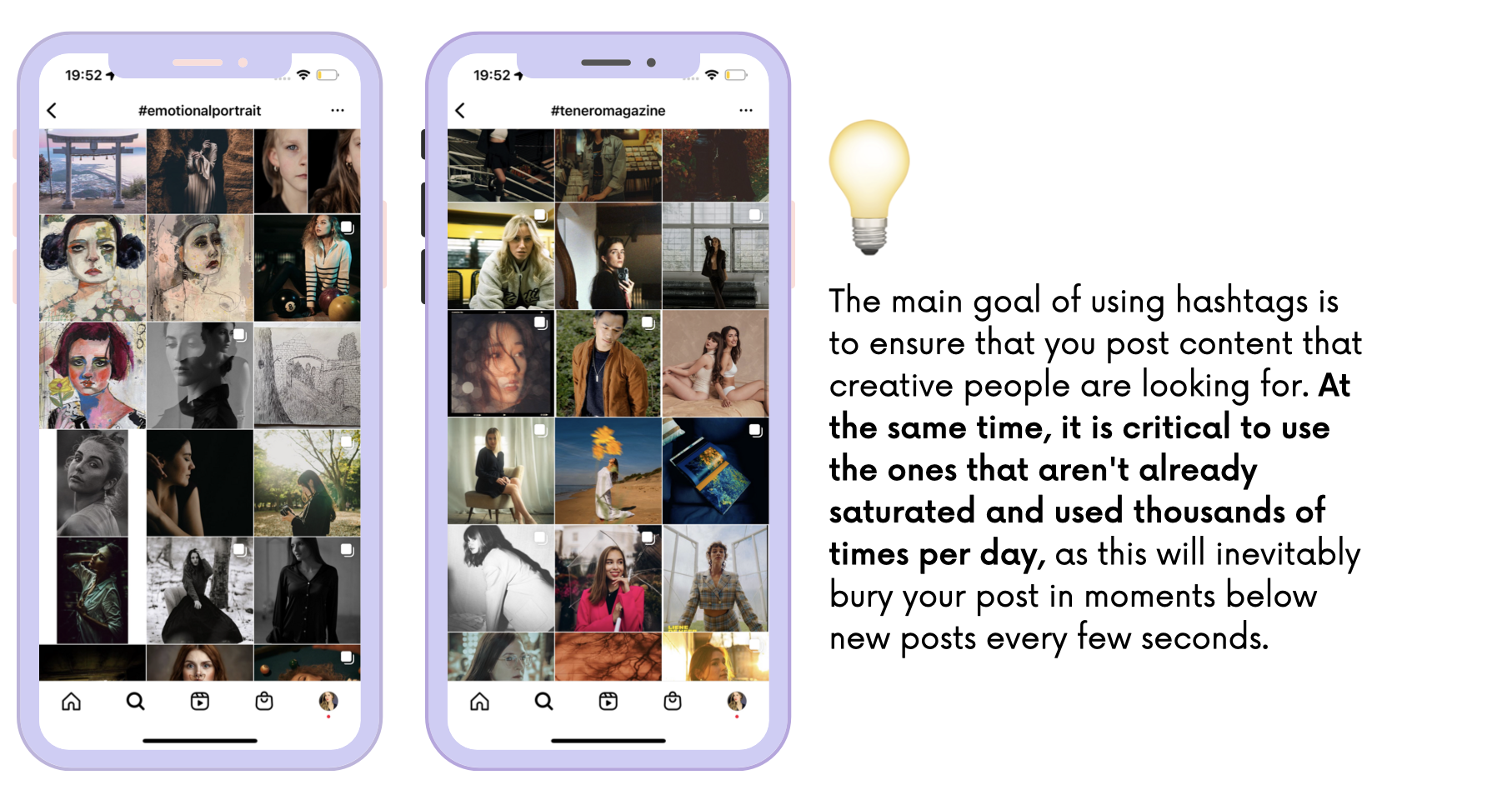 That's why the best idea is to learn how to choose smarter options for your posts – and implement a more rewarding strategy to see quicker growth. Speaking of the devil…
What's The Best Instagram Hashtag Strategy For Photographers?
Every Instagram post can include up to 30 hashtags, and I believe you should take full advantage of it every time you post. 
Choosing the right hashtags for your Instagram photography content is both an art and a science. If you use the right hashtags, you can quickly expand your Instagram presence, grow your audience and receive hundreds of likes and words of appreciation. On the other hand, if you get them wrong, you could end up posting into the void and receiving nothing but tumbleweeds in return! 
So, how do you find the best hashtags? Let us investigate!
Here are my best practices to optimize your photography posts' reach on Instagram using hashtags:
Don't use the same hashtag collection every time you post – create many multiple collections (use our tool to make the hashtag research process as smooth as it can be!)
Niche down – use trending hashtags specific to your niche and for what every single post is about
Engage with other creators who use the hashtags you choose (protip? Come up with genuine, thoughtful compliments to make it easier for them to remember you)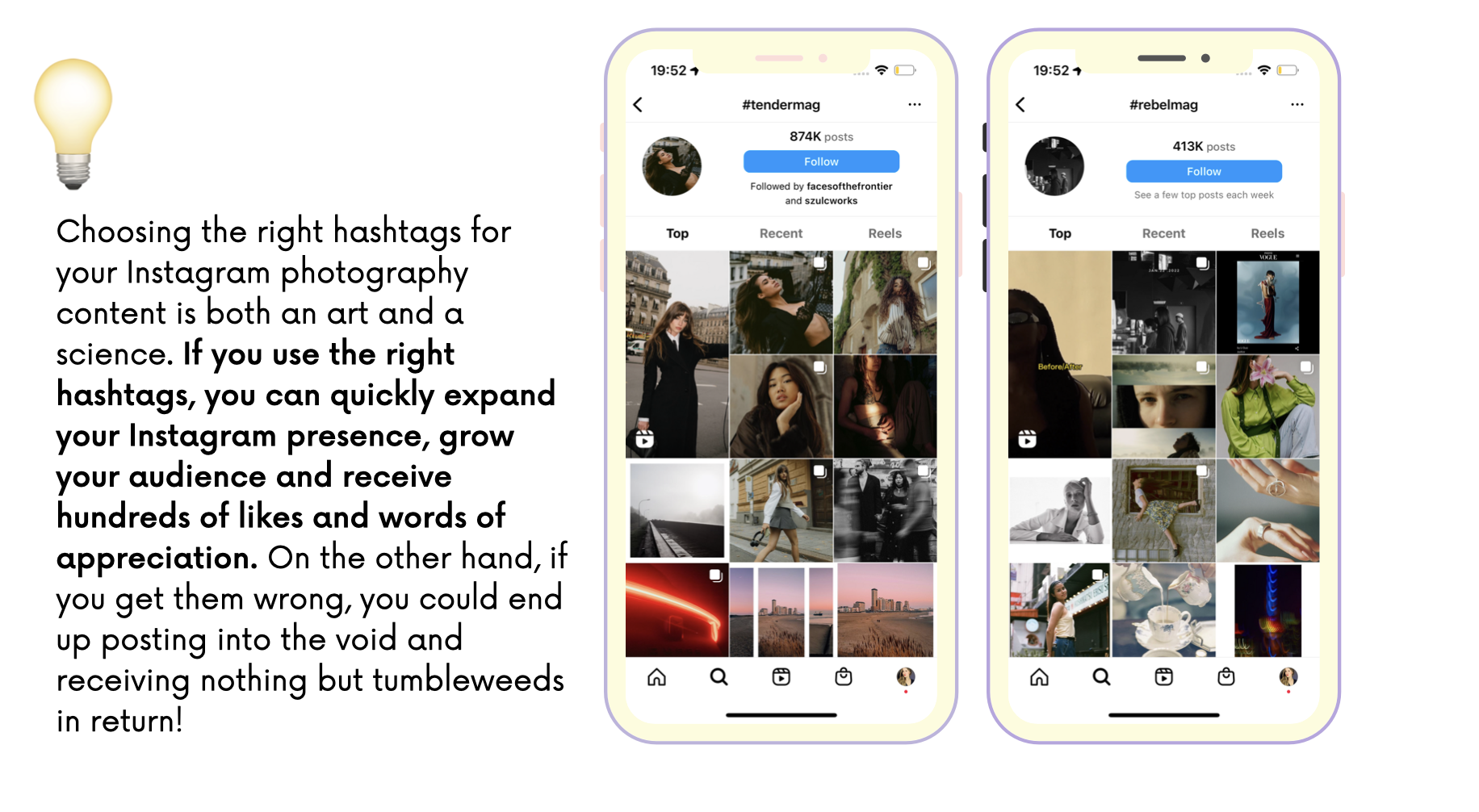 Protip: The critical point to remember is to use hashtags smartly! Use the ones that are most relevant to your posts; don't always use the same ones; mix them up and take them as an inspiration for your future posts!
#madewithkodak
#shootfilmmag
#thefilmstead
#grainisgood
#photographyclub
#shotonfilm
#filmneverdie
#streetportrait
#35mm
#staybrokeshootfilm
#FeelingFolksy 
#Inspiredbynature_ 
#ColourMyEveryday
#Craftsposure
#photographyhack 
#photographyvibes 
#the_universal_photography
 #photographytime 
#editoriale
 #homepotraits
 #unseenfoto 
#digital_artist 
#ificanttakemycameraimnotgoing 
#fromdigitaltoanalog 
#avventurediscovery 
#myinstax
#beautyretoucher
#photographerlovers
#profesionalphotographer
#scandinavianphotographers 
#dronephotographer 
#thebestphotographers 
#nightphotographer 
#finearephotographer 
#awardwinningphotographer 
#futurephotographer 
#personalphotographer
#paradiseart
#teneromagazine
#falcon_magazine
#homesickplaces
#kalermagazine
#777luckyfish
#portraitvision
#photocinematica
#wordlviewmag
#nikonportrait
#canonportrait
#insomniamag
#peoplefotografie
#vintageportrait
#portraitinthecity
#portraitstreak
#somelightmag
#saturatedmagazine
#colightmag
#nextopmagazine
#portraitshooting
#bluehourportrait
#moodyportraits
#sarahimagazine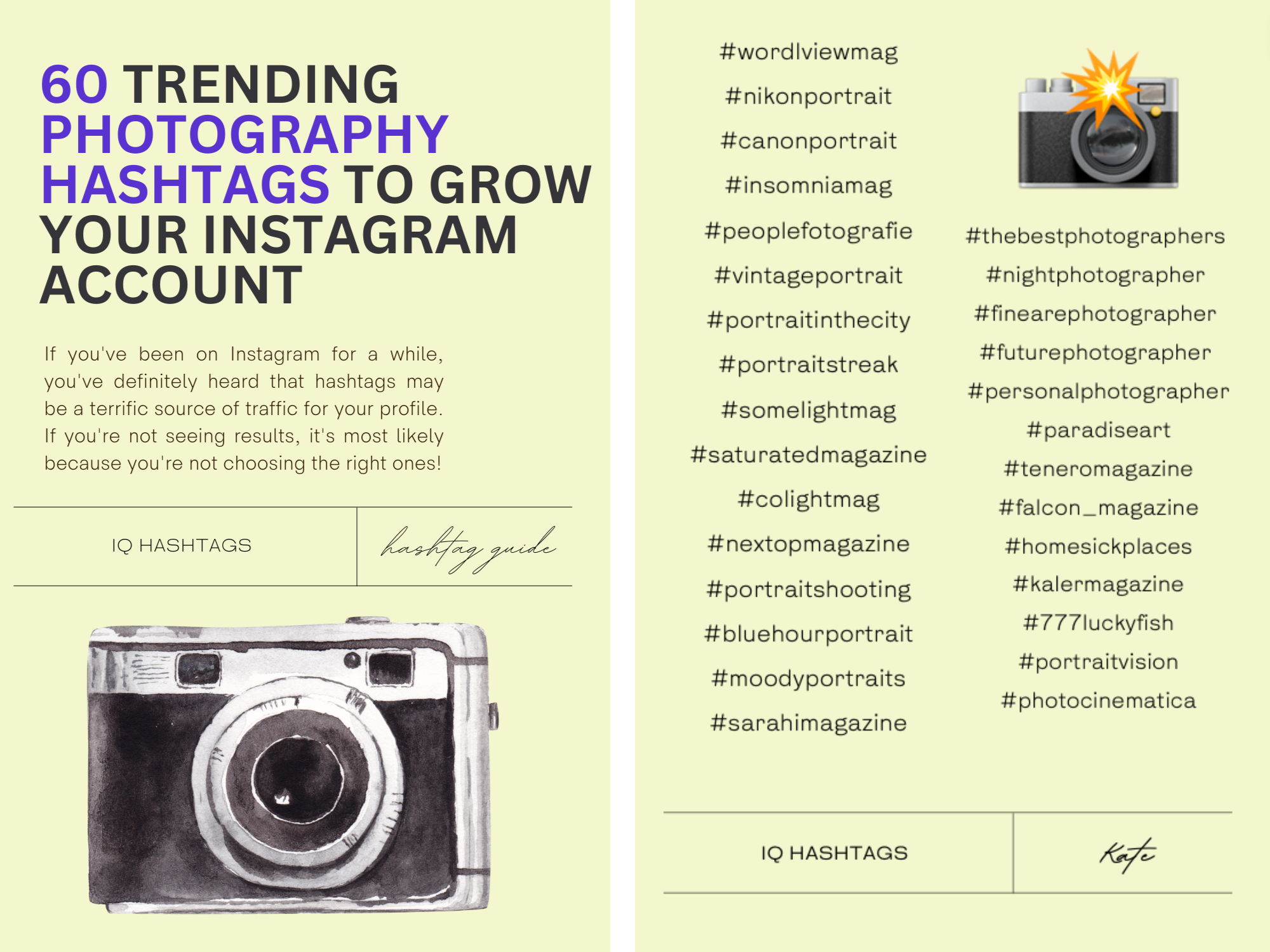 Now you know my favorite hashtags for photography posts! But the fun doesn't stop there – you can do your own research and save tons of other creative hashtags that will explode your reach even more.
Spoiler alert: Our IQ Hashtags Tool is extremely practical, because you can save all your new discoveries on dedicated hashtag lists, label these lists with your titles, and even label them with colors!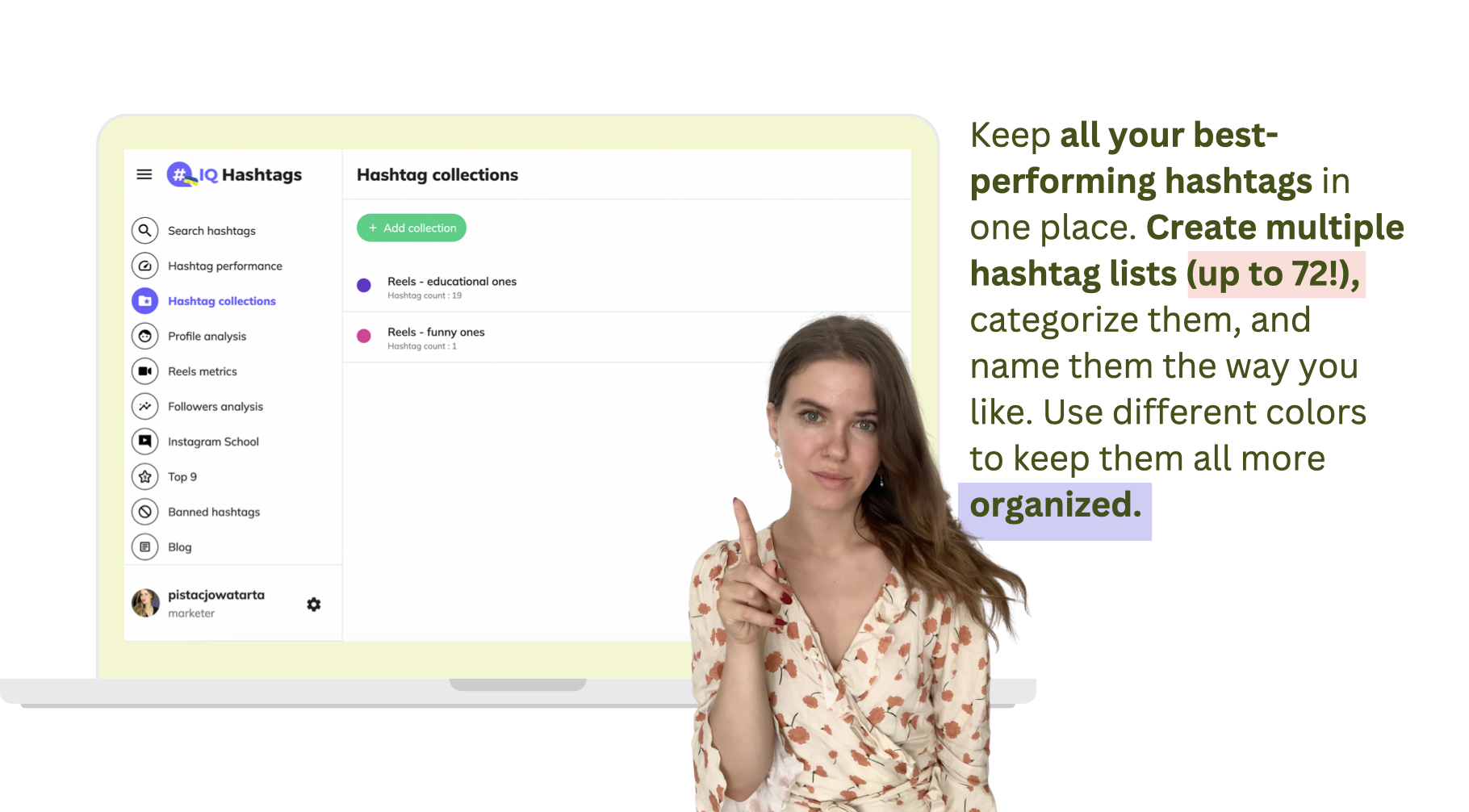 To Wrap-Up!
Hashtags are what seriously helped me to grow my community on Instagram, and I hope they will help you too. I hope today's guide helped you figure out some amazing hashtags to use this week!  If you want to find some more niched down, specific ones, be sure to use IQ Hashtags.
But, before you start hashtagging your amazing photos away, please leave a quick comment and let me know what you thought of this hashtag list and how you plan on using my fav ones!
I'll keep updating this list, so let me know if you have a hashtag you'd like me to include or if you're struggling to find the right choices and need some help!