Reels are a content format that is taking social media by storm. With the possibility of reaching a broader audience or even going viral, this is a perfect format to grow your community. So if you are eager to learn how to create share-worthy Reels and get them noticed, I've got you covered. I created this 22-part blog course, all about how to get creative with your Reels creation and stand out on Instagram!
So, what exactly are Instagram Reels, how do you make them, and what can you use them for? This comprehensive guide will review everything you need to know.

What Are Instagram Reels?
Let's start with the basics: what exactly are Instagram Reels?!
Instagram Reels are a feature that allows users to create quick video clips to engage with viewers. Like Youtube Shorts and TikToks, the goal of this feature is to increase engagement and make it easier for users to create snackable content. The feature is defined by Adam Mosseri, head of Instagram, as "a way to record and edit 15-90 second multi-clip videos with audio, effects, and new creative tools". You essentially share short videos paired with an original or already existing audio. For real-life examples, you can check out our IQ Hashtags Reels here – video content creation proved to be both very challenging and a lot of fun for us!
The Reels feature was initially launched on 5 August 2020 across 49 countries, but gained traction slowly in the following months as the feature rolled out worldwide. On 30th of June 2021 Adam Mosseri, announced that "Instagram is no longer a photo-sharing app." This announcement feels more significant than the ones in the past – this is kind of a big deal. I'm sure this statement clarified what Instagram creators have been experiencing for months: decreased reach and visibility, and less engagement on static photos and carousels.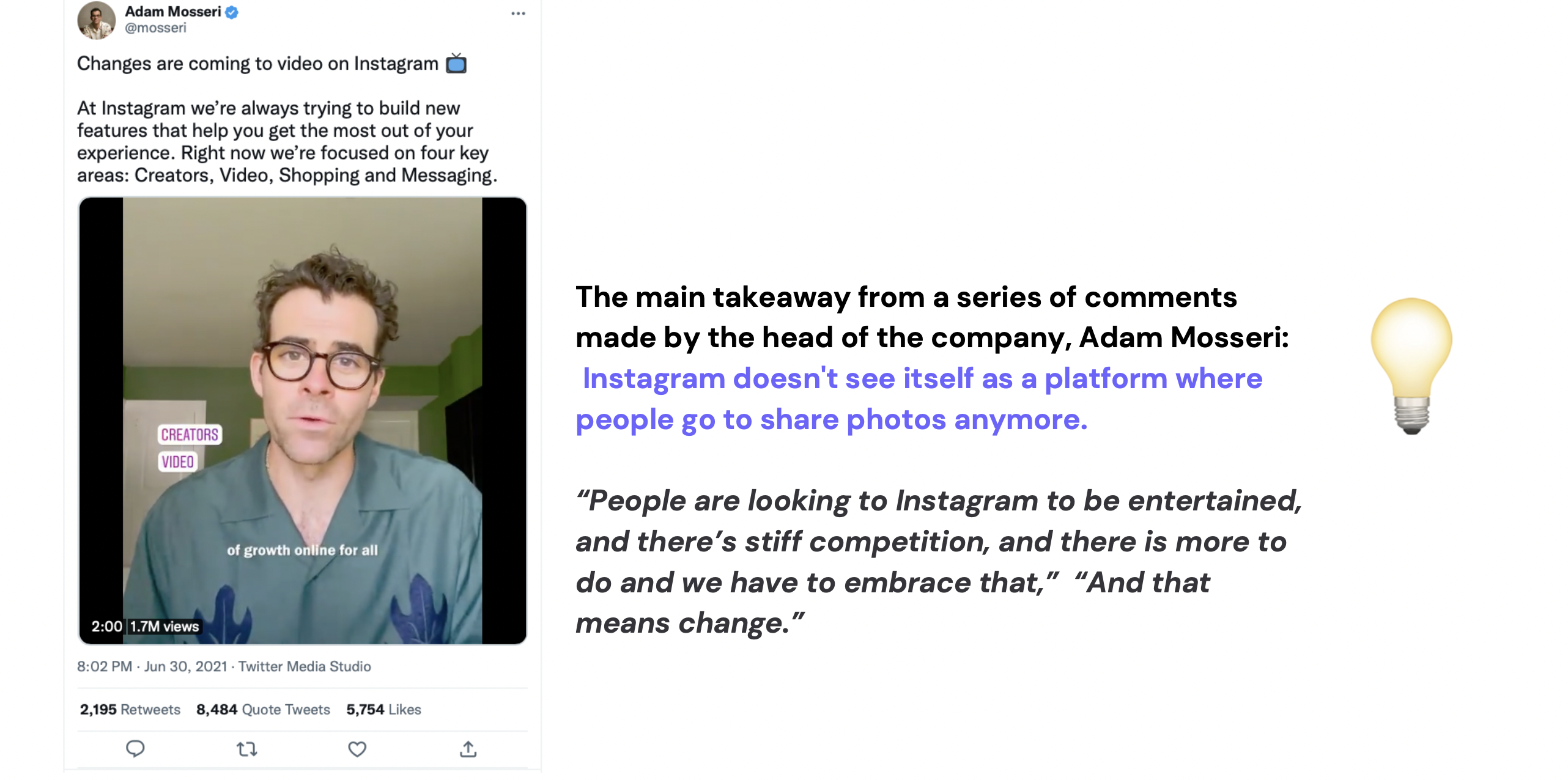 It's been clear since then: Instagram's development team wants to push users to create more video content than we've already seen.
The only constant in social media is change, right? There is every indication that Instagram has altered its discovery algorithm to ensure the Reels promotion and broader viewing of video content. It appears that snackable video content is here to stay. So why not find the fun in it and experiment with how to attract your target audience through videos?!
How Do Reels Work, and Why Should You Be Using Them?
The structure of the Instagram app is addicting – don't we all already know that? You can watch 15-90s videos at the swipe of a finger. In a generation of a short attention span, 'Gram makes it extremely easy to sort through an ocean of content to find something inspiring, entertaining, or educational.
That's why one of the smartest things you can do is to become a creator – not only a consumer. Sure, enjoying videos before you start creating your own will help you understand trends, what content does well, and the way the most engaging videos were shot. You got to know the Reels landscape and follow inspiring creators doing good work. You don't have to reinvent the wheel, doing what's already been done on the platform can be highly successful for many of us. You can learn much from creators who have walked the Reels' path before you.
But you don't want to get STUCK there.
Let's discuss everything you need to know to master this content format and bring your Reels visions to life. Then, if you want to grow your profile with Reels (and you really should), I'm going to map out the best practices.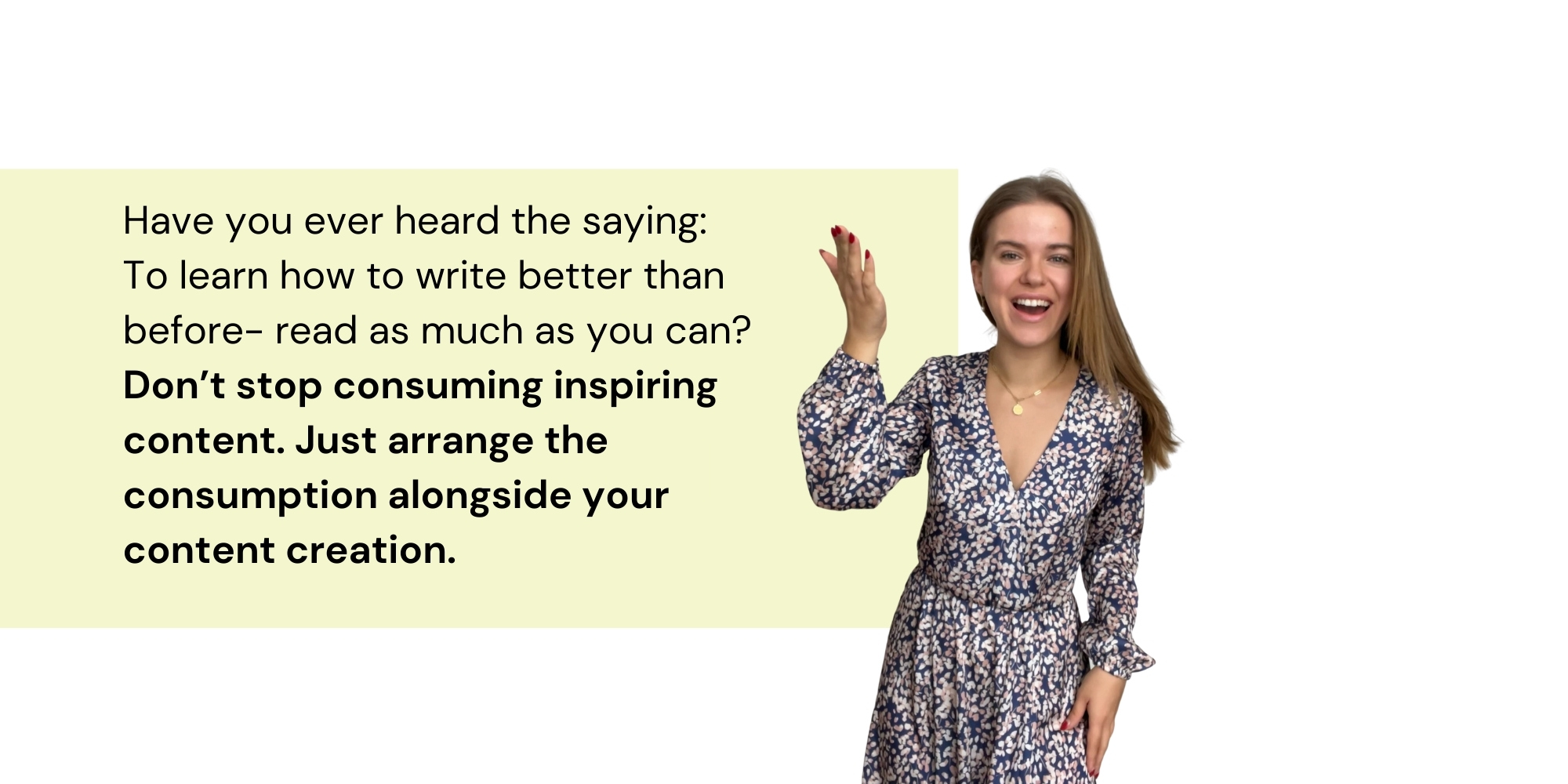 How to Find Reels? Where Do They Appear Once Posted?
After you share your Reel, your followers can discover it on a separate Reels tab on your profile, where they can find all the Reels you've already shared. If you also share it to your Feed, your Reel will appear on your primary profile grid, though you have the option to remove it from there.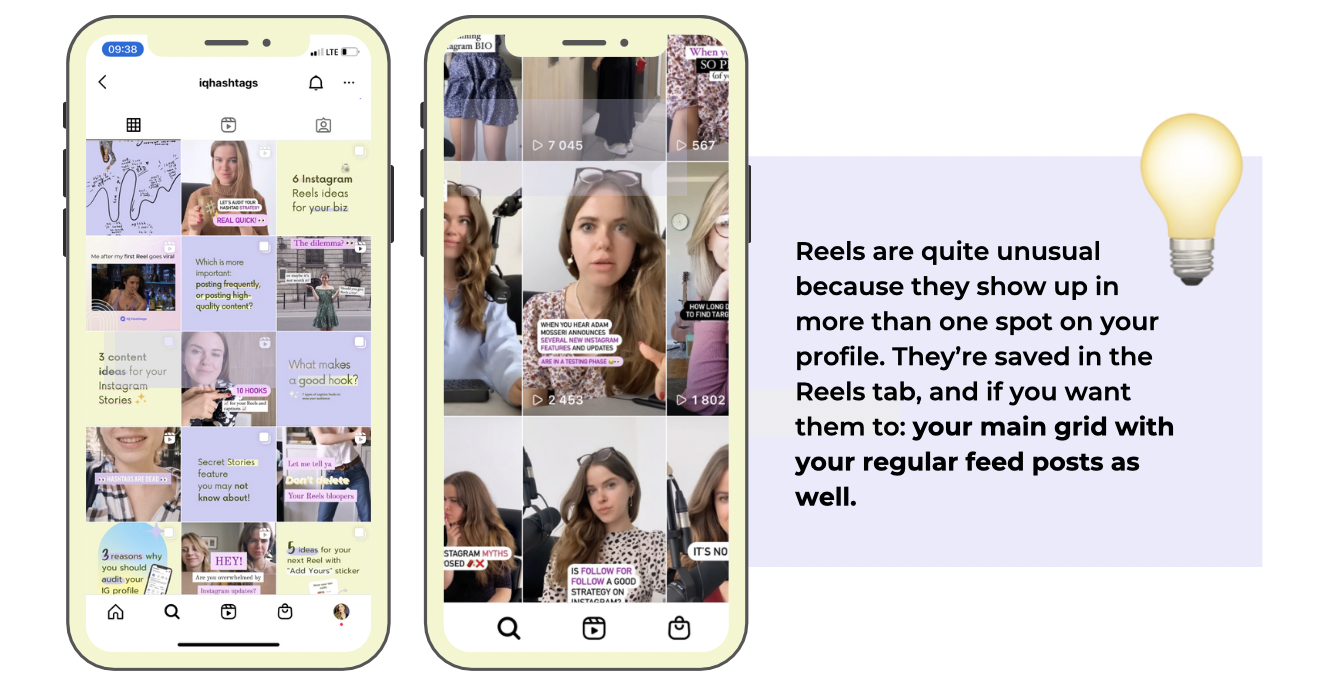 How do people discover Reels posted by creators they don't follow?
Reels are included in their own section marked with the Reels icon. Clicking it takes you to a random selection of Reels that you can navigate by swiping up to get to the next Reel.
As on other short-form video platforms (hello TikTok and Youtube!), you can view which Reels use the same sound. To do so, click on the name of the audio track under the creator's name. Later on, you may want to tap the "Use audio" button to create a new Reel with that sound pre-added for you from this screen. You can also save the sound for later – which I highly recommend because that way you'll be able to gather exciting audios for future use.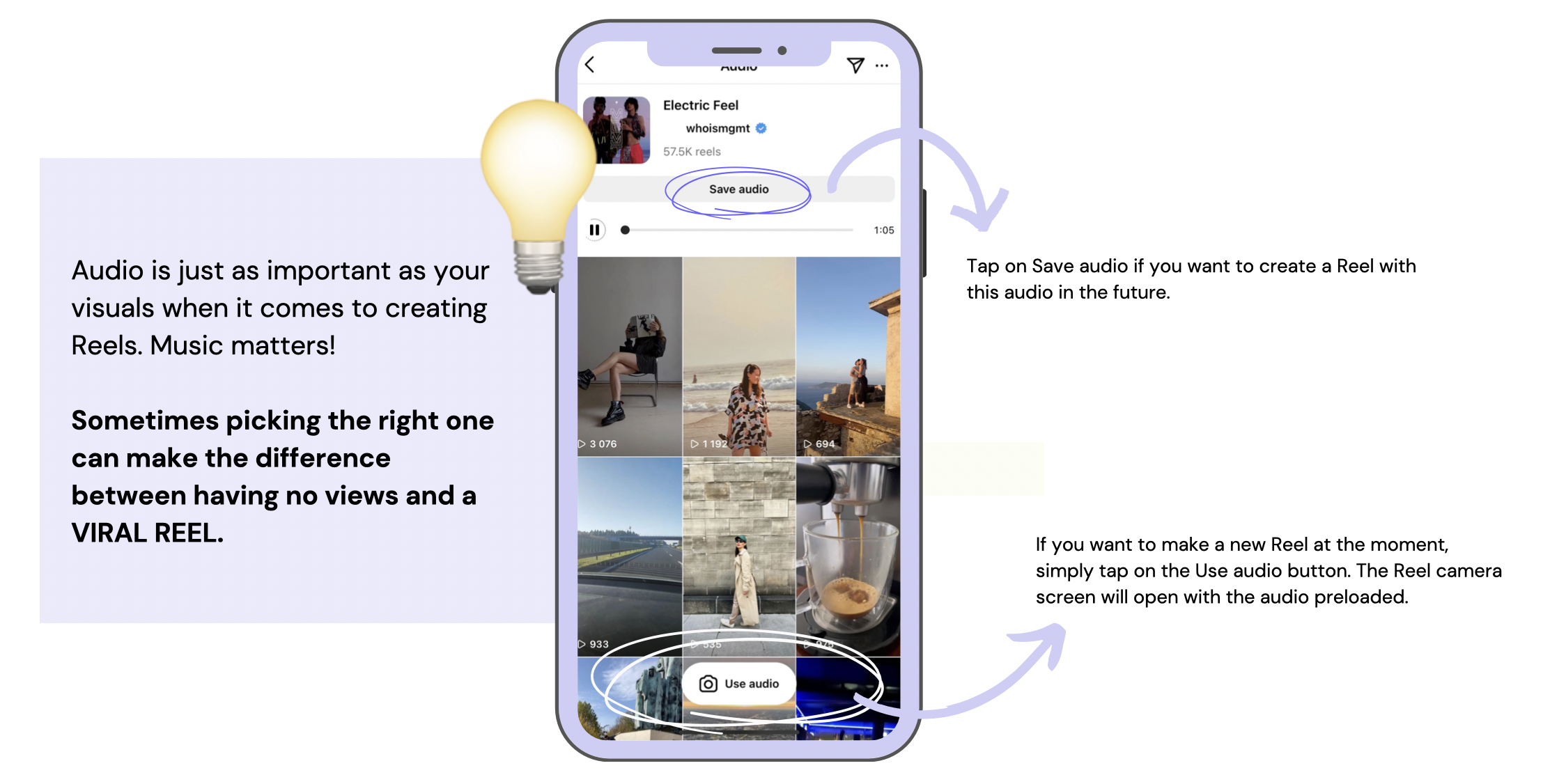 An important thing to remember: this audio isn't saved to your mobile phone, it's only saved in the app. The process is simply the same as saving posts – you can go to your saved posts on the 'Gram and find all the saved audio clubbed under the "audio" folder.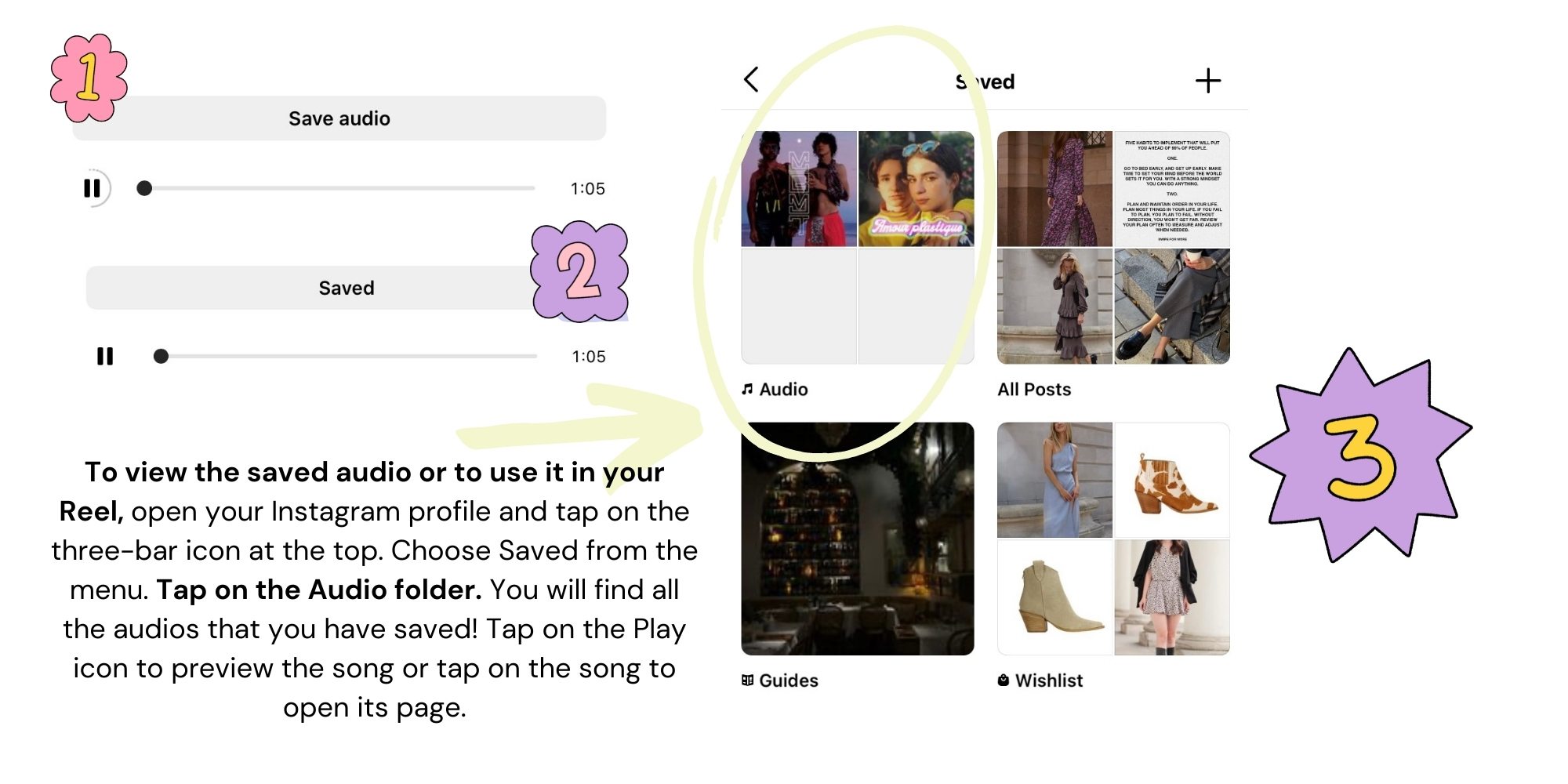 What's So Special About Reels? Why Do Reels Tend to Perform Better Than Static Posts for So Many Creators?
Now that you understand the basics of Reels, you may be wondering why – especially with so many other platforms like Youtube and TikTok focusing on short videos – Reels seem like the next logical step to go for your content marketing strategy?
1. With Reels, you can take advantage of so many various creative options – I'd say, that's number one for me. These vertical videos have to be 90 seconds or less, with the creation tools allowing you to:
Add music from the Instagram audio library so they're more attention-grabbing

Change video speed

Set a countdown timer so you can record yourself hands-free

Add filters to change the look or mood of your videos

Add text and overlays
Reels can be filmed and then edited with thousands of effects within the Reels editor of the Instagram app, or added to your Reels tab from inside the camera roll – you choose, but it's such a good thing to have the opportunity to create and edit this video content internally as well.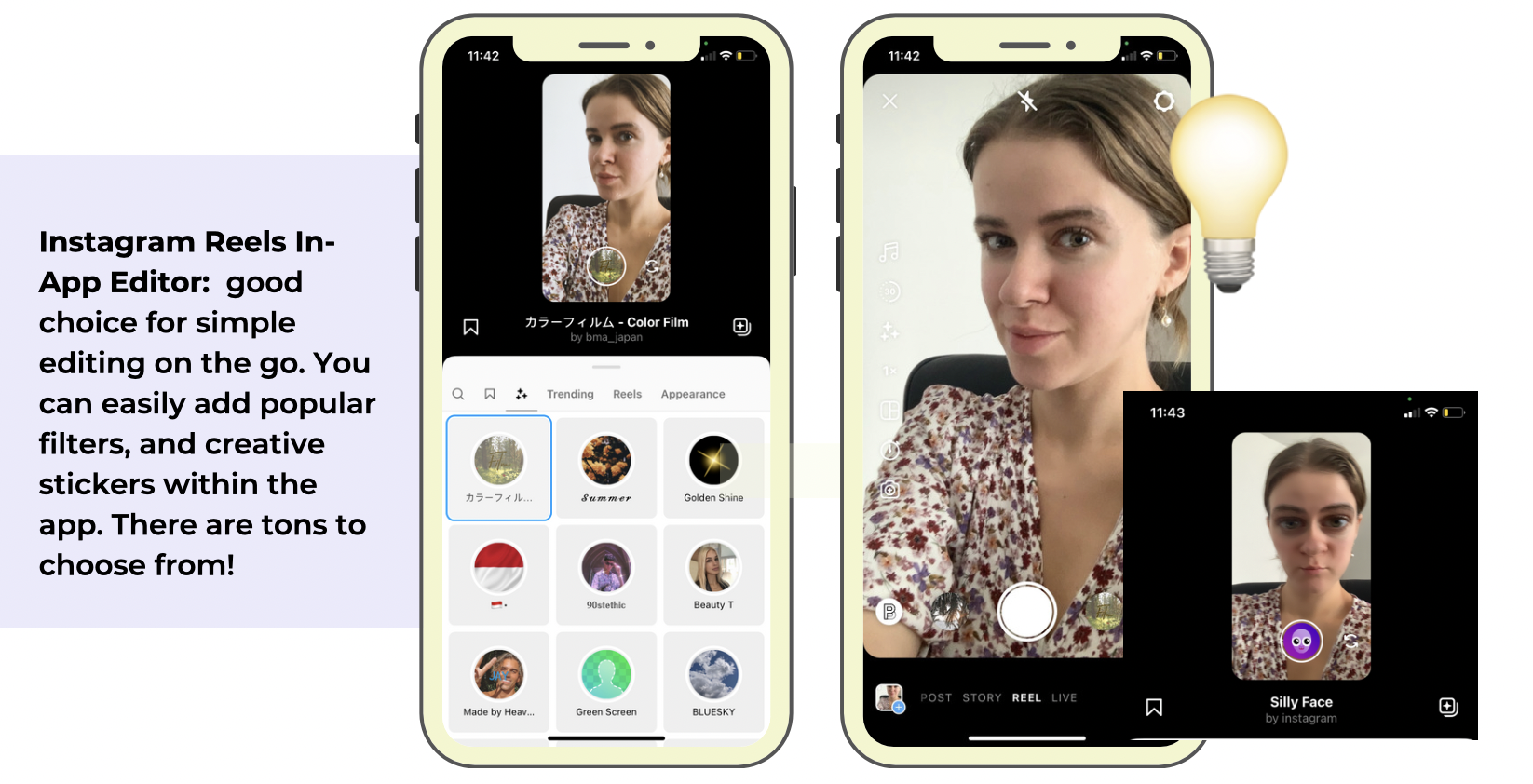 If you're not a huge fan of the built-in Reels editor, don't worry: we'll talk about the external apps you can use to make the content creation process even more effortless in the following chapters.
2. Reels will make it much easier for your content to reach brand-new audiences and even get discovered on a global stage.
Every brand and every creator has a story to tell. Are you already sharing yours? It's safe to say our clients and the creators we work with saw exponential growth from using Reels (and hey, one of our Reels became viral too!), and we know you can as well. While a static post or a carousel may capture your potential follower's attention for a few seconds to a minute or two (if they read the caption), a good Reel can keep them engaged for much longer. Using Reels as a part of your strategy will:
Help you guide your online presence in the right direction, to tell your story, share your mission, share your knowledge and all the work behind your products/services.
Make your profile more engaging. Your followers are passive until they interact with your posts – and Reels encourage them to do so, because you seem more human, you give a face to a brand, you're able to show your charisma and personal magnetism. You're able to let your followers and like-minded people in and get to know you.
Have an opportunity to play around and showcase how excellent your services/products are!
Grow the community and awareness around your niche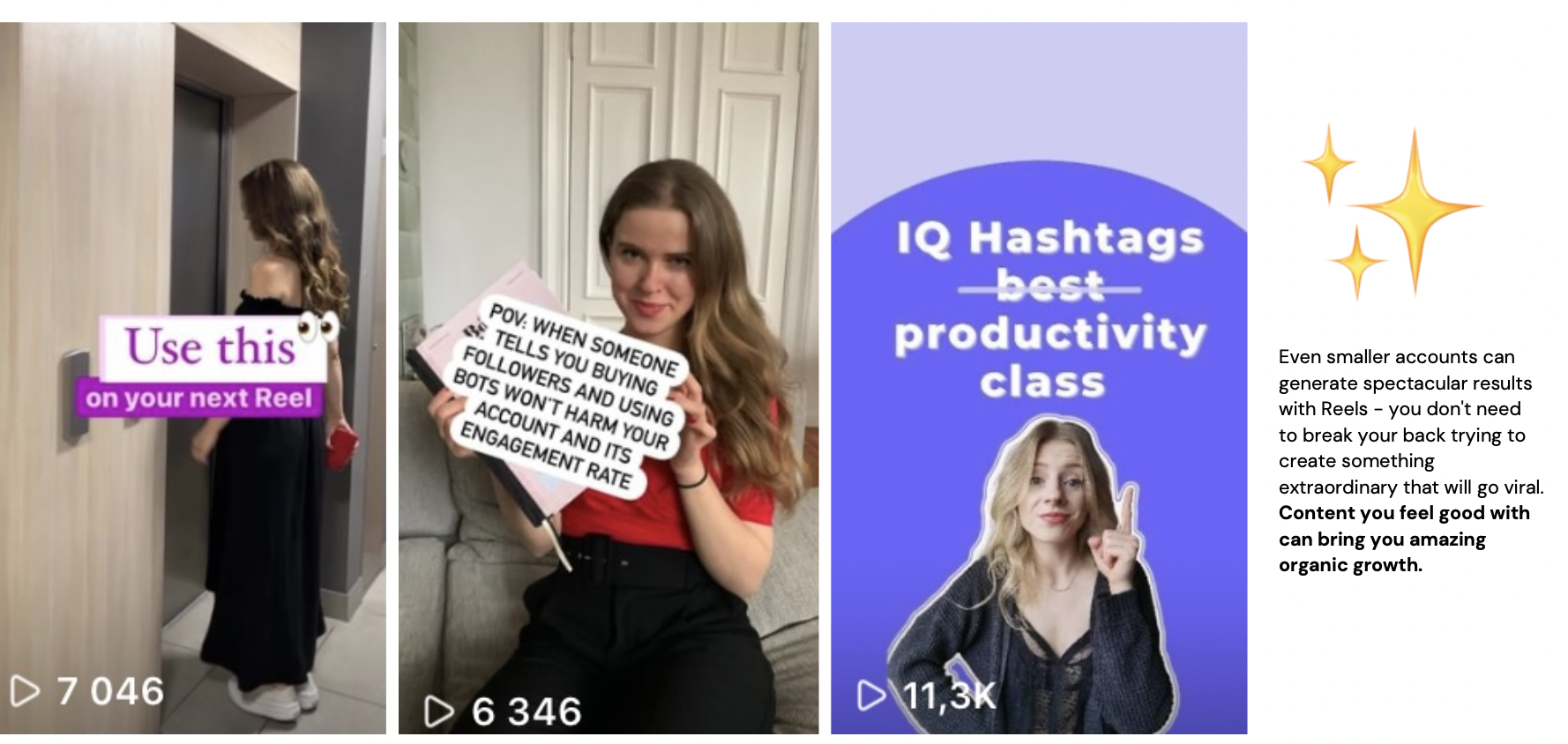 3. The algorithm pushes Reels to your new potential followers.
Because one of Instagram's current goals is to keep users in the app for as long as possible (as Instagram is competing with Tiktok and Youtube, there's no denying, whether we like it or not), when users spend a prolonged amount of time watching your short clips, Instagram will then view it as valuable and "reward" you by pushing your content to more users. It can double or triple your profile exposure extremely fast. Instagram is heavily favoring Reel content over other content formats, making it much easier to get discovered on the explore page by posting a Reel. This is priceless for growing your brand and general online presence.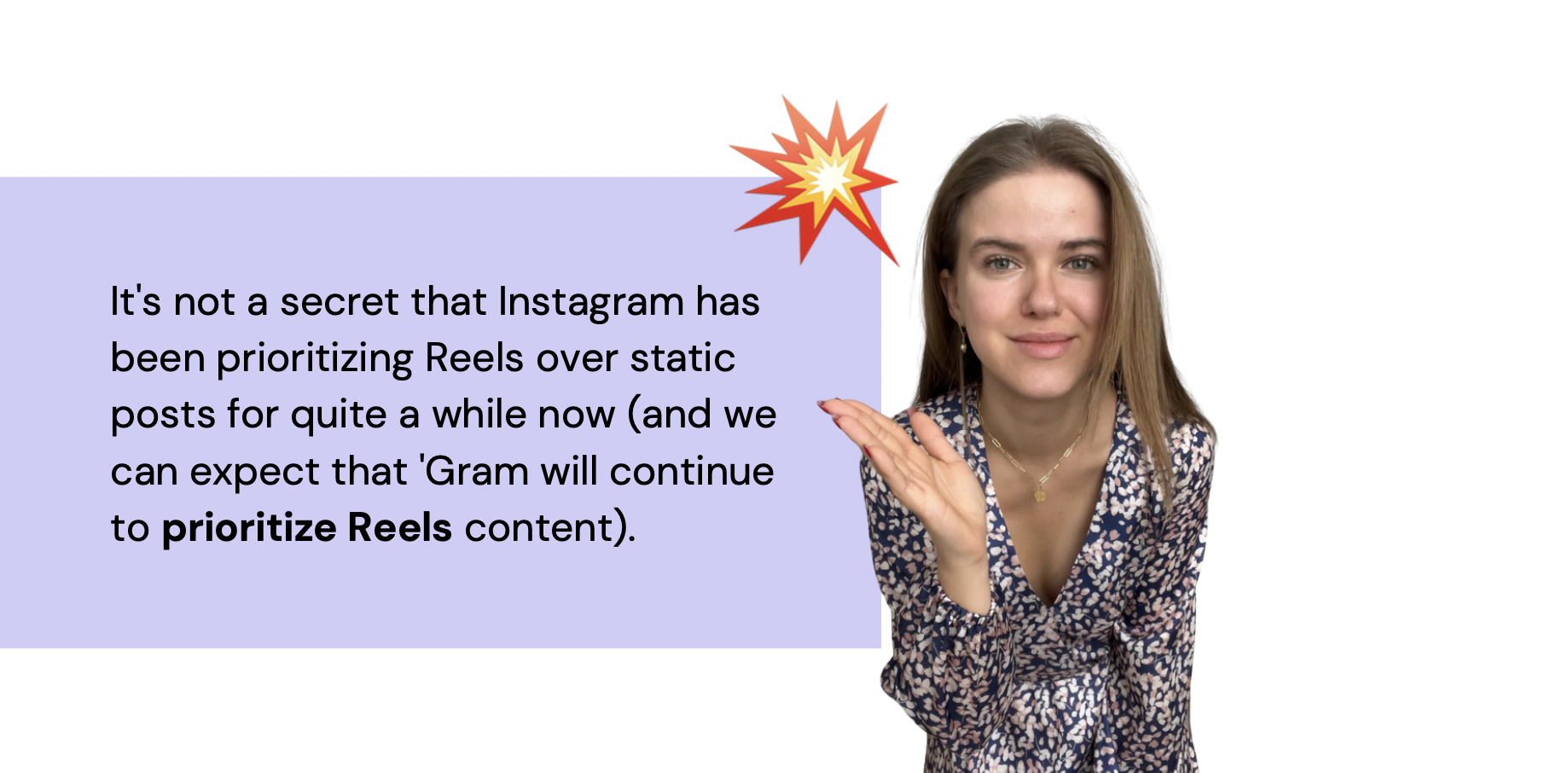 What's the Difference Between TikTok Videos and Instagram Reels?
The most common question I've been getting lately. Chances are you'd like to know the answer, too? Be brave, questions are such a powerful tool, and asking unlocks learning, so I have to admit: I'm such a firm believer in and advocate of the power of questions. Ask whenever you can!
But back to the business!
Which is better: Instagram Reels or Tiktoks? What's the main difference between them?
It depends on your overall content goals, but the vast majority of the time, Instagram Reels win hands-down. That's my personal opinion, but as a marketing strategist with long-term experience, I dare to make this statement loud. Despite coming a bit late to the party (two years later?), I can say Instagram has grabbed the lion's share of the social media market.
Nobody can deny, and I won't either: there are so many similarities between Reels and Tiktoks, that, at first sight, they may almost seem like carbon copies of each other. Similar to Tik Tok's "For you" section, Instagram has an Explore section. The creative features available inside the apps' editors are almost the same. There are tons of similarities, but there are also some key differences we shouldn't forget about:
Audience. At the moment, TikTok still has a much younger audience than Instagram Reels, with an average user age of 21-23 years old versus 30 years old for Instagram Reels users. 
Instagram is much more personal and more about building an engaged, supportive community. Social media researchers say TikTok users aren't looking for personal connections when scrolling through thousands of short videos —they're generally looking for entertainment and something to make them laugh. No hard feelings. No strings attached.
Reels have a much longer lifespan. Tiktok videos decay not so long after they're posted: some say the Tiktok lifespan is 48 hours, while others say it's closer to 24 hours. What about the Gram? Some Reels can gain traction even after 20 days! Yup. Reels will continue to reach new viewers for days, sometimes whole weeks, after you post them. This means that more potential followers are discovering your profile.
Fun fact: one of our IQ Hashtags' Reel became viral two or even three weeks (gotta check it) after posting!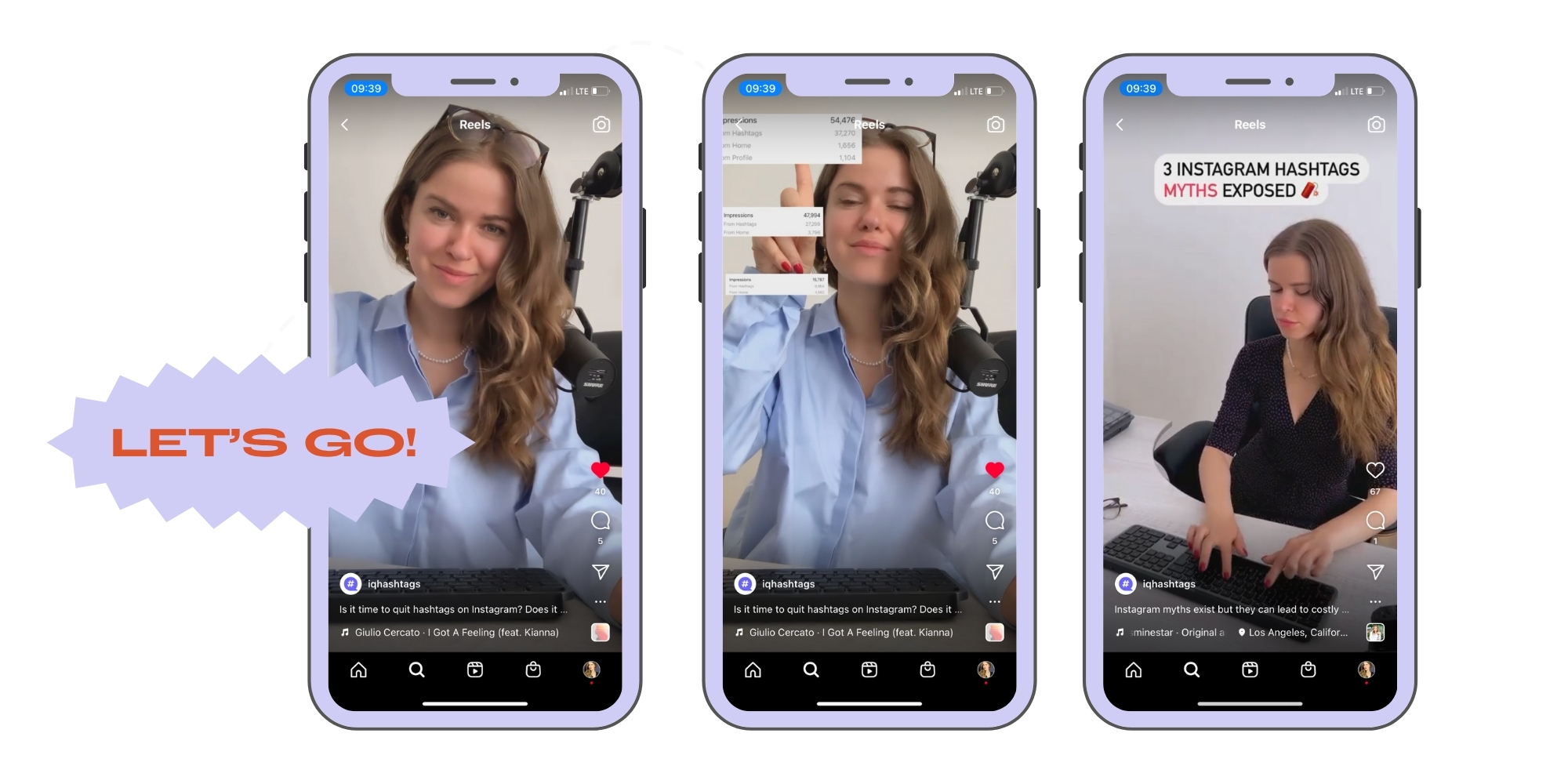 How Does the Instagram Reels Algorithm Work?
Much like the algorithm of every social media platform, Instagram wants to keep you in the app. While nobody knows EXACTLY how the algorithm works (we know there are more of them than just only one!), we do know one thing for sure – getting a video onto the Reels explore page section is the best way to increase views. The Reels Tab is an infinite-scroll feed where you can view an endless stream of trending Reels curated for you based on your interests and all the past Reels you've engaged with.  
That's the primary way the Reels algorithm works: it shows you videos it thinks you'll enjoy based on what you usually watch (your completion rate to watch a Reel), what you interact with (like, share and comment on), and who you follow. If you watch a lot of cute Reels with cats, it will start to show you more of these.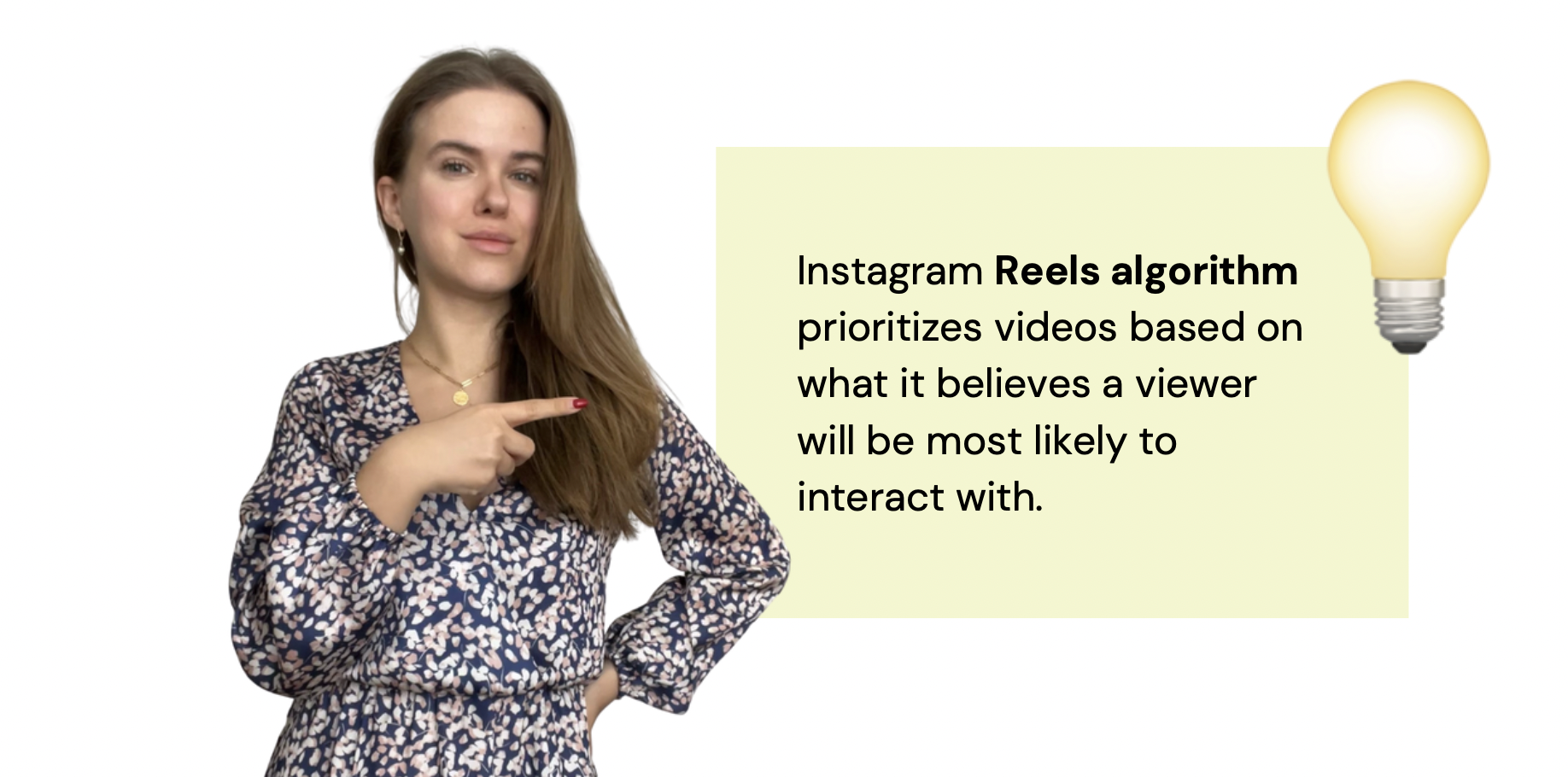 Equipment and Apps You Need to Create Outstanding Reels
What I love so much about Reels, aside from endless entertainment and tons of creative options to use, is the reach they provide and how quickly some accounts have grown because of them. And it's not about having Dolby Studio-approved, Hollywood-quality videos!
There's no need to break the bank when it comes to creating a good Reels equipment list. The truth is that you can create engaging content on a budget. Additionally, you can create professional-looking Reels using the gear you might already have (but I'm also going to dig into some optional purchases to uplevel your content while sticking to, let's say, a $100 budget).
What equipment do you need to film Reels? Is it true that the smartphone is basically all you need?
YES. Start with what you have! If you're using an iPhone, or other good smartphone, you're absolutely good to go. Phone cameras are now better than ever. Personally, I shoot most of my Instagram Reels using my iPhone XR – it's not the newest model, but the quality of videos is more than enough. The main perks of shooting with your smartphone is that you can easily whip out your phone anytime and anywhere, and you can always access and edit your videos right away. Smartphone videos also seem to be much more relatable to most people.  
Lighting? Natural lighting is absolutely the best lighting you can get. If you can make use of that light, you'll be golden. In my opinion, there's no need to buy any expensive lighting – if you know you'll be filming your Reels in the evenings, you can invest in a softbox lighting, but don't pay over the odds when you're just starting: you definitely can find a good one under 100$.
Tripod? This isn't a total must-have, but it can help you a lot. Even with the simple one, you can create a steady shot and you won't have to worry about holding your mobile while you perform. However, if you don't feel like buying it, you can totally get away with propping your phone up on a stack of books. We've all been there!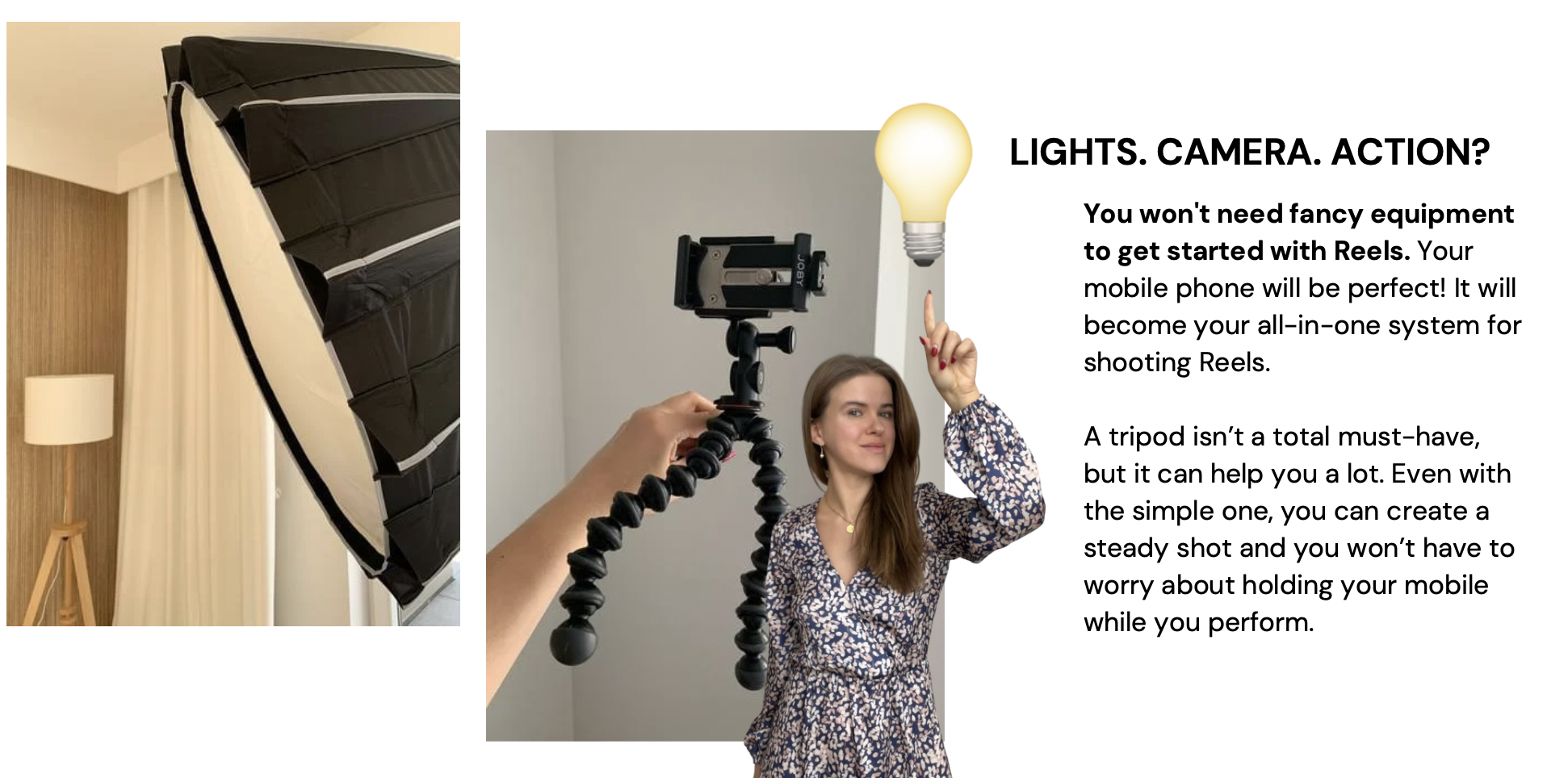 What apps should you use to edit your Reels?
I know that creating Reels can seem like a lot more effort than creating static posts with photos. But hey, don't worry, though! With a few easy-to-use apps available on the Apple Store or the Google Play Store, you can turn your smartphone into your own film production studio. Most creators use Instagram's inbuilt editing tool, and they're doing great, but I feel you if you want to say: I need room for more creativity!
I've done the hard work for you and uncovered 3 professional apps which can help you create scroll-stopping Reels. For those of you looking to add a creative twist to your videos, here are some of the best editing apps I've tried out for Instagram Reels (on both iOS and Android).
Inshot.
It's free! You can choose to upgrade to a paid plan with extra features if you want to, but the free version is more than enough to start with. It's an all-in-one app, meaning you can trim, cut, or split any video clip first, then add creative transitions, music and different effects to it. Even though it doesn't have the best and most aesthetically pleasing filters, its visual effects are fun to play with.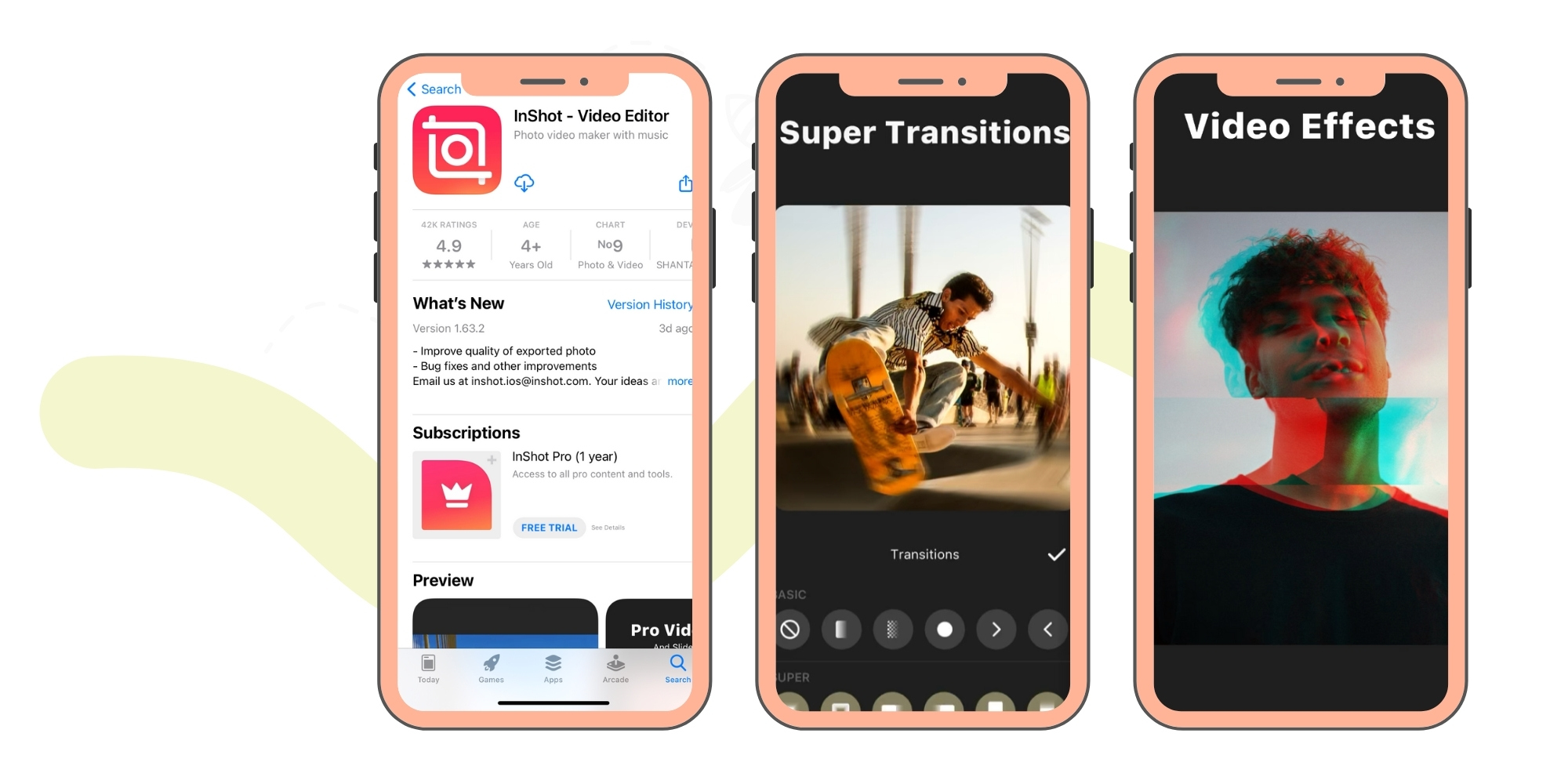 Capcut.
When it comes to creative transitions, Capcut is undoubtedly one of the best editing apps for Instagram Reels. I've actually been using the app for a while now and no doubt, it's worth recommending.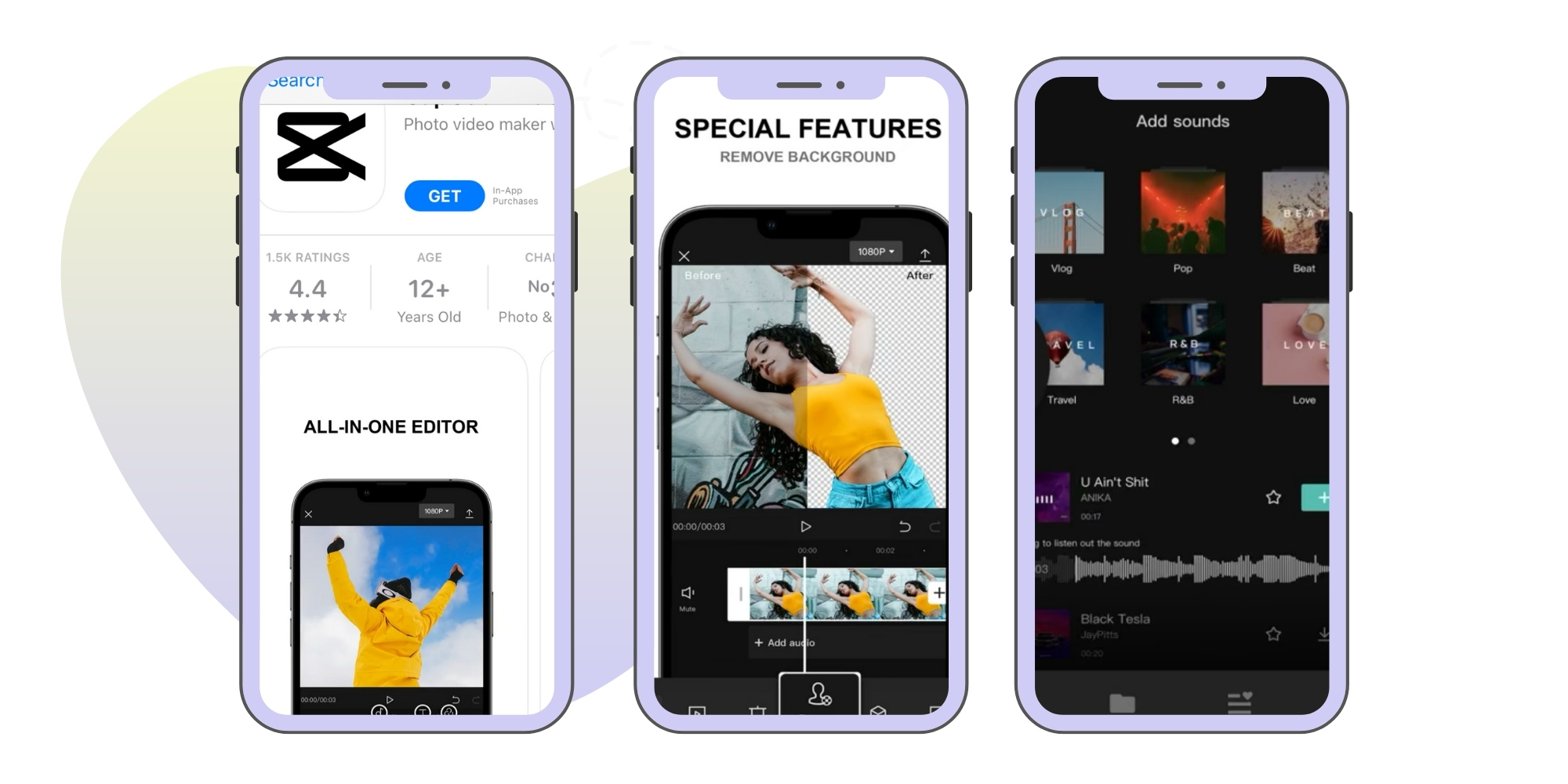 VN Video Editor.
The one that has it all. The most advanced and professional one on the list. It offers lighting curve adjustment, picture-in-picture features and transition effects like zoom or reverse.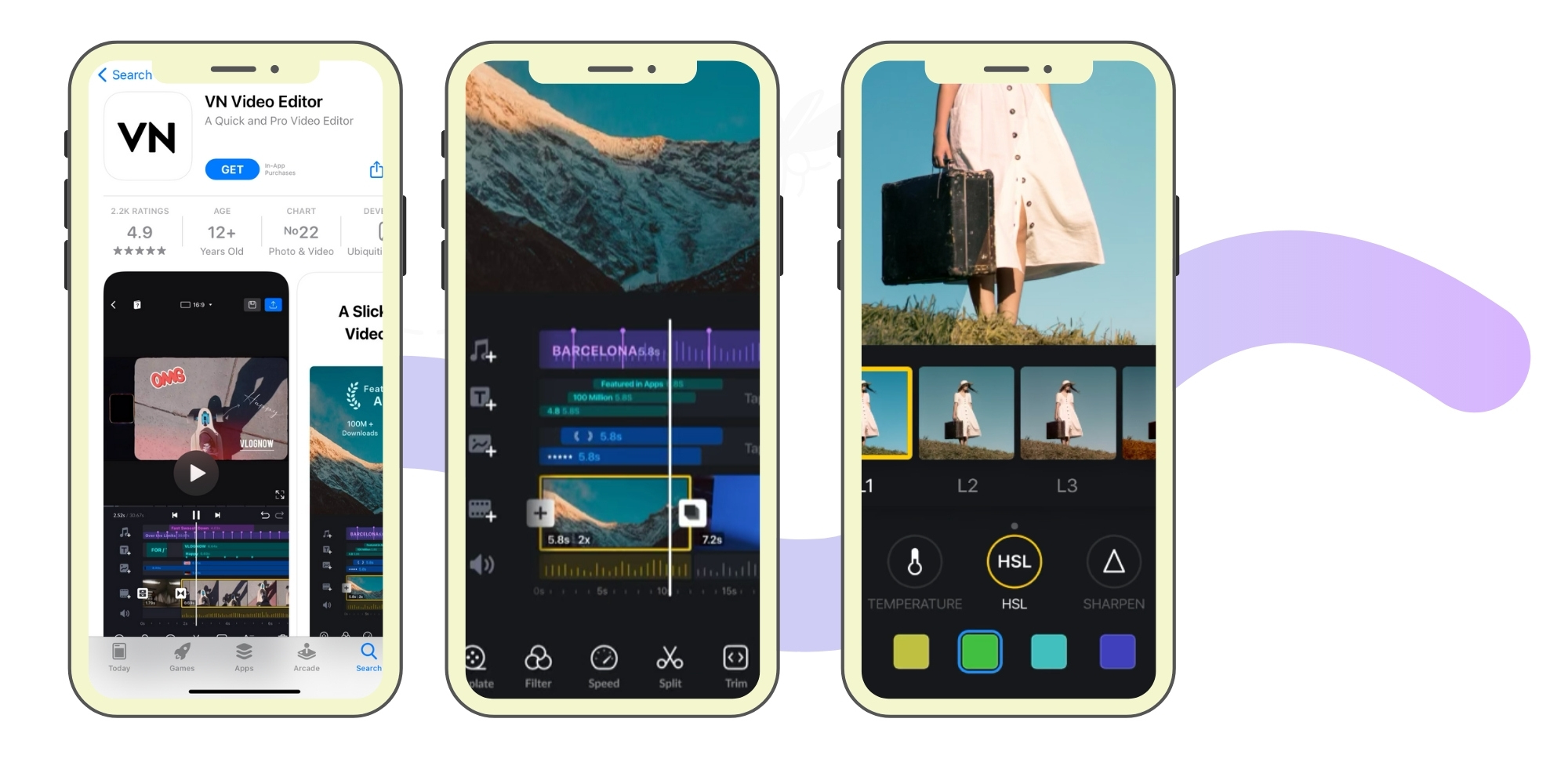 I really hope those apps will help you create fantastic Reels you would be proud of. Or maybe you have a favorite video app that I didn't mention here? As always, don't hesitate to share them in the comments section.
Finding Reels Ideas – How to Use Reels to Transform Your Instagram Presence?
Reels are much more than a "karaoke-dance-format" and there are plenty of different types of videos you can create that will be aligned with your goals and your personal or business mission. Everybody is creative, but it looks different for every creator and every business. I absolutely adore this quote from Jenna Kutcher: "We're all creatives, we all have creativity inside, but it needs to be cultivated as much as possible — the more often you use it, the more creative you can be." So, can you discover and unleash your creativity? My answer is a loud YES! Let's dive into how you can create Reels that convert instagram followers into real clients, and how to come up with the best ideas for engagement and organic growth. 
While it can be easy to get caught up in the "fun and viral side" of this format, many creators and brands are failing to recognize the true power Instagram Reels can have on their account's reach and growth. I don't want you to be one of them!
One year ago, our content marketing team began experimenting with Reels and by the end of the year, we're noticing a 45% increase in our Instagram reach. The one crucial change? We incorporated one Reel a week into our Instagram strategy. That's it!
Educational: People simply love to learn on IG. The side benefit? If they trust you and know you offer valuable and worthy content daily for free, they will be more likely to become your clients in the future.
Comedy skit: Instagram users love a good laugh. WHO DOESN'T? 
Relatable: Relatable Reels create a connection between you and your audience. You don't have to actively intend for your Reels scenarios to be relatable for them actually to be relatable. Sharing your story, your daily struggles and your small wins, sharing who you are is a lot more relatable than you may think. Since time began, people have always loved listening to different stories. Make sure to hook people in your story at the very start, so they stay and watch your Reels until the very end!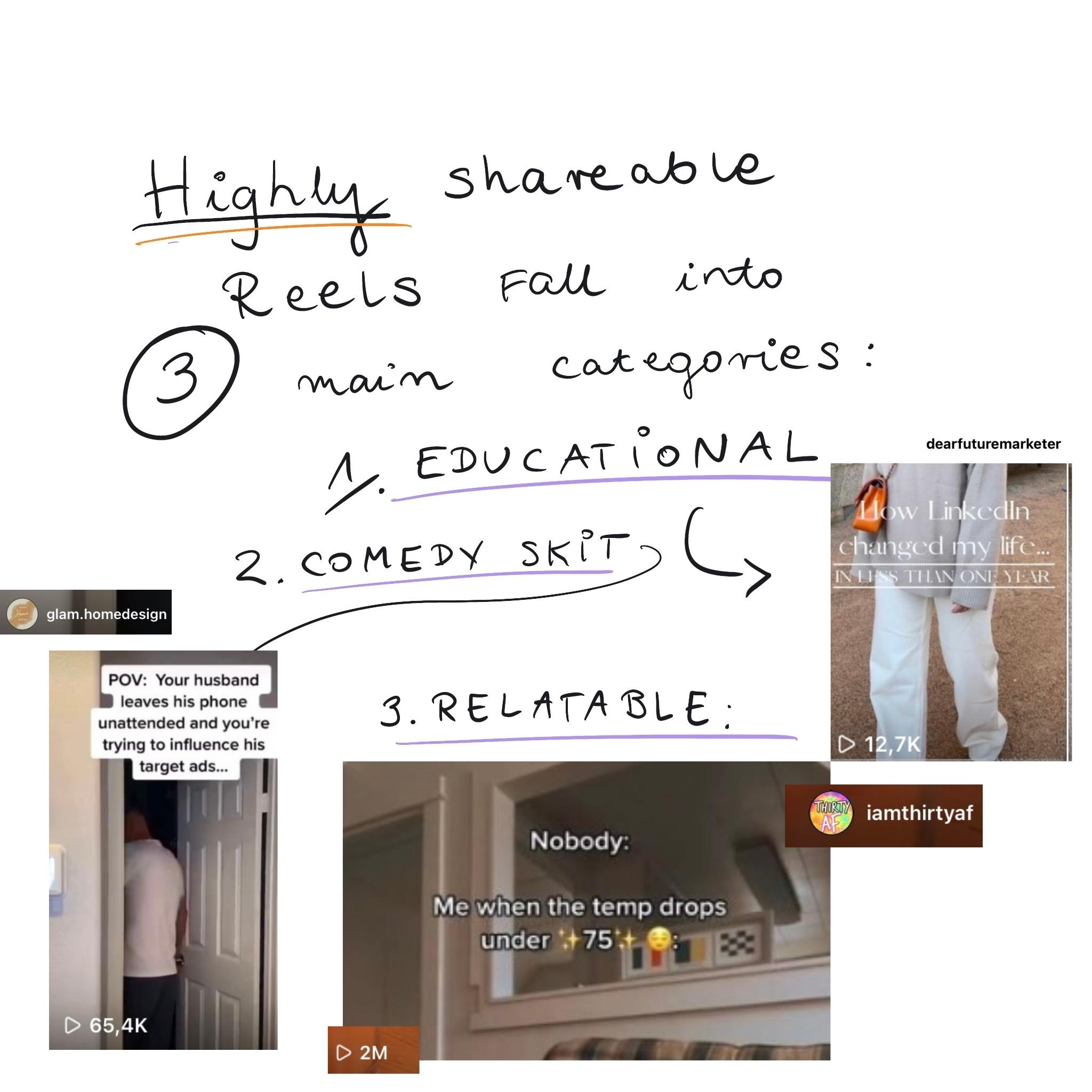 But I realize: the most significant question when it comes to creating Reels content is…
How do you never run out of Reels ideas?
Can I let you in on a tiny secret? Coming up with Reels ideas can really be less stressful than you think. Here is my strategy. Don't let Reels content creation stress you out one second longer. I think that you can eventually get to the point that you look forward to Reels creation days!
Keep up with trending Reels and look for inspiration – Staying up-to-date on Reels trends is important for a few reasons. If you can hop on the right trends at the right time, you can really get some surprising traction! I recommend looking at the Explore page, and scrolling through the different sounds and hashtags. Then add your own twist and your own personal charisma to the inspiration you've found, of course.
By the way, let me tell you: trending sounds are a huge way to get discovered. Whether you are recreating a Reel structure, or you are making other content to the same sounds, it keeps all the content in one place. So, if somebody likes a certain audio, they can watch more content from that song.
Trending Reels are a great source of inspiration, but use them wisely. While trends can be amazing initially (especially if you have a new profile), always make sure they align with your niche!  
Poll your existing community. I'm totally serious, ask your followers what they want to see from you. It counts as market research.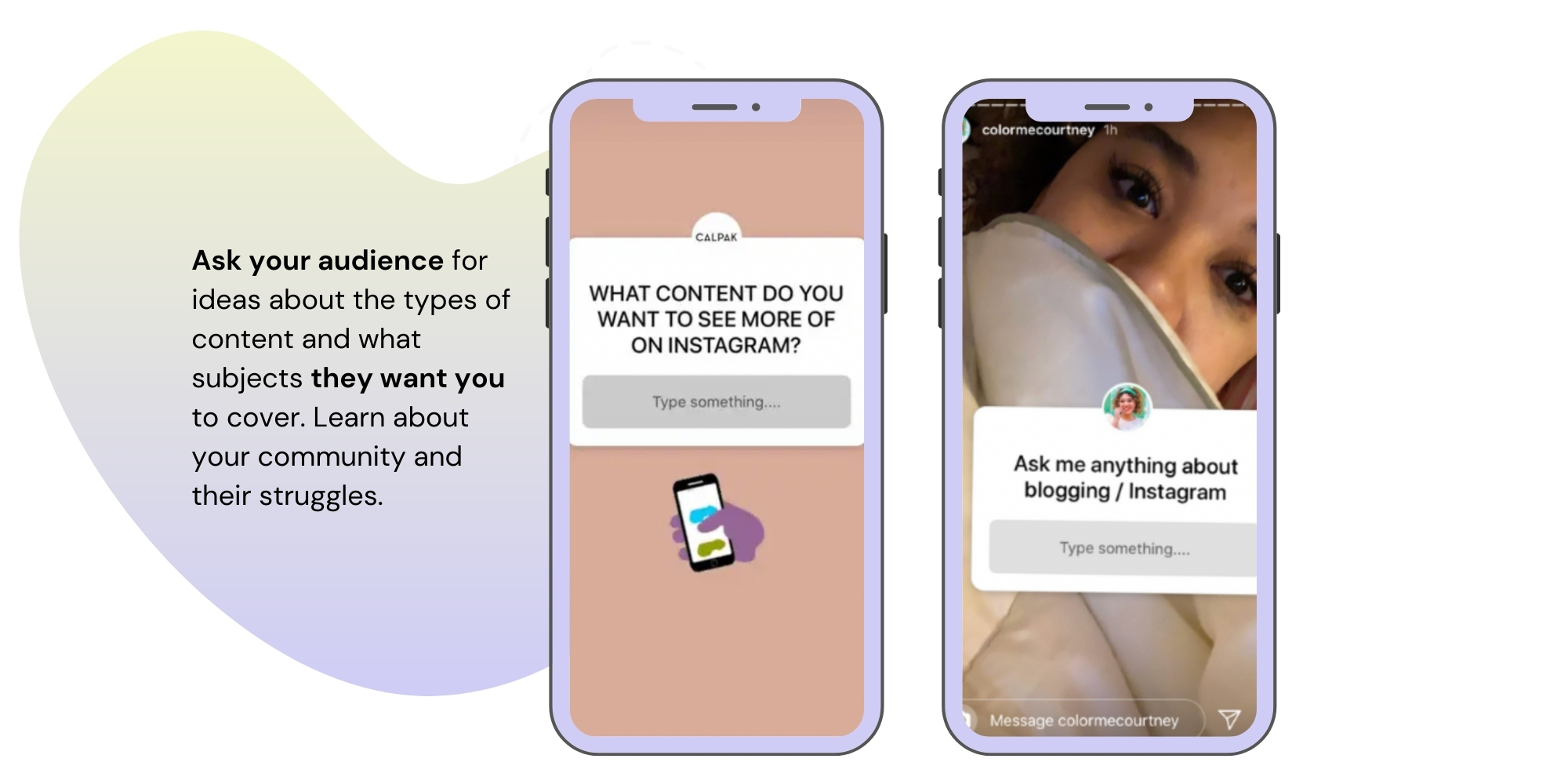 Note down what questions you get asked. What do your friends, co-workers or clients ask you about most often? This is an awesome place to start crafting valuable Reels and establishing yourself as an expert in your niche.
Analyze your content pillars. Content pillars are the areas of the content or topics that you know best. For example, as for an Instagram analytics tool marketing team, some of our content pillars include: Instagram marketing tips, target audience analysis, social media strategy, content planning, content creation process. I recommend identifying your content pillars, because this knowledge, like no other, will force you to create Reels that are consistent, goal-driven and on-theme for you, which will help you attract your target audience.
If you can provide real value you become a resource to others, and they feel like they need to follow you, because they can benefit from it. 
Gather inspiration. It isn't a single moment, a spark of genius, or one idea out of nowhere. The beauty of creativity is that it is an ongoing, never-ending process. Keep your notebook next to you, Google doc or Notion app to record your brilliant ideas! Through writing down or recording your fresh concepts, you welcome creativity and start the brainstorm process.
Leave wide room for new ideas, and embrace them! Sounds cliche, but it's true!
Time for another tip to make the Reels Algorithm work for you: be smart about the captions and hashtags you are including in your posts. Is it better to write mini-essays, get emotional, or represent the minimalist's approach? Will a lengthy caption boost your engagement? Do hashtags really make a difference? Let the Instagram science begin.
They do. But hey, why do you even need hashtags for your Reels – you may want to ask. No mystery. Just like on almost all other social media platforms, hashtags are meant to help users share and find content they truly enjoy. On Instagram every single month, there are billions of Reels that are being uploaded and hashtags really serve two different purposes. When you add specific hashtags to your Reels, especially when they are something which is trending such as, for example, #christmastreeinspiration, then 'Gram can tag and assign these and show them to the right users when they search for these keywords.
The second purpose that hashtags serve is to assign and rank your Reels, as well as your whole Instagram profile, so that Instagram can figure out what is your niche, what type of content you're creating, and where the platform should be showcasing your video content. 
In this part of the guide, we are going to be diving deeper into the Reels hashtags best practices. Let's go!
Include relevant hashtags – The absolute number one thing to keep in mind when choosing hashtags, is to make sure that your hashtags are always relevant to the video content you're posting. If you're creating a Reel which is about keto diet, make sure not to add #love, #outfitinspiration or any random hashtag, because that's not going to help your case at all.
A few trending hashtags. #happyvalentinesday might be extremely popular in February, but there isn't really a point in using it in June. Trending hashtags rise and fall, and it's essential to make sure the hashtags you're using are still on point. 
Avoid overly popular hashtags. You're more likely to get discovered within a narrower niche by using less competitive hashtags.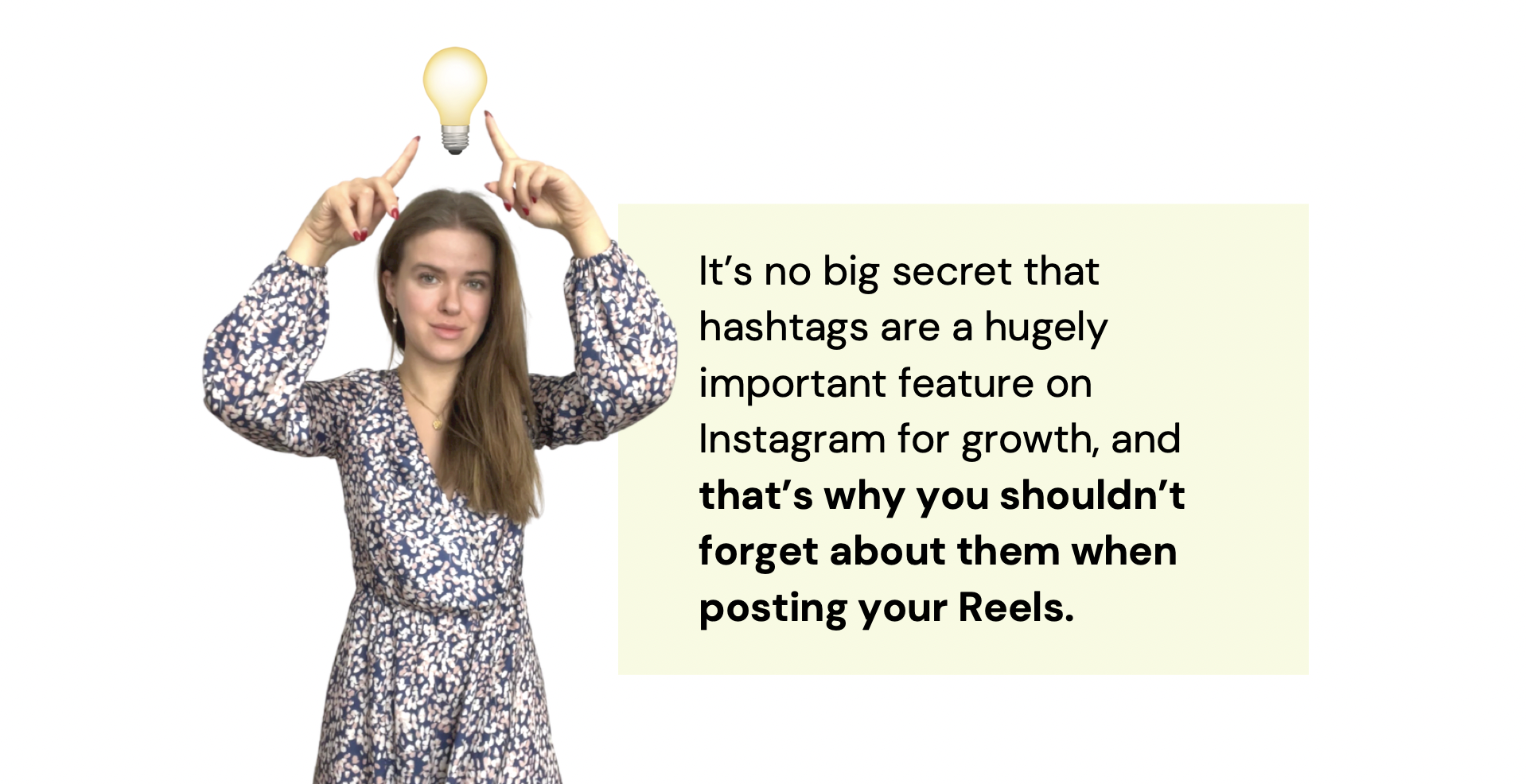 Now, hashtags can be super important in growing your profile and standing a chance at your Reels going viral. Most of the Instagram marketing specialists are going to tell you to take your time and do hashtag research. I'm here to tell you exactly how to find them, and how to save your time during the process.
It won't surprise you: the quickest way to research a perfect set of relevant hashtags is with help of IQ Hashtags. We're officially approved by Instagram now, so you are allowed to use our services to grow on Instagram. Our tool can help you with the following problems:
Identifying trending hashtags

Determining hashtag reach

Determining hashtag competitiveness

Creating hashtag collections

Finding new relevant hashtags for your niche
There's a video Alex created which shows you exactly how to use the tool to make the hashtag research process as smooth as possible. Give it a go – one thing you'll learn for sure is that using the correct, consciously picked hashtags can make a significant difference. Not only do they increase your reach, but they boost your engagement and organic growth.
Let the data speak for itself: Only 55% of Instagram Reels are viewed with sound. The big part of your audience won't even hear your audio!
I see it this way: when you combine creatively edited, eye-pleasing video with intriguing text, that's when your Reels become a must-see. Many creators say their audience is most active between 6-8 in the morning, and that's easy to predict: some of them may be taking public transportation or after taking care of the sleeping baby. As one of my favorite marketing bloggers has said lately: captions make you a safe viewing choice for your community and all the potential followers.
Dig Around in Your Analytics
Study your analytics. STUDY YOUR ANALYTICS – louder for the people in the back! Instagram is giving you the answers to your success through your analytics. This is why it's essential to dig into your analytics to see what's working, what type of content is doing well, what isn't working. Then, you'll be able to identify where you can improve and grow.
To be honest, my analytics section and I are well-acquainted. I like to stop by as often as I can so I can monitor what's currently doing well and what isn't. What can it tell me about my audience? How do I need to modify my content strategy or how do I continue to ride that wave of success from the top-performing Reels? 
As our personal content creation struggles and the confessions from you and all the business owners and creators we're working with is our biggest inspiration, we've just launched the Reels Metrics Feature inside IQ Hashtags Tool. You've been telling us you'd like to analyze in detail how your Reels are performing and have all your Instagram Reels analytics in one place. Our awesome team heard you loud and clear. Well, what can we say? Your wish is our command!
Reels Metrics make it possible for you to:
Track key engagement metrics for your Reels. Access Reels stats, including engagement rate, reach, views, likes, saves, and comment count over any time period.

Get more likes, comments, and saves by understanding what kind of Reels your audience wants to engage with

Track which of your Reels performed better than others to build an effective content strategy

Discover and collect hashtags that your posts have ranked for to improve your Hashtag Research and increase your Reels views in the future

Get a clear picture of your Reels performance and gain insights into your audience with easy-to-read charts and graphs of critical Reels metrics.
The Reels Metrics are already here – which means you can see these insights today. They are available for IQ Hashtags users with accounts authorized through Facebook API. If you haven't authorized your account yet – the process takes only a few minutes to complete. With our instructions, getting started is a breeze!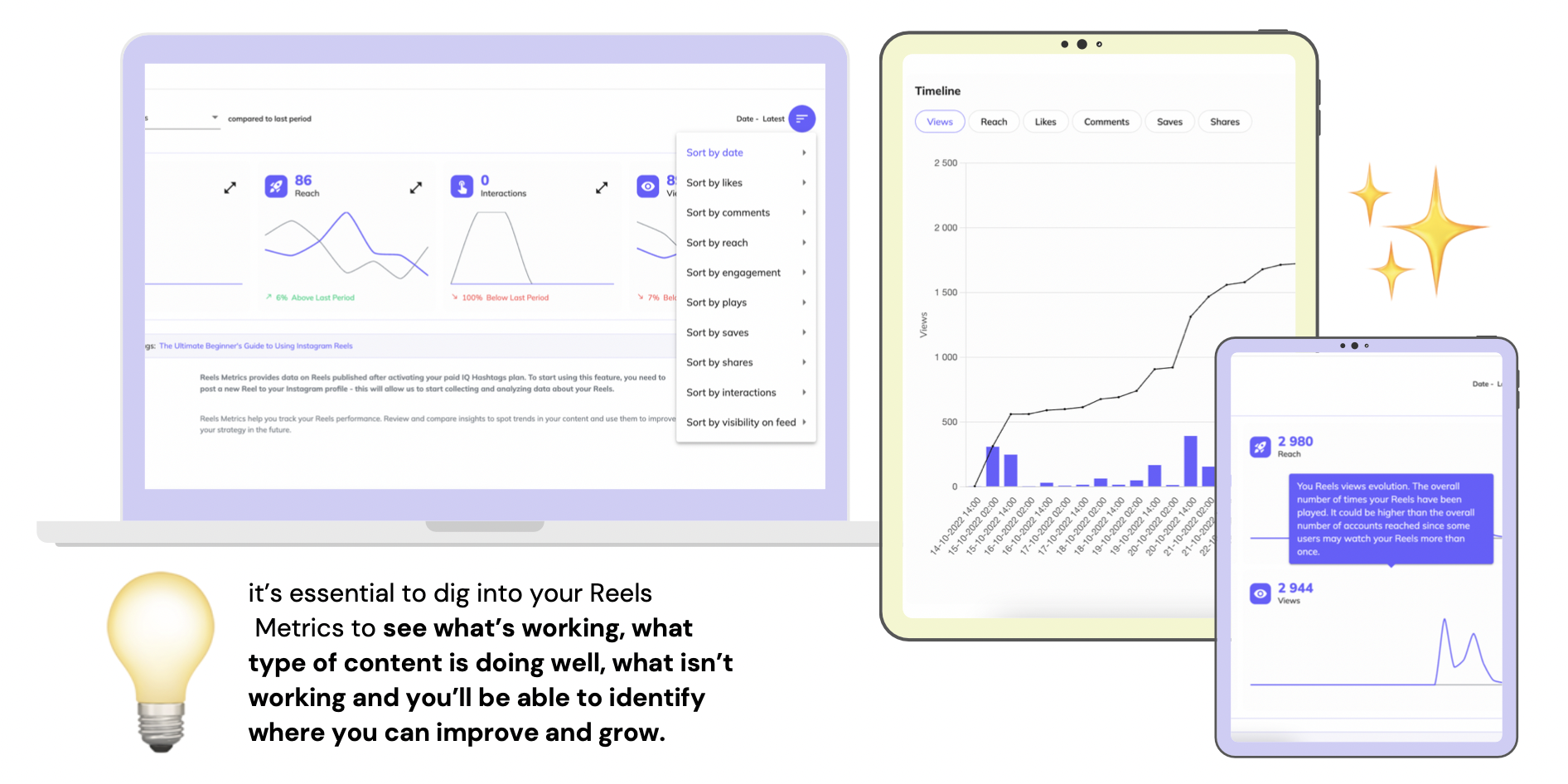 To Wrap Up! Instagram Reels – Are They Worth It?
While this article may feel a little overwhelming (I know, it's longggg), once you start experimenting with your own Reels, you'll realize that, not only are they well worth the time and effort it takes in creating them, but they're also straightforward to level up. With staggering stats that prove their impact, Reels are worth their weight in gold!
I hope you found this guide helpful, and learn more about how to use Reels to grow your business and Instagram further! For more tips, follow us on the Gram, and check out these resources below: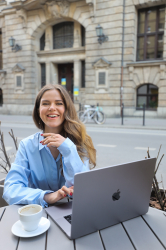 Latest posts by Kasia Pilch (

see all

)