Hello there! Are you sick of spending hours making Instagram Reels that never get your desired attention? Have no fear because I'm about to reveal the trick of generating Instagram Reels faster than ever before: Templates for Instagram Reels. 
To begin with, let's be honest: producing Instagram Reels may be a real pain in the buttocks. You must find the appropriate music, clips, and ensure everything is edited correctly. But, with Smart Instagram Reels Templates, you can say goodbye to all of that. These templates have already been pre-designed with the appropriate clips and transitions, so all you have to do is add your creative touch. 
However, these templates do more than just save time; they also offer a professional touch to your Instagram Reels. You won't need to be a video editing pro to generate high-quality videos. Furthermore, with a selection of templates to choose from, you'll be able to create various materials without having to start from scratch each time! So let's dive into it!
🕵️ What will we discuss today?
What Are Instagram Reel Templates?
First things first, let's talk about what a template is. As the name implies, Instagram Reels templates have pre-set clip durations and music that you may utilize to guide your video creation. All you have to do is place your photos and films in the appropriate spaces, and that's it. It's basically a pre-made video layout that you can use as a starting point for creating your own Reel! Think of it like a coloring book, where the outline is already there, and you just have to fill in the details!
Now, I know what you're thinking, "But, everyone will be using the same templates; won't my content look the same as everyone else's?" The answer is, OF COURSE, no! While the templates are pre-designed, they're also – luckily – fully customizable. You can change the colors, add your own text, and even swap out clips to make the template truly your own. Templates are appropriate for both businesses and influencers. It's never been easier to create sponsored content that looks like a million bucks with the opportunity to incorporate your own branding.
How to Use Instagram Reel Templates to Create Your Own Reels?
What's the good news? First, Instagram Reels Templates are pretty simple to utilize.
Here are two methods for gaining access to the feature: 
Utilize Templates in the Video Editor

Adapt an Existing Reel
The first option: Make use of templates in the Instagram Reels video editor
In the video editor, go to the Reels tab, hit the camera icon, and then slide to the "Templates" tab. You'll find plenty of Reels ideas below that you can use to make your own.
The second option: Repurpose Other Creator's Reel
When templates are available for Reels, a "Use template" sticker symbol will show above the creator's name:
Alternatively, select "Use as template" from the three-dot menu icon:
Side note: Reels Templates are only available for Reels that contain numerous clips edited together within Instagram. Instagram cannot recognize the various time stamps for each clip if a video has been fully modified outside of the app.
It's time to be creative once you've picked a template. Use your footage and music to give the template a personal touch. You can also customize the lettering and stickers to make the Reel one-of-a-kind.
How to Create Your Own Instagram Reel Template – Step by Step  
To make your Reel Template, just edit your Reel and customize it inside Instagram. When you do this, it will become accessible for others to use as a template. 
How awesome is that? 
Even if you previously used someone else's Reel Template to make it, all Instagram Reels will become templates for anyone to use as long as they were changed inside the app.
If you use a third-party tool to edit your Reels, such as Cupcat, VM inShot, iMovie, they will not be suitable for Reels Templates since Instagram cannot read the timings of each clip. 
There are also 2 more things to keep in mind:
Reels require three or more clips to be considered a template.

As a result, if you edit your Reel in another program, Instagram will see it as a single continuous clip that cannot be used as a template. If the Reels algorithm attempts to emulate TikTok, the number of times a Reel is used as a template may become a ranking element.
How to Find the Most Interesting Instagram Reel Templates
Another advantage of Smart Instagram Reels Templates is that they are appropriate for businesses and influencers. It's never been easier to create sponsored content that looks like a million bucks with the opportunity to incorporate your own branding.
It is pretty simple to look for templates provided by other creators.
To access the suggested videos, simply click on the Reels icon in the bottom bar. The next step is to scroll up to see the different Reels until you pick one with a template that you wish to utilize. The only thing to remember is that not all videos are generated using a template, so you may only use those with the option "Use template" available. If you select this option, you will be able to examine the pieces that comprise that Reel as well as the duration of each of them, allowing you to replace them with your own content!
To Wrap-Up!
The Instagram Reels Templates feature speeds up and simplifies the process of generating and editing Reels in the Instagram app. In addition, it makes using the Reels editor more appealing to users. This gift from the Reels gods could be a subtle hint from Instagram that they want us to create and edit our Reels within the Instagram app. 
That's all there is to it! So, now that you've learned about this wonderful new feature tell us what you think of it and which Reels inspired you to create a template?
P.S. Did you know we have a tool that will take your Instagram growth to the next level? We do! IQ Hashtags is the most advanced Instagram analytics and hashtag research tool on the market – arming you with Profile Analysis, Reels Metrics, Advanced Hashtag Research, Hashtag Performance, and other innovative features to skyrocket your Instagram. You can track your growth in time and analyze all the key factors to spot trends and patterns that make your profile grow much faster and stress-free!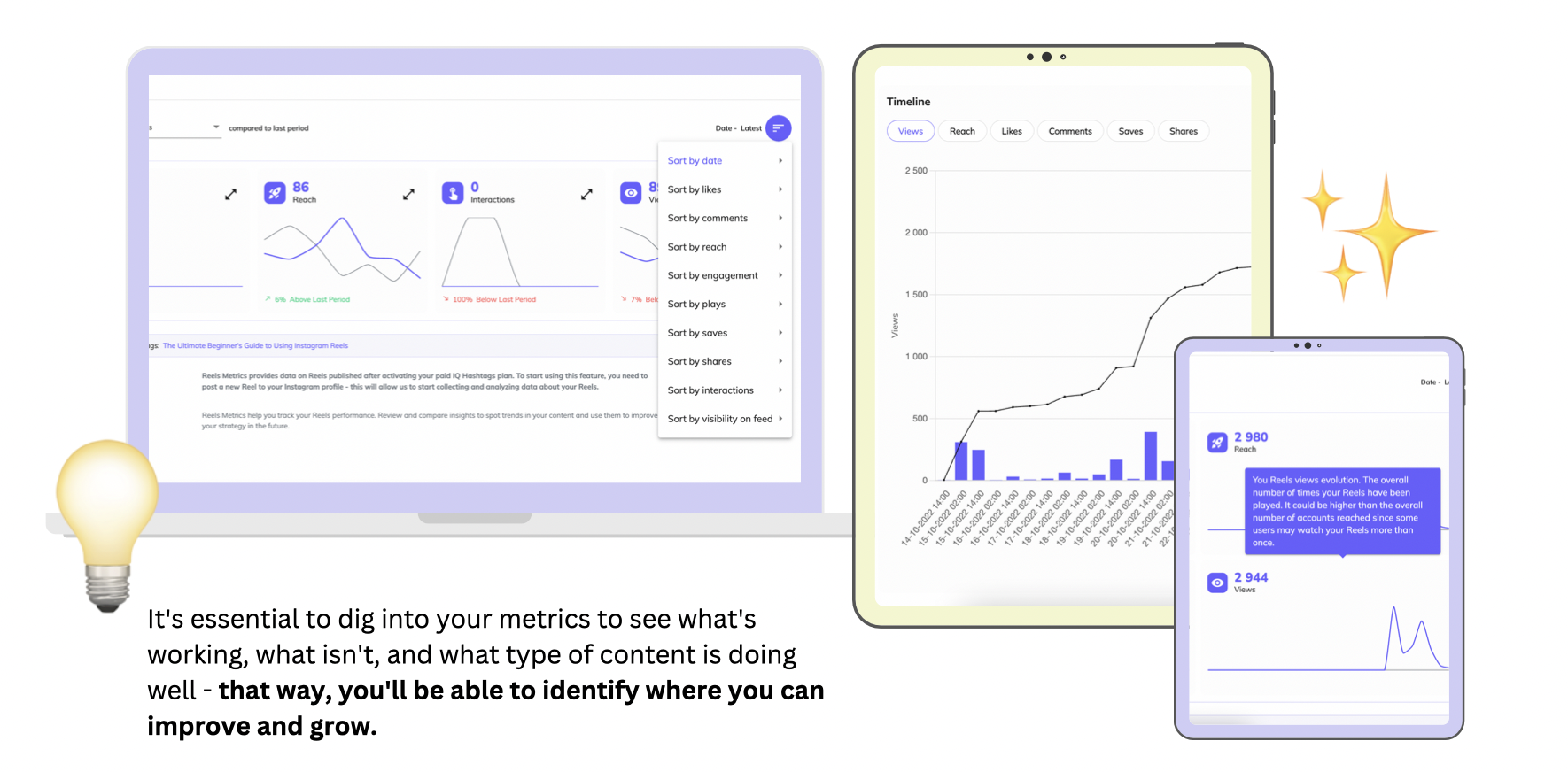 If you care about your Instagram strategy – this is a MUST-HAVE. If you want to build an engaged Instagram community with optimized hashtags and smart insights – this is the tool for you.
In case you haven't heard about it before (which I doubt!), here's what fellow users have said: