Are you looking for Instagram story ideas for business? YOU HAVE US! Instagram stories – your invitation to the world of video marketing! We think that's how we could briefly introduce them to someone who hasn't heard about this feature. But you certainly have – and that's why you're here, reading this article, right? Instagram stories can be dynamite for helping you engage with your audience and turn them into a pro-active community. That's also the most effective way to excite your followers and make them feel like they actually know you, so they trust you and want to stay with you, just like a loyal friend would. If you realize the power of this feature, but you still feel like it's a shot in the dark for your brand because you have no idea how to prepare winning instastories: let us tell you, this blog post is FOR YOU. 
We hear it from you all the time —tackling an unfamiliar content format always seems a bit intimidating, like stepping out of your social media comfort zone. Today, we want to show you that creating business-oriented (+ intriguing and engaging at the same time, of course) Instagram stories isn't nearly as overwhelming or complicated as it may seem at first! In fact, preparing instastories can be a lot of fun and once you get used to it – it won't be so obtrusively time-consuming. 
If you've previously ignored all the voices telling you that you definitely should try using Instagram Stories to market your business effectively, it's time to start taking those insights – and this content format – much more seriously.

Before we Jump Into Instagram Story Ideas for Business: Instagram Stories

in a Nutshell
Just a quick reminder, in case you haven't seen Instagram stories in a while, and you've forgotten how they look. 
Instagram Stories are a feature that lets you post content (photo, video, or text on a background ) that disappears after 24 hours (unless it's saved to your highlights, needless to say). Instastories don't show up on your regular profile grid (they aren't displayed within the feed). They show up as little circles at the top of your Instagram screen. You have to click on a story to view it and then click or swipe through stories from different creators.
Instastories length? They can be up to 15 seconds at the longest, which means users don't need much spare time to consume them – that's also A HUGE advantage.
The Biggest P

ros of Instagram Stories for Business
Another undeniable reason to start using Instagram stories? They're proven to be highly engaging. In our opinion, it could have something to do with the FOMO, the sense of urgency and the feeling "I don't want to miss this as it could be something valuable!", considering they're so quickly gone forever (unless they're saved to highlighted stories, of course, but many creators forget about this option). They're easily accessible and equally effective for both individual or business creators. 
Actually, there are tons of different, creative ways you can use this feature – today, we'll discuss three of them, which are strongly business-oriented. Let's think outside the box and offer your followers Instagram stories they'll be genuinely impressed with!

1. Instagram Story Ideas for Business: Share

a day from your work-life
Or, if you're not the one-man army solopreneur, you run a bigger business, and you'd say you're too busy for that – let's try an employee Instagram takeover! Stories can be spontaneous and human. Don't always aim to have everything scripted – believe us, this idea is a perfect chance to show off your brand'/your business' more friendly side and a human angle.  
How to organise it? It's pretty simple – an employee from your team takes control of your Instagram stories for a week (or for a day). They can give a peek into their workflow, a typical workday, provide a tour of your building and different offices + their surroundings.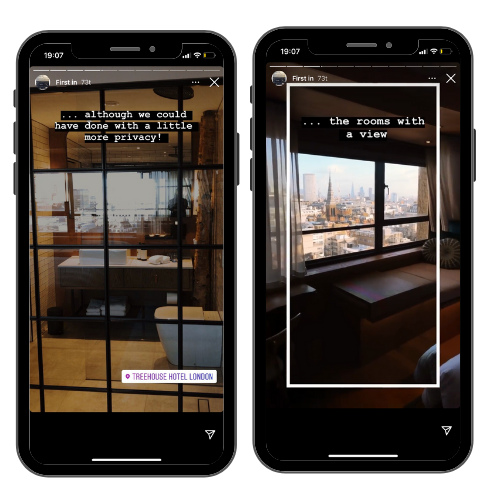 That's an authentically great idea to keep your followers up to date with what's happening at your office/offices by giving them a peek at BHS – yes, show your audience a behind-the-scenes of what daily life looks like for your employees – and for you! We know what we say: everybody likes to be a part of exclusivity and see how things roll out behind the closed door. Just a peek behind the curtain. What does your production creative process look like? Who is the most funny team member? 
2. Instagram Story Ideas for Business: FAQ –

the creative way!
Instagram stories are great for answering frequently repeated questions. You have two options: you can create "talking head" instastories or prepare text for people to read. Both have their own advantages!
Moreover, you can step up your profile's engagement and ask your audience if they have any additional questions – and assure them that they can ask you about (almost) anything. People love "ask me/us anything" time – chances are, you'll get exciting questions. 
Benefits? It's a proven way to get your followers involved and to strike up interesting conversations.
Pro tip: If there are questions you're being asked ALL THE TIME and you get a little bit nervous everytime you hear them, it's a beneficial idea to create an FAQ Highlighted Stories where you can save all of the answers to those frequently asked questions. The best thing about it? You can direct people to that highlight when they have a question you've already prepared an answer to – that way you can save your precious time and it will save you from being frustrated about people asking the same questions over and over again.

3. Instagram Story Ideas for Business:

Let your audience choose

– use polls!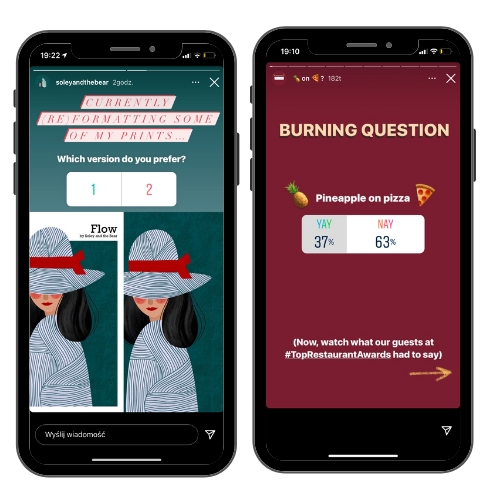 The poll feature is the easiest way to get feedback from your audience – so let's make it work in your favour!
Have your followers choose between two colours for your new logo, or between two names for your new services or a new product. It's a clever tactic to involve your audience in your decision-making process: people really like that #psychology. 
The secret key to doing successful polls (so people will actually answer your questions!) is to – it may surprise you – ask simple questions with uncomplicated answers. It will encourage people to click. 

To wrap-

up
Businesses are made up of people – and Instagram stories are a great format to show up and make your company even more relatable to your followers. They really can take your content to the next level of engagement. This bite-sized content is quick and convenient to view and share, and that's why it's remarkably effective. Your ER (engagement rate) is a crucial factor, but you should care about having real relationships with your followers – and instastories make this process much more manageable. 
Let us tell you – if you're not creating instastories, yes, you can be missing out! 
Last, but not least: you should also keep an eye on Instagram stories hashtags. If you have no idea which ones you should try – you know what to do! Use our tool, it will make your hashtag research process much quicker and more intuitive. Let's supercharge your profile's growth!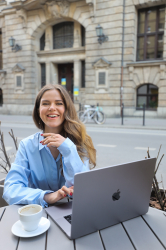 Latest posts by Kasia Pilch
(see all)