Content ideas for Instagram – it's time to discuss Instagram post ideas generation! As content creators and entrepreneurs, creativity is one of our key tools for work, growth and communication. We share and sell our ideas, and the mastery of creating an engaging concept out of nothing. Being a content creator is fun, creating content is satisfying and inspiring, being a content creator is often seen by the whole world as a "cool" activity. Of course, it is a cool activity and cool job, we don't hesitate to agree, but it's also not an easy and stress-free one, because many times it feels like you are suddenly completely out of  your creative juices and simply can't go any further. The creative block hits hard.  It's "writer's block" but for content creators. That "block" is highly frustrating ,but hey: good news is, it can be beaten.
Do you also struggle to come up with new content ideas for Instagram profile? First of all – don't worry, we all have experienced it. The fear of staring at an empty screen due to this overwhelming creative fatigue is real, yet it happens to every creator (at least every creator we know, and trust me – we know so many).
We hope our mini-guide on how to overcome this frustrating creative block will spark new ideas and help you push through! Here's what we recommend:
Content Ideas for Instagram: What should you write about on Instagram?
Understand your current audience and double down on what works best for your profile.
Use IQ Hashtags analytics to know your followers and their preferences, and discover what topics they're most interested in reading and sharing, and build your content pillars around those topics. That way, you can strategize much more effectively!
That's also our strategy at IQ Hashtags content marketing department: we try new things , new formats, new concepts, every day, test the results, track the analytics, and then double down on what works best. That's the smartest way to grow your on-line presence, and do it the safe way.
Track your analytics and your Reels metrics to know what kind of content your audience enjoys the most. The data will tell. Use it!
Answer your most frequently asked questions
So here is the thing: answering your most frequently asked questions makes a great, evergreen content. Dedicating carousels and Reels or other content formats to frequently asked questions about your business, your brand, or your content will pay off for many months, or even whole years to come, as your followers and potential followers access your content again and again for answers to the inquiries, doubts and questions they have.
Put yourself in your audience's shoes
That way you can easily link your solution to their needs. Try to empathize with your followers and you will be able to find out more about them and their favorite topics and content formats. What would you like to see or read about if you were one of your followers?
Understanding an audience is at the core of any profile's growth. But "understanding" them isn't a destination. It's a constant journey. It's a ongoing process of tracking your analytics, and of course – refinement and readjustment. Without regularly auditing your analytics and your target audience's needs, the performance of your posts will decrease at worst or stagnate at best – and we don't want that, huh?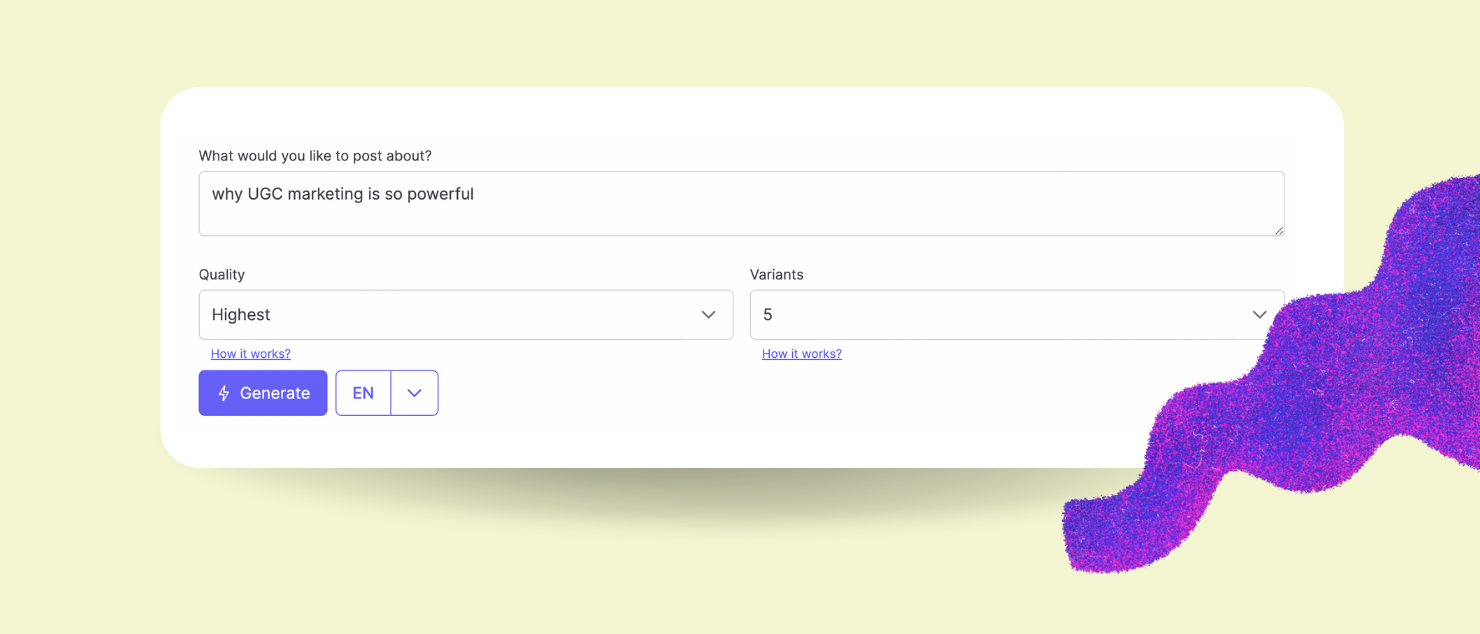 Spoiler alert: you'll be surprised with the results, it's really smart.
Treat AI as your smart intern. Treat AI as your own personal assistant when it comes to writing, creating, and  brainstorming. Right now, AI-powered tools, like our AI Assistant can turbocharge your creativity, streamline your post creation, and help grow your profile! 
Just give it a go – we bet you'll become good friends. Unlock AI-powered tools to generate fresh content ideas for Instagram!