Are social media in business marketing a good idea? Of course. We get this question quite a lot: why should busy business owners care about building a community on Instagram? Our first thought is typically the same: there are literally too many reasons. Serious and infallible ones. That's why today we'll try to discuss them all, although it's challenging to list them in one article!
If you are a business/ brand owner, Instagram should become your GOOD friend. In fact, it's also highly possible to make it your BEST friend. We can't stress enough how helpful it is for brand awareness, increasing online visibility, gaining trust, and building an audience of loyal potential customers. The good news? These days, it's unbelievably easy to start an Instagram journey – you have more trustworthy resources and comprehensive guides than ever: we'll be following up with in-depth itineraries about starting up on the Gram (be sure to keep up with our upcoming articles for an extensive look at the value of content marketing!). Still, to start, today we'd like to talk about the top 6 reasons why every – WE MEAN IT: EVERY – business/brand owner needs Instagram. Let's break them down!

Social Media in Business Marketing: Do you really need

one more hat? 
Let's face it: we know it, you're a bit busy, overworked, and you find it extremely difficult to find time for new challenges. You've probably been "wearing all the hats" when it comes to managing the basis of your growth. 
The thought of additional platforms and extra content marketing can feel like a further challenge. Once you get rolling in the business, you can quickly find yourself overbooked and exhausted. But actually, the thing is, Instagram can speed up the process of developing effective funnels for your products/services, and it can become your primary source of valuable sales (and save you tons of time this way). At first, it may sound scary, but here's the little industry secret: content marketing is really easy to outsource if you want.
Don't give up on this powerful way to connect with your ideal clients. We guarantee that if you put a little effort into Instagram marketing, the results will surprise you. GUA-RAN-TEE.
Let's take a look at the data. Instagram isn't even a decade into its existence yet and has OVER 1 billion ACTIVE monthly users. That's why we can't skip saying it: if you don't have an Instagram account to promote your business yet, now is the time to sign-up, create a profile, and start creating, engaging, and making it work in your favor. If you're not good at social media marketing and content creation, as we mentioned before, that's not a big deal: you can hire excellent specialists to do outstanding Instagram marketing for your business. It will still cost you MUCH less than traditional marketing methods. You don't have to rely on print ads, billboards, and blind mails.
Instagram marketing is considered the most cost-effective way to promote your services or products – there's even no comparison to traditional print and outdoor advertising methods. To be totally honest – you can start promoting your business almost for free, without any severe investments, and still see huge returns. You may be thinking, "it sounds too good to be true; there must be a catch somewhere". And you're right, THERE IS A CATCH.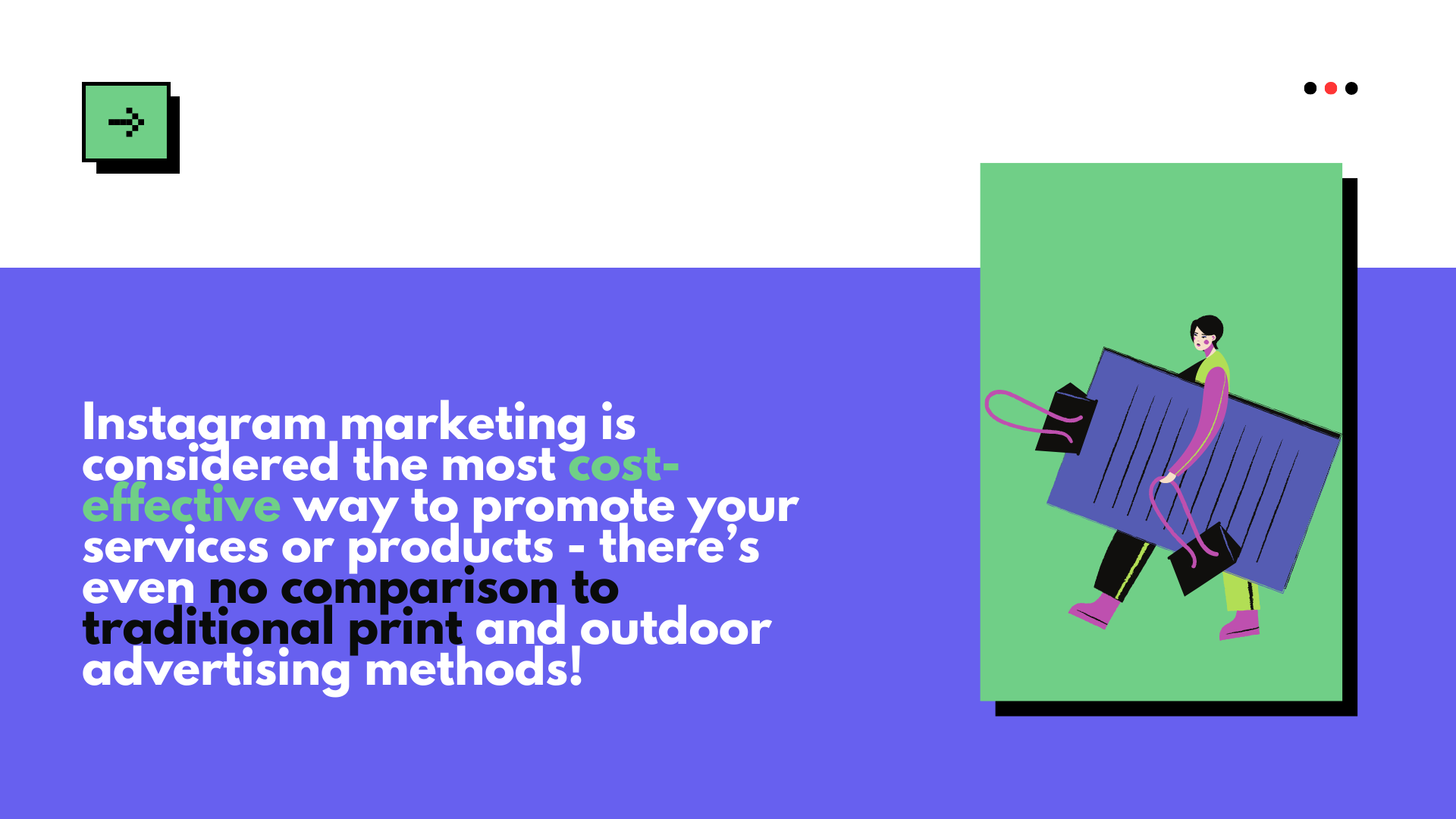 To see accurate results, you need to plan and create content that your target audience needs. It's one of the biggest challenges, but guess what? We're here to guide you through how to manage it all effectively. There are plenty, plentyyy of opportunities that social media offers to both young startups and established, more traditional businesses. You just need to use it the smart, conscious way!
Not sure where to start? Before we jump into the practical guides and tutorials, you need a bit of background – what exactly you're signing up for? What can Instagram give you these days? Let's discuss it in detail!
It opens the magic door for long-term communication
If someone buys your products or services, they buy it, and use it…once. Then they're long gone, and you don't keep in touch with them. That's precisely where your possibilities to inspire and influence them stops. If they buy your product/services and then follow your Instagram, the situation looks much better from a strategic perspective. You have an open line of communication!
Always keep in mind that acquiring a totally new customer is from 6 to even 25 times more costly than retaining an existing one.
So there's a key takeaway: keeping your customers and turning them into a loyal community is valuable!
It helps you find YOUR perfect clients and YOUR people
Do you need to re-identify the target audience for your services and products? If you're instagramming on your subject matter, you don't have to look any further than your Instagram audience. All you need to do is analyze the insights from your stats. 
Who is following your profile? Women, men, which generation? Here you'll find many precious answers. Take care of them! Social media and successful businesses go a long way together, so if you want to reach your target audience with satisfying results, you need to know that Instagram is going to help you. 
What else can you do to make your customers stay with you? Launch giveaway contests, announce secret sales, offer "followers only" discounts – many businesses leverage limited-time followers-only offers to grab the attention of their current and future potential clients and generate more sales.
Instagram is the perfect TESTING ground
Your profile provides fantastic opportunities to see how your target audience responds to your new topics, new services, or new products before you go through the process of setting up production or launching details. Here you can implement pre-launch testing, which can actually give you more valuable insights than you can even imagine.
You have the ideal chance to interact with your target audience and learn more about them. Use it to find out what they want from your brand/business, and you can use this as powerful feedback to improve your products/services.
An Instagram profile can serve as

your PR agent
Because it's all about increasing your online visibility. The most effective way to help people find your business? Running your official social media profiles, that's right. Your Instagram profile is also the place where people can reach you easily – all it takes is to send you a DM or leave a comment. You have to admit – it's much more convenient than looking for official emails or, even worse – for your office address. 
Having a strong social media presence is also a proven way to build your business' reputation and showcase your products/services to a broader audience. When you post photos/graphics/videos related to your niche, showcase your offerings, and present useful tips and tricks, people on-line will subconsciously start to recognize your logo and your business. And guess what? Then they will be MUCH more likely to turn to you when they need your products or services.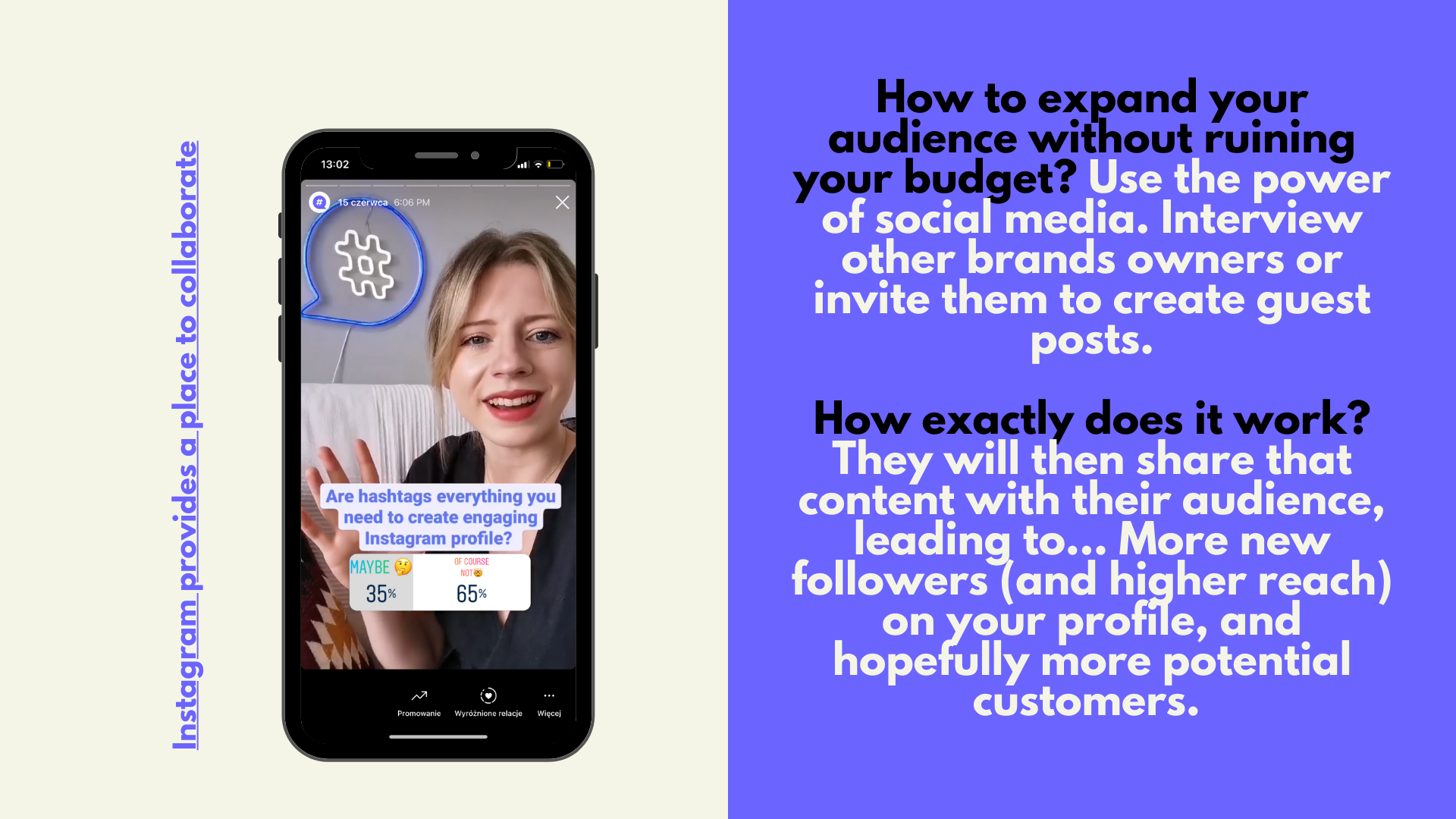 Instagram provides a place to collaborate
How to expand your audience without ruining your budget? Use the power of social media. Interview other brands owners or invite them to create guest posts.
How exactly does it work? They will then share that content with their audience, leading to… More new followers (and higher reach) on your profile, and hopefully more potential customers. You can also think about collaborating with industry influencers to boost your visibility even more quickly. 
To wrap-up!
As you can see, Instagram presence is not just merely an option, it's rather authentically necessary for all businesses nowadays. Do you think your competitors don't care about their image on Instagram? Not having an Instagram account will deprive you of all the benefits we listed above, and they will be automatically passed on to… Unfortunately, yes – to your competitor!
But leave the worries behind. With our secret-sauce Instagram marketing insights in your back pocket, you'll be able to build your thriving community with a sense of control AND be able to authentically engage your tribe so that your profile transforms into a great place of support, sharing, and caring. 
If you know someone that could be over the moon to learn more about starting up on Instagram, we'd love (and super appreciate it) if you shared it with them! We hope that you enjoy reading our Instagram lessons as much as we enjoyed creating them!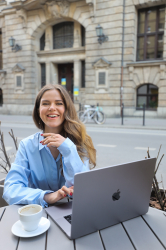 Latest posts by Kasia Pilch
(see all)