Is Instagram worth it in 2024? We've been advocating the choice to use Instagram as a business-purpose platform (at least since we've discovered its potential and opportunities waiting there to be found). We keep getting more and more questions about the necessity to include this social medium in digital marketing strategy. The most often repeated questions? Is Instagram essential? What is the point of getting a business profile? Does your brand need Instagram to be more successful? Is it worth your time and energy? Is it possible to get impressive results within the first few months or years?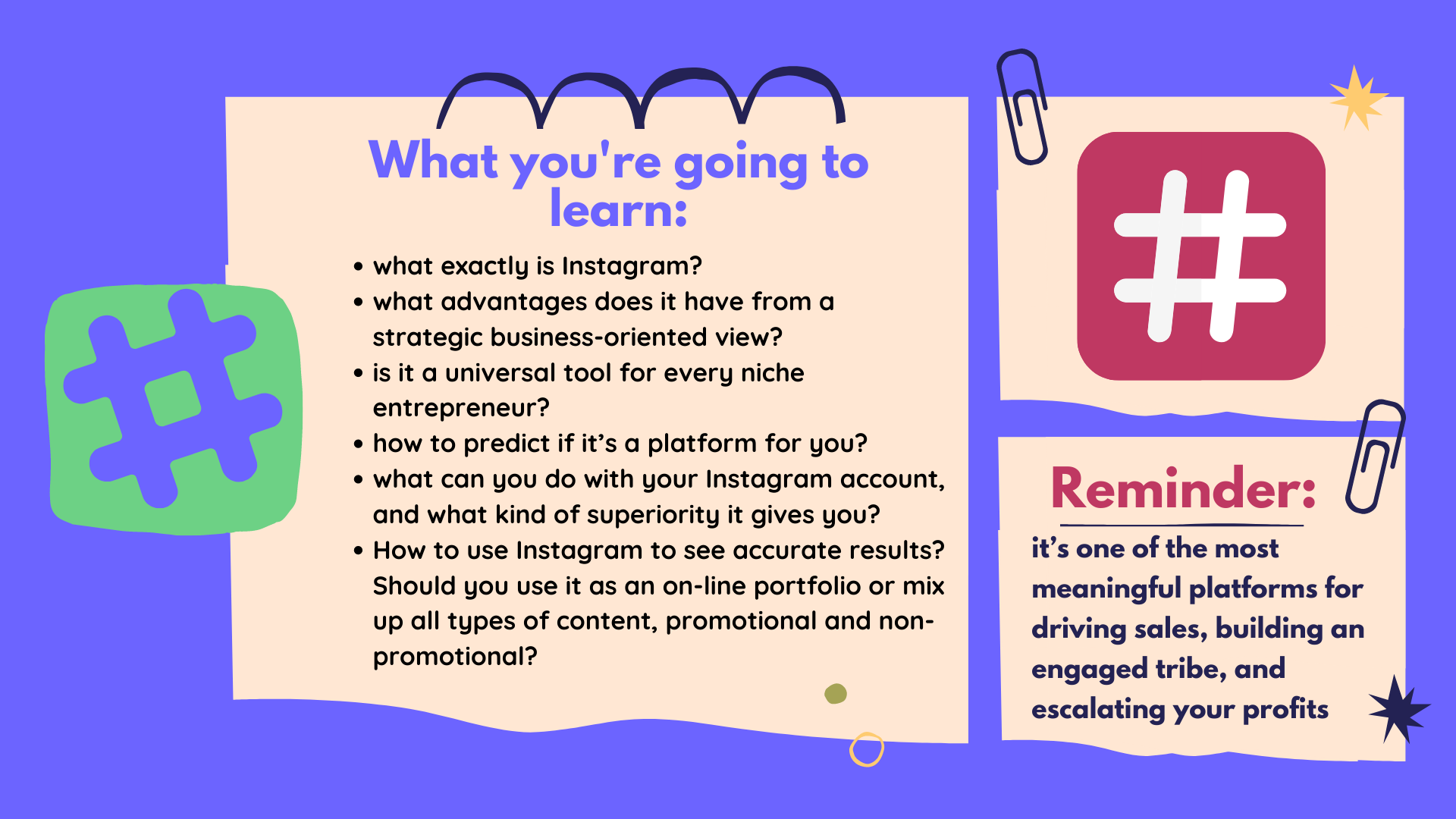 Is Instagram Worth it in 2024?
If those doubts keep popping up in your head as well, and you're wondering whether social media – and Instagram in particular – is a good investment for you, we're here to analyze all the pros and cons in round terms. What's all the fuss about? Read about our perspective (developed within whole years of working with clients from diverse backgrounds and industries) and consider all the app benefits. 
Truth to be told, we want you to avoid the massive mistake many entrepreneurs make: undervaluing the importance of a brand's presence on Instagram. Of course, for many people, it's the platform for mindless scrolling through picture-perfect selfies, but at the same time, don't forget that it's one of the most meaningful platforms for driving sales, building an engaged tribe, and escalating your profits. And we're going to focus on that part. The myth we need to debunk is that the platform provides results only for product-based businesses. Not at all: if you run a B2B business, there are plenty of options to benefit from the power of Instagram as well.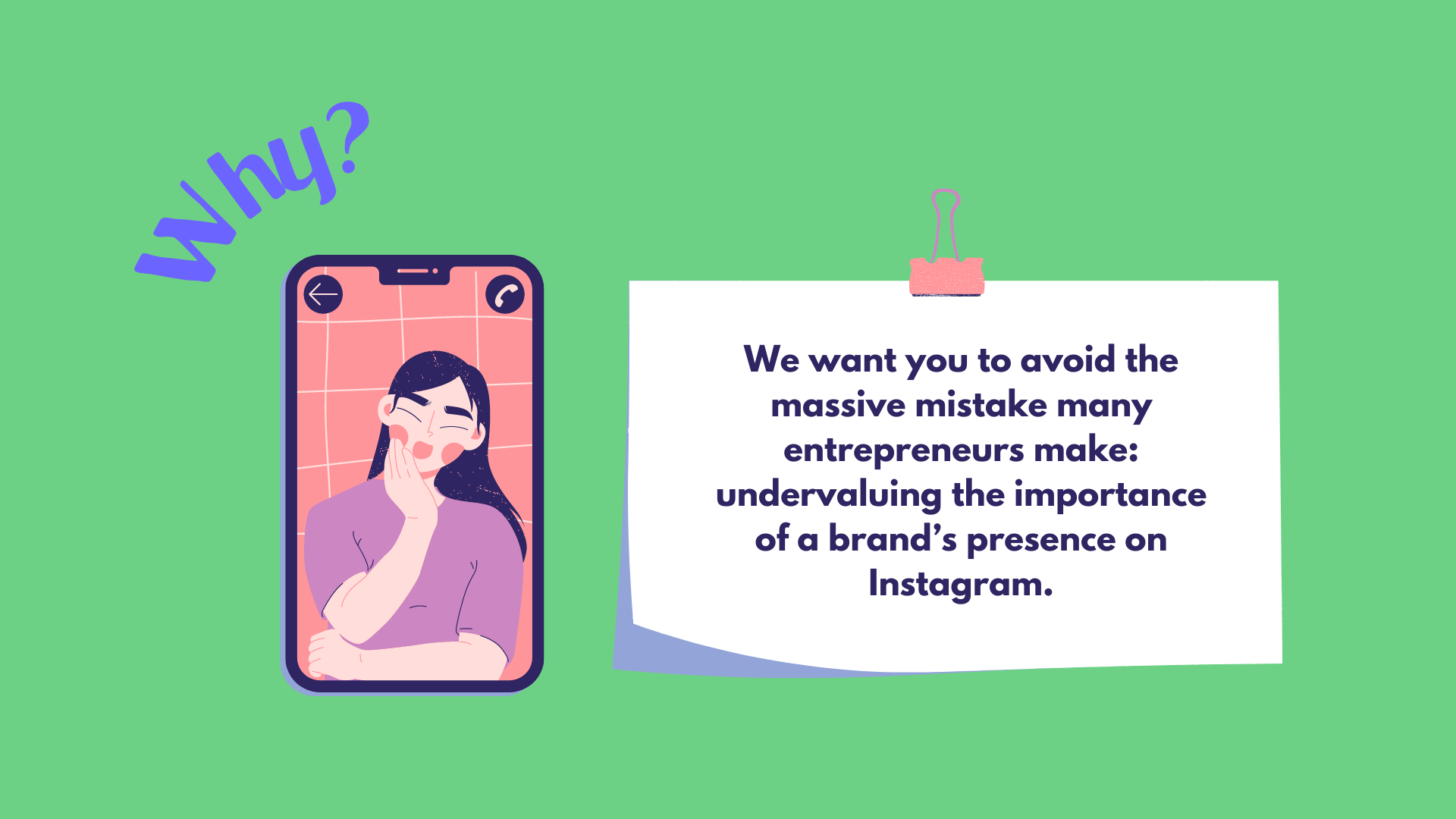 Before we dive into detailed insights, let us break down what you're going to learn from this blog post:
what exactly is Instagram?

what advantages does it have from a strategic business-oriented view?

is it a universal tool for every niche entrepreneur?

how to predict if it's a platform for you?

what can you do with your Instagram account, and what kind of superiority it gives you?

How to use Instagram to see accurate results? Should you use it as an on-line portfolio or mix up all types of content, promotional and non-promotional?
Let's get started!
Is Instagram Still Worth It? L

ong story

short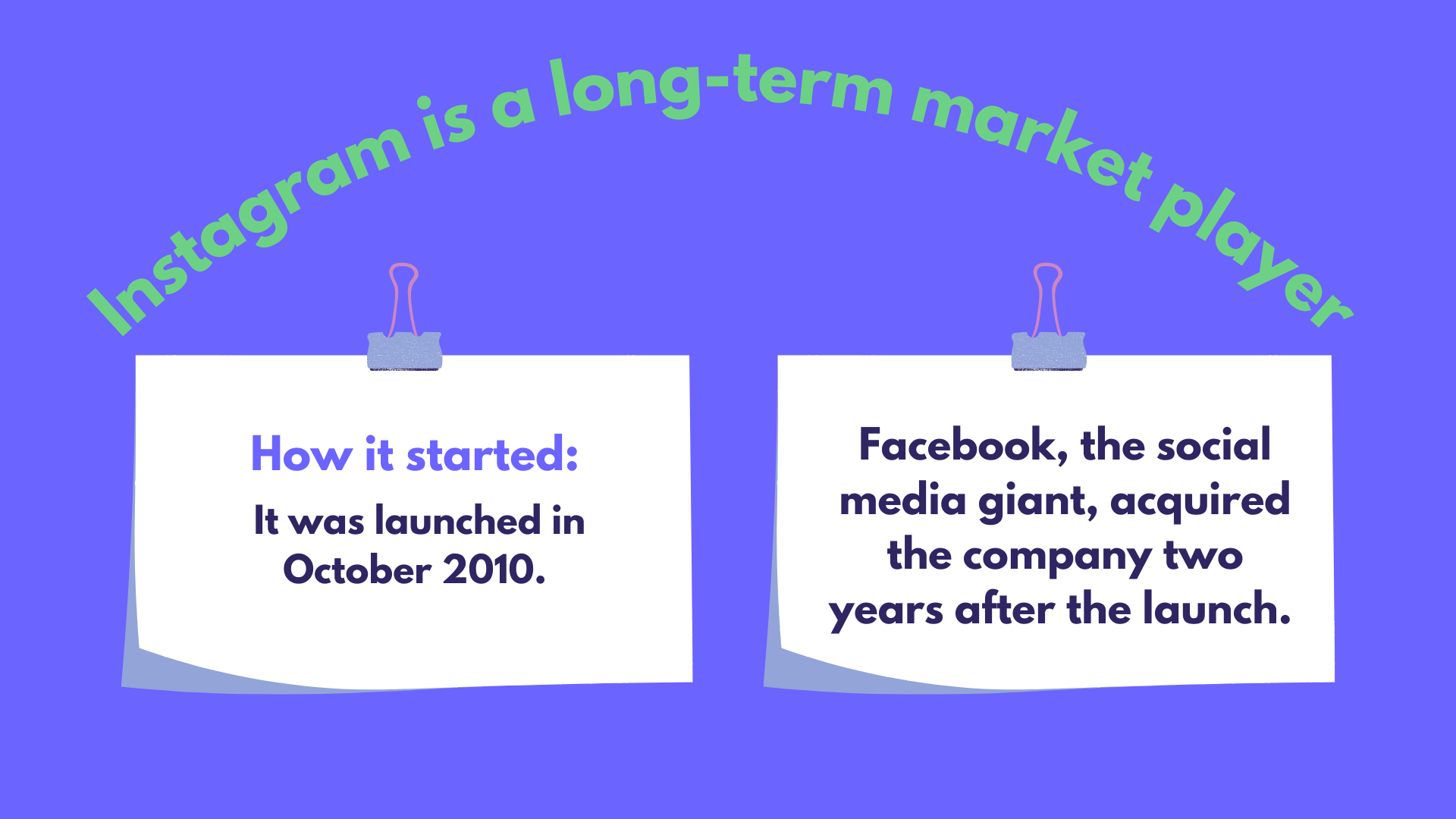 Instagram is a free social media app owned by Facebook. It's not a new, highly hyped platform that just has been invented – far from it. It was launched in October 2010, so it's a long-time market player. The start-up was founded by Kevin Systrom and Mike Krieger, Stanford University graduates, and now has around 1.074 billion users (according to eMarketer data). Facebook, the social media giant, acquired the company two years after the launch. While its basic premise is pictures and videos sharing, the app's popularity among entrepreneurs comes from its marketing and business-oriented functionalities. 
Innovative social media apps come and go, but Instagram is always there, and it isn't going anywhere soon: it's growing steadily, and the range of functionalities is still expanding rapidly. 
Instagram's phenomenon? The number of users, the intuitiveness, the diversity of creators. You'll find prized entrepreneurs, as well as fitness gurus here: it's beneficial almost for everyone, as there's a place for every niche and every kind of business (sometimes you'll be stunned what niches are thriving there). 
How does it work? Once you create your Instagram account, you can start following and engaging with your favorite creators, co-workers, role models, and potential business partners. Here's when your content creation game begins as well: from this moment on, you can share your photos or videos with the world. It sounds more than promising, but the thing is: you have to attract people somehow (and they can't be just random people, but most preferably and profitably: your target audience), and that's what your strategy is going to be all about.
Showcase Who You Are and What You Do –

it will pay off
We, as humans, love connecting with other like-minded people. Instagram storytelling formats: posts, carousels, instastories, guides, IgTV, give you opportunities to introduce yourself and attract clients, as well as potential business partners for collaborations/sponsorships/partnerships. It's a game-changer for many: Instagram is here to help you show off your skills without the need to build separate websites or master thousands of settings. No coding, no need for debugging. All in one app, without the need to commit enormous budgets for it. 
The character of your profile is entirely up to you: you can plant your feet on spontaneous photos of your team, with the introduction who is responsible for what, you can use it as a portfolio of your projects, you can share your knowledge for free to attract clients who will be willing to buy the extended paid options, your products, and services (for example courses, e-books, guides, individual coaching sessions, 1:1 expert consultations).
You can talk to your audience, record spoken messages, show the footage of your brand's daily reality, invite people to see the behind-the-scenes, get to know the inner workings of your industry. 
Does it drive sales? Does it drive traffic to your services or products' websites? With the right strategy, it can do wonders.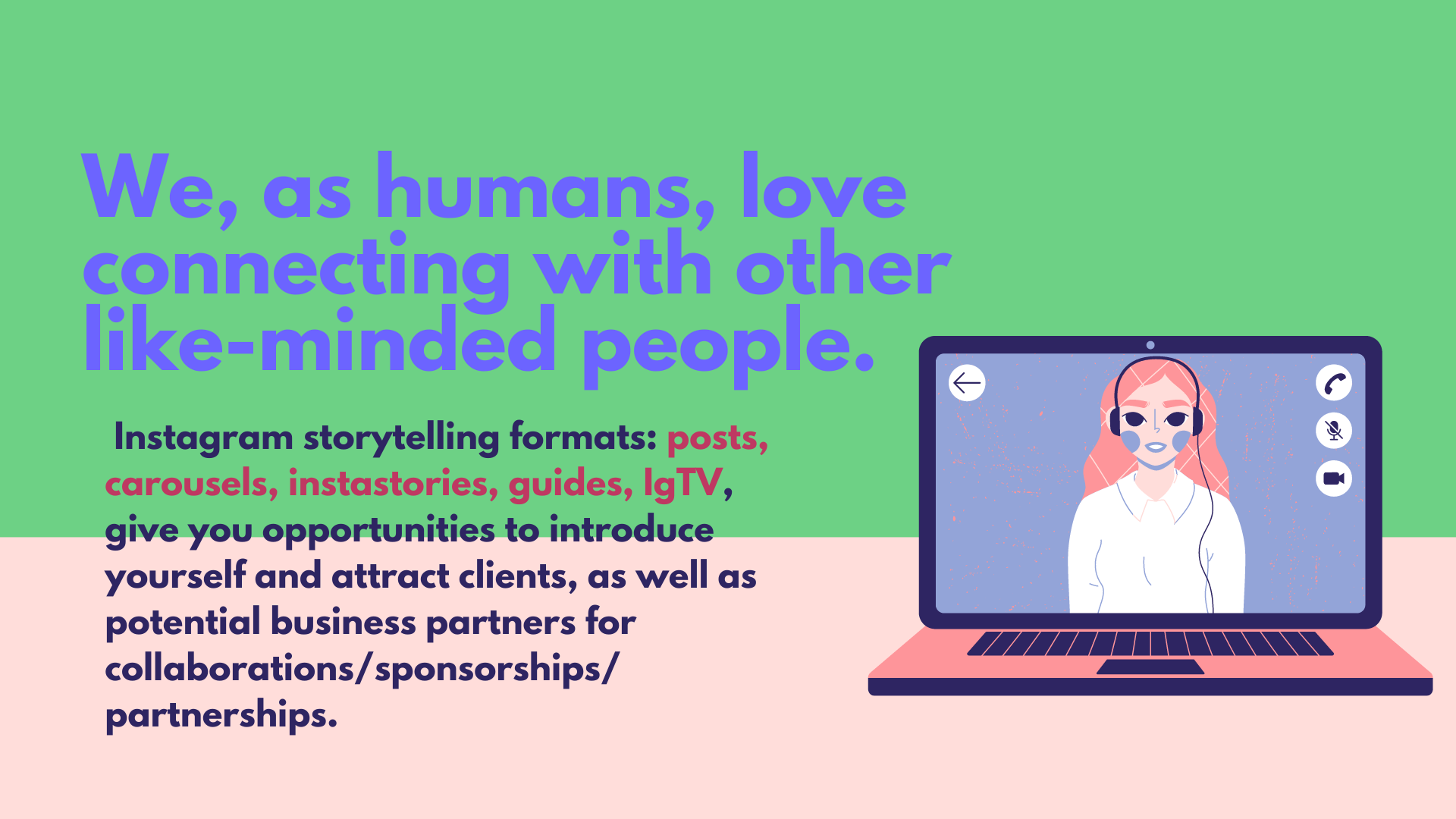 Your Dream Clients Are on Instagram in 2024
Is Instagram going to be the most advantageous social media for your business? In comparison to different platforms, users generate statistically much higher engagement and are much more willing to interact with brands' content than on Facebook, Twitter, or Pinterest.  
Entrepreneurs love Instagram for many reasons, but the number one sounds: there's where their ideal clients are. We've worked with thousands of business owners who admit Instagram is their favorite platform. It has grown into so many business-oriented features and functions; and has become comfortable for brands and businesses to grow the community intuitively.
They use it to test their ideas, get feedback from the ideal audience, introduce soft launches, put new services on the market, get to know the people interested in a particular niche.  
We know this may sound a little bit mysterious, so let us simplify a bit: two leading social media missions are to interact and inform. Thanks to Instagram features (regular posts, instastories, IgTV, instaguides, DMs – we're going to elaborate on them in the next upcoming post), you're able to do it, along with marketing yourself or your brand to all the corners of the globe where your ideal clients are.
A massive chunk of the world's population uses the platform. It's the perfect timing to take advantage of that fact.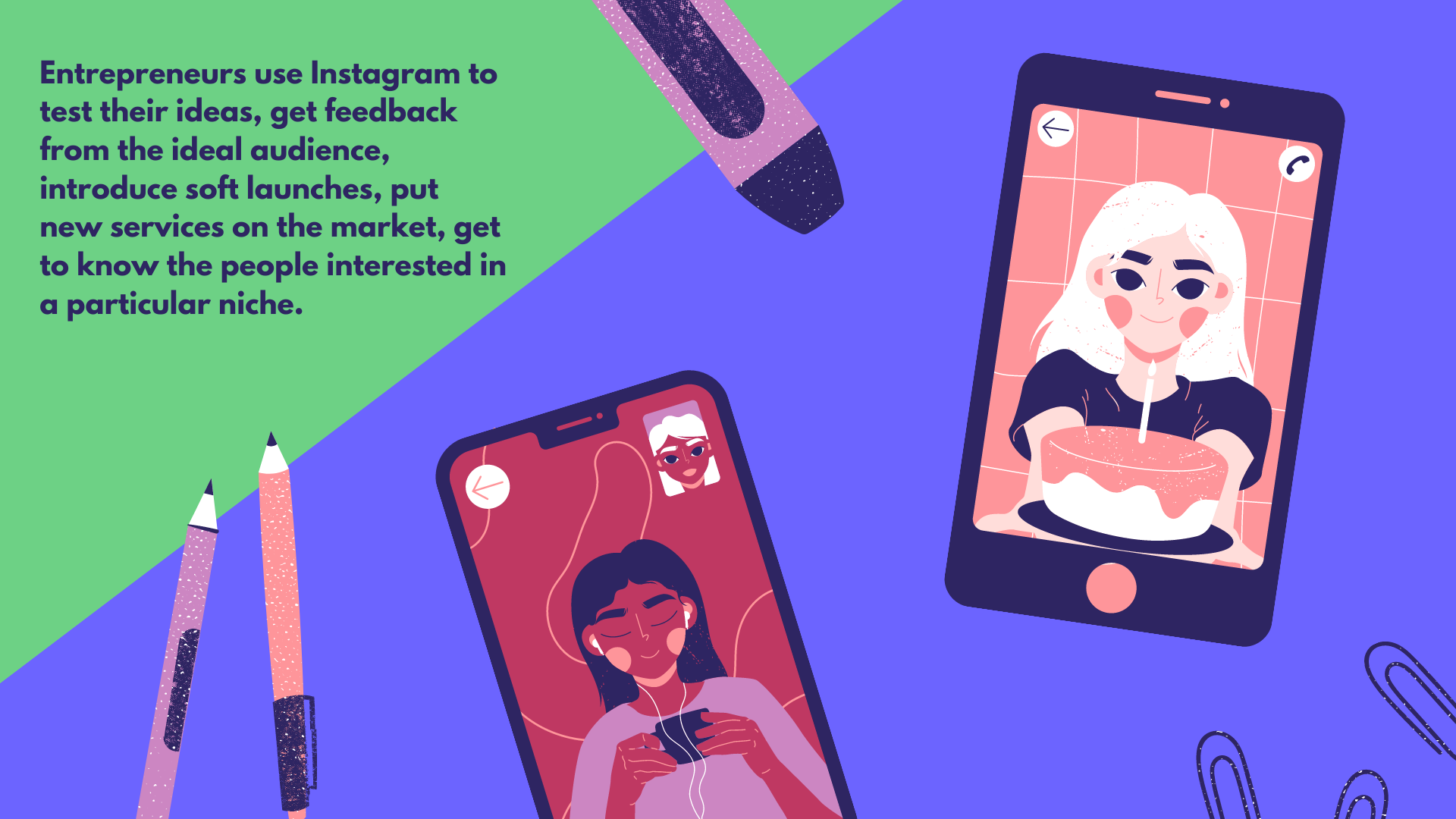 Is Instagram Worth it? Yes – When You Track Your Growth 
The best thing, from a strategic perspective is: you don't have to create content and promote it blindly, in a hit-or-miss way. You can track your statistics in detail and be aware of what is trending and attracting people and what is not. You can have access to monitoring all your activities.
It's such a time-saver; we can't stress this enough. 
We're not going to go into much detail here as we will have a future post breaking down the analytics features, with thorough tutorials about how to use them to make the most of the provided data.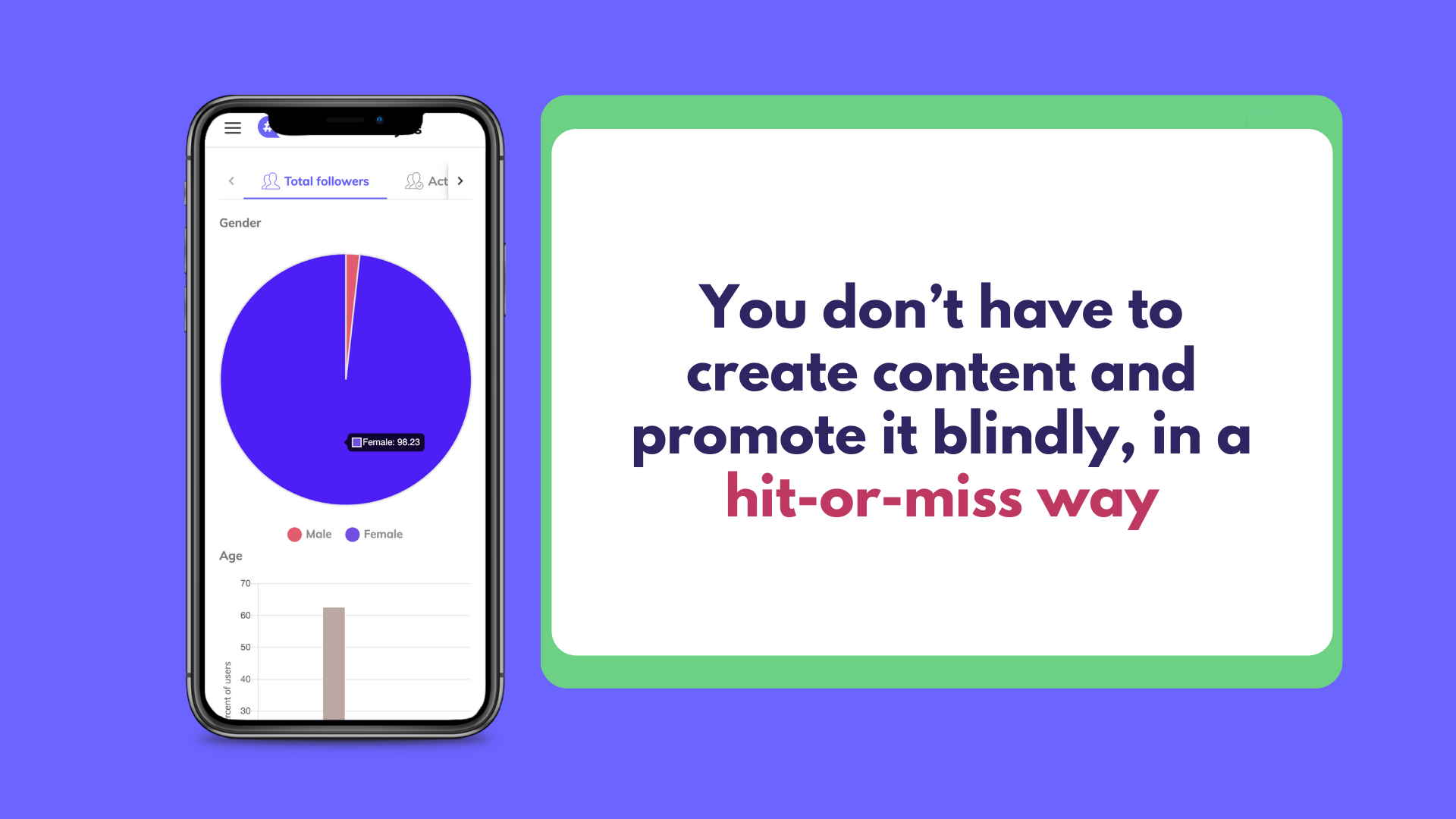 Instagram will be around for a long time to come. For more of our insights and thoughts on how important this is to you and how you can make the most of your account, stay tuned for upcoming Instagram School Lessons. We're going to discuss your content marketing strategy, as well as all the technical steps (starting from the very first ones). Instagram is all about encouraging interactions and establishing a connection – when you learn how to do it, you will be thrilled with the results. 
Many businesses are jumping on the Instagram bandwagon with us – we hope you'll be one of them, so we can help you grow!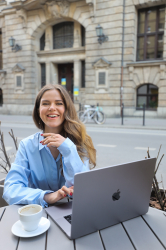 Latest posts by Kasia Pilch
(see all)