As you may (or may not!) already know, I am deeply interested in what business and Instagram marketing can learn from each other on decision-making, strategy, innovation and everything connected. I'm constantly running a lot of experiments to see how algorithms are adapting and what we need to do to win on the 'Gram.
One area that I've been exploring lately is Reels, Instagram's latest addition to the platform. And today I've got some smart and easy strategies to share with you to boost your Reels views.
Whether you're a business owner or a super creative content creator, you need to use the Reel format to help the right people find your profile. Reels are BRILLIANT. Let me tell you, when you run a business, Reels can demonstrate your expertise, give you a tool to grow your community and an engaged audience, and has the potential to open up some priceless PR opportunities too.
Are you ready to create a new Reels strategy that your potential followers will fall head over heels for? Here are 6 things to include in your Reels strategy, let's dive in!
What exactly are you going to learn today? 🕵🏻
Use The Hook
The introduction of a Reel is one of its most crucial components. This part of a video content grabs the viewer's attention, makes or breaks an emotional connection, and causes them to continue watching. Yes, for an engaging Reel, the most significant element for the entire video is the introductory part!
Without a compelling and exciting beginning, you can't make a good engaging Reel, even if the video is ultra creative and top quality.
The first 1-2 seconds of your Reel is called a lead part which is the main idea about the Reel. Without an excellent hook, it's really challenging to create an interesting start.
A compelling and attention-grabbing first second multiplies the way 'Gram users engage with your Reels.
The hook element has to be brief, creative,  specific, and intriguing. Tell them what the Reel will be about. The hook can also be closed or open-ended questions – it's up to you!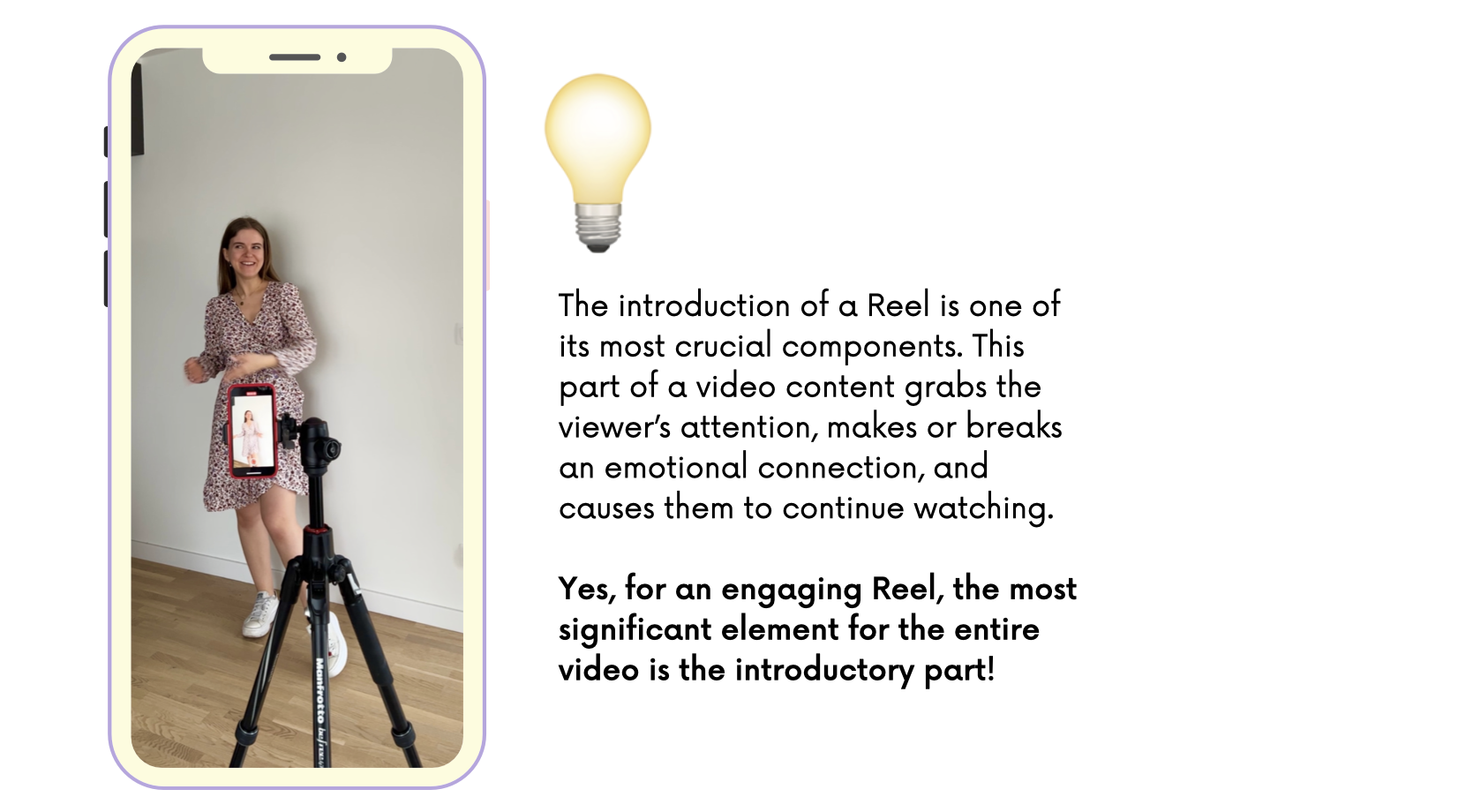 Keep Their Attention
Essentially, when someone starts watching your Reel, they either consciously or subconsciously ask themselves these 3 questions:
Does this Reel intrigue me, do I feel like keep on watching?

Is this Reel entertaining?

Is this Reel teaching me something?
Your Reels and their captions are super important for your potential followers and future customers – hey, they won't know what your amazing biz is all about if you don't communicate it efficiently in your content. 
Don't just sell, document your story along the way – make it relatable, and don't be afraid to show the human side of your business.
My advice? Create a personal brand around yourself, nourish an emotional connection with your audience, document your daily life (and show it in your Reels!), and create a business that simply can't be compared to others.That way, you will give your followers a reason to keep coming back over and over again to your profile.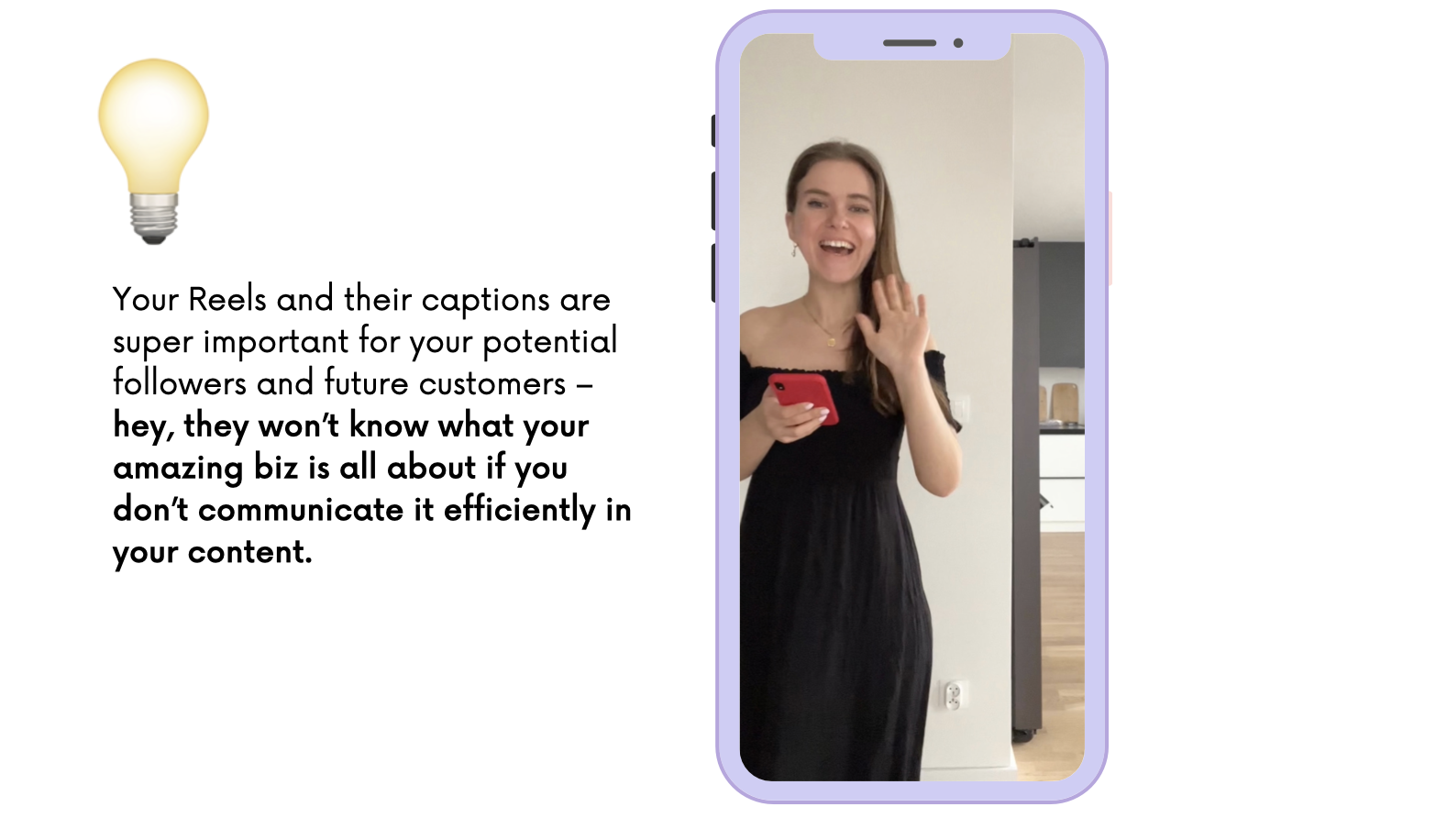 What Is The Perfect Length of The Reel?
People have short attention spans, so shouldn't we create shorter Reels?
Yup. People do have short attention spans – they really struggle to keep 100% focus throughout the video. 
It's no secret that Instagram prioritizes Reels, especially the ones with high engagement and high watch time. Ya know what the 'Gram really  loves? Original content. Reels that are being watched to the very end.
My advice? Turn your expertise, your creative concepts and opinions into juicy, Reel-rich content for your profile, but try to keep it short and sweet. Research shows that the optimal length for most Reels is 7-10 seconds.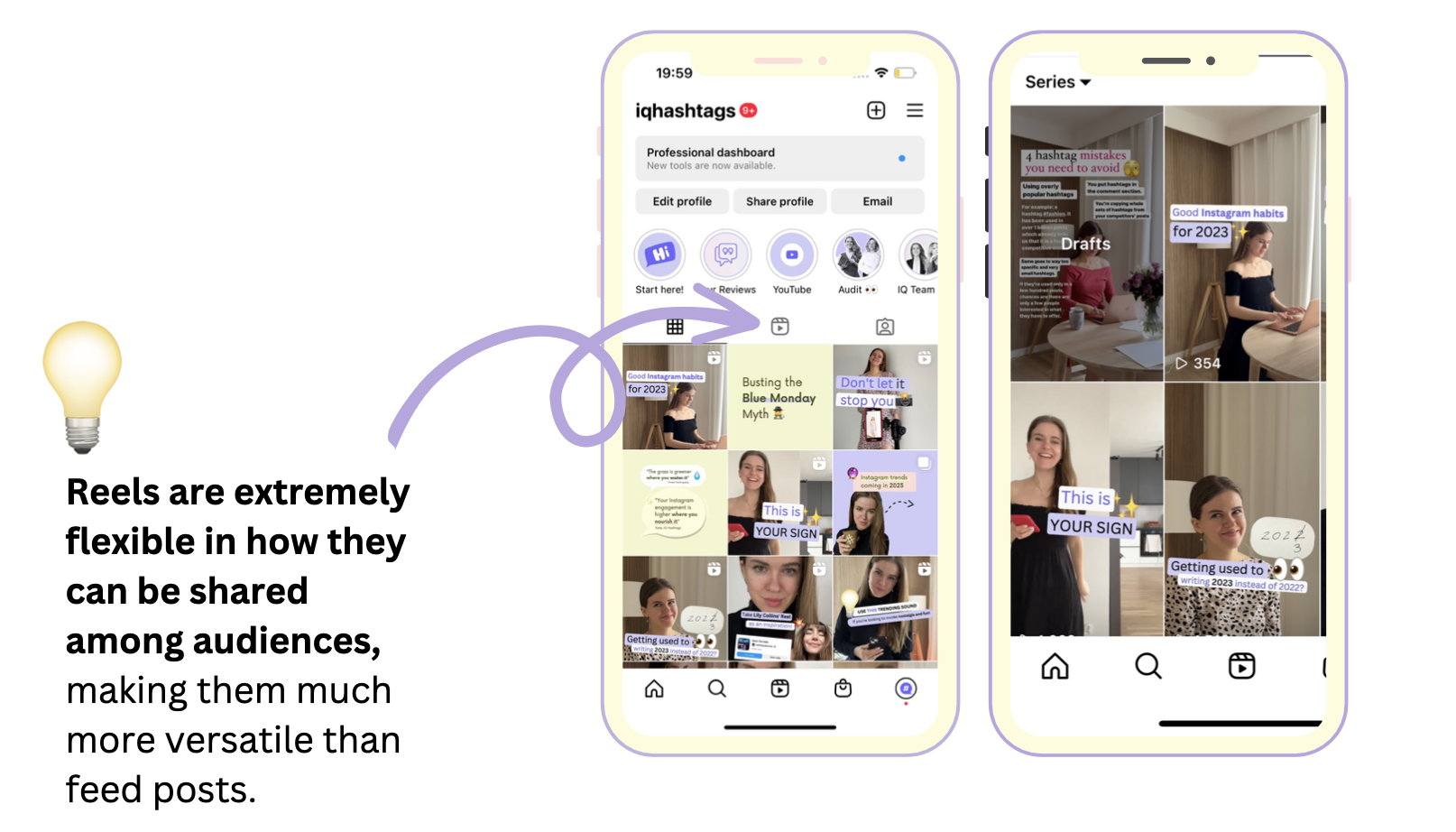 Know Your Audience – Analyze Their Behaviors and Tendencies
A well-researched, data-informed strategy is the key to any business' success on Instagram– which also makes it the key to your potential followers' hearts.
That's why I believe it's really worth it to invest in a GOOD Instagram analytics and research tool.
 If you're tired of spending hours researching new hashtags and creating content, only to find out someone else's Reels are performing way better than yours in the same niche.

You're overwhelmed because you've used many, many hashtags but none seemed to work 

-You don't have a clue about hashtags,

you feel a bit skeptical about them
My advice? If at least one of the above describes your situation, you must invest in the best Instagram research tool. I'm serious. With IQ Hashtags (that's the one I'm using and the one we'll be talking about) you can finally keep all your Instagram analytics in the same place, giving you fewer places to check and – that's really important – meaning you're more likely to pick up every important insight.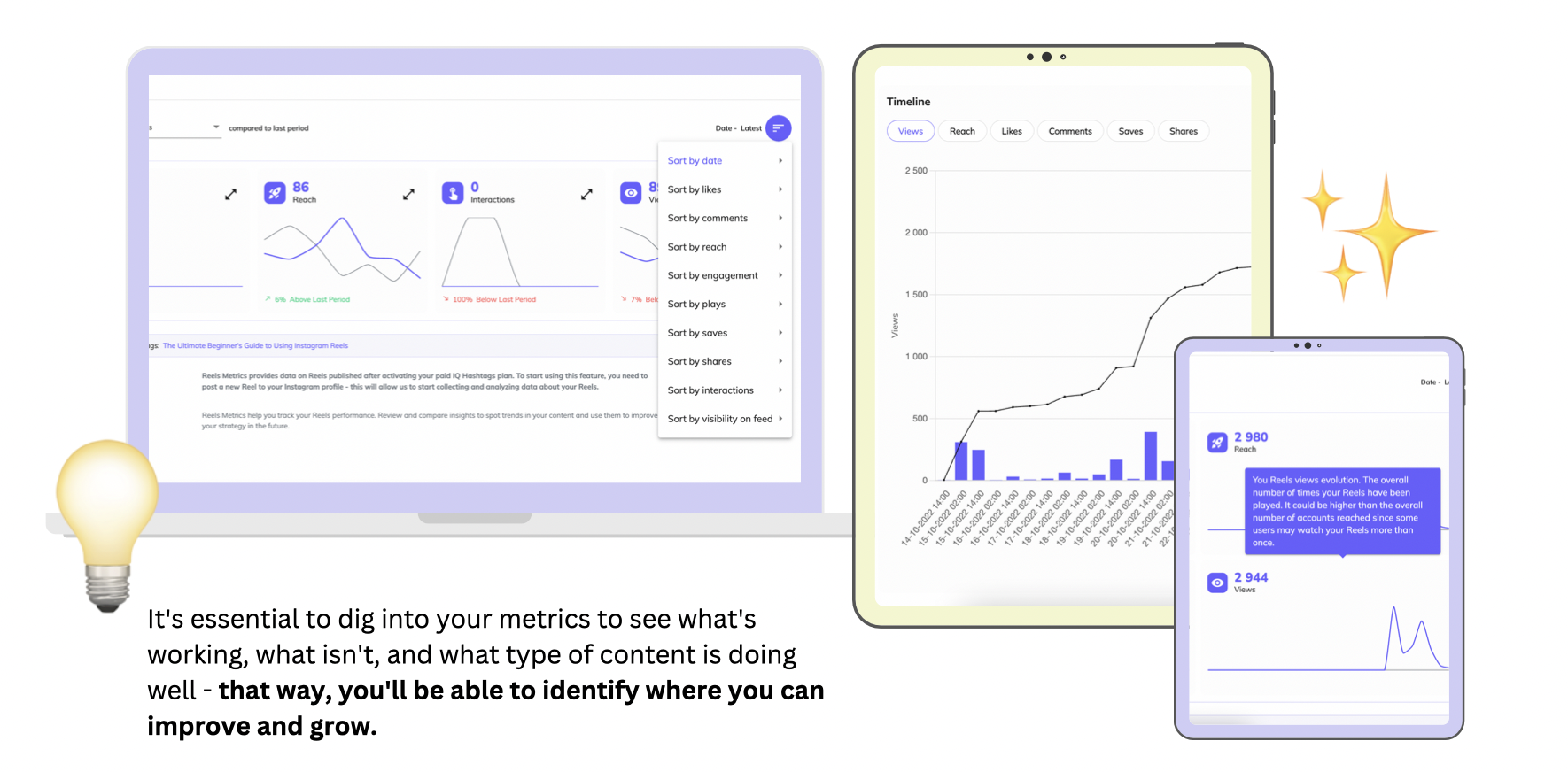 Hashtags – Are They Really So Powerful?
Let me tell you – they are. As you probably know, Instagram is a highly visual platform, and it's all about discovery. People come to Instagram to find new, exciting content, and inspiration, and hashtags are one of the easiest ways to help them do that! By using hashtags, you can categorize your content and make it easily discoverable to a new audience.
Now, here's where things get really interesting: using the right hashtags can actually increase your chances of appearing in the coveted "Explore" section on the 'Gram. That's right, the Explore section is where all the magic happens, and it's where users go to discover fresh content!
And, guess what? Hashtags play a big role in determining what Reels appear in the Explore section.
So, if you want to increase your chances of appearing there, you need to use the right hashtags.
But, wait, there's more! Hashtags are also great for building community on Instagram. An engaged community. By using hashtags, you can connect with like-minded individuals who share your interests, and that's the coolest part.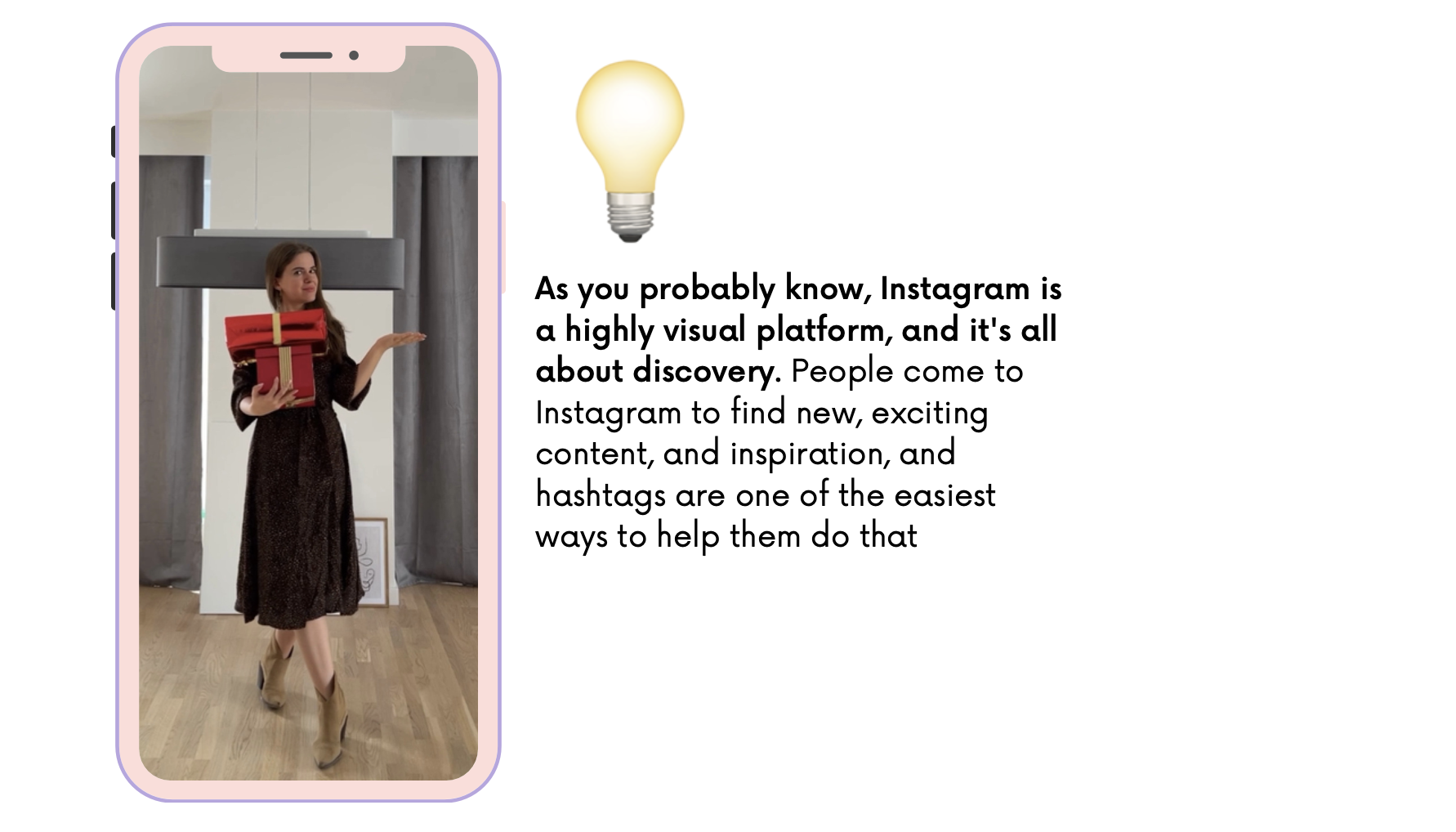 Quality over quantity, but don't let them forget about you!
Update your followers on your life and BTS (behind the scenes) of your business and daily life.  Make them feel involved and invested in your content and your brand.
Create Reels for your future clients, your perfect followers – not only for you!
This is one of the biggest mistakes I see in Reels. So often, creators will talk about what matters to them, which in many cases is not what matters to their current audience.
My advice? Don't take yourself too seriously, and share different parts of your daily routines – to make your content more relatable and entartaining. That way everybody will find something for themselves.
To Wrap-Up!
Mastering your Reels takes time and effort, that's true. I always tell the creators and business owners I work with to work within their budgets, and to spend the time, energy and budget they have on the activity that will get them the highest return (the famous ROI). Creating Reels is a slow win in many cases, which can take months to have a truly significant impact.  But… I'm sure your business needs Reels.
My pro tip for you to level up to MAXIMUM REELS EFFICIENCY would be to take a morning or a day where you have great lighting, or maybe even book out a small studio, to take a whole gallery of amazing videos you can use for your Reels throughout the rest of the month or year. Taking a burst of videos in one go will mean your lighting, color scheme, video quality and composition are pretty consistent, and it can be a really smart move.
But… I'll elaborate on that in the upcoming guide!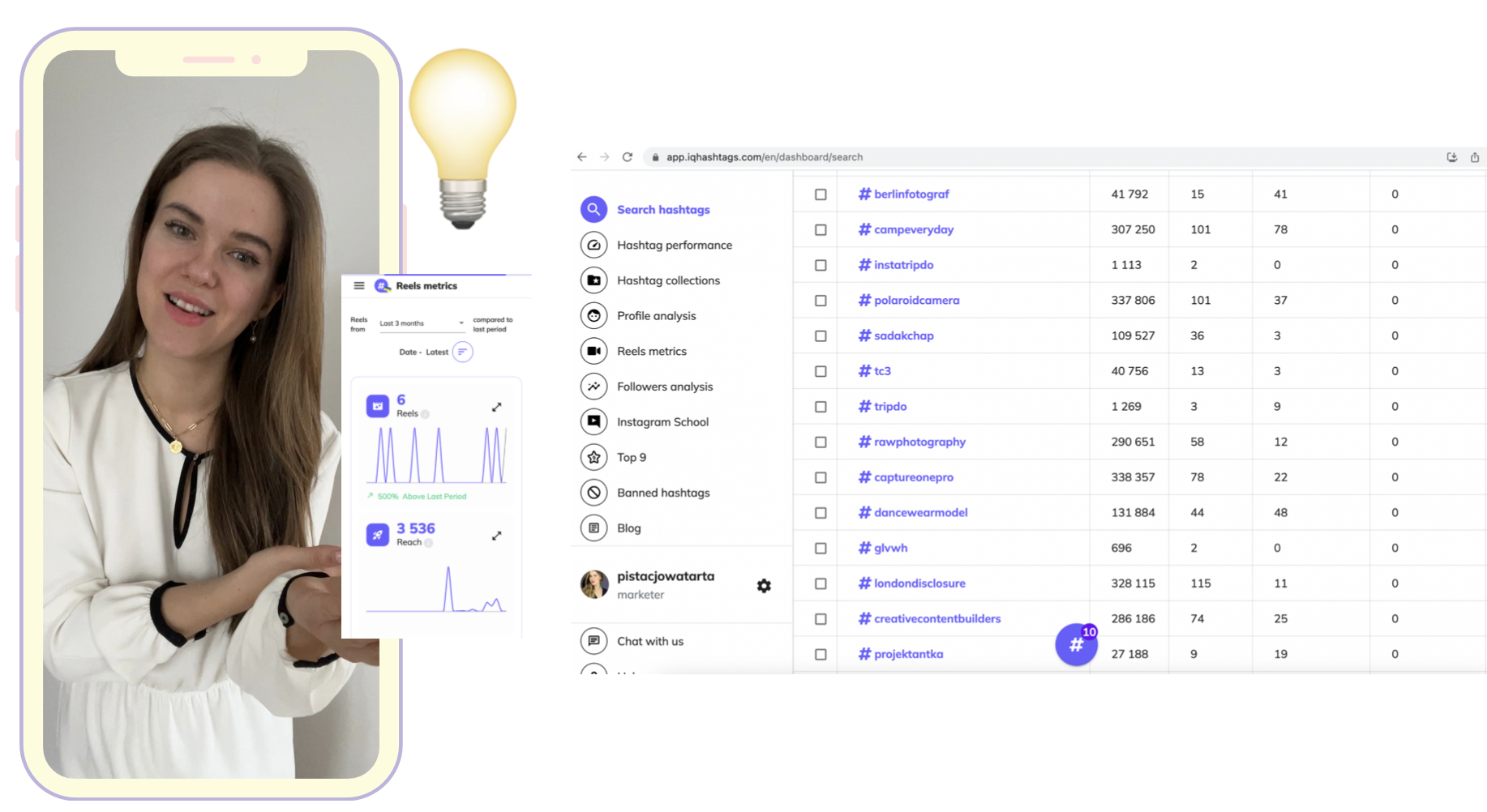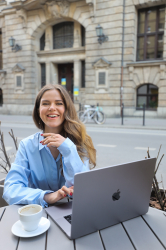 Latest posts by Kasia Pilch
(see all)