Marketing for hotels – is it even a thing? It is. Hotel marketing and Instagram go together like tacos and chipotle, but…
Getting people to talk about your hotel doesn't just happen on its own. It also doesn't happen overnight. Creating your tribe and growing your loyal community willing to keep up with your content, share photos of their trips, and engage with you and your followers is something that takes effort and a conscious strategy. So today, I've put together six ways to encourage your potential followers to stay with you and get interested in what your hotel offers.
Marketing for Hotels. Is It Really Worth It To Market My Hotel On Instagram?
We're about to get started, but hey, let's wait for a moment.
Before you ask how to market your hotel on Instagram, think about the following:
Should I use Instagram to promote my hotel?
If you hesitate or don't know the answer to that question yet, you should read our post on determining whether or not to market your business on Instagram. If, on the other hand, you've concluded that this crazy (and beautiful!) platform is the best fit for your business, buckle up: we'll go through some practical techniques to turbocharge your Instagram growth. Then, it's time to start promoting your hotel, and hey, let's do it the right way!
Are your photos and your posts top-notch?
Let's start with the basics – because, in that case, they're essential.
Your photos' quality is the most crucial element for a hotel profile.
Research showed that hotels with professional photographers performed 2-3x better than those without. It's a really smart investment. Unsurprisingly, the quality of the content is the most critical determinant in the success of your 'Gram account. Visual content is king, as they say, right?
This indicates that the most crucial component for Instagram account development is your content quality. You'll perform well with outstanding content (great photos, creative Reels, engaging captions). If your content is poor, no matter how much money you spend on Instagram ads, or how many times you publish every day, you will have an uphill struggle.
That's why there's no time to wait – you really need to take care of the quality of your posts and Instagram stories. That's the priority.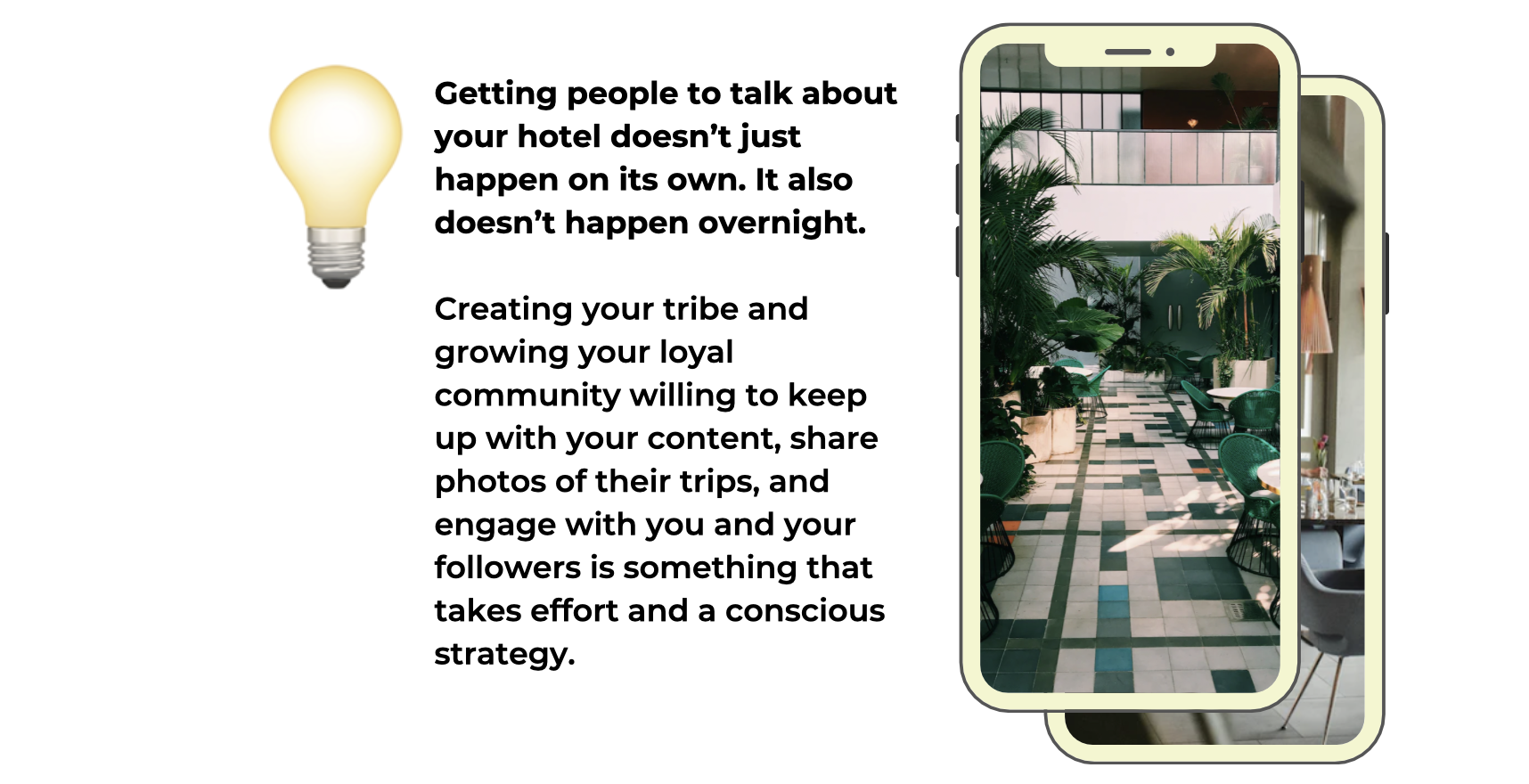 The most powerful captions are those with a personal touch.
Writing about feelings and adventures is SO powerful because it reflects the character and it evokes real emotions. What should a good, engaging caption include?
I believe it should have:
a compelling hook

a strong story or personal experience

and a meaningful point included.
Look, personal experiences build trust. And, as you most probably already know, trust is the most valuable factor in every business' strategy. That's why you need to:
Share your guests' testimonials.

Share great opinions.

Share behind the scenes of your staff's activities and duties.
Deploy hashtags strategically to maximize your organic reach and the most valuable engagement. Research new trending ones. Track their top 9 performance. How? Of course, there's a way – IQ Hashtags has this fantastic feature, Hashtag Performance, and it will do it for you.
"You measure your progress as you grow, and that's like putting deposits in a confidence bank" – I overheard it somewhere this week, and I believe it applies to your Instagram growth as well.
Are you working with influencers?
Good for you – Instagram is full of professional travel photographs.Those who earn a profession by capturing gorgeous images of hotels on a daily basis. Some of them will be willing to work for a stay at your hotel!
That way, you can get a pack of high-quality photos or Reels to use on your Instagram profile – created by talented creatives who definitely know their niche.
If you've established mutual interest in collaborating with a creative, be sure to agree on deliverables ahead of time, such as, for example, 10-15 photos and 2 Reels in return for one night's supply. A free night or a weekend in return for unique content from professional content creators is a really small opportunity cost. But, if you have a more strict deadline or more stringent requirements, it also makes sense to hire a professional photographer and paid content creators from time to time; that's more than obvious.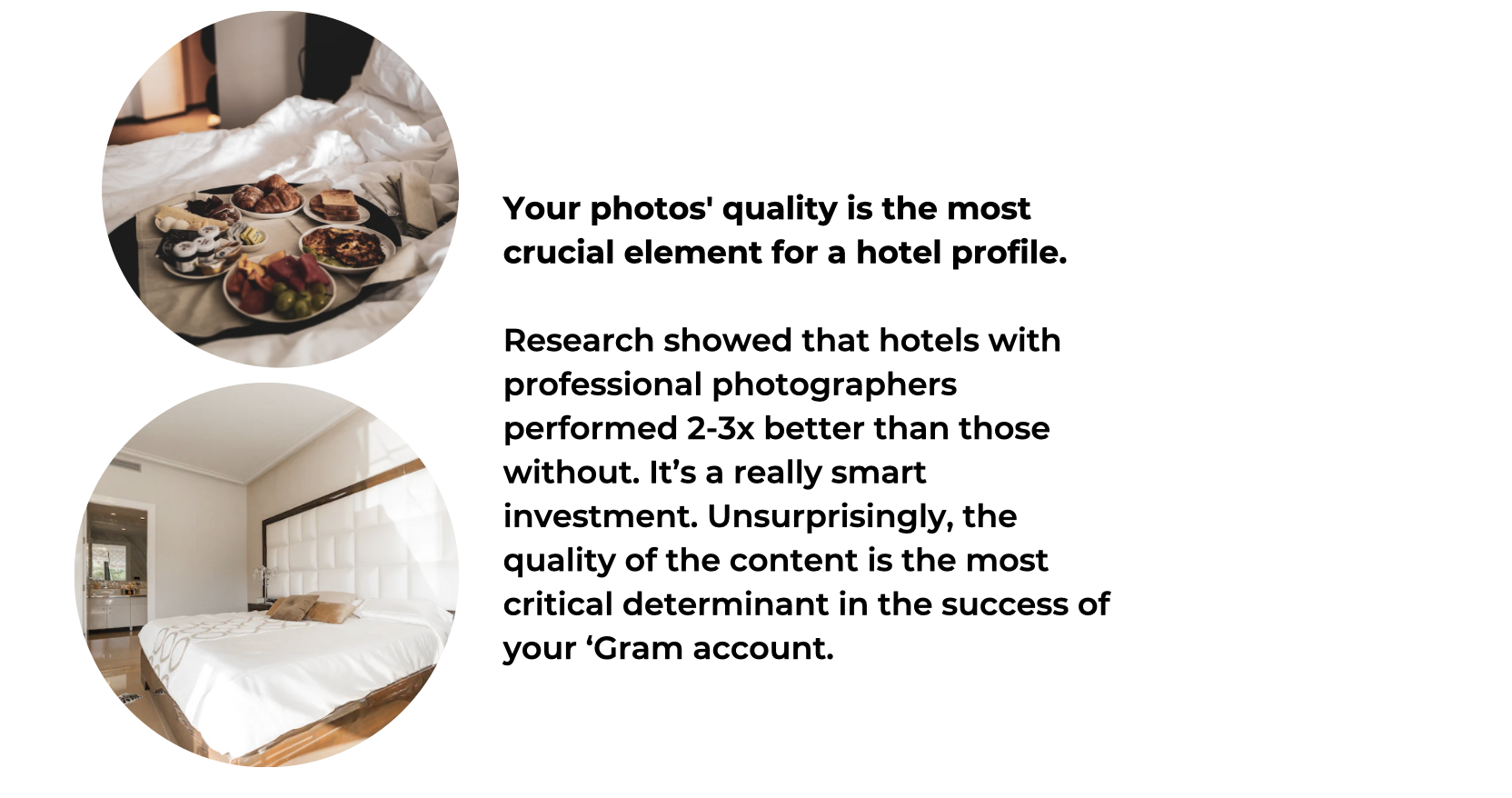 Analyze your current audience to know what time is your most beneficial time to post
Timing is everything. It really is – when it comes to love, business, and yup, your Instagram strategy too.
When is it most beneficial to post new content to gain the highest exposure? Don't believe the generic advice you read online – analyze it on your own. The best time to post is different for every single audience. That's why you need YOUR answers.
Actually, you can check it with the IQ Hashtags tool – there's this new feature 'Followers Activity' that will help you analyze your audience's behavior and track their activity.
Do you know when your followers are online the most?
The answer is the key.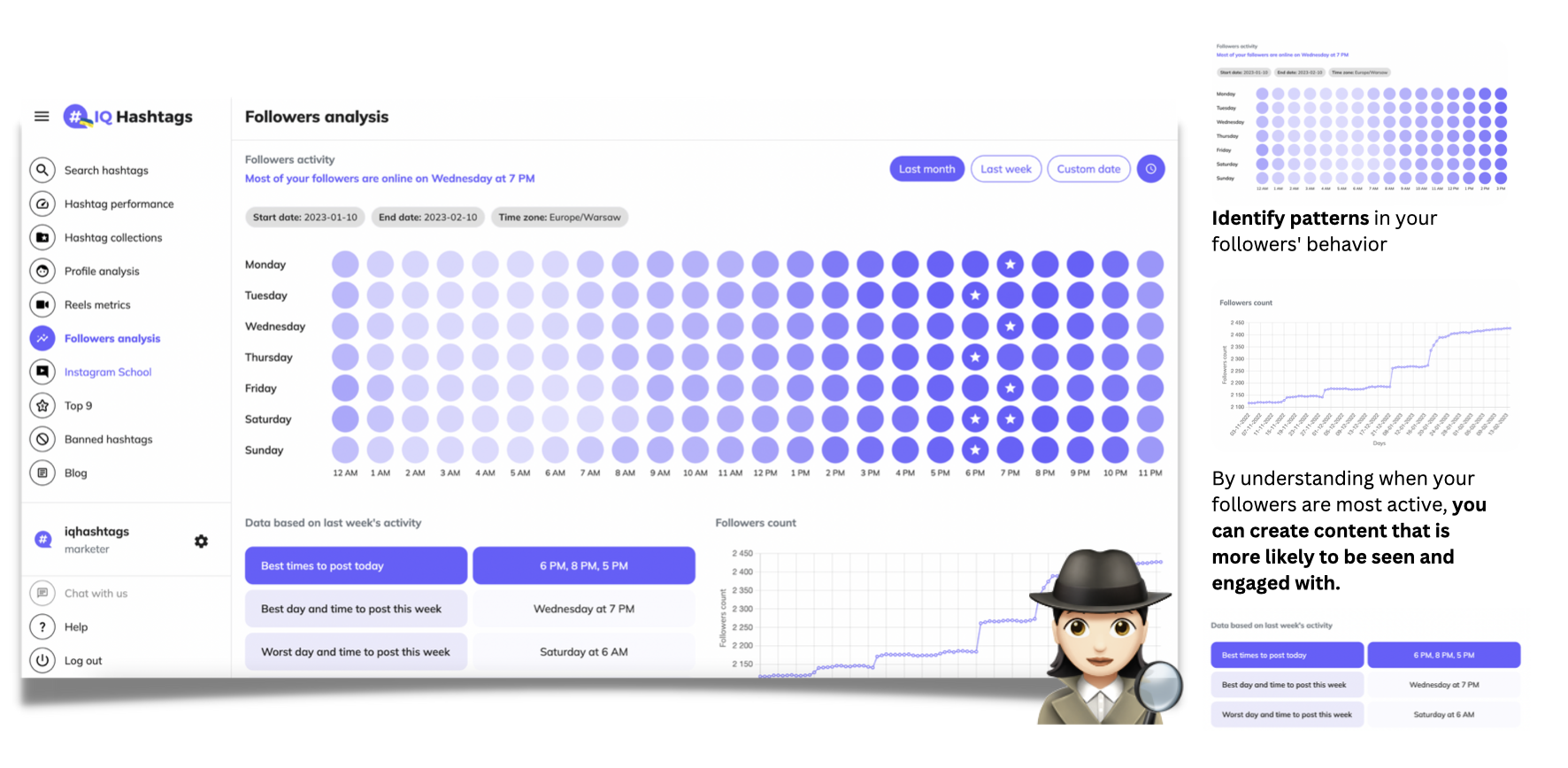 Going viral can and, of course, do happen to hotel accounts, but they often come with fickle audiences and not-so-nice side effects like attracting trolls, and getting nasty and unpleasant comments.
Does going viral guarantee new clients and your hotel being fully-booked? No, the math there isn't really so simple. You may attract people who aren't your target audience, and actually going viral may not change anything when it comes to your financial situation.
Steady and conscious growth, based on attracting YOUR TARGET AUDIENCE has the highest ROI (return of investment) nowadays.
Don't count on going viral. The favor of Instagram algorithms' gods is partly beyond your control, and we don't blame it for that – going viral isn't a dream, it has negative effects, and doesn't guarantee a boost of sales.
It's all about WHO you're attracting, not HOW many random people you're attracting. You need to focus on people who are willing to visit your hotel THIS or next year. NOW. Not in ten years.
I need to quote a really wise words I've heard today: If going viral is beyond your control, and it is, there's absolutely no way to make it happen quickly, or replicate it as part of your Instagram growth strategy.
I can't agree more.
To Wrap-Up!
Only hotels that keep up with the newest trends will be able to thrive on a market that is rapidly adopting younger generations' lingo. After all, it is on them that the future of hotels rests! And they are definitely using Instagram to find the perfect spots for their next trips. This new marketing style is far more informal, straightforward, and spontaneous than typical commercial communication, and the ephemeral content displays the most personal aspects of hotels.
Make it your superpower.