The day has come! Our IQ Hashtags team is super excited to announce: we've just launched our Reels Metrics Feature. We've spent WEEKS developing this, and it's go time, RIGHT NOW!
You told us you'd like to analyze in detail how your Reels are performing and have all your Instagram Reels analytics in one place. Our awesome team heard you loud and clear. Well, what can we say? Your wish is our command! So, with great excitement today, we can officially announce to you that the new Reels Metrics feature is officially available inside our IQ Hashtags Tool. The most advanced Reels analytics feature you can imagine. The most advanced one on the market.
Reels Metrics are available for all IQ Hashtags users with accounts authorized through Facebook API – and let us tell you: this feature will quickly become a game changer for your Instagram strategy. For us to provide such a solution, a lot of work needed to be done behind the scenes to deliver the functionalities we've dreamed of as seamlessly as possible. Thankfully, we have a super strong team of developers. None of this would be possible without them, our IT champions!
The great news doesn't stop there: IQ Hashtags is now officially approved by Instagram. Instagram recognized us as a tool tapping into a powerful technology that can be used hand-in-hand with the platform. It is a HUGE honor, and we are thrilled to offer you a deeper, more extensive integration with Instagram. Essentially, this approval confirms that our IQ Hashtags tool hits the highest industry standards when it comes to data analysis and keeping information safe. In addition, it was checked and authored by rigorous independent Meta auditors.
Now… Let's look at Reels Metrics and how they can help your business grow on the platform!
💡 Here's everything you need to know:
Why Is It So Essential to Track Reels Analytics?
Did you realize that over 20% of consumer time on the Instagram app is spent watching Reels, while 45% of Instagram profiles now interact with a Reel at least once a week? 🤯 No doubt: Reels are a top priority. The engagement they generate is immense. So it's no wonder the Gram plans to double down on its video focus in 2023! But just being on Instagram and creating random Reels won't help you grow. Using Instagram analytics tool to gain insights that will help you envision the performance of your Reels in advance and improve them – that's what really counts, as to grow on any social media platform, you need to understand who exactly is engaging with your profile, the content they're engaging with, and why they are engaging with you.
The solution? Track your Reel Metrics to take the guesswork out of growing your Instagram.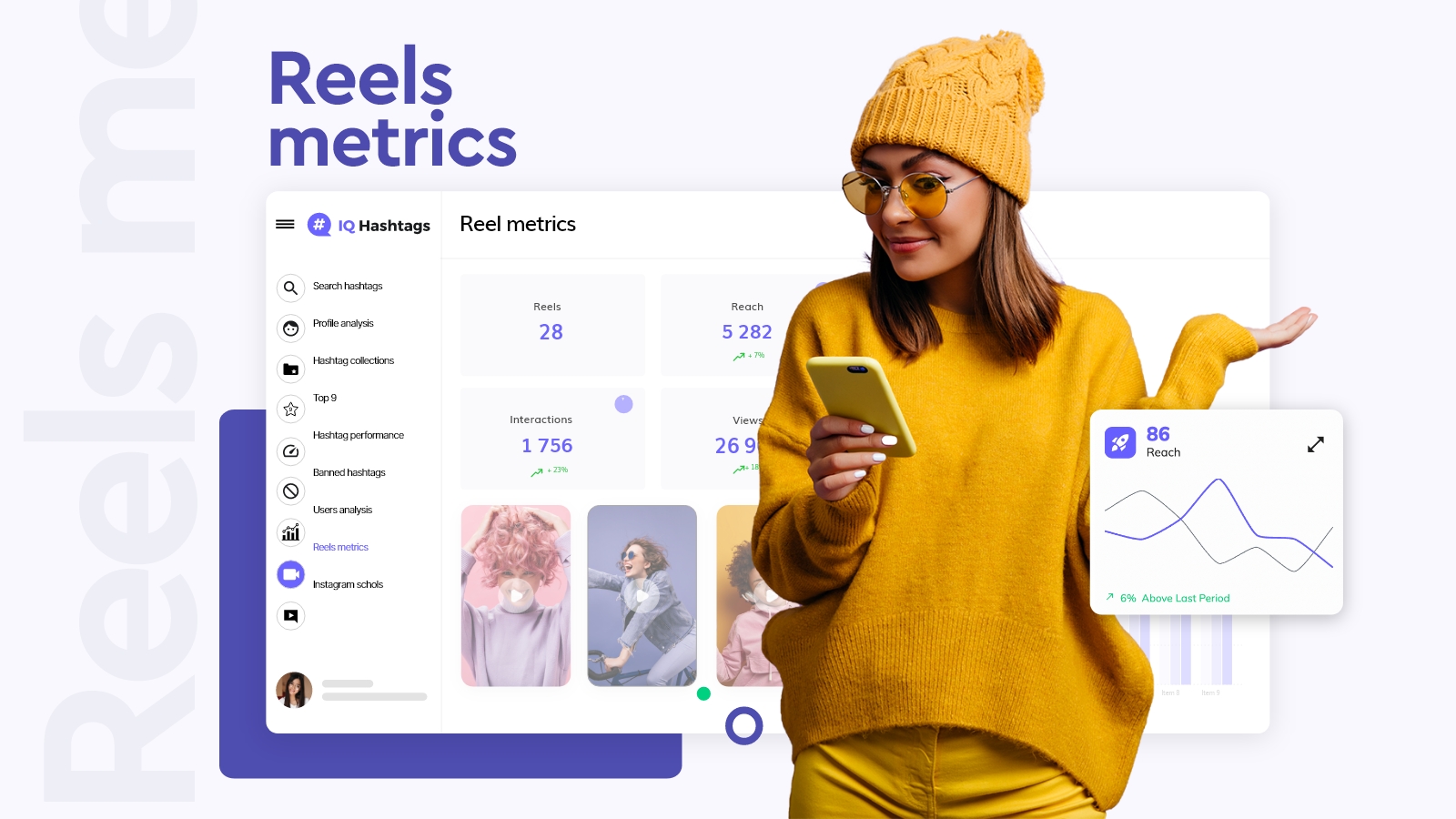 So, What Exactly Are Reels Metrics?
First of all – we think you're going to LOVE them.
Have you ever wondered which of your Reels performed better than others and why? Do you want to know what kind of Reels your audience wants to engage with? Would you like to start tracking all the key metrics you need for your Instagram Reels IN ONE PLACE?
As the old saying goes: if you can't measure it, you can't manage it.
That's why tracking your key engagement metrics is so essential. Reels Metrics are included in all paid plans – for all IQ Hashtags users with accounts authorized through Facebook API. The new statistics will now be included in your IQ dashboard and give you the best overview of your Reels' performance; woohoo!
We'll show you all the metrics and insights related to your Reels, empowering you to understand your audience and their 'Gram behaviors. Understanding your Reels metrics is vital when thinking about Instagram goals. In fact, the deeper you can understand who your Instagram audience is and what they like the most, the deeper connection you'll create with your followers and the more new ones you'll attract.
Reels Metrics make it possible for you to:
Track key engagement metrics for your Reels. Access Reels stats, including engagement rate, reach, view, like, saves, and comment count over any time period
Get more likes, comments, and saves by understanding what kind of Reels your audience wants to engage with
Track which of your Reels performed better than others to build an effective content strategy
Discover and collect hashtags that your posts have ranked for to improve your Hashtag Research and increase your Reels views in the future
Get a clear picture of your Reels performance and gain insights into your audience with easy-to-read charts and graphs of critical Reels metrics
Who Do Reels Metrics Benefit the Most?
As a tool officially approved by Instagram itself, we're here to assist in growing, and accelerating the success of businesses OF ALL SIZES!
We've developed our smart, advanced analytics tool to help:
Aspiring entrepreneurs

Business owners

Creators and influencers

Marketing managers

Everyone who needs us!
Our mission is to arm you all with a powerful platform to analyze all the in-depth data about your Instagram performance, reach new, ideal followers, boost your engagement, and create the content your audience appreciates the most.
What Does It Mean We're Officially Approved by Instagram Now?
Companies approved by Instagram are hand-picked tools, meeting all the detailed criteria, created to help businesses and individuals grow quicker on the platform. It means Instagram sees IQ Hashtags as a tool that solves various creators' and businesses' challenges productively while also cultivating a healthy and secure approach to growing a profile!
The Instagram API access enables us to provide the most advanced real-time analytics, which makes it much easier to keep track of your various Instagram posts and Reels in one place.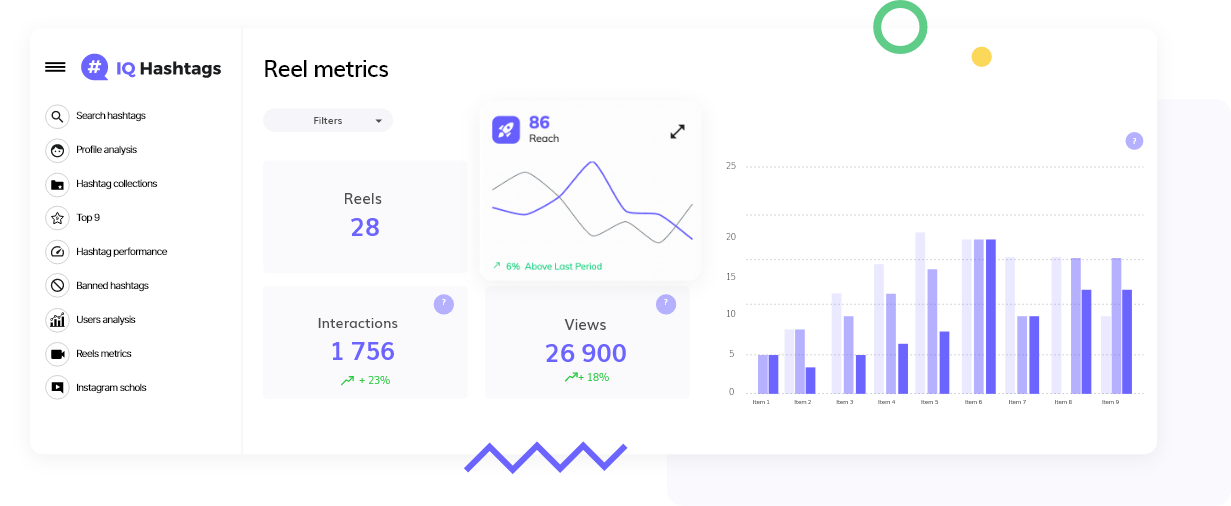 How Can I Start Seeing These Insights?
The Reels Metrics are already here – which means you can see these insights today. They are available for IQ Hashtags users with accounts authorized through Facebook API. If you haven't authorized it yet – the process takes only a few minutes to complete, and we'll show you exactly how to do it. With our instructions, getting started is a breeze!
What's Next?
We don't plan on slowing down. Our new Reels Metrics feature, access to the most advanced Instagram API, and the official Instagram approval pave our way to continually build and innovate moving forward!
Please continue to send us feedback on how we can make your dreams come true. The IQ Hashtags tool has always been built for you, our user. Our inspiration is… You!
Our new features and improvements are constantly inspired by a substantial mix of your feedback, customer interviews, and user testing. Talking with you, our users, helps us uncover your pain points! It's exciting to take the feedback we've been hearing over time as our top-priority inspiration to develop super helpful solutions! 
Excited? WE ARE TOO! Don't hesitate to share your reactions in the comments!
For more tips, follow us on the Gram (@iqhashtags), and check out the resources below: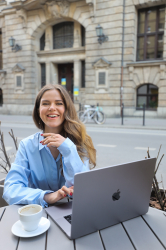 Latest posts by Kasia Pilch
(see all)