Our AI Content Writer is finally here! For an Instagram creator, a creative block isn't just discouraging or frustrating – it's potentially reach and engagement-damaging. When you rely on your posts and your creativity to pay the bills and build your authority on the platform, you simply can't afford to be short of new ideas or the possibilities to put them into action.
Creativity demands pure focus – and sometimes it's hard to concentrate on the writing process when there's so much going on. This creative block can come from having too many tasks on your daily to-do list, the pressure, the perfectionism – didn't we all know it, most probably too well? When we talk with you, our clients: content creators, business owners, talented artists, and highly ambitious entrepreneurs, we hear this frustration almost all the time: "I spend too much time crafting my captions. The creative block is hindering my social media growth".
We've been thinking about a solution to this BIG problem for months. Something that would take the weight of content creation struggles off your chest. Something that would become your writing sword arm.
It took us a while to develop something really powerful. Finally, we're thrilled to introduce our AI Instagram Captions Generator, bringing the power of the most advanced artificial intelligence right into your IQ Hashtags workspace.
Our new AI writing feature is here, and it's here to stay. Once you get over the inceptive urge to cling to your previous content creation process habits that were probably a bit unproductive and were taking ages, you can start to open up to the remarkable possibilities the new feature brings! Our mission is to make your social media growth as effortless and stress-free as possible, and our AI-powered writing assistant will help make that your new reality.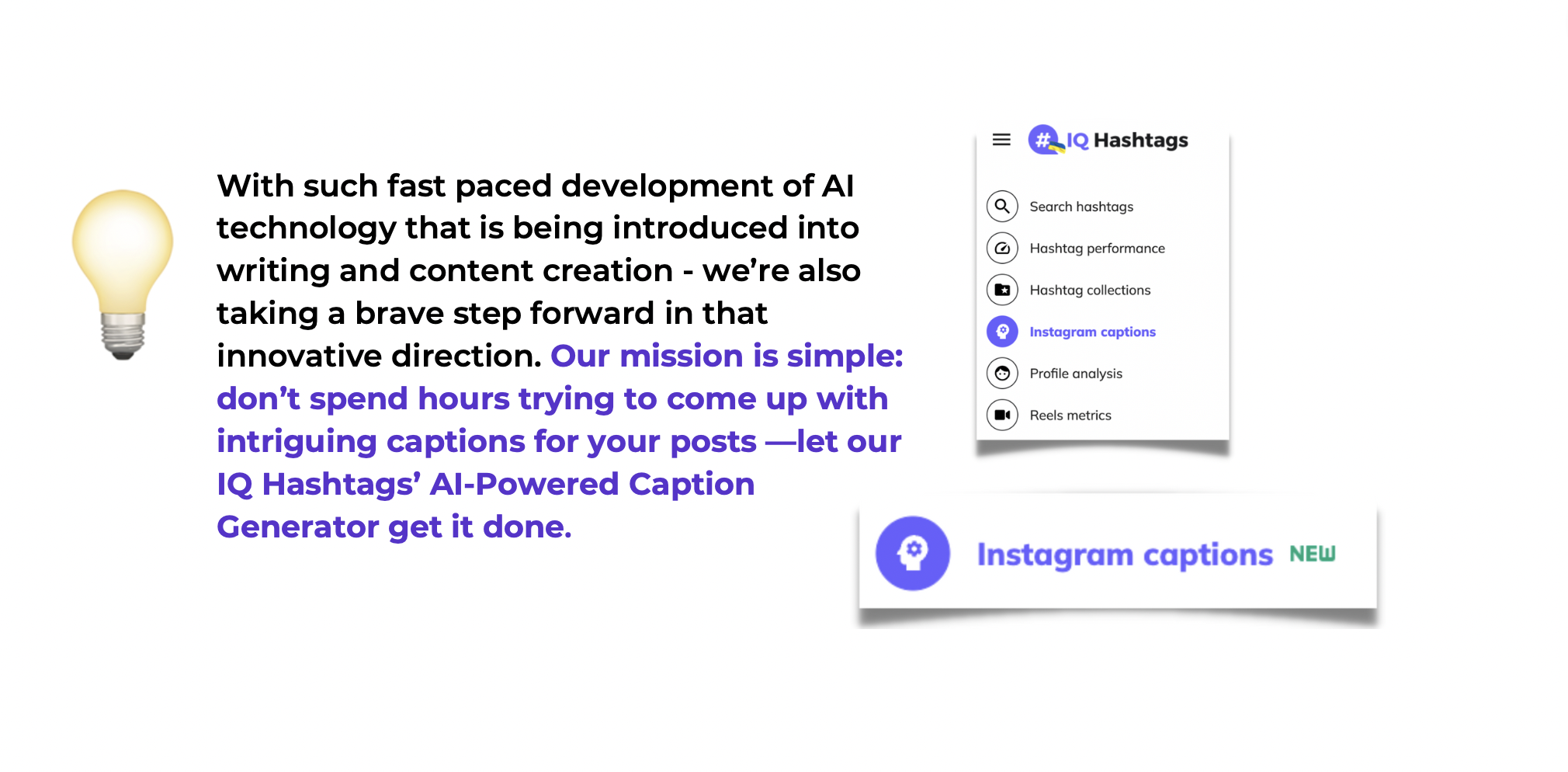 Meet Our IQ Hashtags' AI Content Wirter
The feature's capability to generate original, absorbing text with human-like fluency makes room for endless possibilities. It can generate extremely engaging captions, expand the way you write, inspire you, and give utter to your brilliant ideas!
It will do the caption writing heavy lifting for you. That way, you can shift from time-consuming caption writing to more strategic tasks, like polishing your videos, planning your photoshoots, and replying to the DMs that land in your inbox. Win-win. There's so much power of artificial intelligence here already — and we wanted to bring that infinite power into IQ Hashtags for our ambitious users to make their lives easier.
Overcome Creative Block with AI Content Writer
No more staring at a blank page (or rather a blank screen). With our AI-Powered Instagram Caption Generator, you can use the AI magic to turn a single spark of an idea into an engaging, creative caption. Consider our Caption Generator your new best buddy, your Instagram partner. It augments your creation process and your thinking — helping you save energy and time so that you can spend it more wisely.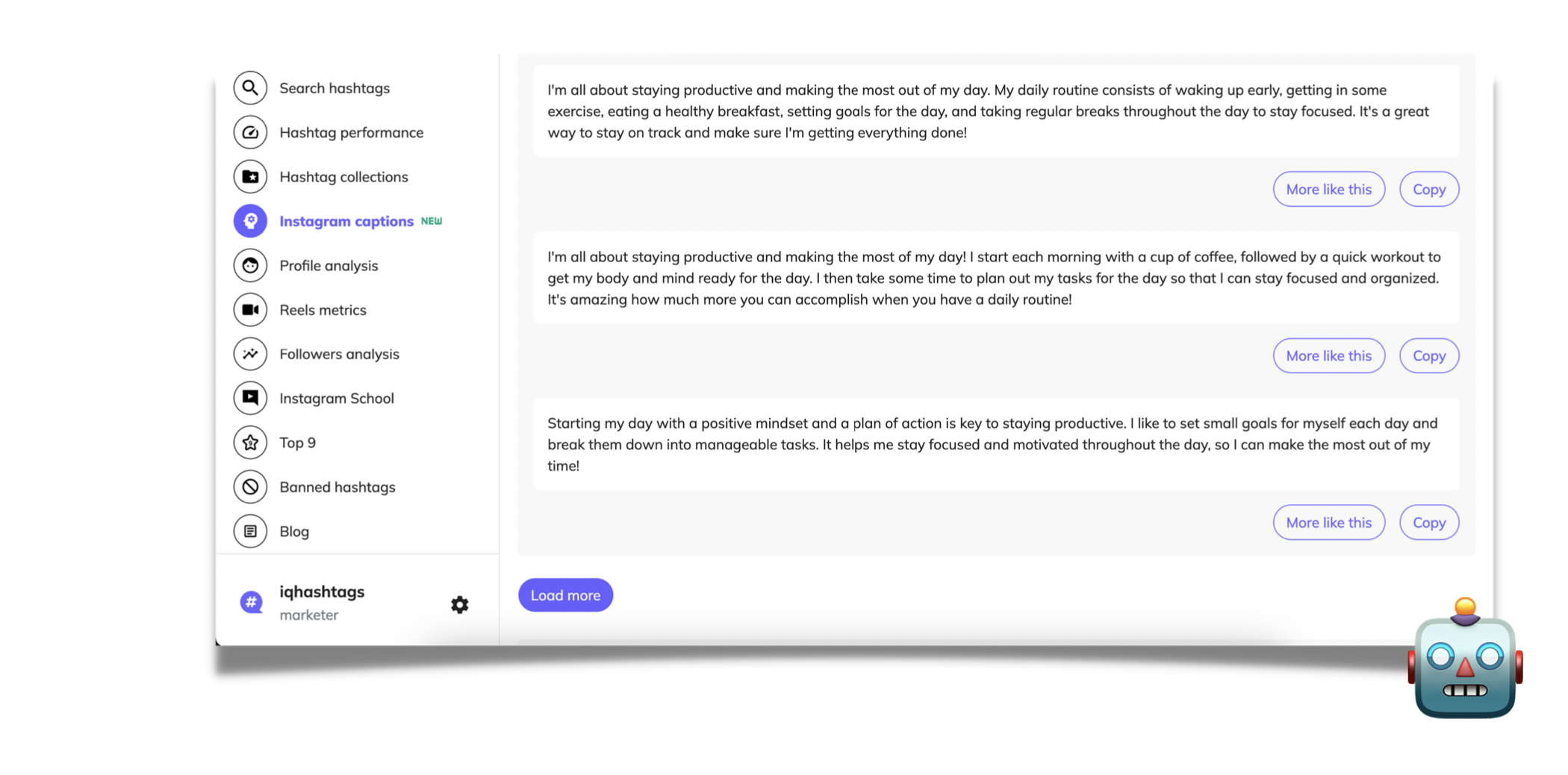 Write Captions Much faster
Writing good Instagram captions 'the traditional way' takes a long time. Writing one engaging caption usually takes around 20 minutes to even 4 hours, sometimes longer. Fortunately, our AI content writer can help you save time by expanding your topic into incredibly powerful paragraphs.
As the power of our AI assistant develops, you will be able to spend less time on the copywriting side of the posting process and more time honing your unique creativity, video content production, and polishing your visuals! We're 101% sure content creators with innovative concepts will be the ones who will most benefit from the new possibilities. And the Instagram world will benefit from these concepts being expressed with clarity, creativity, and humor.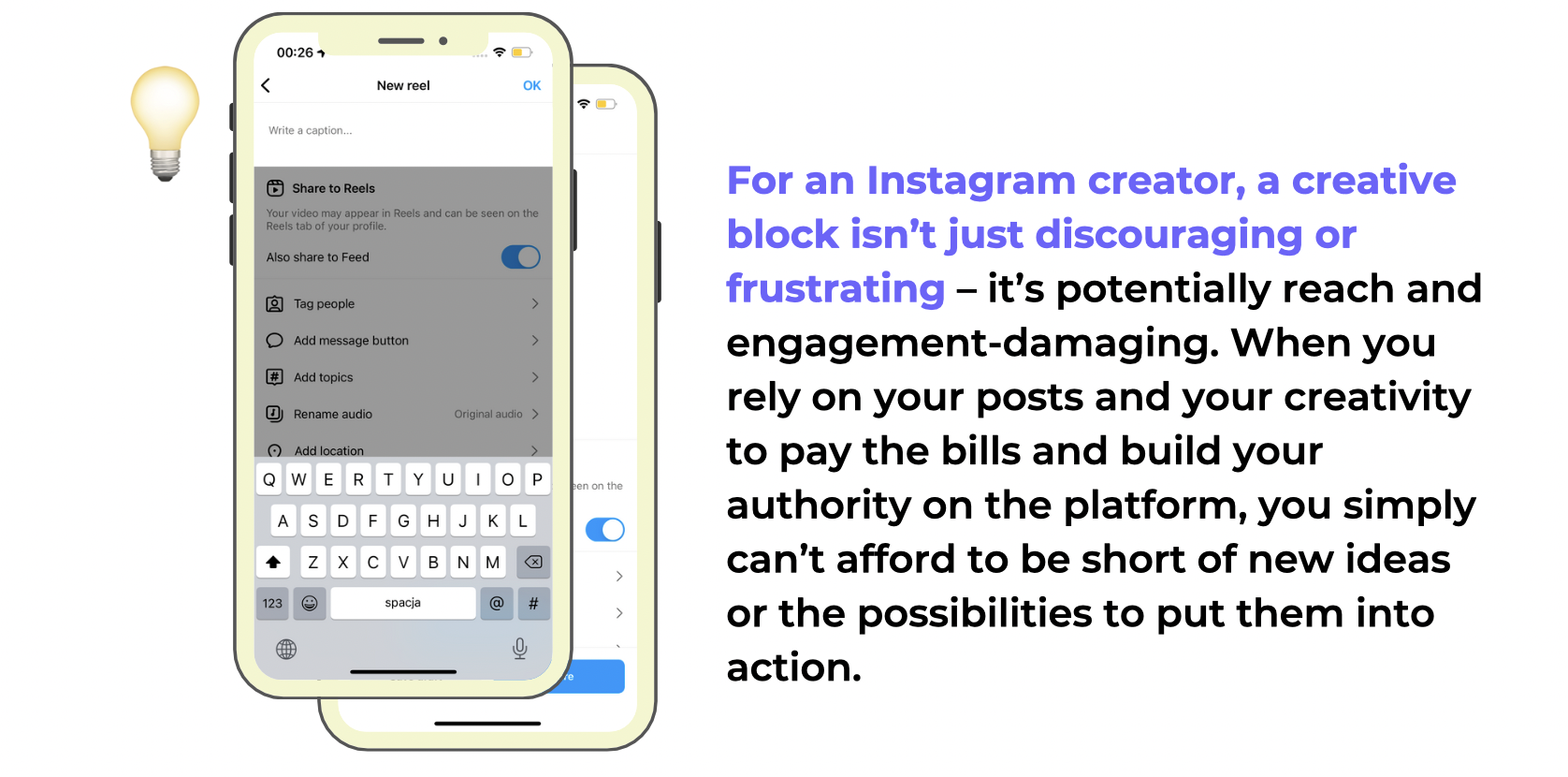 How Do You Use The AI Instagram Caption Generator?
The first sentence can often be the hardest, most challenging one to write. Instead of struggling, ask our IQ Hashtags' Caption Generator to handle your caption on a given topic and get fresh, creative ideas.
Using our AI Instagram Caption Generator is really straightforward. All you need to do is provide a few keywords, a prompt, or a leading topic. Our Caption Generator will instantly turn them into creative captions, using our world-class AI with vast marketing knowledge and copywriting skills.
Adjust your results with length, quality, tone, and perspective options. Set the tone to friendly, relaxed, professional, engaging, persuasive, empathetic, witty… You choose! Decide on a "creativity level".



To Wrap It All Up!
With such fast paced development of AI technology that is being introduced into writing and content creation – we're also taking a brave step forward in that innovative direction! Our mission is simple: don't spend hours trying to come up with intriguing captions for your posts —let our IQ Hashtags' AI-Powered Caption Generator get it done.
Pick your tone of voice, adjust the creativity level, or even choose a perspective. Use our extraordinarily creative AI Writing Assistant as your loyal partner for endless caption ideas.
Our AI is the future of Instagram content creation. Ready to meet your AI-Powered Caption Generator? It will be such a powerful collaboration!