How to use hashtags on Instagram to gain followers? Is it even possible? Yes, and we're here to help you. Let's dive into one of the most controversial and most frequently asked questions when it comes to using hashtags. Listen up – cats out the bag! We have to admit it: that was almost a never-ending debate: should Instagram hashtags be placed in comments or in captions? What's more strategic? Where to put them to make them work more effectively? Well, in today's article, we'll be answering these burning questions once and for all! If you want TRUSTWORTHY insights about where the hashtags on Instagram belong – then this is the article you've been waiting for. We'll be talking about why that aspect matters so much, and we'll also focus on Adam Mosseri's most recent statement. 
Because that's for sure – we definitely need to elaborate on the latest statement of the head on Instagram. What do the tips from the official Instagram blog mean in practice? Has the "most optimal place for hashtags" debate come to an end? 

Let's dive in! Today we'll take a closer look at:
Does placing hashtags in the caption make a real difference?
Where should you REALLY put your hashtags, according to Adam Mosseri?
Is there any significant difference to their effectiveness and functionality?
Is one option better than the other?
How to Use Hashtags on Instagram to Gain Followers?
What does the recent Adam Mosseri's statement mean for your Instagram strategy?
Will hashtags put in the first comment still give you exposure?
Should you edit old posts, remove hashtags from the comment section and add them to the captions?
We're here to kill all doubts and insinuations so that you can enjoy straightforward tips and guidelines! This is your ultimate guide with the most recent information on Instagram hashtags. Let's go! 

How to Use Hashtags on Instagram to Gain Followers? The

game-changing

update
Have you heard the news? We're all putting hashtags in the captions now.
Well, perhaps not ALL of us, but the smart creators and Instagram marketing specialists are.
Why? Let us explain.
To put it all in a nutshell: to make the captions look clean, many of you (well, we were doing it as well!) were posting 30 hashtags as the first comment, so the hashtags don't distract anyone from the caption statements. We were given the freedom of choice because Instagram seemed to support adding hashtags in the caption or in the comment section as well. They were working comparably well.
Has it changed? That's the big news: YES, IT HAS.
This information appeared on the official Instagram blog, as well as in the @creators' posts. Adam Mosseri himself has confirmed that for a post to be found in search, we should put keywords and hashtags in the CAPTIONS, not in the comments. So here we have a powerful statement: placing hashtags is more strategic – Adam said so. 

Have the hashtags put in the first comment

stopped working?
The update affects the visibility in the search bar and the way the search engine runs. If you put your hashtags in the first comment, your content will still be visible on each given hashtag's page. So what's the main difference? Posts with hashtags added in the caption are MUCH MORE searchable, and they can be easily found when somebody searches for new content manually in the search bar. It really matters.

Use Hashtags do Gain Followers: Why do hashtags placed in the captions

give you higher exposure?
Now the way the Instagram hashtag search works has been clarified. The mystery is solved! Instagram itself has shared these insights in their blog post. It's a bit similar to how Google SEO works, but the AI analyses our activities and all the profiles we're following and interacting with as well.
Adam Mosseri mentioned that by putting hashtags in the caption, we could show up in search results. Thanks to the update, we're able to search captions, handles, and bios for hashtags (keywords), which is literally GOLDEN for all creators and social media marketers. Instagram has been working on improving the search function for so long, and now we can optimize our search visibility. 
Keep in mind: your hashtags have to be highly relevant to your content because they work as SEARCH TERMS. First and foremost: they always have to be on the topic! So for a handmade hats brand, something like #femininehats could work well—but #themostamazingcolourever wouldn't. Another crucial insight: don't use popular hashtags just because they're "cool", and sound creative if they have nothing to do with your niche. Mix medium hashtags to attract REAL followers, not bots. Don't choose the generic and overly big ones. 
Should you

edit old posts

, remove hashtags from the comment section, and add them to the captions? 
We don't think it's indispensable. Work forward! Create fresh content for using your updated hashtag strategy – and put your hashtags in the captions FROM NOW ON.

To wrap-up!

Where should you put your hashtags?
That's actually a truth bomb. In the recent update from Instagram, Adam Mosseri encourages us to shift our approach to the hashtags location and put them in the caption. It makes our posts much more discoverable, meaning it's much easier to attract ideal followers or potential clients. Your content can show up on the "keyword search page" by placing hashtags in the caption area. If someone is looking for these specific keywords – you can be easily found. 
Let's make your content rank in the search bar and double the visibility! All the hashtags now need to be put into our CAPTIONS!
If you don't really enjoy the news – hey, don't worry at all, you can always put your hashtags lower down, so the caption doesn't look cluttered!

Stay tuned for more Instagram insights, the most effective hashtag strategies, and advice on your #Instagramvisibility!
Now tell us – where were you putting your hashtags?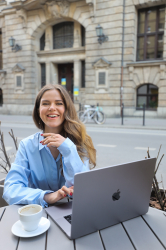 Latest posts by Kasia Pilch
(see all)