When are my followers most active on Instagram? Let's find out!
Growing an Instagram profile isn't all on your shoulders. Our IQ Hashtags team is constantly developing and crafting new features that will take the guesswork out of your Instagram strategy so that you can focus on the most creative part: creating the content itself and building a community around your superpowers. And wait – spoiler alert – we will help you with that too!
As the competition for attention on Instagram increases, business owners and influencers constantly look for new ways to optimize their content and reach their target audience. We understand this struggle like no one else because we've already helped thousands of creators and entrepreneurs from all around the world.
For the amount of time, energy, and effort you have put into growing your Instagram profile, you deserve as seamless data analysis process as possible. Our carefully crafted new feature, "Followers activity" is a terrific way to track valuable data to improve your Instagram strategy. Let us tell you – one of the smartest ways to accelerate your 'Gram growth is definitely by using this brand new IQ Hashtags feature that checks when your Instagram followers are the most active during the day and week. 
We know our newest feature is extremely exciting—and now it's time you, our clients, joined in on our enthusiasm. Put the IQ Hashtags team's data and expertise to work for your Instagram account!
When Are My Followers Most Active on Instagram? Introducing: Followers Activity
Today, we are announcing this brand new feature that is a direct result of feedback from you – our clients, ambitious creators, business owners, and influencers – to support and empower all of you to achieve your goals. We're thrilled to announce the launch of the Followers Activity as the new part of the Followers Analysis! 🎉
As you already know, analytics go hand-in-hand with your organic growth, providing the data you need to optimize your Instagram presence. Real-time data about your followers help you identify when your posts have a chance to gain the highest exposure and spot all the opportunities for improvement.
From a business perspective, it's a twofold process: having the right data in hand and then using it to drive your posting decision-making. Data about your followers is a gold mine and an unbelievably strategic, invaluable resource that has the potential to transform your Instagram strategy, enhance the way you post, and grow your profile.
Our new feature allows you to see when your followers are most active on Instagram, which can be incredibly valuable for businesses and influencers who want to ensure that the largest possible audience is seeing their posts.
We believe being data-driven means embracing all the opportunities that are for the taking. That keeps your followers at the center of your effort!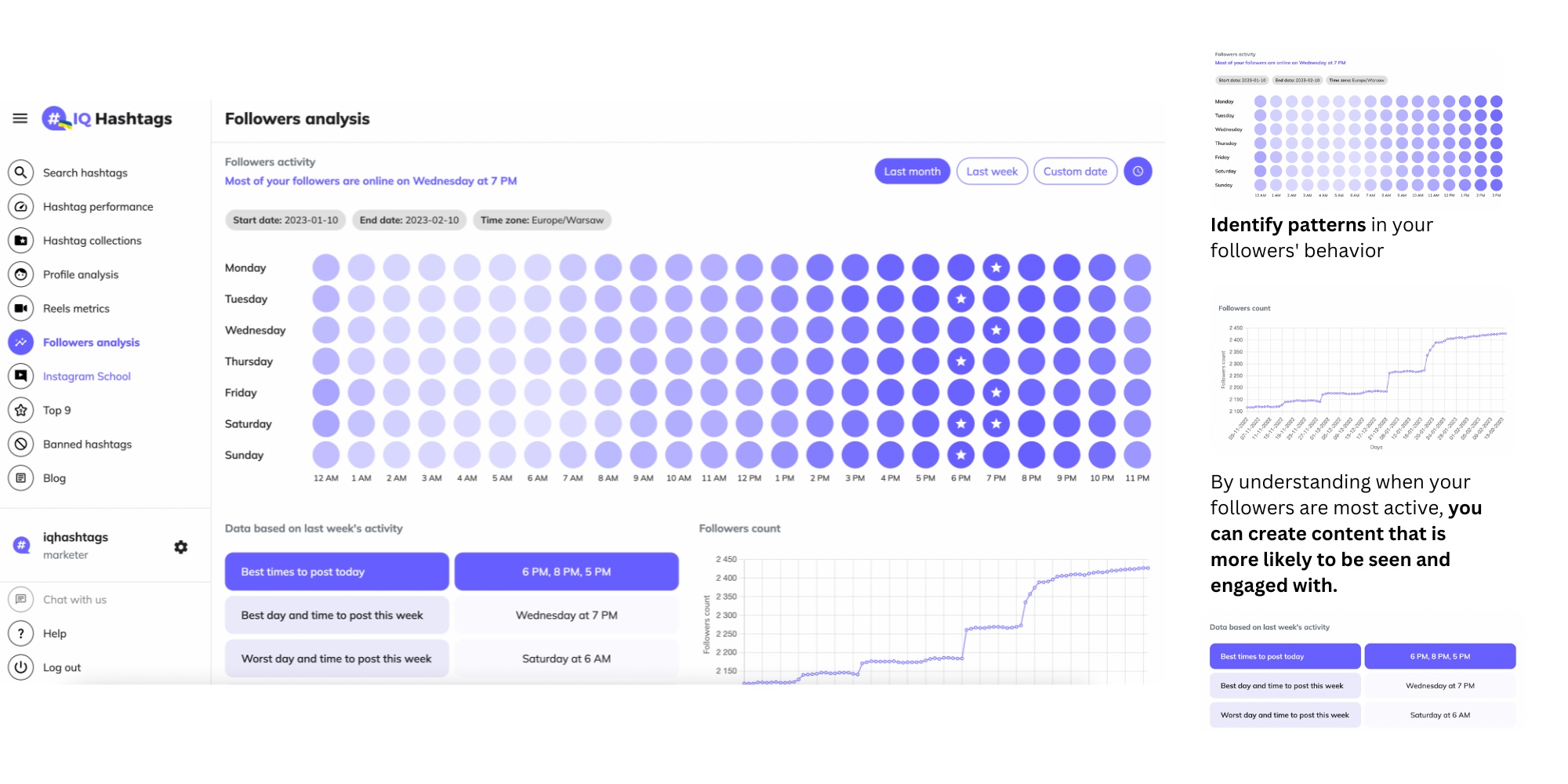 Keep a Close Eye on Your Audience's Behavior
With our new feature, the process of growing your Instagram account is no longer as mysterious as it once was. We strive to be the Instagram analytics solution you've always dreamed of. One click, one subscription, and you get hundreds of valuable metrics and Instagram insights! 
"Thanks to IQ Hashtags I'm able to know what's going on with my Instagram profile, my audience and the content I'm posting in real-time. Absolutely invaluable and miles ahead of doing it "the traditional way" by guessing what's right and what's really working for my growth. Finally, I can get the data I need to uncover Instagram growth opportunities, get answers to my burning questions, and run sophisticated content and audience analyses with ease. Being a data-driven and audience-obsessed creator just became a reality.
The new feature, Followers Analysis, arms me with an in-depth analysis of when my audience is most active and what time of each day is the best choice for posting new content. That way, I can be sure it reaches more people, and I notice that analyzing my followers' behaviors is beneficial: the more I know about them, the better I can serve them, and the algorithm rewards me for that".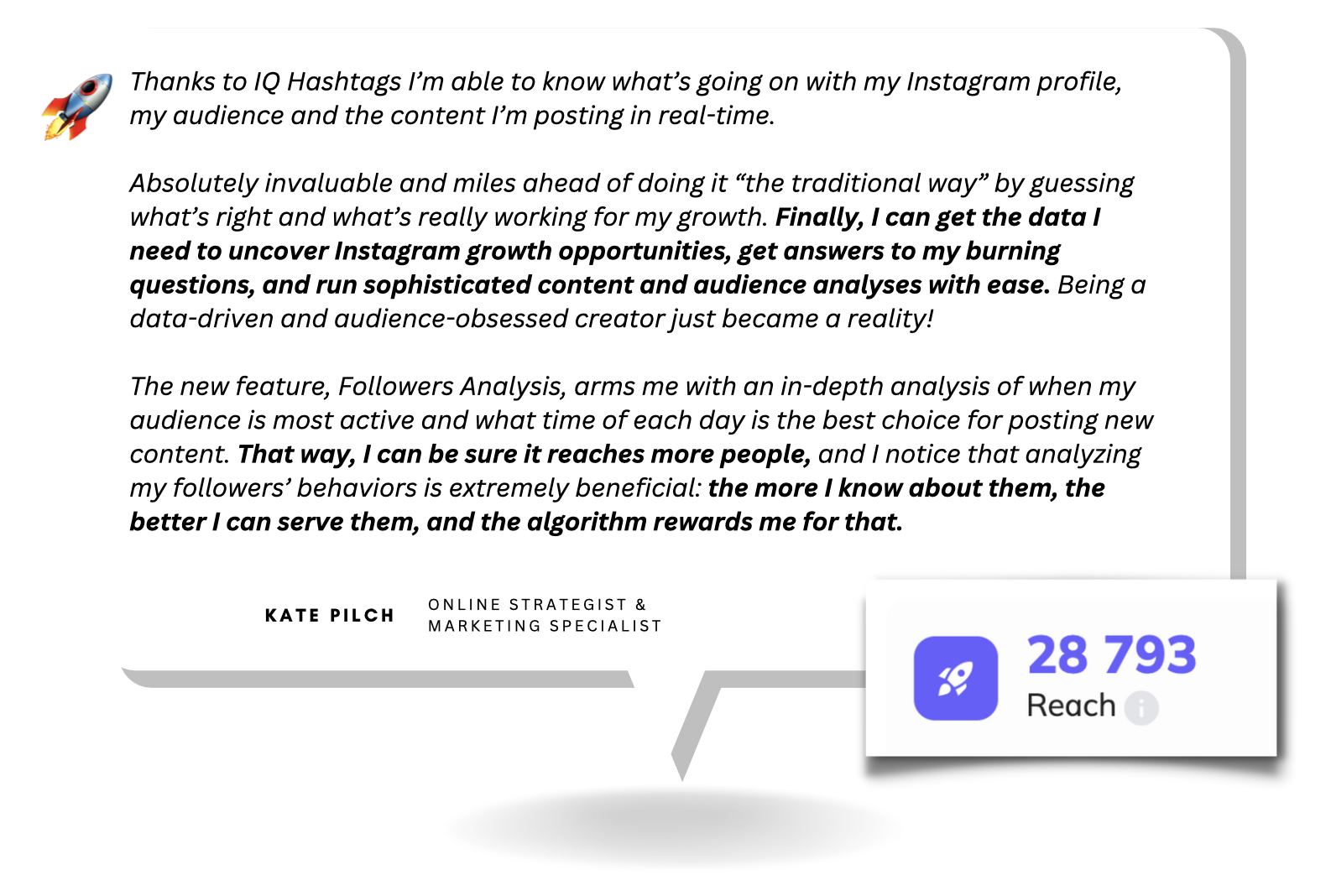 That's what Kate says, but we insist you should give it a try yourself.
Want to discover what's the best time to post and what time and day of the week your followers are most active? Or maybe which day of the week is the worst choice for new posts? We do the heavy lifting for you and make that possible. We've made tracking your followers' activity easy, so you can dive deep into your metrics!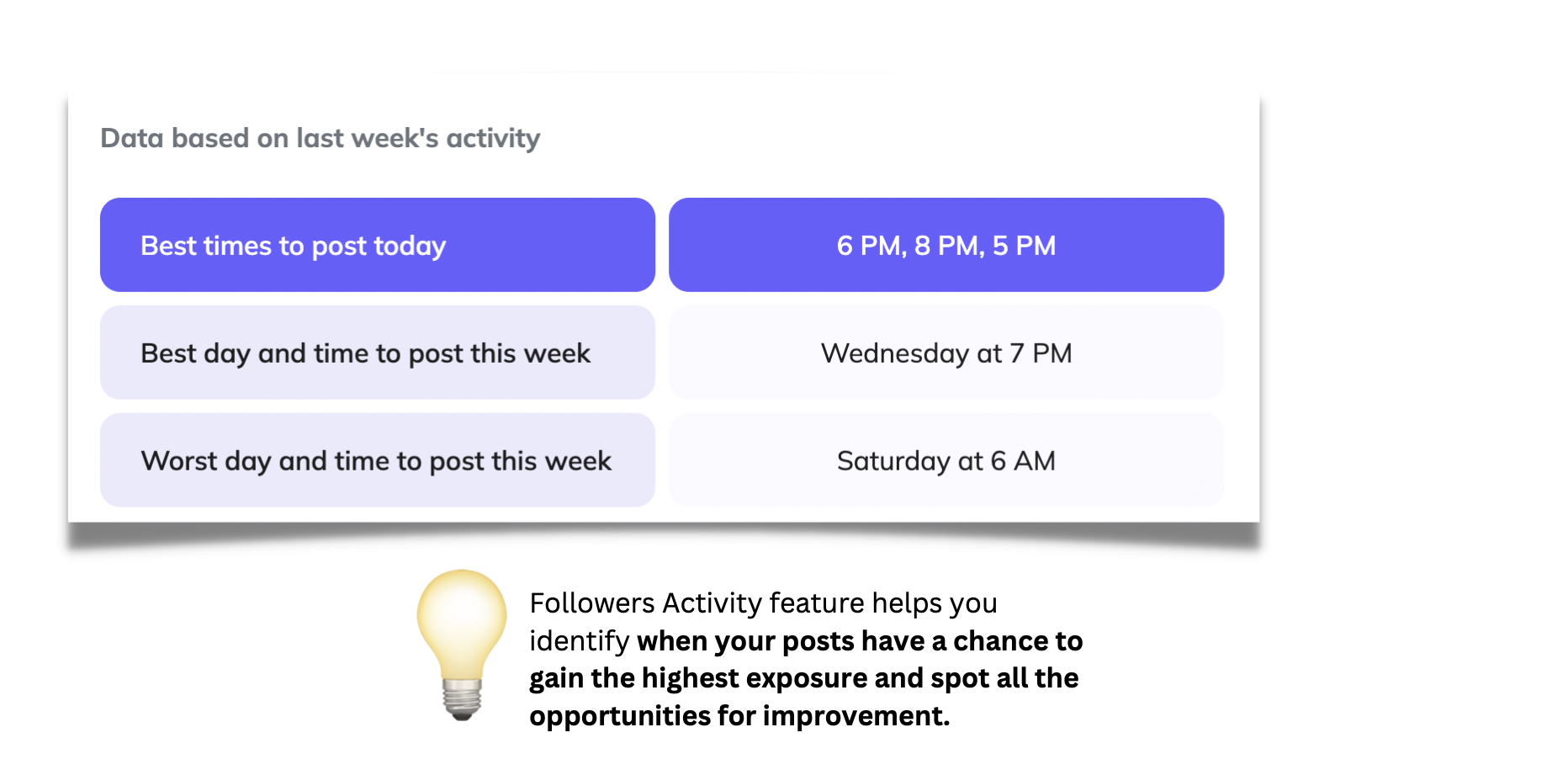 The Followers Activity Feature – What You Need to Know
The Followers Activity feature displays a heatmap that shows the days and times when your followers are most active on Instagram. Use this information as a guide to schedule posts to go live during peak engagement times, ensuring that more followers will see your content. 
One of the key benefits of the Followers Activity feature is that it allows businesses and influencers to understand their audience better. By understanding when your followers are most active, you can create content that is more likely to be seen and engaged with. For example, if you see that your followers are most active on Mondays and Wednesdays between 1-2 PM, you can schedule posts for those days to increase the likelihood of engagement.
Another benefit of the Followers Activity feature is that it can help you to identify patterns in your followers' behavior. For example, if you see that their followers are most active during the evening, you may choose to schedule posts for later in the day to increase engagement. This will help all of you, business owners and influencers to create more effective content and reach your target audience more easily.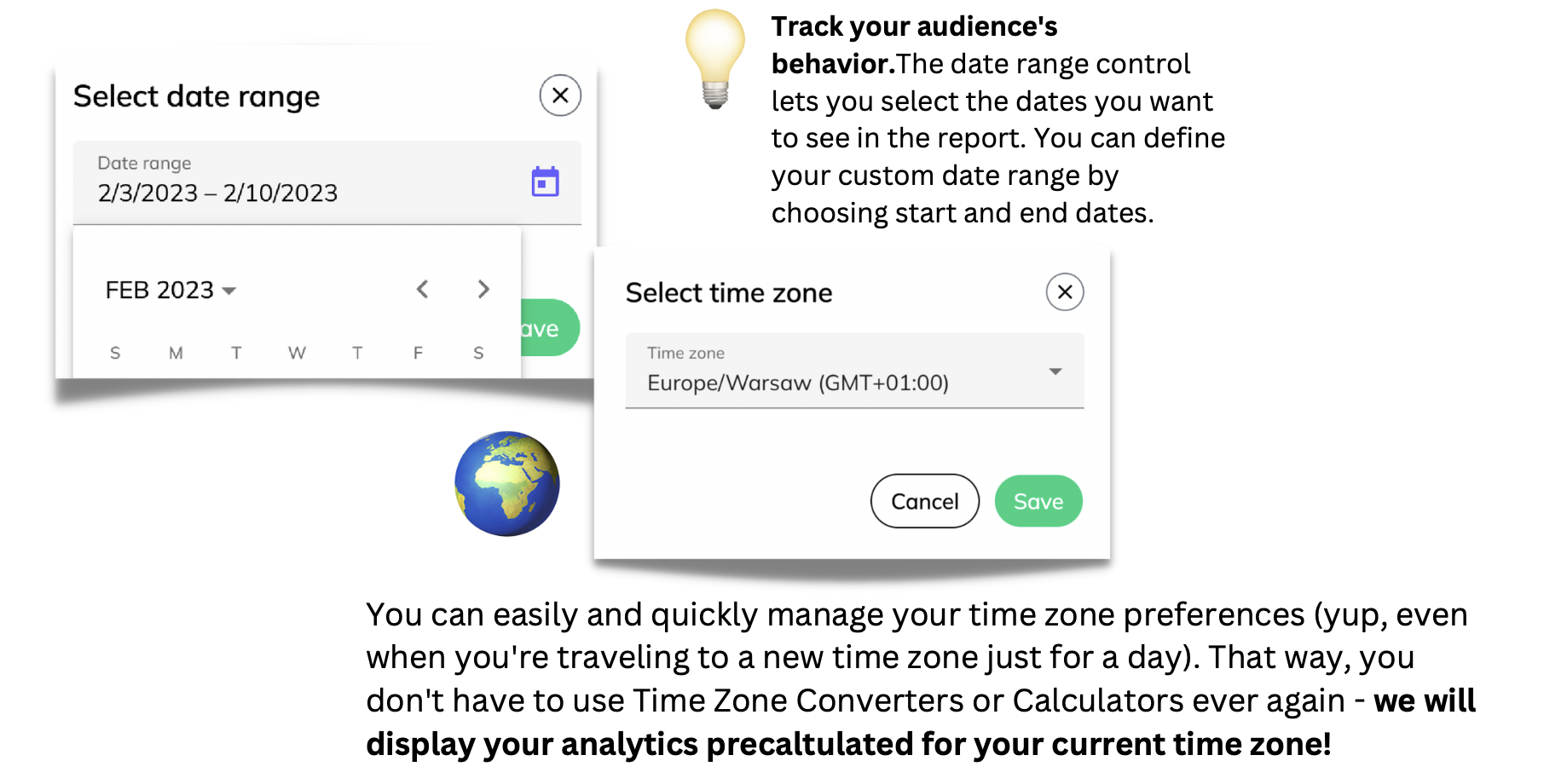 Turn Insights Into Winning Instagram Content Strategy
Our tool puts your Instagram data to work so you know what's working in your favor, and what to do next. In addition to the Followers Activity feature, IQ Hashtags also offers other features such as advanced hashtag research, profile analytics, Reels Metrics, and a feature that allows you to see the detailed performance of your posts and their hashtag performance.
These features make IQ Hashtags the most powerful tool for businesses and influencers to optimize Instagram presence and reach the target audience! Now you can compare your metrics over time, track your growth, gain key information, discover your best-performing hashtags, and understand your followers' behaviors – how cool is that?
To Wrap-Up! Take the Guesswork Out of Instagram Marketing 
In conclusion, the newest feature of IQ Hashtags tool, the Followers Activity feature, is a valuable tool for all businesses and influencers looking to boost their Instagram engagement. By understanding when your followers are most active, you can reach your target audience more effectively. Additionally, the Followers Activity feature will help you to identify patterns in your followers' behavior and choose the most optimal posting time for the best possible engagement.
Got additional questions about the new feature? As always – drop them in the comment section below for our product team to answer!
P.S. Don't have an IQ Hashtags account yet? Then, try out the Followers Activity Feature with a 7-day free trial, and start making better content strategy decisions!