Instagram for photographers. A wide subject. An important subject. Take note, photographers Instagram! I know you're all busy snapping away, capturing the world's beauty, but let me tell you something: if you're not active on Instagram, you're passing up a huge opportunity to advance your career. Sure, you could stick to traditional methods of promoting your work, such as networking and submitting to galleries, but let's be honest: those things take forever, and who has the time?
Instagram is the place to be. Photographers can use it to showcase their work and connect with potential clients. It's similar to a virtual portfolio but better because you can post as many photos as you want without running out of space. It's also a great way to meet other photographers, share tips and tricks, and get ideas for your next shoot.
But it's not just about uploading photos and waiting for likes. You must be much more strategic in your approach.That's what we're going to discuss today – I've got some tips and tricks to help you get those likes and followers rolling in.
🕵️ What exactly are we going to discuss today?
Instagram for Photographers. First things first, make sure your photos are top-notch quality.
I know, I know, "quality over quantity" is a cliche, but it's repeated so often for a reason. No one wants to see a grainy, poorly lit photo on their feed. So play around with your settings, and take the time to edit your photos.
Next, find your niche.
Are you a landscape photographer? A food photographer? A portrait photographer? Specializing in a specific genre will help you attract a targeted audience who will be more likely to engage with your content. And let's be real, no one wants to see a feed filled with random photos of sunsets, kittens, and avocado toast.
But don't be afraid to switch things up every now and then. A little variety keeps things interesting, and it's a great way to showcase your skills and versatility as a photographer. Plus, it's a great way to surprise your followers and keep them coming back for more.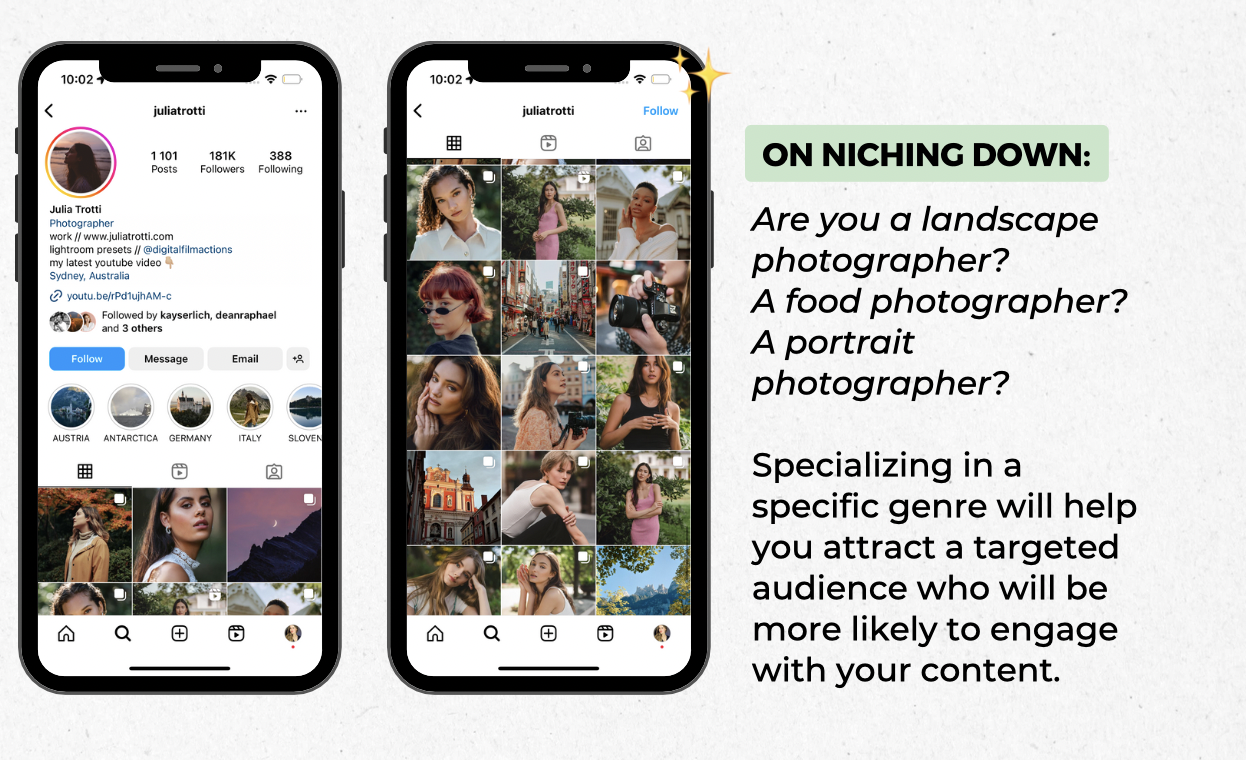 Writing engaging captions for Instagram is like putting the cherry on top of a sundae. It's the finishing touch that can take your post from "meh" to "WOW". It's not just about describing the image; it's about connecting with your followers and making them feel something. A good caption can make someone laugh, relate, or even cry. This secret sauce can take your Instagram game to the next level.
Consider this: if you're scrolling through your feed and see a post with a great caption, you're more likely to stop and interact with it. It's like a magnet that pulls you in. On the other hand, if you see a post with a boring, uninspired caption, you're likely to keep scrolling. So, if you want your followers to stop and look at your post, you'd better bring the captions.
Now, I'm not saying you have to be Shakespeare, but a little effort can go a long way. Mix it up, use emojis, ask questions, tell a story, make a joke, whatever it takes to make your caption stand out. Remember, it's not just about getting likes and comments; it's about developing a relationship with your followers. So, the next time you post on Instagram, don't just slap on any old caption; instead, put some thought into it and make it count.
Hashtags, hashtags, hashtags, they're like the sprinkles on a doughnut; they may appear to be a minor detail, but they can make all the difference. Hashtag research is similar to going on a treasure hunt; you never know what you'll find. It can assist you in discovering new audiences, increasing your reach, and ultimately growing your Instagram following.
Assume you're scrolling through your feed and come across a post with a bunch of hashtags relevant to your interests. What are your chances of engaging with that post? Isn't that pretty high? That is the power of hashtags. They can help you connect with people who share your interests. And, let's be honest, who doesn't want more followers who are genuinely interested in what they have to say?
But here's the thing: hashtags are a double-edged sword; use too many and you'll appear desperate, use too few, and you'll blend in with the crowd. That is why it is critical to conduct research. You want to strike the right balance of popular and niche hashtags to help you reach your target audience. And feel free to experiment with different hashtags to see what works best for you.
So, the next time you post on Instagram, don't just throw in a bunch of random hashtags; instead, do your research and make sure they're relevant and strategic. Because, let's face it, no one wants to be a doughnut without sprinkles.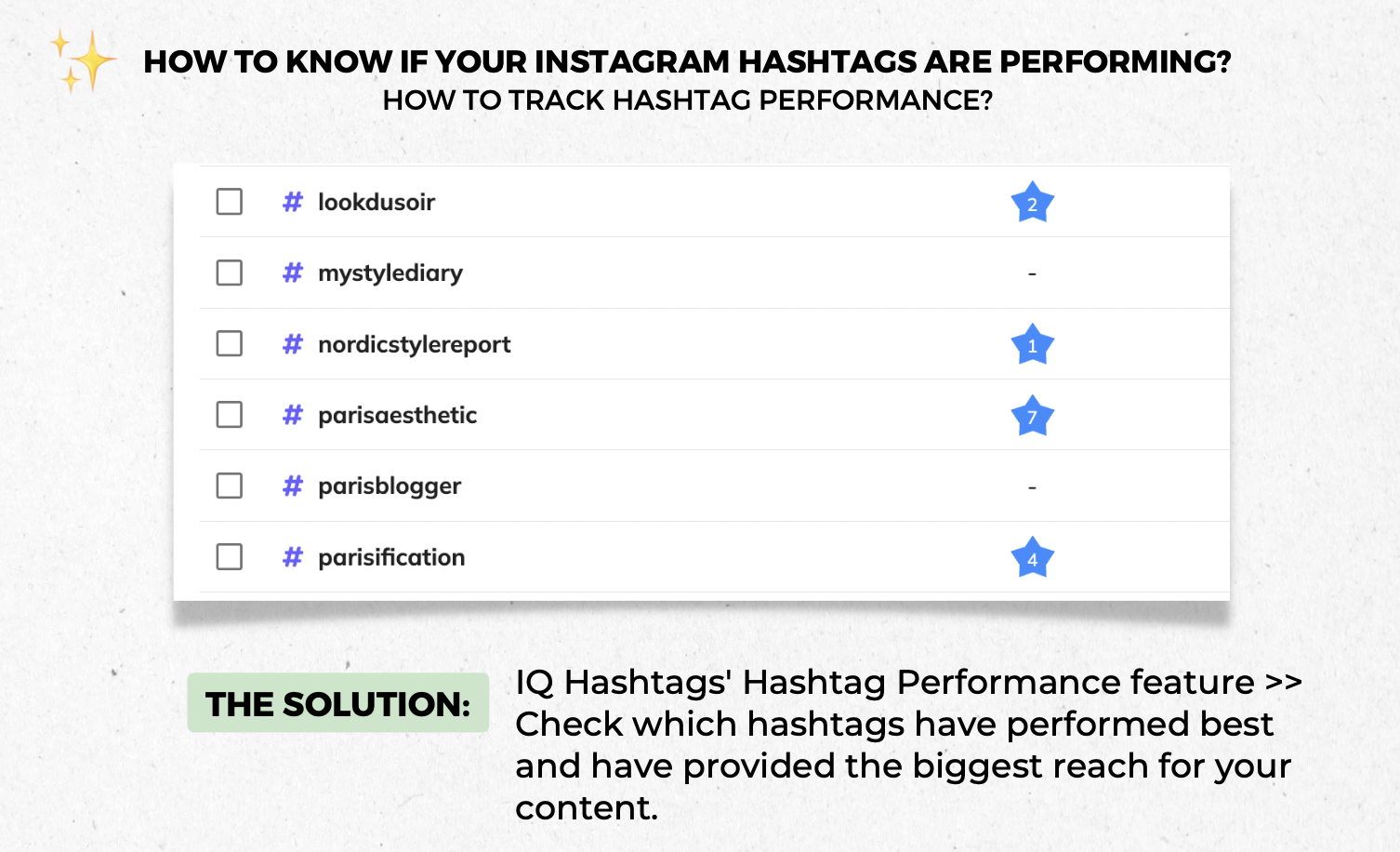 Posting regularly will help you build a dedicated following.
Let me tell you: posting on Instagram on a constant schedule is similar to going to the gym; it may seem tedious at first, but it pays off in the long run. When it comes to growing your Instagram following, consistency is essential. You don't want to be the friend who only shows up once in a while and expects everyone to remember who you are.
If you see someone's post on your feed on a regular basis, you are more likely to remember them and engage with their content. However, if someone only posts once in a blue moon, chances are you'll forget about them in an instant. It's all about staying top of mind and keeping your followers interested.
I know what you're thinking: "But I don't have anything interesting to post every day." And to that I say, bull. There's always something interesting going on in your life; you just have to get creative! Take a photo of your morning coffee, show off your new haircut, share a motivational quote, or host a Q&A. And if all else fails, just post a picture of your cat – let's get a bit more personal!
So, if you're serious about growing your Instagram following, make a commitment to post regularly and stick to it. Consistency is essential, and remember that it's not about the quantity of your posts, but about the quality and consistency. And always remember, just like going to the gym, it may seem tedious at first, but you'll be glad you did it in the end.
Track your Analytics
Do you ever find yourself browsing through your Instagram account and wondering, "I wonder how many people saw my post?" or "I'm curious which of my postings my followers liked the best?"
Tracking your Instagram metrics  is the answer to all of your burning questions. It can tell you what kind of content your followers are interested in and when they are most active. This knowledge is especially useful if you are a small business owner or an influencer, as it can assist you make strategic marketing decisions.
How can you track your growth on a daily basis?
Hear me sing at the top of my lungs: IQ Hashtags (well, I know it doesn't surprise you)!
Using the IQ Hashtags tool to track your Instagram growth is like having a personal trainer for your Instagram account. When you're trying to take your Instagram game to the next level, you need an accountability partner. Without it, you're just working out blindly, not knowing if you're making any progress. However, with it, you can see exactly where you stand, what's working and what's not, and make necessary adjustments.
You're posting on a regular basis, using the right hashtags, and crafting killer captions, but how do you know if it's making a difference? This is where IQ Hashtags come into play. It works like a magic wand, revealing information about your account's performance such as reach, engagement rate, top posts, and more. Hm, it's like having a crystal ball that predicts your Instagram growth.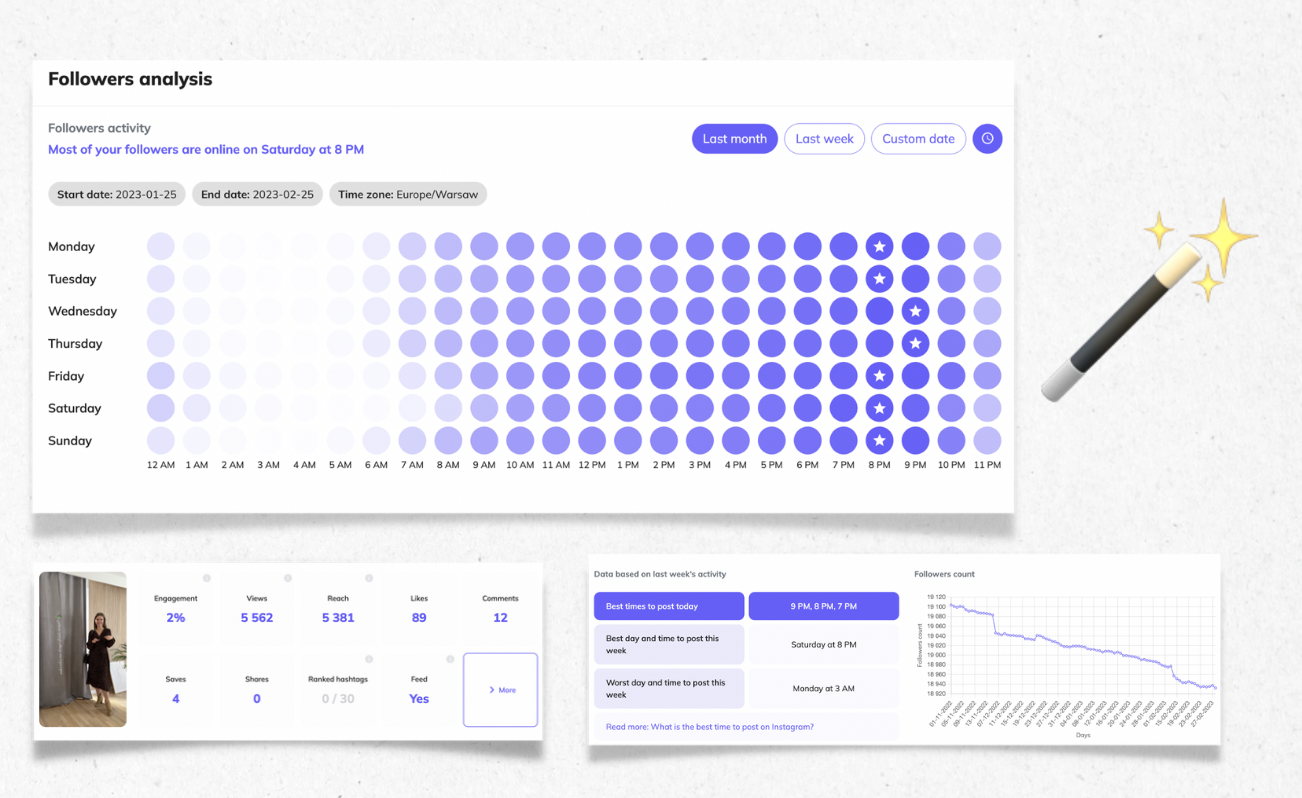 But here's the thing: tracking your growth with IQ Hashtags is about more than just numbers and data; it's also about understanding your audience and building meaningful relationships with them. You can use its advanced analytics to identify your target audience, track your competitors, and gain actionable insights on how to improve the performance of your account. It's like having a personal Instagram coach who advises you on how to take your account to the next level.
So, if you're serious about growing your Instagram following, use the tool to track your progress. It's like having a personal trainer for your Instagram account; it'll provide you with the insights and accountability you need to succeed. And remember, just like going to the gym, it may seem like a chore at first, but you'll be glad you did it in the end.
To Wrap-Up!
In all seriousness, being active on Instagram can provide photographers with a plethora of new opportunities. It's an excellent way to expose your work to a larger audience and connect with potential clients. So, put down your camera for a moment and begin establishing your online presence. Trust me, it will be worth it in the end.
In the end, remember, the key to growing your Instagram profile is to be authentic and true to yourself. Just like photography, it's all about capturing the perfect shot, and your true self is the best subject to photograph. So, don't try to be someone you're not, just be you and let your unique perspective shine through.
Don't be discouraged if you don't see a ton of engagement right away. Building a strong Instagram profile takes time and patience. And remember, the best camera is the one you have with you.