I hear the question "are Instagram hashtags even a thing in 2023?" more times a week than I can count: so let me debunk the myth and set the record straight: they're still the best way to provide exposure to new posts. When used consciously and correctly, Instagram hashtags can help your content get seen by more users who are interested in your topics, your brand, or your product. Remember, the critical goal of hashtags is to ensure that the right content is served to the right users: those who can genuinely enjoy it and who are willing to interact with it.
Today, in this article, I'm going to give you a quick and dirty look at how to create an effective strategy for your Instagram hashtag strategy. This updated Instagram strategy will help you achieve higher reach, get more impressions and attract new followers. Are you wondering if it's worth it to add hashtags to your captions, or maybe you should post them in the first comment? Does it really matter where you put them? Which option is better to help you rank higher in Instagram search? What's the difference between putting them in the caption and putting them in the comments? This article will answer all of these questions! Whether you're just getting started on the 'Gram or you already have huge social media knowledge, this post will provide you with everything you need to know.
I've researched the most up-to-date and comprehensive info on Instagram hashtags available. Let's go! Where and how can you add hashtags on Instagram to increase your post discovery? With this article, you'll make sure you have a good and reliable hashtag strategy for the 'Gram. Are you ready to leverage the power of your Instagram and its hashtags?

There is not just one, there are a hundred reasons why you should include using well-targeted hashtags as a part of your Instagram marketing strategy in 2023. Using consciously picked hashtags is the best way to prompt your profile (the most rewarding way). Every single day on Instagram, there are trillions of new photos, Reels, and carousels that are being uploaded – different formats, shapes, colors, sizes, and most of all: different niches. That's why Instagram hashtags serve two different purposes: the first one is to describe and tag new content that is being added to the 'Gram. When you choose specific hashtags to describe your posts, then Instagram can tag and assign these and show them to the users who are looking for content like yours, and they're browsing through these hashtags. The second crucial purpose that Instagram hashtags serve is to assign and rank your posts, as well as your account on Instagram so that the algorithms can figure out what is the kind of niche of content that you're creating, who is your target audience – and where the Gram should be showcasing your content.
To sum up! Hashtags work really well and have lots of different benefits:
Hashtags boost your search rank on the Gram – when someone looks for content with a particular hashtag, they will get to see your post there, too.
If you use the right hashtags and post quality content, matching your target audience's expectations, you can drive more traffic to your link in the bio (because more people will be interested in what you have to offer).
Hashtags promote your posts to a much wider audience. When you use well-targeted hashtags, you have a bigger chance of getting more impressions, shares & saves than when posting with no hashtags at all. So, if you want to grow your audience, start adding well-researched hashtags to your posts: it will not only help you to attract a new audience, but it will also help to boost your engagement (and the algorithm will notice it)!

To put it in a nutshell: as of 2023, the only place you should insert your hashtags is the caption! 
The best place to put hashtags on Instagram became a hot topic once again – regarding recent announcements from Adam Mosseri! He recently stated that you should place hashtags in the caption rather than the first comment to boost your chances of appearing higher in search results. 

At the End of Captions

or at the Beginning?
Put hashtags at the END of your caption to lead your potential followers TO your content, not away from it! My additional advice? Make sure not to insert multiple hashtags inside your caption. Why? Hashtags are clickable, so it's better to give your audience a good chance to read your greatly-crafted caption before clicking on different hashtags and getting distracted by them. When adding hashtags into your caption, there is #no #need to #add them within your #captiontext. Keep your text clean. That's why you should make sure the post caption comes first, right before the hashtags. If you add hashtags inside your text, people are less likely to read your caption at all.
Key takeaway: put hashtags at the end of your captions. Not at the beginning.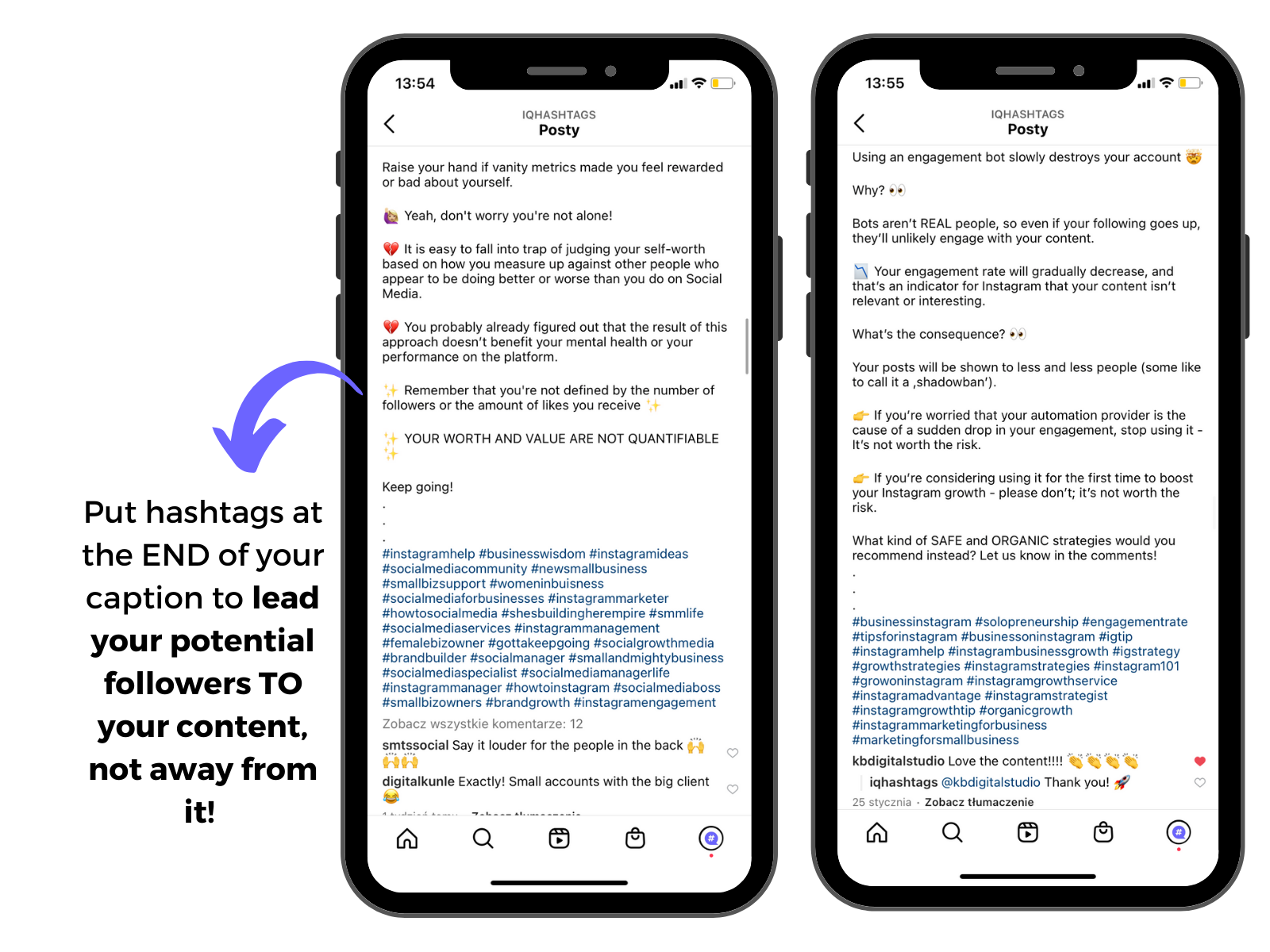 The evergreen discussion! Some people admit they prefer to put hashtags in the first comment because they prefer more minimalistic captions. They feel that hashtags look spammy and may detract their followers from the overall message and aesthetic of a post.
When it comes to me, I focus on the fact that plenty of people adds hashtags to their captions, they're working most effectively here – and this is what matters the most! Hashtags are an Instagram core element, and I can bet they won't be going away: this is why we should take Adam Mosseri's advice! 
I've put together this hashtag Q&A to answer some of the most common questions I get about the most optimal location for hashtags + the ones I found in my DMs most recently! If you have a question you don't see here, don't hesitate to leave it in the comments!  
You already know that from today's article. Hashtags go in the caption!
Adam Mosseri has recently stated that you should place your well-targeted hashtags in the post caption rather than the comment section. We should stick to that! And as you already know, I recommend putting them at the end of your captions and not interland throughout your carefully-crafted caption text.

How do I know if a hashtag is working?
Instagram offers you simple analytics and insights into the hashtags, so you can check out if they have brought any significant number of views:
However, for more in-depth analytics, you have our IQ Hashtags tool. The Hashtag Performance section lets you check how your hashtags have performed and which ones work better than others: this knowledge can quickly become your superpower. 
Definitely! As of 2023, I am adding 25-20 most relevant hashtags in every new post, and I can tell you: the results are evident in the stats. My pro tip? Be specific and descriptive. Use words and phrases that accurately describe your content. Conduct hashtag researches every once in a while.
Research and analyze hashtags that you're considering using. Enter "#yourhashtagphrase" in the IQ Hashtags Search hashtags bar, and grab some new ideas to boost your reach.
If you're not sure which hashtags to start with, try searching for your topic on Search Hashtag and use our suggestions as guidance.
Don't use overly popular or irrelevant hashtags just to get attention! Check your hashtags' search volume before you use them. While you shouldn't use vague and generic hashtags, ultra-niche hashtags with under 300 uses are probably not going to help you get discovered. That's why I suggest using a combination of medium-size and niche hashtags, depending on your profile's size.

There's no need to do that! It could be beneficial, but in most cases, when you're adding new hashtags to old posts, they're probably too far back in the timeline to be found with these hashtags, anyway. But! If your old posts have reached a small audience, you can always repost them with new hashtags.

There you go. That's all for today! Continue your hashtag strategy on the Gram, as most new users will discover your content via well-targeted hashtags.
Be sure to post eye-catching photos, carousels, and Reels, so that your content gets noticed and clicked. And if you have any questions or doubts about your hashtag strategy – keep in mind that I'll keep this blog post updated from time to time on how to use Instagram hashtags in 2023.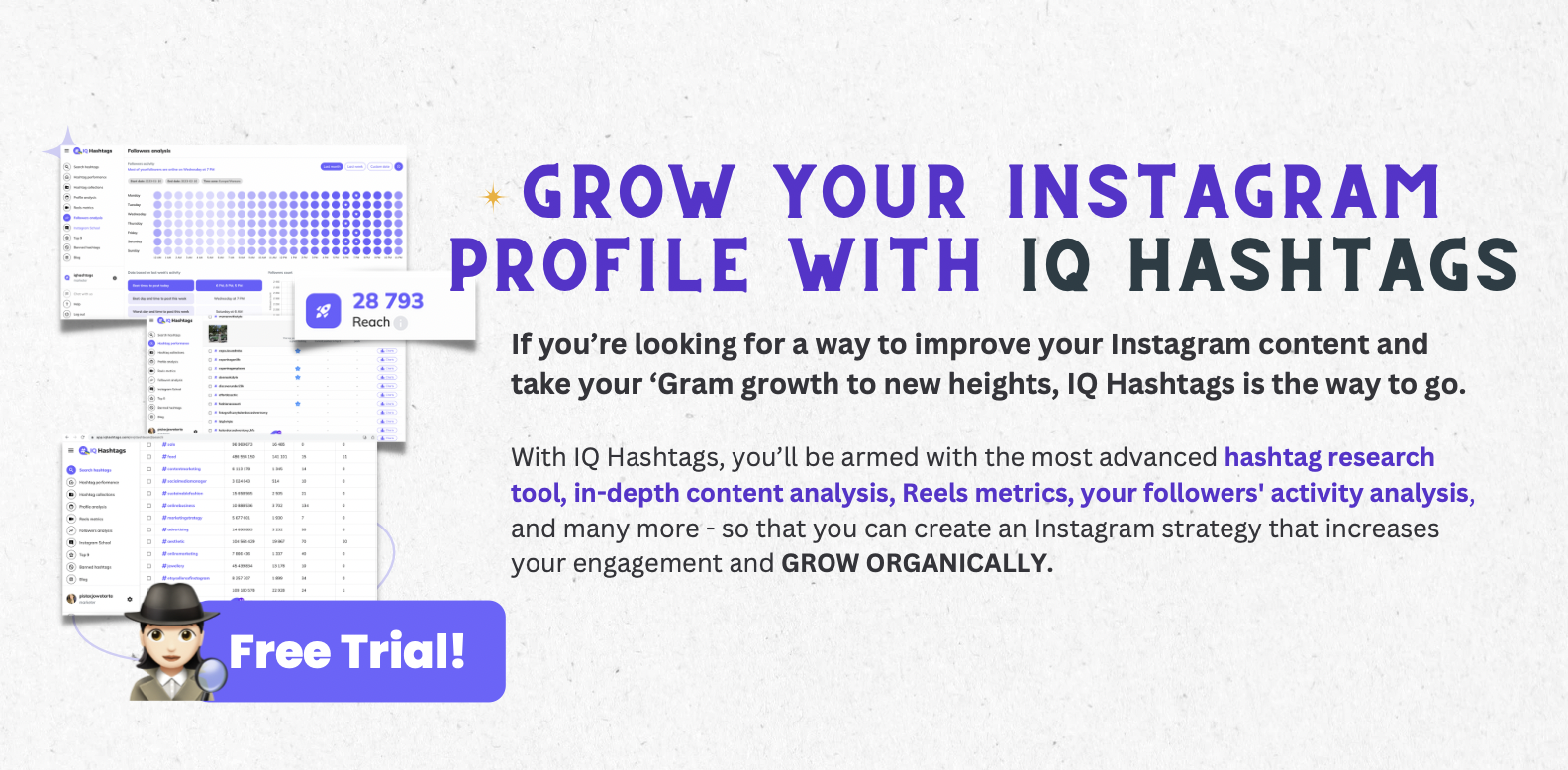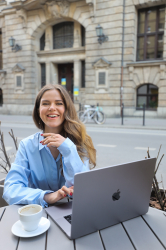 Latest posts by Kasia Pilch
(see all)