Let's discuss Instagram Reels Cover! Just like a YouTube thumbnail, blog post featured image, or podcast background banner, new people look at these covers to help them decide what to click on and what content they want to consume. So rather than perceiving your reels as content that attracts views only during the first 24 hours, it's crucial to regard them as bite-sized evergreen content that people can discover and explore when they come across your Instagram account and want to learn more about you and your content.
Similar to someone browsing through your YouTube videos or blog posts, make it effortless for them to find the content that intrigues them the most. Many creators are discovering that their reels receive views even weeks after posting them. Therefore, it's worthwhile to consider the viewers who might come across your reels long after their creation!
Today we'll discuss the importance of designing customized reel covers. Spoiler alert: with the proper process and some templates up your sleeve, designing attention-grabbing reel covers doesn't have to be time-consuming. Are you ready? Let's dive in!
Why You Should Use Instagram Reel Covers 
Are reel covers really capable of impacting your reels' performance? Are they the next big thing?
In my opinion, reel covers are intended to assist people in exploring your content once they have been captivated by your Reel and are interested in your work. These covers are particularly beneficial for new potential followers who come across your profile, as they allow them to familiarize themselves with your content and decide whether or not to follow you. Moreover, current followers may use them to look back at your previous posts or search for specific content within your feed, and let me tell you: Instagram algorithm just loves that. Another advantage of using reel covers is that they can attract people who are exploring a particular hashtag to see if any content piques their interest.
Having that in mind, when creating reel covers, you should always aim to:
Clearly convey the Reel's topic, so viewers can quickly determine if it aligns with their interests.

Arouse curiosity, so people are tempted to click and view the Reel!

Maintain consistency with your brand identity.

Design your reel covers to look good at all sizes, including when cropped down to the main feed and profile feed size.
It's important to consider that new potential followers may be scrolling through your Instagram or a specific hashtag, searching for content that captures their attention and appeals to them. If your cover is simply a photograph or has vague text, it may not convey the essence of the Reel, and viewers may scroll past it. For instance, if you're a copywriter and someone is searching for tips on writing emails, but your reel covers only show you sitting at your desk or posing with a notebook, it might be challenging for them to determine which reels are relevant to their interests. That's why sticking to these golden rules is so important.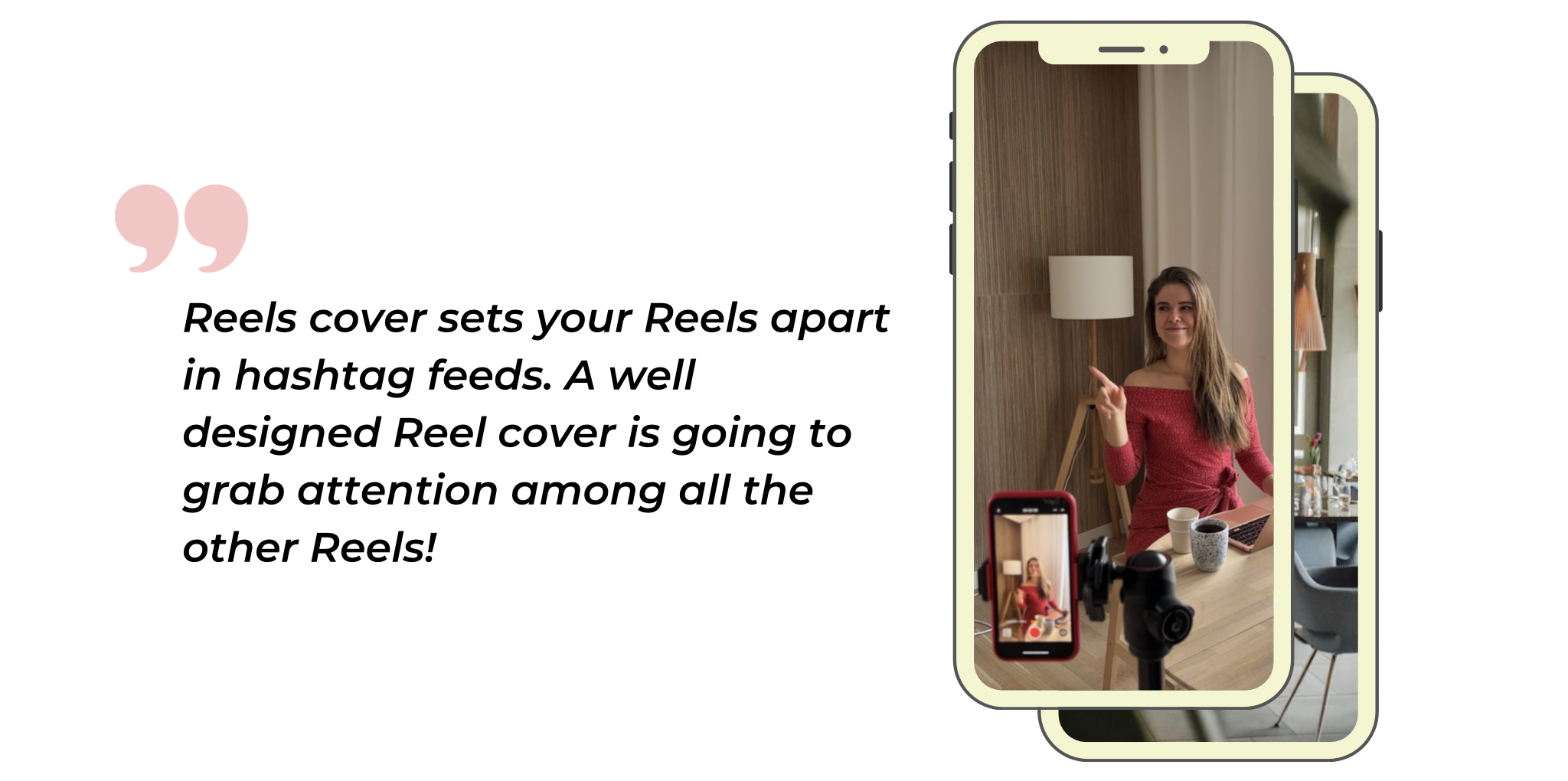 How to Customize Your Instagram Reels Cover
By default, Instagram uses the first frame of your Reel as its cover image. Nonetheless, if you plan to showcase your Reels on your Instagram profile grid, create an attractive and relevant cover that complements your profile's overall aesthetic.
To choose a cover image for your new Instagram Reel:
Begin by tapping the plus (+) sign and selecting "Reel" to initiate the creation process.

Upload the clips you want to use in your Reel, edit them how you like, and then proceed to the preview section.

Tap on the 'cover' button to adjust the cover (and ensure it looks good on the grid). 
How to Edit the Cover Photo of an Existing Reel?
Instagram has recently added a new button that enables you to edit or add a cover to your previously posted reels. This feature suggests that Instagram regards reel covers as a helpful feature and underscores the importance of visual aesthetics. As a result, if you have read this guide and wish to enhance your old reels by fixing the covers, you now have the option to do so!
How? I've prepared this short visual tutorial to show you the process in two steps: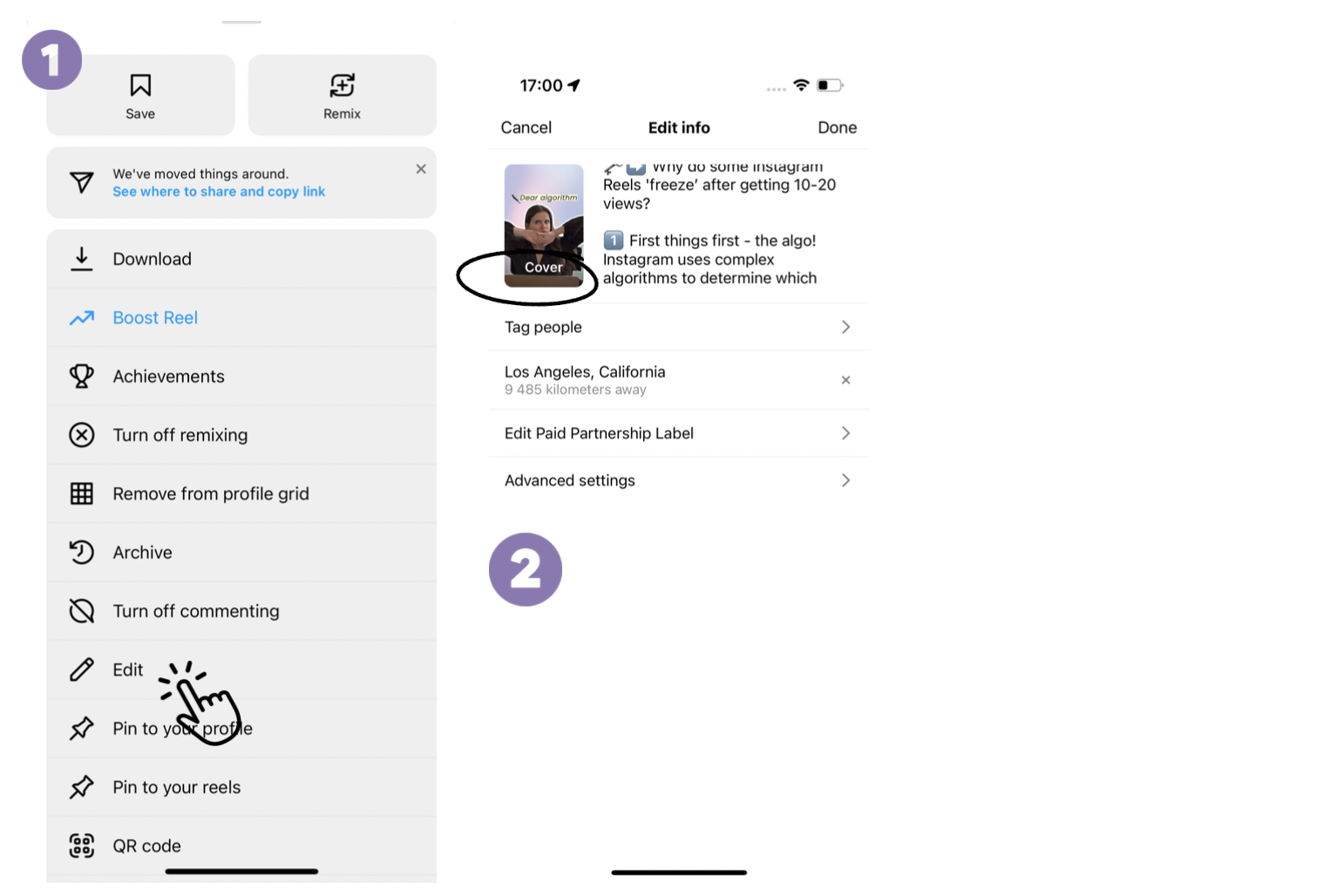 How Do You Create an Instagram Reel Cover?  
Adding a custom cover image to your Instagram Reels can add this personal touch and showcase your creativity to your audience (and all the potential followers who will see them). 
You can either create a cover from scratch or use templates such as those I've prepared for you.
Canva, Adobe Photoshop, Adobe Express or Storyluxe are also excellent tools for designing custom Instagram Reel covers. You can refer to the templates provided to get started on creating your unique covers. While making your Instagram Reel covers, keep in mind the following tips: your cover should reflect your brand, personality, and content. Use bold fonts and bright colors to make your cover stand out. Avoid using too much text or intricate graphics that could make it difficult to read. Ensure that your cover features high-quality images and videos. Remember, your cover is the first thing people will see when they come across your Reel, so make an excellent first impression!
Instagram Reels Cover Sizes and Dimensions  
The aspect ratio for Instagram Reels is fixed at 9:16 (1080 pixels x 1920 pixels) for display. However, the appearance of Reel cover photos will differ based on the location where they are viewed. Reel covers will be cropped to a 1:1 aspect ratio if viewed on your profile grid. On the main Instagram feed or someone else's profile, they will be cut to a 4:5 ratio. On the dedicated Instagram Reels tab, the cover photo will be shown in full 9:16 aspect ratio. This means that you should design your cover photo considering the various cropping methods utilized to present it in different locations.
Our Free Instagram Reels Cover Templates  
We have created some handy Instagram Reel cover templates you can use if you don't want to design your covers from scratch. Using these templates saves time, enhances your professional appearance, and boost clicks while promoting your video content. A win-win! To get started, click the "Use template" button, and the templates will be automatically copied to your own Canva account. Then, you can choose from our six professionally designed themes and customize them with your own content. Once you've finished editing, download your personalized cover and add it to your Reel. Voila!