Instagram API, here we come! Two days ago, we were excited to announce that IQ Hashtags had been officially reviewed and approved by Instagram. Therefore, it is entirely safe to use for your account. It's an honor that distinguishes tools with outstanding technologies to deliver powerful solutions for businesses and individuals!
We have direct access to the advanced Instagram API, which makes it possible to track all the data, see how your Instagram Business/Creator accounts perform, track the hashtags you use along with their performance, and collect engagement data to gauge users' attitudes toward your content.
Today, we're here to give you a detailed breakdown of what this unlocks for you and how we're improving for you. We're breaking down what you need to know in a digestible format – just keep on reading! Let's dive in! 🤿
Here's what we'll talk about today:
Are the Tools You're Using Approved by Instagram?
Would you give your Instagram password to someone randomly passing you by on the street? Hopefully not.
You spend so much time growing your account, engaging with your favorite creators, and making new precious connections via DMs – your username and passwords are extremely important and meant to be protected.
Not all the apps and platforms on the market protect your precious data – tough love: many of them don't.
To be approved by Instagram, the app must undergo a rigorous testing process. Instagram would revoke access if anything unsafe were going on. To dig even deeper: to protect data privacy, Instagram shut down its public API and has replaced it with the more restrictive and controlled Graph API.
That's why it was a goal of ours to gain this access. It's a long process, and many companies give up along the way: it's cheaper and easier for them to stay that way. But you know us: we always reach higher! We wanted to be among the most ambitious, secure tools. And here we are.
IQ Hashtags is a company built on trust. So whether it's your Instagram profile data or your profile performance, you trust us. That's why security and privacy have always been our top priorities.
Since the very beginning, IQ Hashtags has worked closely with experts on application security and network penetration testing. It paid off. We're incredibly excited to be officially approved by Instagram – they have appreciated our commitment to security and new technologies!
We Use the Instagram API to Grow Bigger and Better
The Instagram Graph API gives us a level of data access that you, Instagram users, don't otherwise get. This API provides a standardized way for two applications – our tool and Instagram – to send data back and forth.
The good news is that we are happy to say that even though we're much more advanced technologically now, the IQ Hashtags Tool is still as intuitive and easy to use as it can be, as it always remains our top priority!
What Does This Change Mean for You?
The Instagram API allows us to analyze much more data – so you can focus on making the best insights-driven decisions.
Link your Instagram profile to your IQ Hashtags account, so you can enjoy the new Reels Metrics feature and fresh data about your hashtag and profile performance delivered faster than ever before – you can read our step-by-step guide here.
Important: Instagram's API grants business and creator profiles more capabilities than other types of profiles. If you want to make the most out of our tool, you'll need to switch to an Instagram business or creator profile. But hey, switching is a piece of cake – and if you need help, we're here to guide you: let us show you how!
We've Introduced a New Feature: Reels Metrics. How to Use This Cool New Feature?
If you want to know how to grow your profile, you need to know where exactly you're succeeding and where you need improvement. You need to know what content your audience cherishes the most.
The Reels Metrics feature does exactly what it sounds like – it arms you with the most impactful data, so you have all the posts, all the Reels analytics IN ONE PLACE. Analyzing your Reels performance has never been easier! ​It's the most comprehensive way to analyze the performance of your Reels.
The Reels Metrics feature will help you:
Analyze how to stand out in what seems like an endless sea of online creators and entrepreneurs
Analyze how to monetize your Instagram strategically: by knowing what kind of content you should double down
Find out what content resonates with your audience the most
Track key engagement metrics for your Reels. Access Reels stats, including engagement rate, reach, view, like, saves, and comment count over any time period.
Discover and collect hashtags that your posts have ranked for to improve your Hashtag Research and increase your Reels views in the future
Get a clear picture of your Reels performance and gain insights into your audience with easy-to-read charts and graphs of critical Reels metrics.
People are seeing massive growth on Instagram right now. Especially when they share the Reels their target audience wants to see, revealing solutions their target persona needs and connecting with others. With Reels Metrics, it gets SO MUCH EASIER.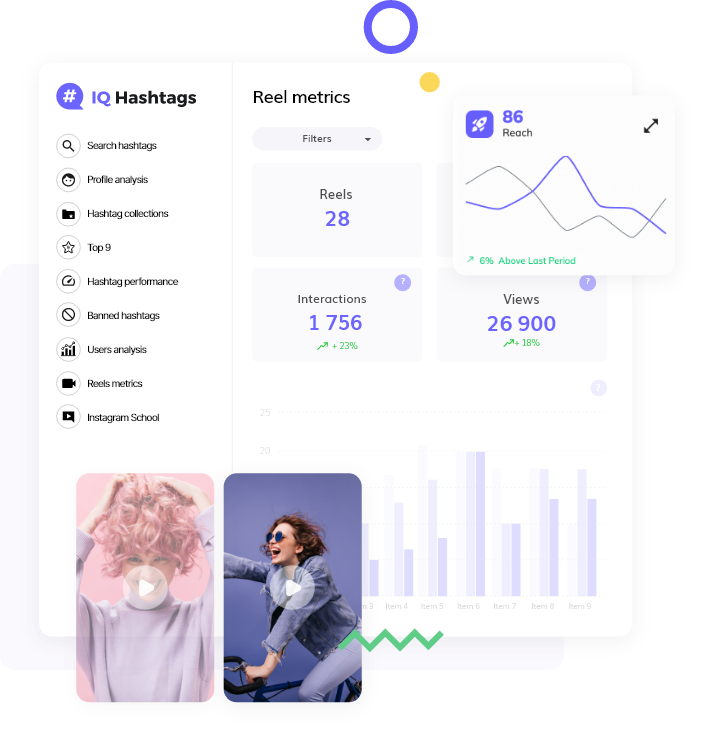 F&Q – You Ask… We answer!
Yes! IQ Hashtags is approved by Instagram and uses the official Instagram API. This makes the tool safe to use with your Instagram account. We do not have or store any of our users' login information or put them at risk of having their sensitive information compromised. All logins and authentications used are through Instagram and Facebook's API.
I'm pretty comfortable with Instagram and Reels content creation. Will I learn anything new from Reels Metrics?
Absolutely! This feature doesn't just show you the insights, when used regularly, it teaches you how to use Reels as a working marketing tool. As a result, you will start feeling confident in your skills as a content creator and marketer, gaining priceless knowledge about your profile performance and your audience's preferences.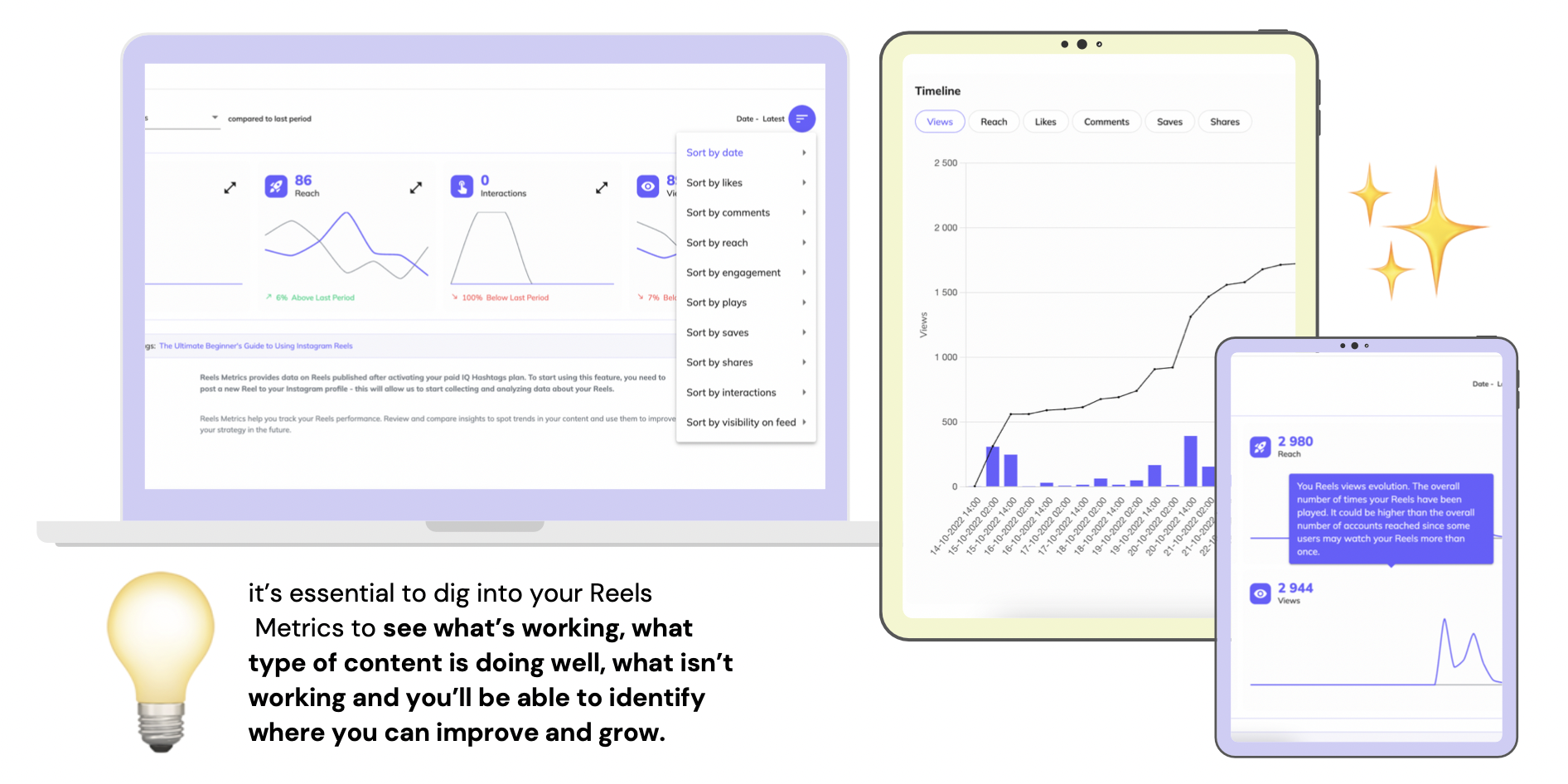 Do I need to convert to an Instagram business or creator profile?
Yes, but it's totally worth it. Adding the Instagram Business or Creator profile within IQ Hashtags has several benefits itself. With it, you can access all the most impactful analytics in one place. Instagram's API grants Business and Creator profiles more capabilities than other types of profiles. If you want to make the most out of our tool, you'll need to switch. But don't you worry, with our guide switching is a piece of cake!
What do you think about these updates and our new feature? Also, let us know if you want us to talk more about Instagram news and our new features. 🙌🏻 ​ We hope this helped give you some more enthusiasm towards making Reels and optimism towards your new experience as a IQ Hashtags user. ​ Feel free to reach out with any questions you might have at [email protected]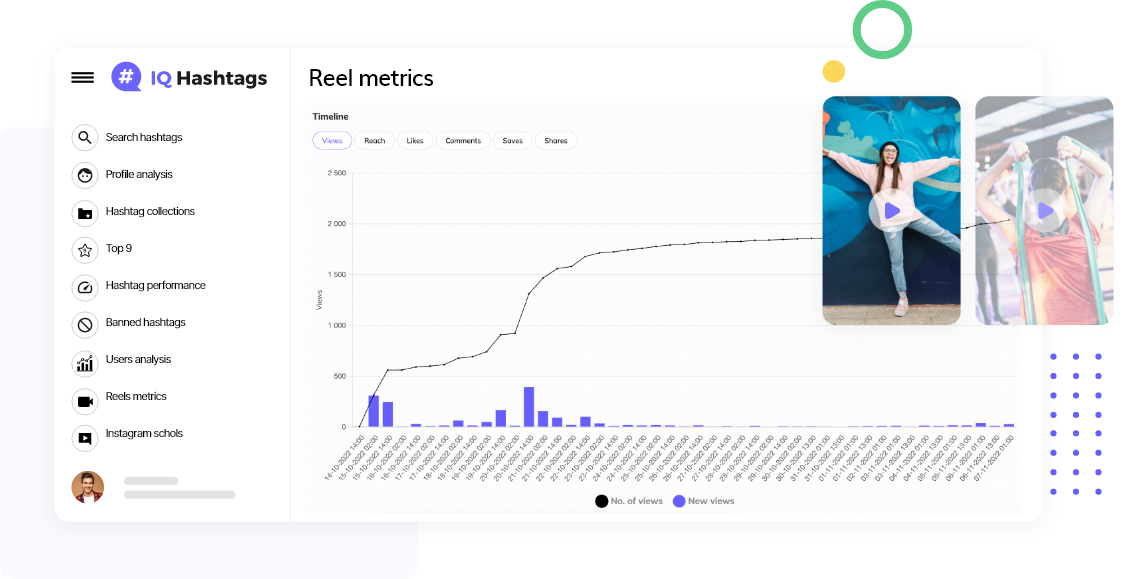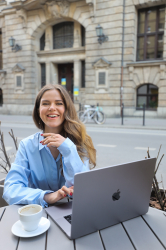 Latest posts by Kasia Pilch
(see all)