You sit down to write a new Instagram post about something because you haven't posted in a few days, and you also need to fill in your content calendar for an upcoming month. You keep waiting for inspiration to come. You don't know where you should start.
That's a creative block.
Don't worry – many creators (even the most ambitious and talented ones!) face it. You're not alone.
Content creation is about creative processes, consistency, multitasking, and eureka moments. It's about learning to turn a straightforward thought or a quick thought into multiple posts or different pieces of content – videos, static posts, carousels. The list is getting longer as the time goes by!
We know what you're thinking, and we can't agree more – it demands wearing so many hats at once. The truth is, many creators struggle with the content creation process, as it can get really overwhelming. As creators, it's easy to feel like we're running in a social media rat race, stuck on the creative content treadmill, and all of our creative energy is slowly escaping.
The pressure to post regularly. The omnipresent comparison. The impostor syndrome. The perfectionism. The one big: UGH!
But, the thing is, the effort pays off. We're currently in the contentpreneur era, meaning being a content creator immensely benefits your online presence. Content creation can not only pay your bills but also make all your wildest dreams come true. This is the most exciting part – the possibility of these dreams coming true.
As you most probably know, our goal at IQ Hashtags is to make the content creation process easy and actionable for more creators. We want to assist you when you're bringing your vision to life, when you're chasing your dreams – and we want to be with you, when you're making it happen!
We created a way to scale your content creation growth
AI (artificial intelligence) is one of the most influential and transformative technologies of all time. Even the most skeptical people agree with us: AI has the potential to improve our lives in all sorts of ways. But only when used wisely and strategically – we can't stress this enough!
That's why it took us some time to develop an innovative, safe solution to beat your creative block: the ethical, strategic, and smart way. A tool to expand your creativity, not to replace it!
And here we come, extremely thrilled to announce the good news.
Our IQ Hashtags platform has a new feature; we think you'll love it!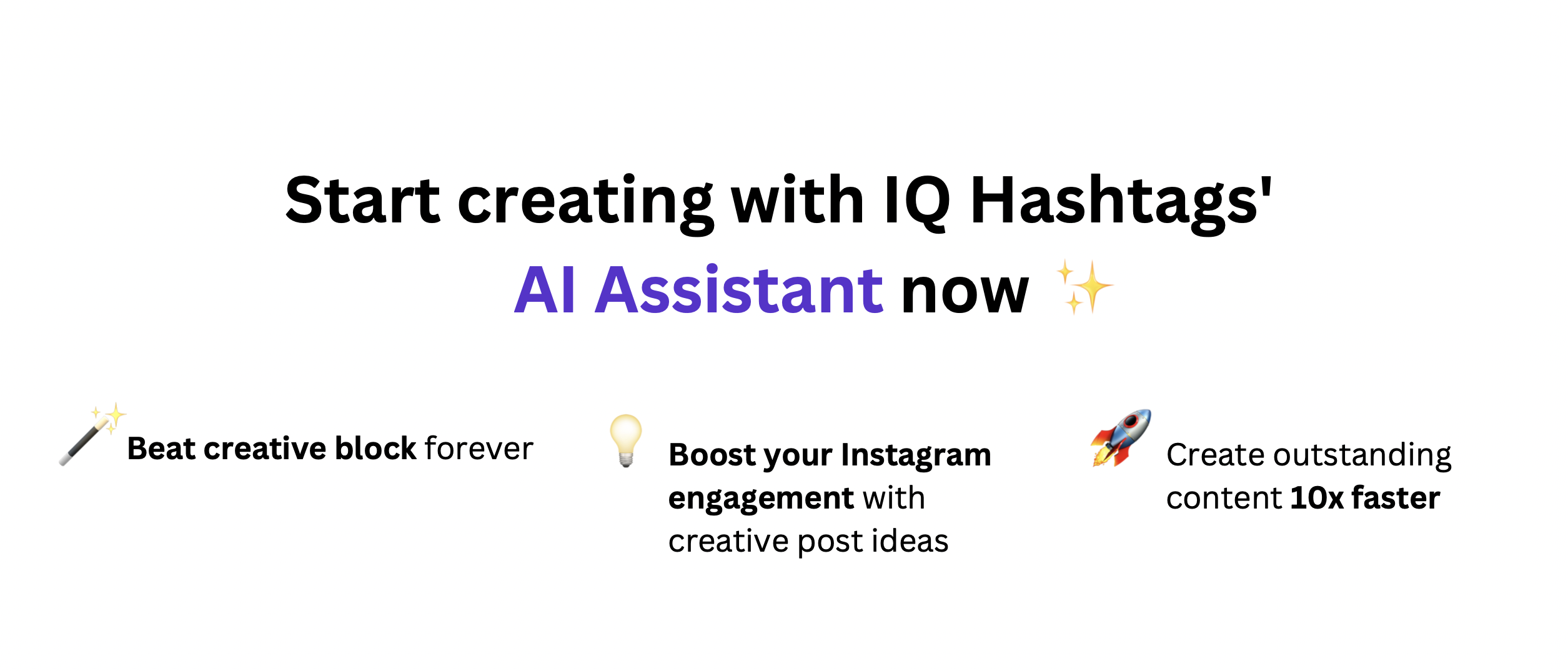 Our AI-powered Assistant is ready to become your brainstorming partner
Until now, being a content creator often meant doing it all alone. The weight of posting regularly and coming up with fresh concepts was all on your shoulders. Distractions. Procrastination. The struggle to post consistently and find time to craft everything to level up your content game.
The issue with a creative block is that you have no guidance. No starting point. If you're not in the flow, it's challenging to get in this state and feel the creative juices flowing. Trust us; we've been there too.
Solution? Now you can use our AI Assistant to get into the flow!
The same way we look back at the tedious processes our predecessors had to endure, future creators will ask themselves: "Did they use to do that manually?"
Of course, AI still can't do everything a creator can, but it does help to speed up a big part of the content writing process. We're on a mission to help you optimize your content creation – and that's why we've built the most advanced and intuitive tool, to meet all your needs.
You'll never have to walk the content creation path alone again. And because we're more excited than ever, let us map out a few more benefits of this brand-new IQ Hashtags feature!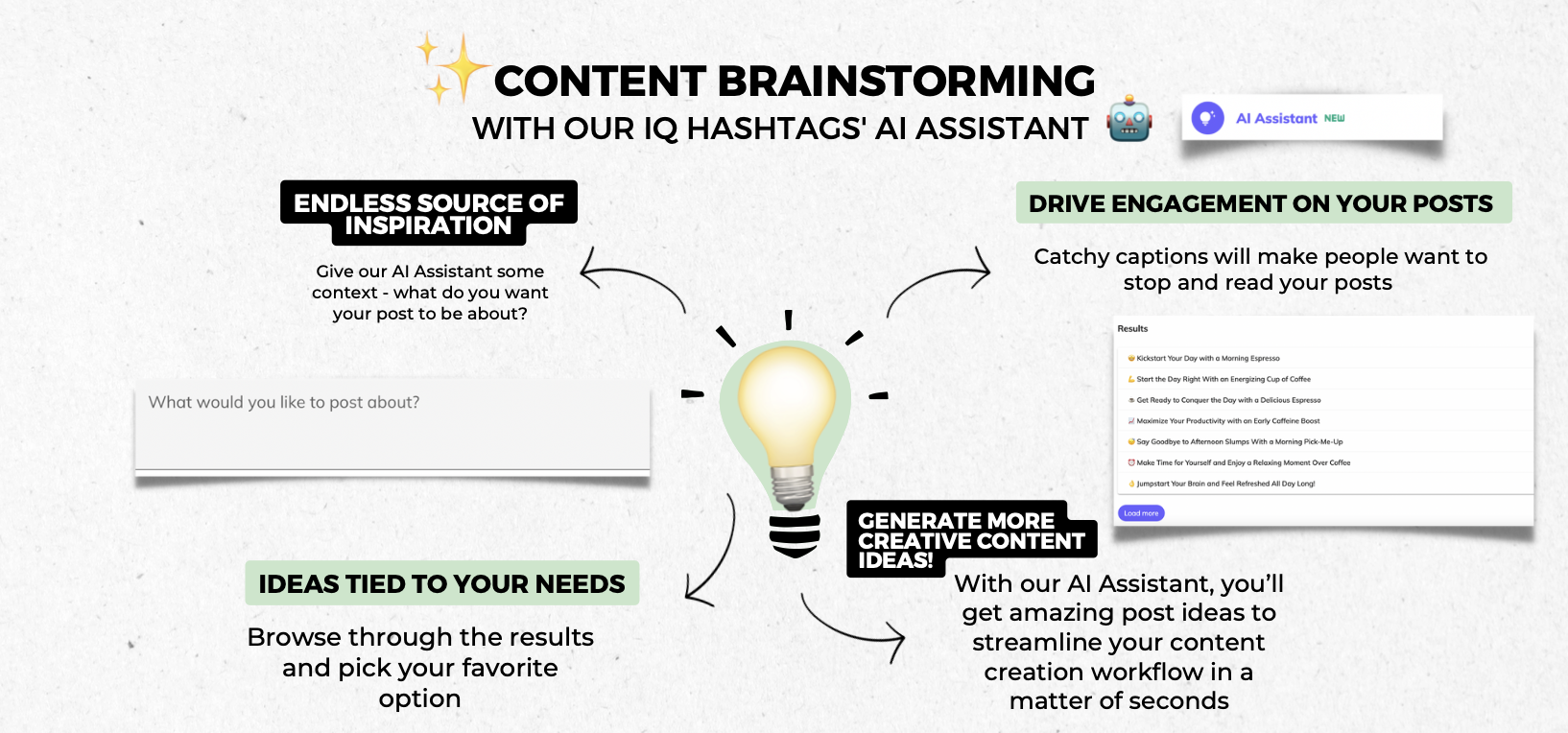 Create fantastic content 10x faster
Save hours of time. Spend minutes, not hours, crafting new content. Tell our AI Assistant what you want your post to be about and then watch it generate creative ideas, ready to be used immediately.
Generate creative post briefs in less than 15 seconds. With our AI Assistant, you'll get amazing post ideas to streamline your content creation workflow in a matter of seconds.
Make creative block a thing of the past. Our AI Assistant brings us the power of superhuman creativity. It sounds good – but it works even better!
Unlock new post ideas and endless inspiration. Quality content is still key for growth. With the help of our AI Assistant, you can make sure your content is interesting and engaging for your followers (and potential followers as well), as all its ideas are created with a valuable-engagement formula in mind.
If you want to grow on social media, consistency is the most significant growth factor. Now you can create endless post ideas in seconds and stop stressing out about what to post next.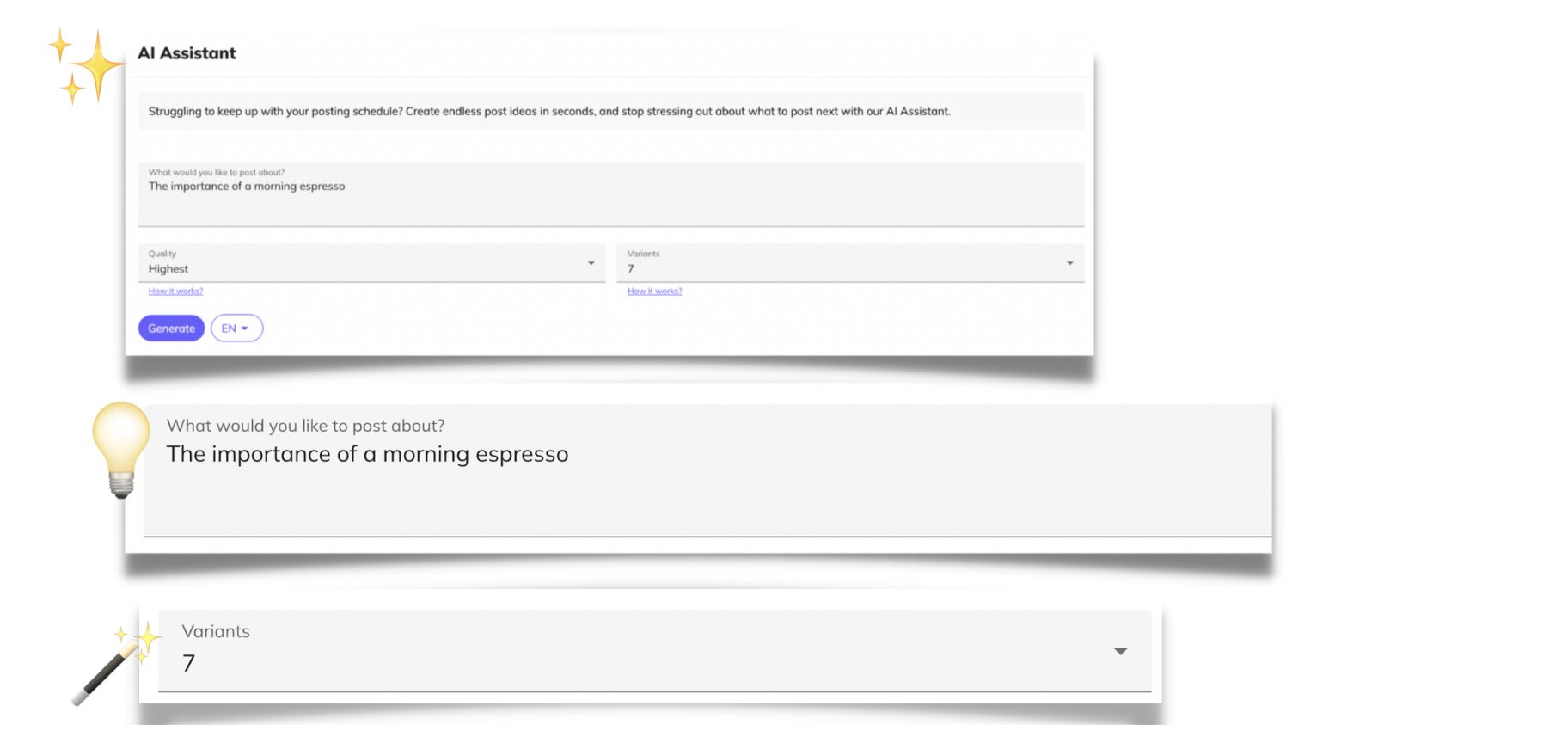 How our AI Assistant Works
Spoiler alert: it will become your favorite feature.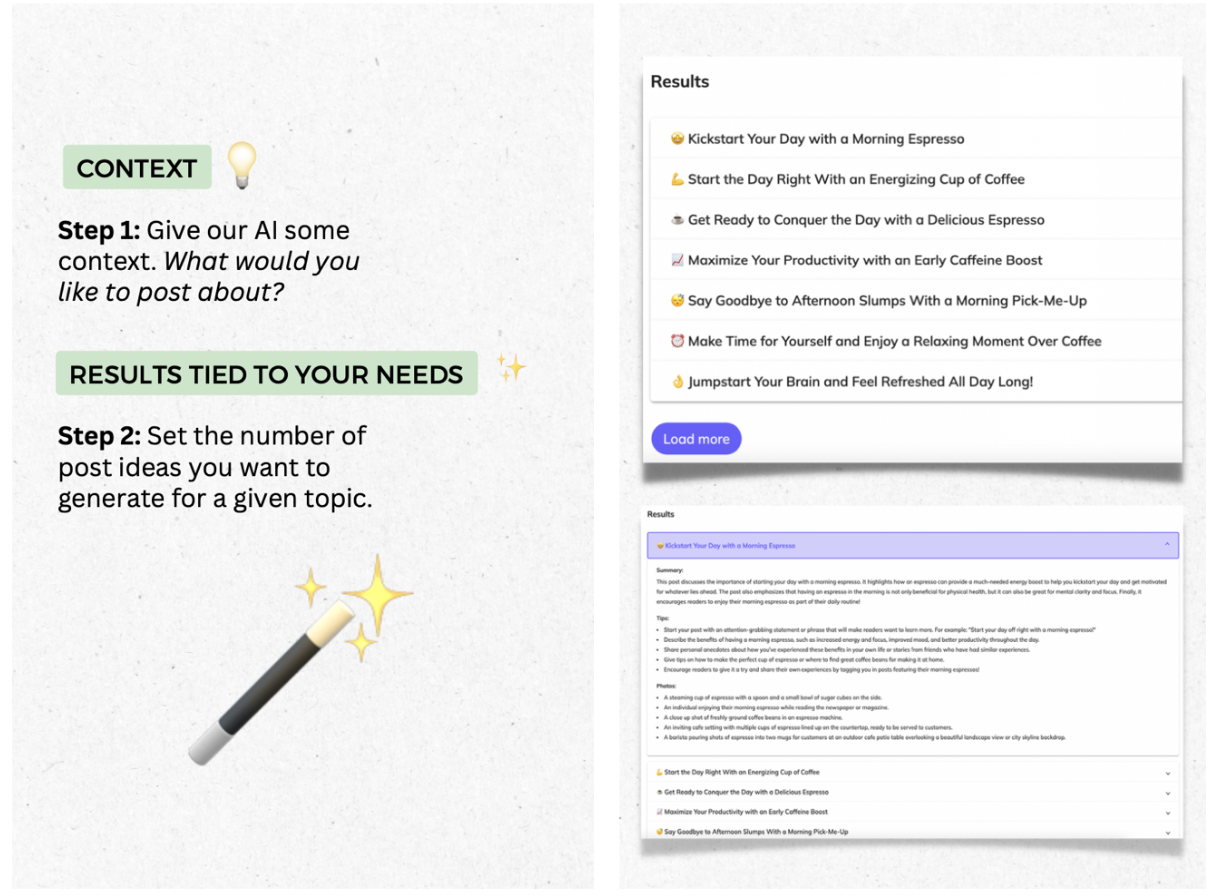 To put it simply: our AI Assistant makes it exciting to create content again. Plus, you save hours every week. Its ideas will inspire, educate, and push you one step forward in your content creation journey!
PS: As always, if you have any questions or doubts, we're happy to help you out!