Is there any effective ChatGPT alternative for content creators? We have good news: yes, and it's even more intuitive and easy to use if you want to supercharge your Instagram content creation!
In the ever-evolving realm of all the social media platforms (Instagram, TikTok, Youtube, Bereal, the list goes on and on), content creation is not just an art; it's a science. As Instagram still continues to dominate the visual landscape, the demand for innovative and effective content creation tools has never been higher. While ChatGPT has been a trusted companion for generating text-based content, there's a rising star in town that caters specifically to Instagram enthusiasts – IQ Hashtags. In this blog post, we'll explore why IQ Hashtags stands out as the ultimate alternative for crafting captivating content tailored to Instagram's dynamic environment. Let's go!
Best ChatGPT Alternative for Content Creation
While ChatGPT remains an exceptional tool for text-based content generation, IQ Hashtags emerges as the tailored alternative for Instagram enthusiasts. Its prowess in hashtag and keyword management, AI-powered content creation, official Meta partnership, advanced analytics, and time efficiency positions it as the ultimate solution for those looking to supercharge their Instagram content creation game. Embrace the power of IQ Hashtags and transform your Instagram presence into a captivating journey!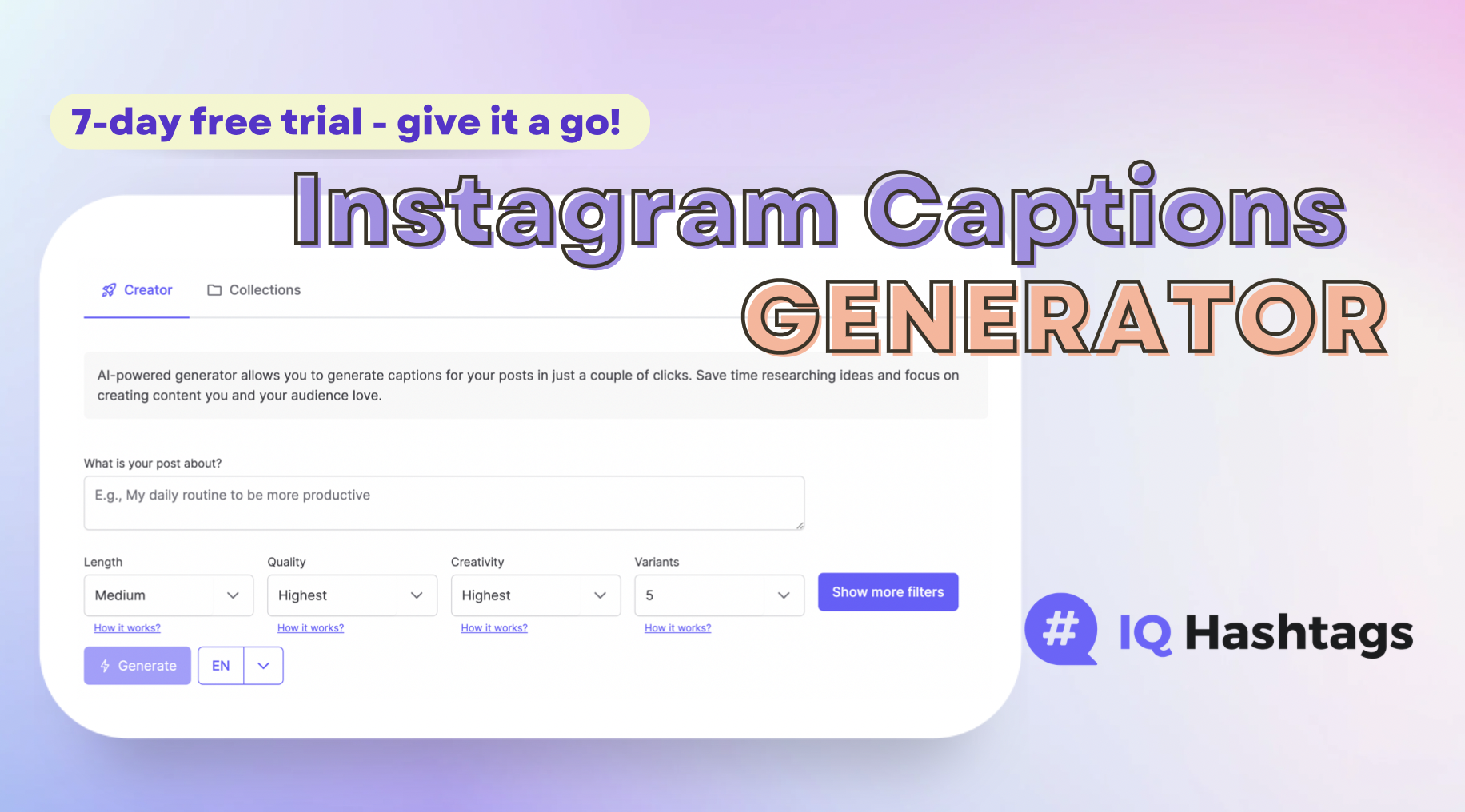 AI-Powered Content Creation – ChatGPT Alternative to Create Content
While ChatGPT impresses with its text generation capabilities, IQ Hashtags complements this by offering a sophisticated AI Assistant and Caption Generator designed specifically for Instagram. It understands the nuances of the platform, helping you craft captions that resonate with your (target) audience. It's not just about words; it's about creating a narrative that captivates and connects!
Advanced Analytics and Research with ChatGPT Alternatives
Creating content in a vacuum is akin to navigating uncharted waters blindfolded. IQ Hashtags empowers you with advanced analytics and research tools. From tracking hashtag performance to understanding their competition score and potential reach, this all-in-one platform ensures that your content strategy is not just creative but also data-driven.
Create Content with Official Meta Partner
Let's face it: trust is paramount in the digital landscape. IQ Hashtags distinguishes itself by being an official Meta partner, providing an added layer of security and approval. Your content creation journey on Instagram is not just efficient but also officially recognized and sanctioned.
Hashtags and keywords are the heartbeat of Instagram. They are  just like the connective tissue that links your content to a wider audience. While ChatGPT excels in text generation, IQ Hashtags takes it a step further by specializing in hashtag management. With the ability to compare multiple hashtags and keywords, IQ Hashtags ensures that your posts are armed with the most effective and impactful hashtags, maximizing your reach and engagement, and that's the ultimate Instagram goal, right?