It's time to start talking about your Instagram Reels hashtag strategy. Let's start with our Reels Hashtags 2023 Guide!
How many of you out there have a Reels hashtag strategy? 🙋‍♀️
And how many of you are dissatisfied with your pace of growth? If so, (and I'm betting there are many of you), it's time to reconsider what you're doing and make a big shift. That is why I recommend using an effective Instagram Reels hashtag approach. This is the most effective approach to significantly expand your reach and reach new audiences.
I bet you create outstanding Reels. They're funny, easy to watch, and make people laugh. They inspire. They educate. People need to see them!  Wouldn't it be awesome if Instagram users that DIDN'T follow you were able to see that bomb piece of videos you just posted?
Hashtags may be THE answer.
This is a guide that I believe is really necessary for me to write. Using hashtags when posting Reels has been proven to increase the success of  their views! I've had a lot of success with these, but only after I personalized them to my specific videos.
Customizing your hashtags to your own content is a guaranteed strategy to attract new and/or different followers to your Instagram account. It's also a terrific method to get more people to see your gorgeous Reels! And that's what we're going to discuss today!
What exactly are you going to learn today? 🕵🏻
Absolutely. I bet you're uploading extra creative Reels, writing clever captions, and using IQ Hashtags to analyze and understand your audience's behaviors. But you still get the impression that your Reels  are attracting crickets and no one is seeing your fantastic videos.
The good news is that if you're creating and editing outstanding Reels, you're already on the right path! But there's one more jigsaw piece to win: hashtags!
If you use hashtags the right way, they can be extremely effective at attracting new followers and boosting your reach. Organically! 
Pro tip? Use various hashtag sizes depending on the size of your audience and the amount of engagement you get. It all comes down to the size of your Instagram account vs. the size of the hashtag you pick. 
If you have a smaller (and awesome!) but growing account, you should look for smaller hashtags to keep your posts at the top for longer. As a result, your post will be discovered by more people! Jackpot! 
#Protip_2: Research them with IQ Hashtags Tool to make the whole process as stress-free and seamless as possible. Continue to do your own research, returning as often as you can to ensure that the hashtags you're using are still relevant to your size. Many times hashtags that I began using a few months ago have to be replaced with new ones!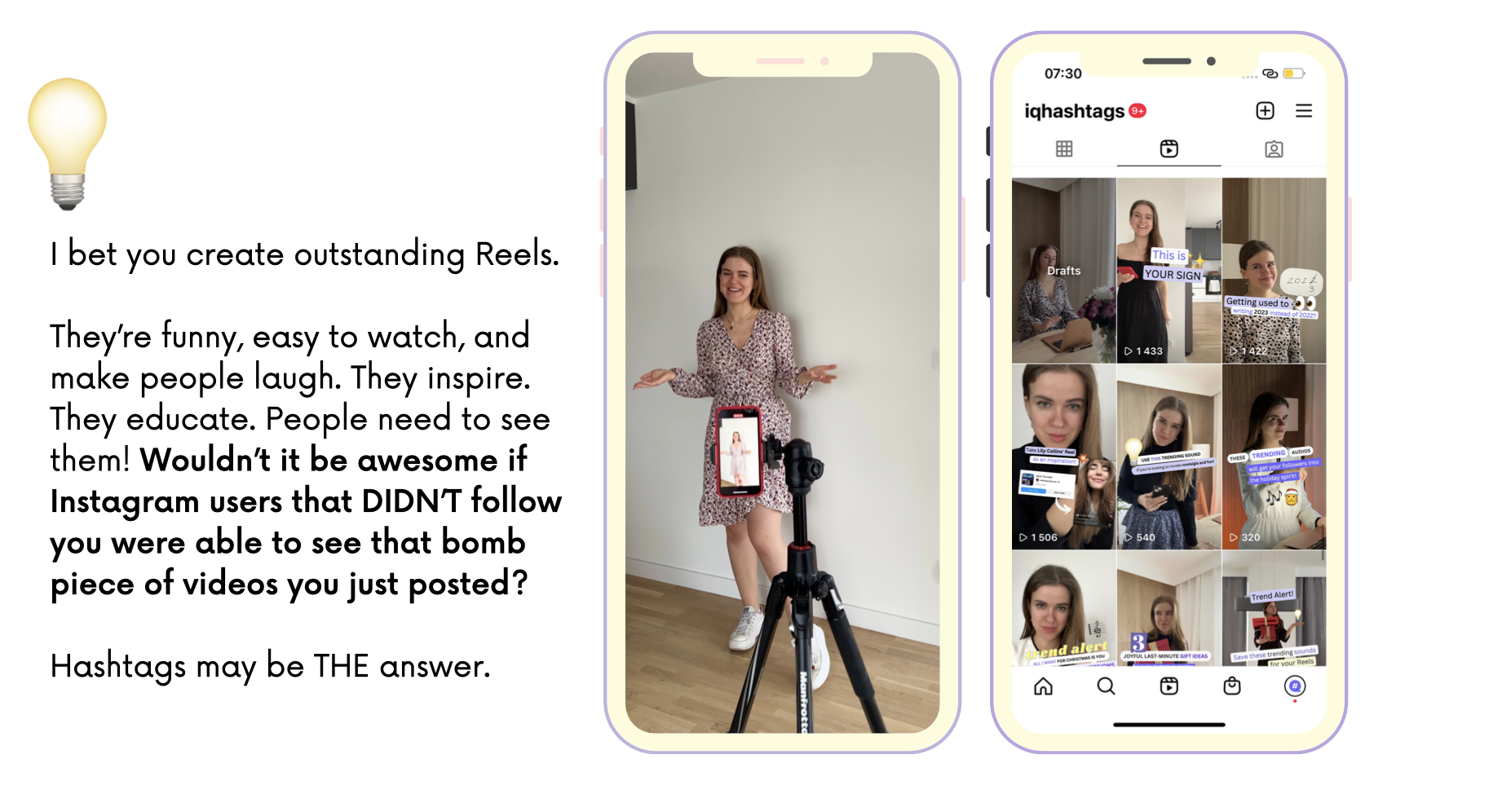 I guess you can easily predict my answer – you can use 30 hashtags every time you post a new Reel. 
Instagram enables up to 30 hashtags to be used on each Reel, and I strongly advocate using all 30 to reach a bigger audience. It may seem to be a huge amount, but the more hashtags you pick, the more eyes you receive on your Reels!
Because hashtags are more about leveraging the words that your audience is using to discover you than about what words best describe your content, there are a lot of things to consider. 
In a nutshell, careless hashtags (such as #amazing #pretty #beautiful #lunch, etc.) will not work. Why? Because they are overhyped, perhaps spammy, and there is a great deal of competition. That means your Reels will get lost in a sea of other Reels, and even if they are noticed, they will not be perceived by the users you are trying to reach (aka the kind of people who will hit follow once they see your account). 
Using the relevant hashtags means being discovered by the right people, so make an effort to create a list for yourself that includes all of the sorts of content you typically share and appeals to your ideal followers. 
Use 25-30 hashtags and you wouldn't have to worry. If you're curious – you include more than 30  hashtags on a single Reel, your caption won't be posted.
Instagram is a fascinating platform, isn't it? On the one hand, it may be quite encouraging! Everything from cooking to professional tips may be discovered here. On the other hand, being a creator might seem like you're in a rat race at times. Always on the lookout for new followers and likes. 
Everyone has been there. I, too, have.
What worked yesterday might not work today, and that's why I'm here for you. ALWAYS. I really hope my guides help you figure out how to use Instagram hashtags to grow organically and enjoy your presence on the platform. 
P.S. Did you know we have a tool that will take your Instagram growth to the next level? We do! IQ Hashtags is the most advanced Instagram analytics and hashtag research tool on the market – arming you with Profile Analysis, Reels Metrics, Advanced Hashtag Research, Hashtag Performance, and other innovative features to skyrocket your Instagram. You can track your growth in time and analyze all the key factors to spot trends and patterns that make your profile grow much faster and stress-free!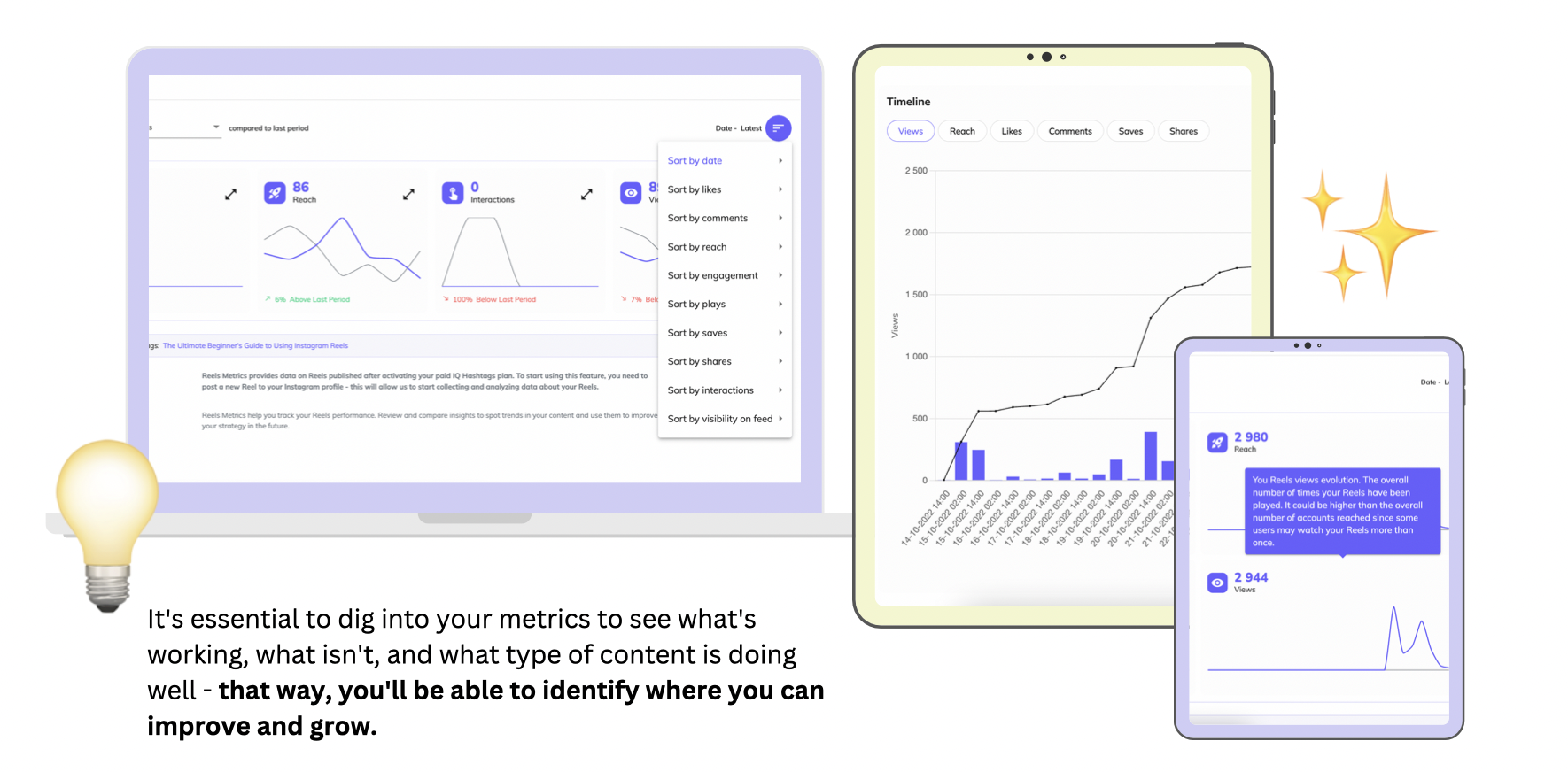 If you care about your Instagram strategy – this is a MUST-HAVE. If you want to build an engaged Instagram community with optimized hashtags and smart insights – this is the tool for you.
In case you haven't heard about it before (which I doubt!), here's what fellow users have said: