Why do you see  "Instagram post could not be shared" error, and how to fix it the quick way? In this article, we will guide you on resolving this common issue when Instagram is not working as expected. Instagram has become an essential part of our social media landscape, facilitating all the valuable connections and interactions through visual content. However, as with any digital platform, Instagram may encounter occasional glitches and problems, and oh boy, they do happen all the time. 
We'll address this common Instagram-related issue and equip you with effective solutions to overcome them. Let's delve into troubleshooting Instagram like a pro!
Now that you know why this error isn't a thing to worry about,  here are the steps to resolve the issue.
Fix 1: Check Your Internet Connection
First, assess your internet connection to ensure it's adequate for uploading an image or video on Instagram. If you lack a stable internet connection and attempt to share media on Instagram, you'll encounter the "Your post could not be shared. Please try again" message, so it's really crucial.
You can gauge your internet speed by visiting sites like Speedtest by OOkla.
If your current internet connection is insufficient, consider connecting to a Wi-Fi network before attempting to upload content on Instagram.
Fix 2: Verify Instagram Server Status
On occasions when Instagram's servers experience disruptions, it can impede your app's functionality. To confirm if the Instagram server is down, you can utilize downdetector.com, a service that monitors platform outages.
If you cannot find conclusive information on DownDetector, you may also refer to Instagram's official social media accounts on Twitter or Facebook. They often issue notifications regarding server-related problems if they exist. This can help you determine whether the issue you're encountering is due to a server outage.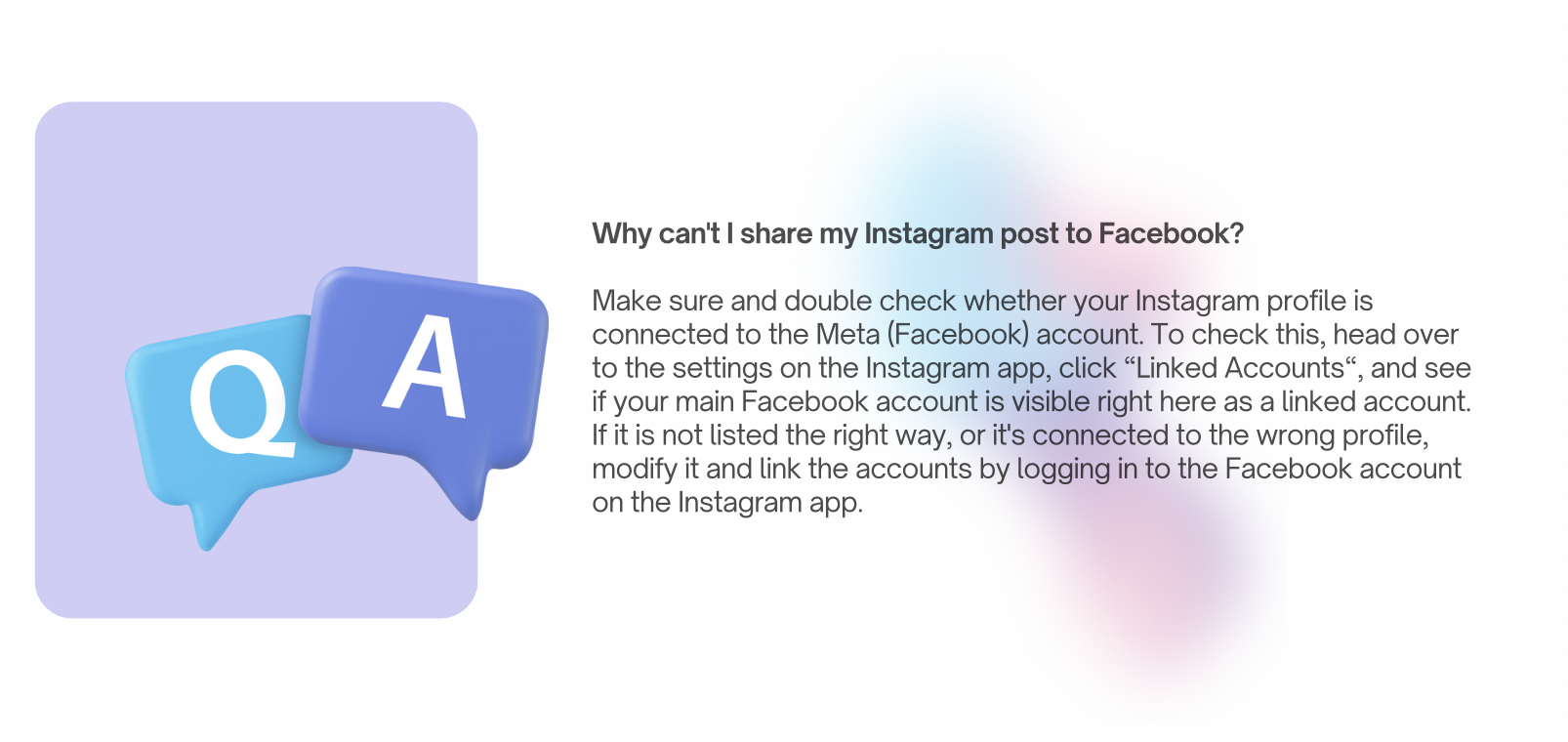 Fix 3: Compress The Image
If the error is due to the size of the image or video you're attempting to share, check the dimensions of your media and reduce it if necessary. You can use image or video compression websites or applications to reduce the size of your media files, ensuring they meet Instagram's requirements. Be cautious not to make the files too small or excessively large to avoid the "Your post could not be shared. Please try again" error.
Fix 4: Check The Format Of Your Video
In the event that your video or image format is not compatible with Instagram (e.g., not in JPEG or WAV format), you can modify the format by using an image or video format converter. This will convert your media into an accepted file format and resolve the issue caused by incompatible formats. Once the conversion is complete, you should be able to share your image or video without any problems.
Fix 5: Check The Dimension Of Your Image
Instagram has specific guidelines for image dimensions. Ensure that the dimensions of your images fall within the range of 330 to 1080 pixels. Posting an image with dimensions that are not accepted by Instagram can lead to the error message and prevent your post from being shared. Make sure your images meet the required dimensions for smooth sharing.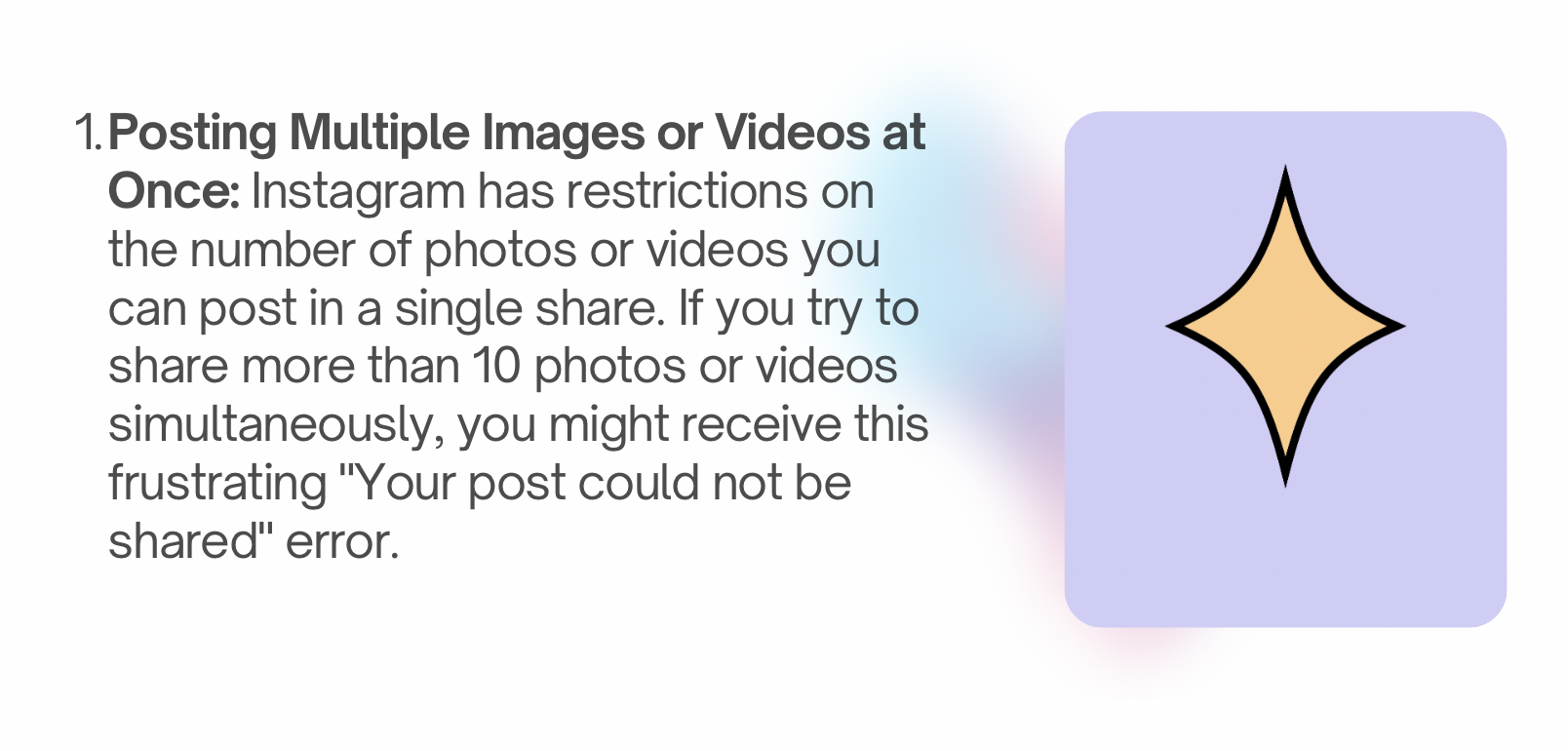 You might see this error for various reasons, but let's discuss the most common ones.
Posting Multiple Images or Videos at Once: Instagram has restrictions on the number of photos or videos you can post in a single share. If you try to share more than 10 photos or videos simultaneously, you might receive this frustrating "Your post could not be shared" error.
Unsupported File Format: Instagram requires photos and videos to be in specific file formats. If your content is not in the accepted format, Instagram won't allow you to post it, and you'll see the notification, "Your post could not be shared. Please try again."
Media Size: Bad news – the size of your image or video can also lead to this error. Make sure your media files meet Instagram's size requirements. Videos, for instance, should not exceed a certain file size or duration.
Image Dimensions: Instagram has specific guidelines for image dimensions. For photos, ensure that the dimensions fall within the range of 330 to 1080 pixels.
Instagram Service Outage: Sometimes, Instagram experiences downtime or technical issues. If the platform is down, you won't be able to perform any actions on the app, including posting content.
To avoid this error, follow Instagram's posting guidelines and ensure your media files comply with their format, size, and dimension requirements! Also, you can check Instagram's status to confirm if the platform is operational when you encounter this issue.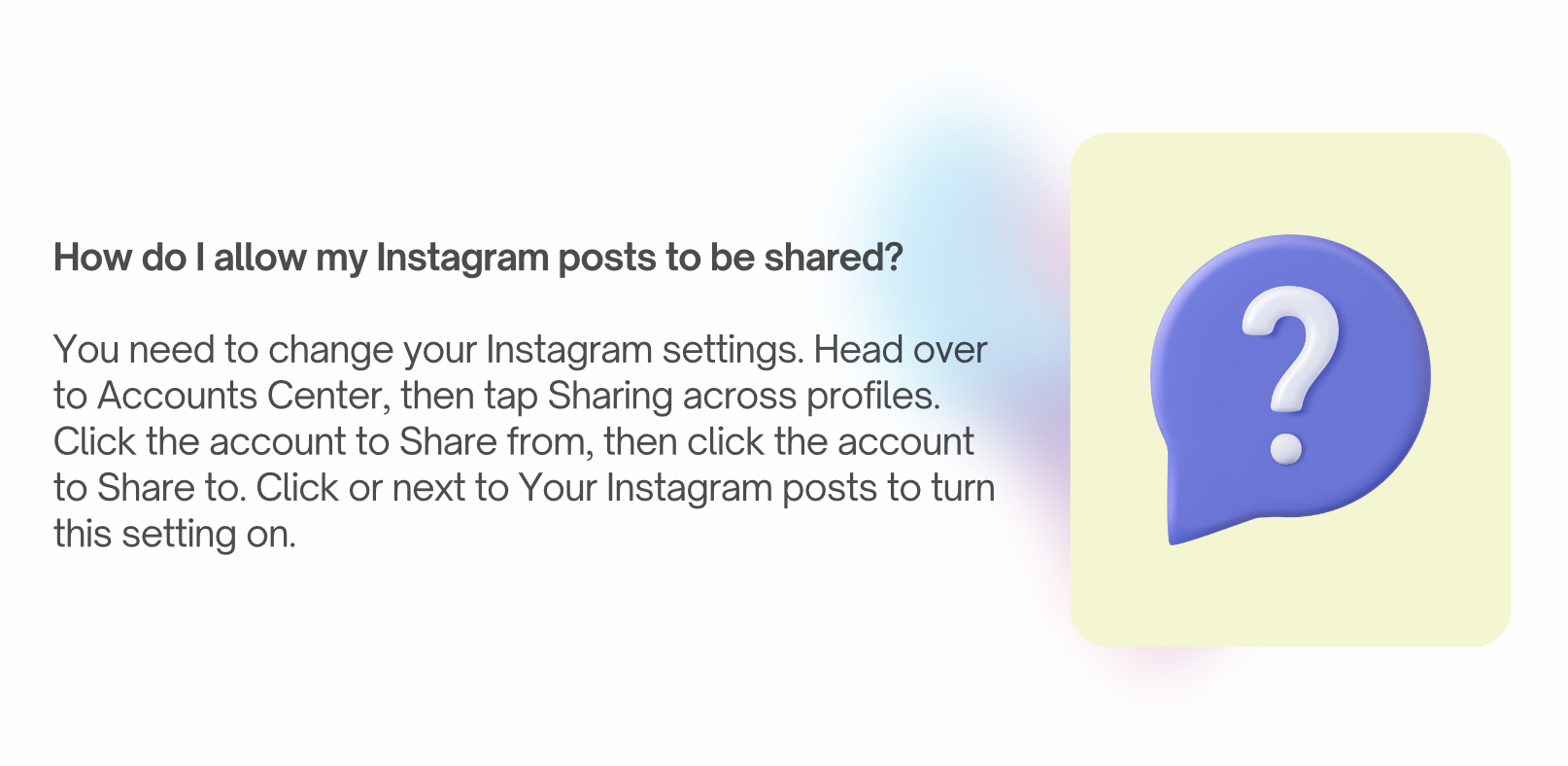 Q&A – Let's Discuss Your Questions!
This can happen because of low Internet connection or your content files being too big. First, try using a different browser. Then, make sure your images are compressed and they aren't high res quality pics.
You need to change your Instagram settings.  Head over to Accounts Center, then tap Sharing across profiles. Click the account to Share from, then click the account to Share to. Click or next to Your Instagram posts to turn this setting on.
What is the maximum file size for Instagram?
At the moment it's 4MB for photos. When it comes to the dimensions: f
or posts in your Instagram feed, videos can be uploaded in different dimensions. Nevertheless, the recommended dimensions for feed videos are 1080 x 1080 pixels for landscape videos and 1080 x 1350 pixels for portrait videos. Regarding file size, Instagram permits a maximum file size of 4 GB for feed videos.
Make sure and double check whether your Instagram profile is connected to the Meta (Facebook) account. To check this, head over to the settings on the Instagram app, click "Linked Accounts", and see if your main Facebook account is visible right here as a linked account. If it is not listed the right way, or it's connected to the wrong profile, modify it and link the accounts by logging in to the Facebook account on the Instagram app.
If a post is not configured with the "Public" audience visibility option, it won't be visible to all users on the platform. That's why, if you find that you can't share someone's post, it's highly probable that they have adjusted their privacy settings accordingly.