Who has the most followers on Instagram? Over the years, Instagram has established itself as a perfect place for Reels, carousels and regular posts to go viral, reaching thousands of users, and can make a superstar out of anyone in a relatively short period of time. Everyone wants more followers and a bigger tribe on Instagram, right? Building a large audience on the platform also means following hot and popular catchy trends that 'Gram users adore. It's good to learn from those who have already succeeded!  Are you looking for Instagram accounts with the biggest audiences that can give us valuable insights into how we can quicken our growth on the app, too?
Who has the most followers on Instagram?  In this guide, we're going to look at some of the Instagram creators with the biggest follower counts, and, of course, what exactly we can learn from them. Then, you can implement these tactics, tendencies, trends, and smart strategies to your own account. Sounds good? Let's go!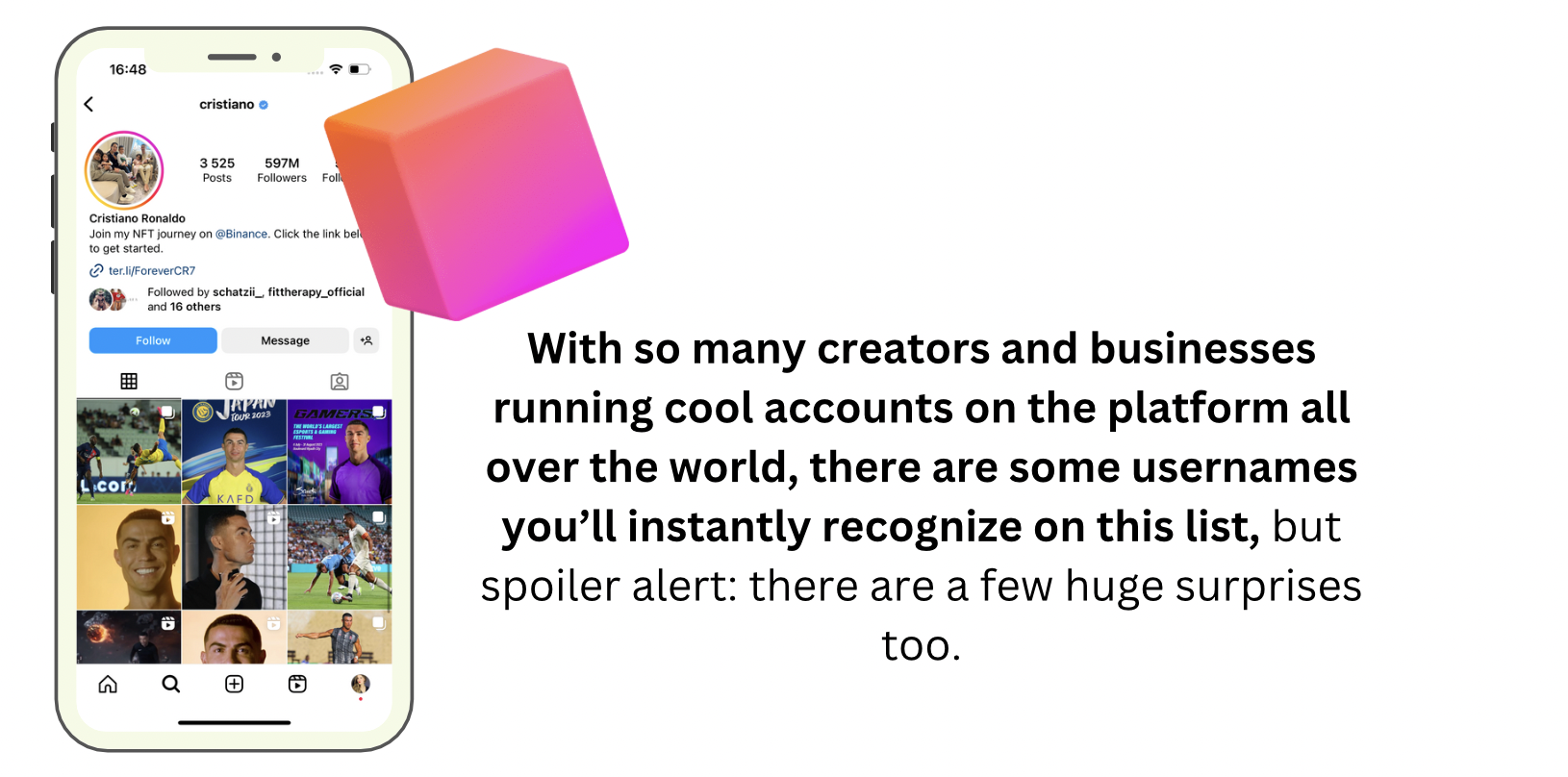 Who Has the Most Followers on Instagram? Most-Followed Instagram Accounts in 2023
With so many creators and businesses running cool accounts on the platform all over the world, there are some usernames you'll instantly recognize on this list, but spoiler alert: there are a few huge surprises too. It's actually crazy to see how many followers some users have gained in such short periods of time – a few months, a year, two years. They will make you believe a growth like this is still possible.
Here's the list of the top 10 most-followed Instagram accounts. Make sure to check back often, as we update this golden list regularly!
The gold title goes to Ronaldo – that's more than obvious. And the rest?
Lionel Messi (@leomessi)

Selena Gomez (@selenagomez)

Kylie Jenner (@kyliejenner)

Dwayne "The Rock" Johnson (@therock)

Ariana Grande (@arianagrande)

Kim Kardashian West (@kimkardashian

Beyoncé (@beyonce)

Khloé Kardashian (@khloekardashian)

Justin Bieber (@justinbieber)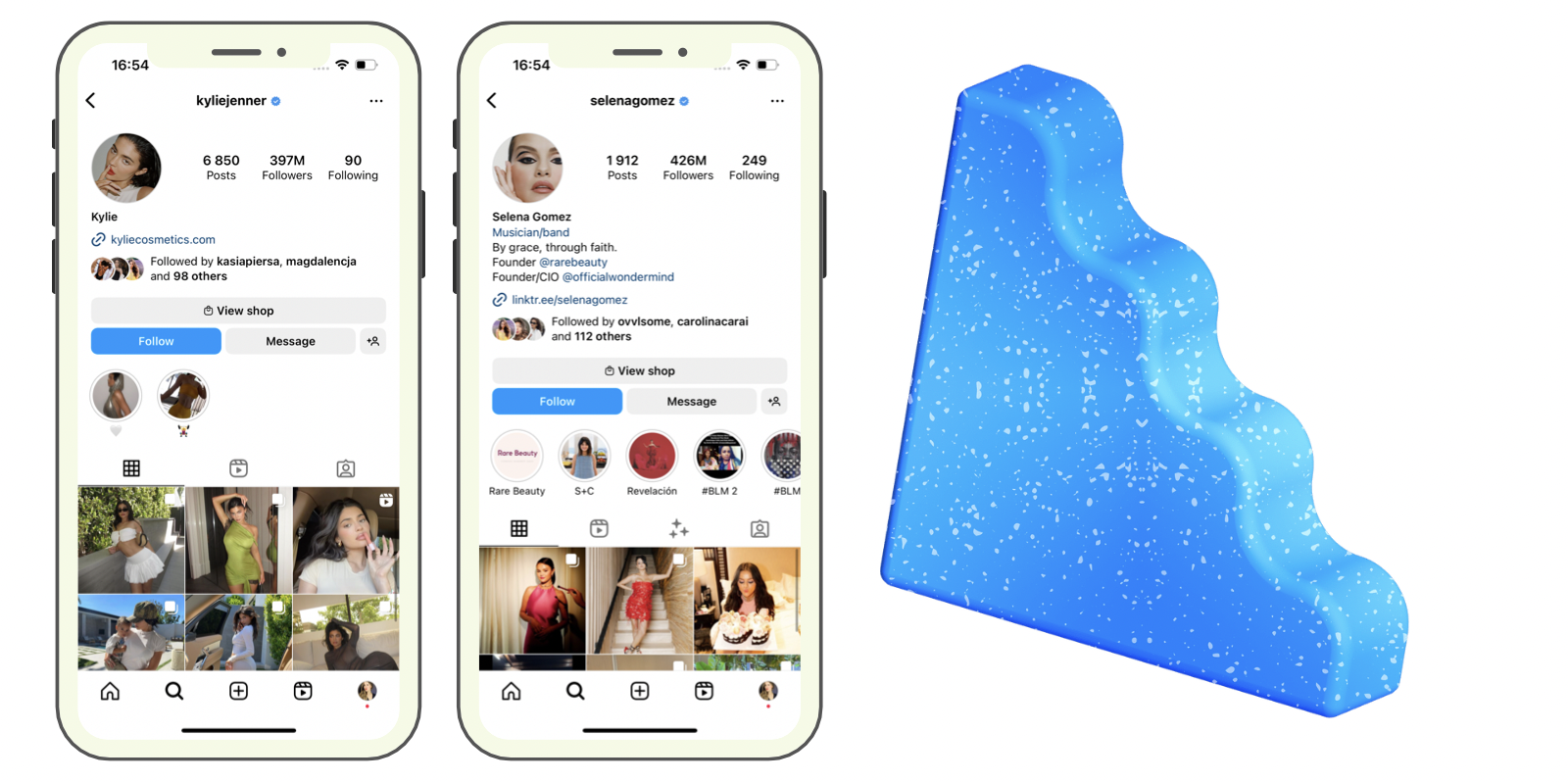 | | | |
| --- | --- | --- |
| 1. | Cristiano Ronaldo | 598 M |
| 2. | Lionel Messi | 480 M |
| 3. | Selena Gomez | 426 M |
| 4. | Kylie Jenner | 398 M |
| 5. | Dwayne Johnson | 388 M |
| 6. | Ariana Grande | 377 M |
| 7. | Kim Kardashian | 363 M |
| 8. | Beyonce | 315 M |
| 9. | Khloe Kardashian | 311 M |
| 10. | Nike | 302 M |
Who Is the Most Popular User on Instagram?
Nobody, literally nobody doubts the great success that Instagram has amassed. The social media app has managed to become the center of unique inspiration and great entertainment for millions of (not only) young people all around the world. And among all of them there is this golden, outstanding team, those most followed Instagrammers in the world who, with their Reels and posts, achieved the greatest influence. So, who is the number one at the moment? 
This title goes to…Cristiano Ronaldo (@cristiano).
Net worth: $500 million
Age: 38
Residence: Madeira, Portugal
As of August 2023, Cristiano Ronaldo now has almost 600 million followers. He continues to grow, and no wonder, he holds his top position on the platform.
Who Can Make It to The Top? What Do Top Influencers Have in Common?
According to our research, the Instagram accounts with the highest follower counts are run by creators from all backgrounds – living everywhere, all around the world. Some have built this incredible Instagram fame step-by-step, from the scratch, while others are crossovers from celebrities world and A-list Hollywood personalities.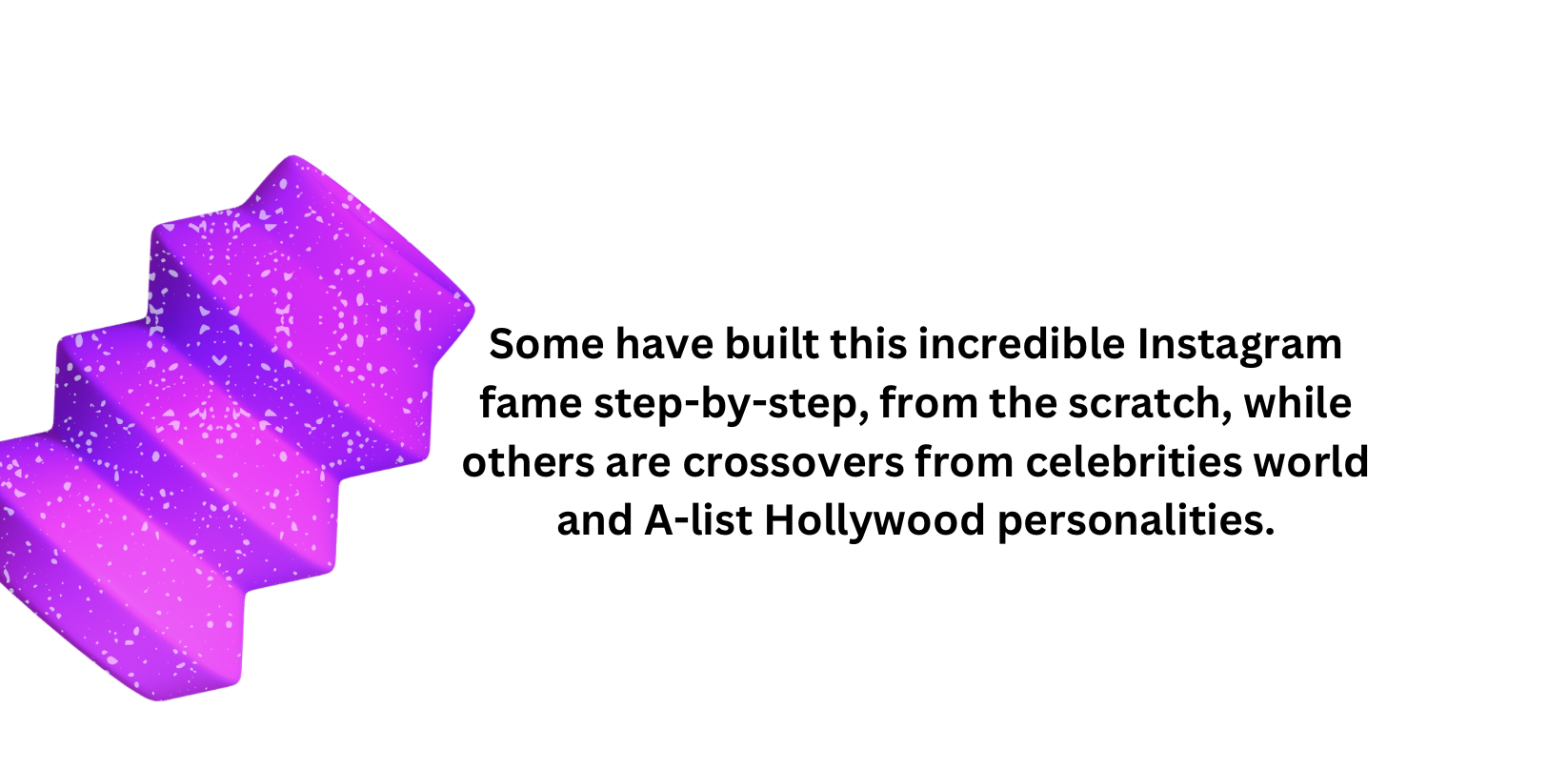 To Wrap-Up!
Ultimately, Instagram is its own creative, digital playground where talented creators and ambitious entrepreneurs can make their creative juices flowing, educate others, show-off their daily life behind the scenes and simply have fun. This top 10 list may be a good place to draw some inspiration for your own profiles, or your next Reels!