How to copy hashtags on Instagram? Is it possible to copy-paste Instagram hashtags? These are the questions we hear most often from our clients and ambitious content creators thinking about optimising the time they spend doing the hashtag research. Yes, we hear them a lot and you'll find the answers below, as we need to debunk a few myths and set the record straight!
Wouldn't it be amazing if you could just copy-paste a hashtag set from your competitors and paste it right away into your new post? We're not quite sure, but we'll explain everything to you, so it makes sense. As you most probably know, at IQ Hashtags, we have amazing marketing experts and we have developed our own tool for hashtag research (you can try it out for free right here – we have a 7-day free trial). We're against copying someone else's solutions, strategies and hashtags, as it's much smarter to find your own ones. But we know – HEY, WE'RE ALL SHORT ON TIME! That's why today Kate will show you how to optimise it all the smart way and copy-paste your new hashtags from our tool, so you save your time, and use only these hashtags that still work and have the biggest power. Let's go!
How to Copy Instagram Hashtags? Here Are the Things We'll Discuss Today:
Yes, you can do it (but only when using a web version), but there's also a much better option: copy your new hashtags from the platform that can do everything for you. Instead of copying the hashtags someone else's used, you can generate your new personalised ones to meet all your needs (optimal competition score, potential reach) and copy them with one click using tools like IQ Hashtags.
Instead of copying and pasting "borrowed hashtags" you can copy and paste better ones – the ones that are going to work for your account in particular. How to achieve this result in a speed of life?
Log into your IQ Hashtags account or start your 7-day free trial

Go to "Search hashtags" tab

Optimise your hashtag preferences – it will take you 1-10 seconds (set the potential reach and competition score)

Copy-paste the hashtags that are the right fit for your profile/your post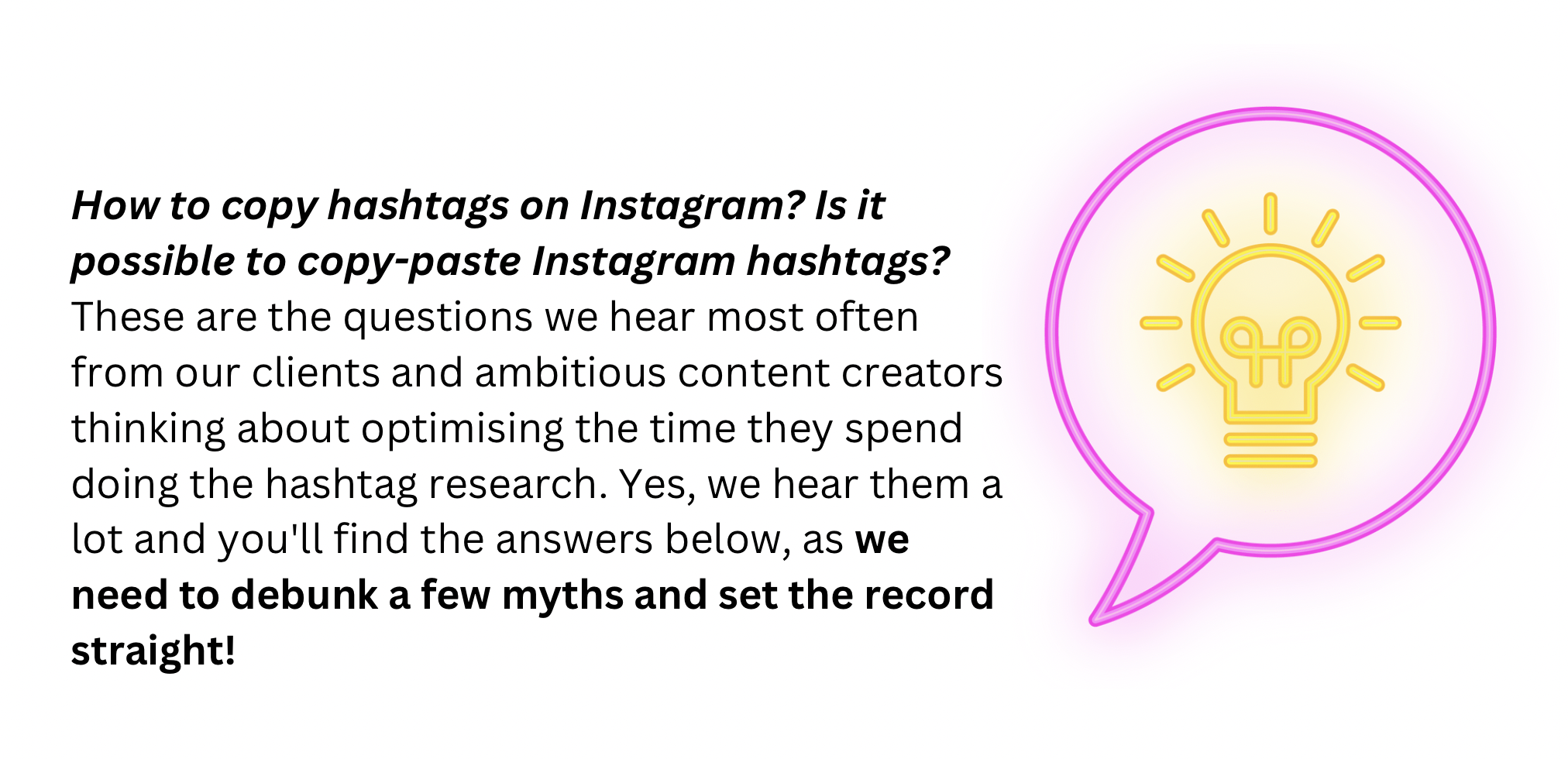 That's not true, because you can, but only using the web platform or researching your new hashtags with the tools like IQ Hashtags. Otherwise, Instagram mobile app doesn't let you copy-paste the hashtags right from others' posts. It's their way of fighting with copying the same sets of hashtags over and over again and spamming the explore pages.
The safest way is to use smart tools which will help you find the optimal hashtags for your niche. Trust us – copying someone else's choices won't get you far. They most probably have a totally different strategy, different account size and different reach. That's why the smartest way is to invest at least 5 minutes in hashtag research with tools that arm you with a free trial, so you can check it for yourself and see if you like that way of copying and pasting your new hashtags (we bet you will)!
Here are a couple of screenshots showing you how exactly do these tools work (these screens are presenting IQ Hashtags' tool):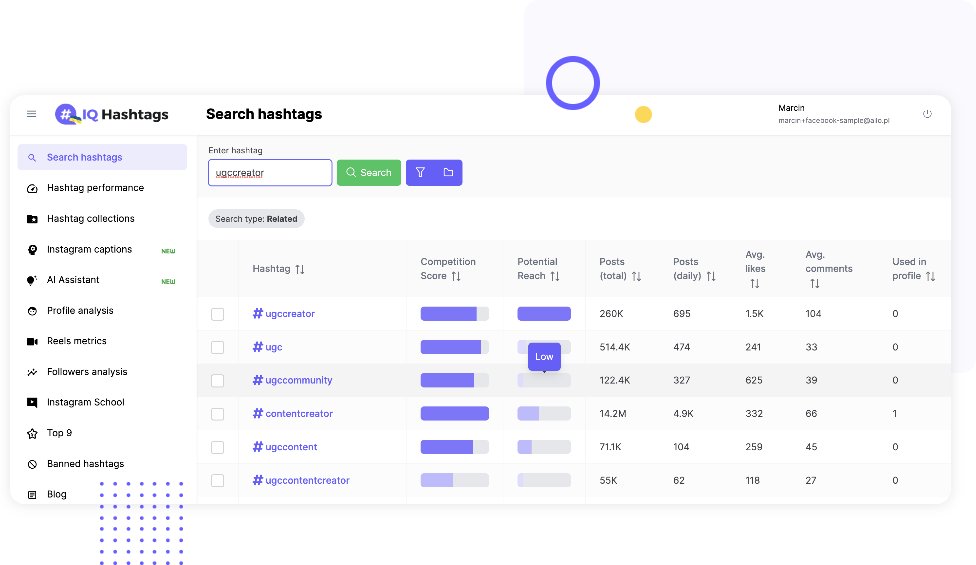 Our next recommendation is to save and organise the new hashtags from your IQ Hashtags search. This is the best way to have them all in one spot and save them for later – actually, for whenever you might need them.
With IQ Hashtags' Hashtag Collections features, you can now create and save as many hashtag collections (treat them as hashtag lists or libraries) as you'd like right in our tool and add them to your Instagram content with one quick click. Yup, that's a total game-changer, plus is saves so much time! No more scrolling through your Apple notes or going into hundred different platforms to find new ideas for hashtags.
All you need is the Hashtag Search Tab – what's supercool you can save your new discoveries right from the search results. Save each hashtag that seems like a good fit for your profile (has the rational competition score, good potential reach, and isn't too popular), and then if you want to level up your hashtag game even more, you can also track your hashtag performance with the Hashtag Performance Tab inside the IQ Hashtags tool.
Sounds cool? Want to try the tool for yourself? The 7-day free trial is created for such cases – give it a go 🙂