Say you have a popular profile about being an entrepreneur and content creator these days, you're showing the reality of building your own brand from scratch, and you're sharing your best insights with your engaged community. You use our tool to quicken the hashtag research process and analyze all the in-depth data about your account. Now imagine having a unique, totally custom link for our tool, one that will earn you a commission each time somebody becomes an IQ HASHTAGS member. It's that simple! Wait, wait, hold on – you may think. It's not that simple yet.  As an affiliate marketing newbie, there are several questions you'd like to ask, but you don't – we know it. Some of these questions may be sensitive, some of them you might find a bit awkward, and you assume they should be avoided. 
Absolutely not! You've got questions; we've got answers.
We've already elaborated on our affiliate program in our last blog post, and it seems like we started a well-timed conversation for many of you! To be totally honest, many of the replies we've got were something along the lines of "Wait, is IQ HASHTAGS Affiliate program actually legit? Are you sure it could work for me?"
We're sure. Let us say: you'll love being our affiliate.
This was our invitation to… Grow together. You already know that. The online world can be full of surprises, excitement, and challenges, but it also feels lonely at times. We know that you go through moments of struggle, the impostor syndrome, overwhelm, and confusion. That's why we created our IQ Hashtags Affiliate Program – to give you an extra source of income, with no need to create your own services or products. To give you a great chance to skyrocket your passive income.
We believe that when we grow together, we can amplify our strengths and our impact at least tenfold!
So today, we want to uncomplicate being our affiliate partner. Let us break it down for you! If you're thinking about getting into generating passive income or growing one you're already generating, IQ HASHTAGS Affiliate Program needs to be a part of your strategy. For real.
You can pass the word about the tool that makes people say, "I can't wait to try it and grow on Instagram MUCH MORE CONSCIOUSLY!". The tool people will want to share with their friends and their favorite creators as well. IQ HASHTAGS will give them all the data they need to know to level up their Instagram strategies and grow much quicker. So that they can focus on what serves them well.
That's why we're the PERFECT partner for beginners in affiliate marketing. We'll guide you. You don't need any advanced marketing or tech skills. You don't need a huge community. And it's remarkably user-friendly, you'll see! Here's the wild part: introducing new users to IQ HASHTAGS, you can get 20% on every subscription – new and renewing – every month.
YEP, they're seriously offering that!
Do you still have questions? We know you may have some! And well, those are great questions. And here we go, we're excited to answer them. Actually, we're about to drop our entire IQ HASHTAGS Affiliate Program knowledge right into your hands. Allow us to walk you through the whole process and all the answers – without any stress added to your week!
Trust us —if affiliate marketing doesn't make a whole lot of sense to you just yet, it's about to! Let's go!


1. What affiliate program and this whole

affiliate marketing thing

really is?!
In a nutshell, affiliate marketing works exactly like this: a person shares an affiliate link of a product/service to someone, and this someone can click and purchase it if they want to. The person who shared the referral link will earn a commission for it.
What does it mean in practice? You can share your custom link to our IQ Hashtags tool and help us on our conscious-growing Instagram mission. Yup. All while earning a commission for yourself! There are only three simple steps:
1st step: Apply. Join our affiliate program and get your own custom link. You can do it right here.
2nd step: Share. Share your tips & tricks and the knowledge of how to use IQ Hashtags' to monitor your growth and establish a more conscious Instagram strategy, along with your unique link. Using it, they can purchase the tool from you. If they click your link and purchase our subscription, you receive a commission for their purchase – sweet gig, huh?
3rd step? Earn: Earn commission on your referral EVERY TIME someone signs up for a paid IQ HASHTAGS subscription.
What's also really important: there are no limits on the number of people you can introduce our tool to, the amount of commission you can make, or the number of times you can share the link! IT'S COMPLETELY UP TO YOU.

2. Why is the IQ Hashtags affiliate program

more beneficial than the competitors' programs?

 
Love that one!
Reason number one: We are the most friendly, safe, and supportive tool-oriented community trusted by 400 000 Instagram users worldwide. People love our tool because it's the most comprehensive one out there.
Reason number two? We give one of the highest commissions in this niche.
Reason number three? It's effortless to join, and almost everyone can participate.  
3. How do I start?

How do I get my affiliate link?
To get your own affiliate link, just apply to our program. Right here! Within a few hours, we will verify your application, and you will be able to use your partner link. And if you need any help, our team is always here to help you, needless to say.
4. Why do you offer this program?

Are there any hidden catches?
What an idea! We take your trust and loyalty exceptionally seriously.
For us, this is a win-win program. It allows you to earn high commissions, and it allows us to introduce our innovative tool to new people who may not know us yet, but who can definitely benefit from using IQ Hashtags' features.
5. Do I need any formal

marketing education

to join your affiliate program?
No, you absolutely don't! You don't need to have a master's degree in marketing or actually in anything in particular in order to start with affiliate marketing. The steps are really non-complicated and remarkably straightforward.
We know it from our experience – people with any background and any education can learn how to benefit from our IQ Hashtags Affiliate Program, so it can quickly become the extra source of income or even provide the opportunity to minimize nine-to-five jobs!
6. Does your affiliate program actually have high earnings potential?
We have already touched upon this briefly, but sure, let's talk about it once again!
Our IQ HASHTAGS affiliate program offers a 20% commission. If this number alone doesn't excite you, then consider this: IQ Hashtags is a monthly/yearly subscription-based tool. It means you earn 20% on every subscription – new and renewing – every month. This equals a constant income for you every month from your referred users!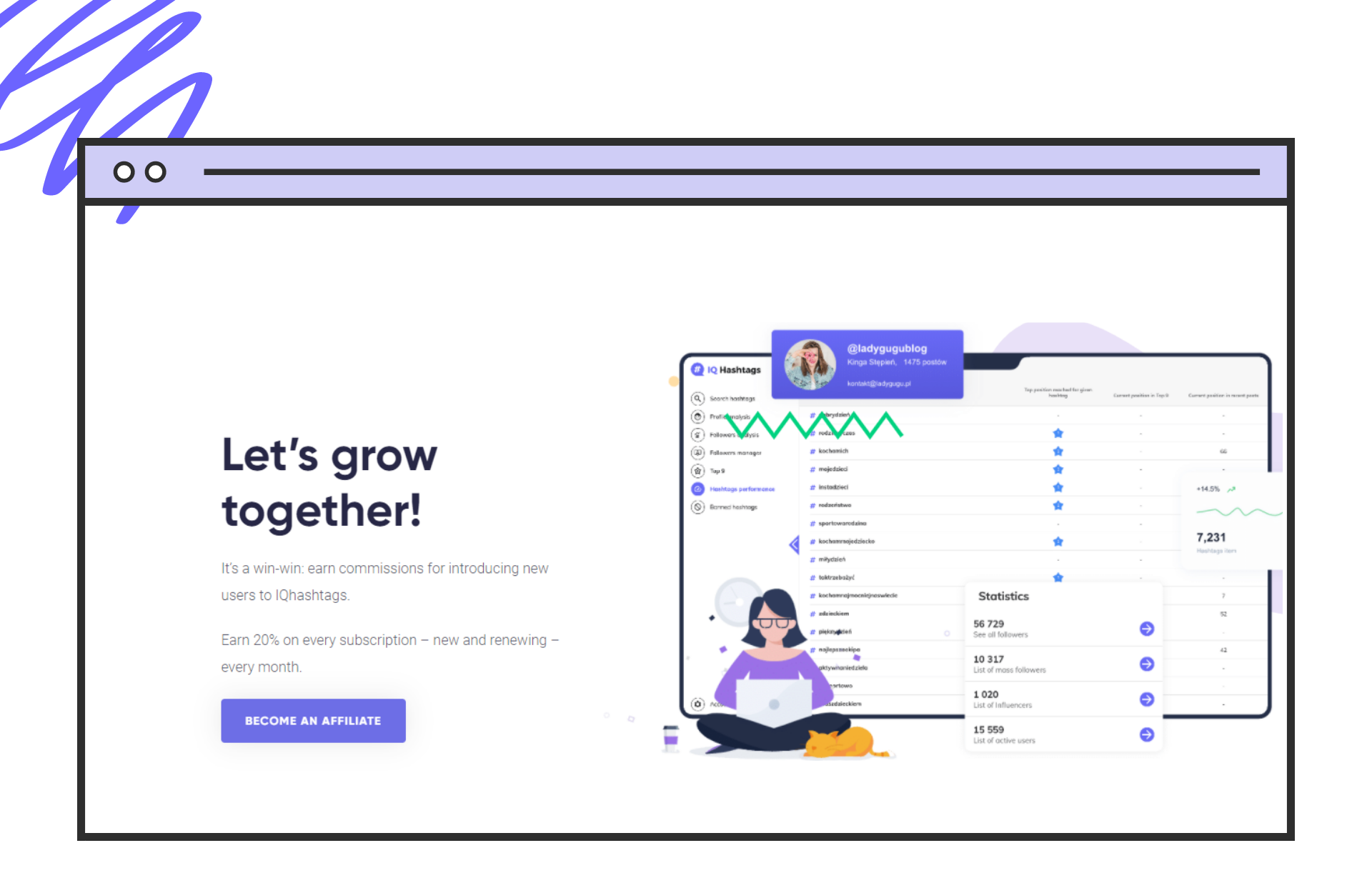 7. How do I monitor if someone purchases IQ HASHTAGS membership with my link?
Oh, that's really simple as well. Log into your affiliate panel, copy your referral link, and here you are – you can track your current results, and check how much money is there waiting for you.
This can also help you develop ideas on improving the click-through rates so you can earn even more next month!
8. Do I get kicked out of the program if my referral link doesn't bring any purchases at all? 
No! There's no pressure for you to meet any set number of sales.
You can recommend our IQ Hashtags tool as a side hustle while working on your full-time job during the day. Or, you can, if you want of course, turn this into a full-time gig. It's all UP TO YOU.
Even if you don't make a sale right now, it's totally fine, you don't have to worry.
The flexibility that our affiliate program offers allows you to work at your own pace without making any specific commitment. It's up to you how much effort and TIME you wish to put into the program!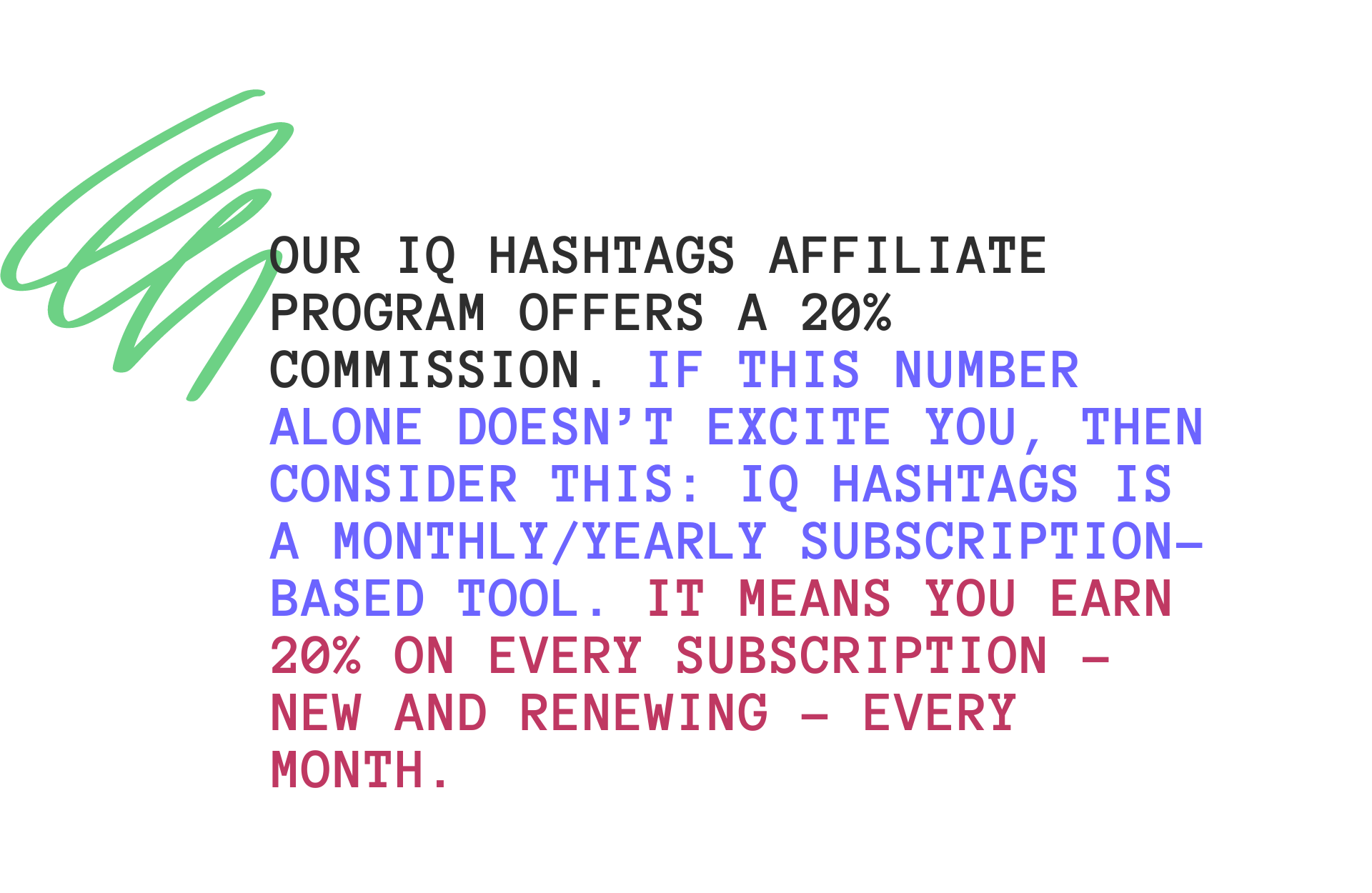 9. I'm not from the USA. Can I join?
Why wouldn't you?! SURE! Unlike many other affiliate programs out there, the IQ HASHTAGS AP doesn't depend on your location. We have no boundaries. No geographical boundaries at all!
10. Do I need a huge community to become your affiliate?
We accept affiliates OF ALL SIZES. 
It's the ambition that matters! If our missions align, we'd love to have you here! No doubts at all.
11. Is there a limit to how many times my custom link is used?
No, there is not! You can keep talking about IQ HASHTAGS, and we will keep rewarding you for every single member you get to sign up through your link. There's no limit.
  Thinking about joining, but not sure yet?
No worries – questions, concerns, discussions, and ideas are always welcome! We adore working with like-minded people across the world, and we can wait for you 🙂
Now that you are familiar with all the great benefits the IQ HASHTAGS affiliate program gives you, we really invite you to join it, and… Experience all the fantastic perks yourself.
If you have more questions – let's talk, or we can even meet in person if you want (via Zoom or Google Meets to discuss everything in detail!).